(Be sure you read the P.S.)
When you are in the south of France, Italy is just around the corner. Cinqueterre is known for having the five (hence, "Cinque") towns on the hillsides of the Italian Riviera and I ended my 5 1/2 week trip with a couple of nights in the region before I headed home. You've likely seen pictures of one of the five towns (Monterosso, Vernazza, Corniglia, Manarola, and Riomaggiore) and yes, the towns are STUNNING!! Your jaw drops when you look down on the towns during a hike or from the ferry. I suggest you do both.
Getting To Cinqueterre From France
You can easily get to one of the towns by train from France. Sure, you could drive but you'd end up just leaving your car in a town and taking the ferry or train to the other towns. One does NOT drive from town to town. The parking in each of these towns is tight, steep, and you'd have a difficult time even finding a parking spot.
I drove to Nice and dropped off my rental car.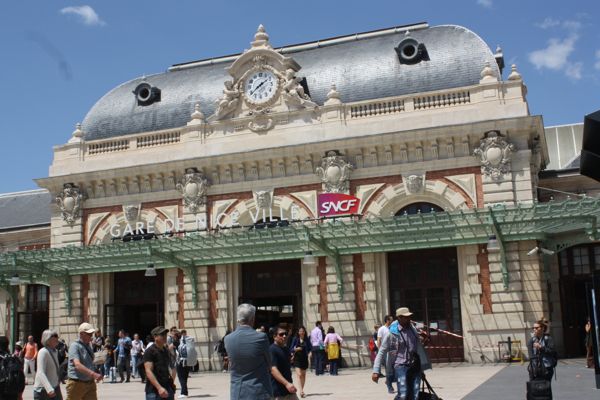 The plan was to travel by train to Genoa where I would buy another ticket to Riomaggiore. Total travel time on the train was to be 5 hours. Of course things didn't work out that way. They cancelled my train and the day was exhausting as I had gotten up at 5 am and I finally arrived in Riomaggiore at 9 pm, 16 hours later, absolutely exhausted but had enough time to go for a seafood dinner at a restaurant around the corner from my hotel, Cinqueterre Residence.
Highlights
Let me just summarize the 3 days I spent in Cinqueterre and share some pictures as pictures speak louder than words:
Hiking from Volastra to Corniglia. Hotel recommended this route; however, they should have asked if I hiked. I have hiked but I would not call myself a hiker. It was STRENUOUS to say the least. Not flat. Up and down for 1 1/4 hours; however, the views were worth it. They were breathtaking. Those phrases, "worth it" and "breathtaking" were used by fellow hikers and me constantly.
Hiking from Vernazza to Monterosso. Best way to go but still lots of ups and downs. Not as many tourists go in this direction. Yes, at times the narrow trail becomes crowded and yes, technically you could fall off the cliff. Just saying.
Ferry from Monterosso to Riomaggiore, stopping at each of the other towns. This is where you get the great views
The views are always spectacular when you ar leaving a town or approaching a town. The hiking paths are at the top of the towns, so you are looking down at them and getting picture-perfect views. When you arrive by train, you are at the base of the town, by the water.
Hiking
Do you need to be in shape to hike the Cinqueterre. Yes. You also need hiking, trail or running shoes. Rumour had it someone hiking in flipflops. Crazy! At the end of my hike to Monterosso, where I met up with some wonderful Australians who were on a cruise, I was asked by an American at the end how long the hike was. I said 2 hours and that it was strenuous but the views were worth it. I added that she better have water. All she kept saying was, "You have to be kidding". I wasn't. Don't think she was prepared for real hiking.
When our hike was over, I was dripping. It was about 27 degrees C. and afterwards I realized I got a sunburn. We went to a restaurant but after waiting and waiting, we decided to leave. Really bad service. That's when the owner (?) threw my napkin at me and hit one of the Australians. She was mad we had messed up her napkins and were leaving. The rest of the locals were nice.
Cinqueterre has always been on my bucket list and I am fortunate that I was able to add it on to my trip to France and Spain. 5 1/2 weeks, however, is a long time and I was very happy to head home.
P.S.
I almost didn't make it home. In Italy, the hotels hang onto your passport. I forgot to pick it up the evening before I flew home and when I left at 5:45 am, no one was at the desk. When I realized at the airport shuttle stop, I ran back to the hotel, which, thankfully, was only a block away. But the door was locked and no one was there. So I frantically rang the door bell and finally someone heard, got me my passport and I caught the shuttle bus to the airport and did not miss my flight!
Top 100 Unique Experiences In France
If you're looking for more unique experiences in France be sure to check out my growing list of the Top 100 Experiences In France or Unique Experiences in Paris.