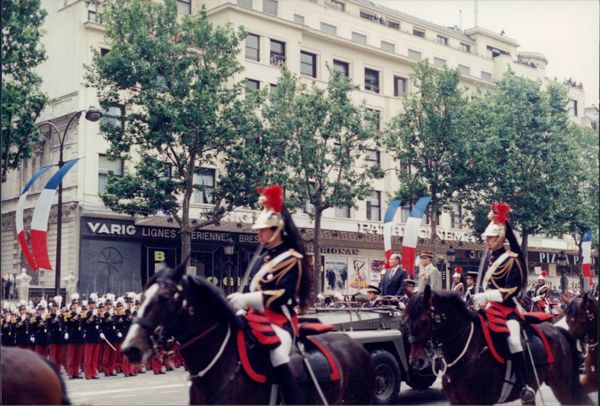 It was my university friend, Laurie's first trip to France and she and I did it all: travelling by plane, car, and train!  She said she'd use this trip to "get France out of her system". (Note: It's not out of her system yet!)
The itinerary and some highlights:
Paris (4 nights)-watching the Bastille Day (July 14) parade down the Champs Elysee and having lunch in the Eiffel Tower (Jules Verne restaurant)
Loire Valley (3 nights)-visited 7 chateaux and stayed one night in a real chateau (Chateau de Chissay)
Burgundy (1 night)-drinking wine in the Marche aux Vins in Beaune—we tasted 37 wines and then joined some folks who we had met in the wine cellar for escargots French Alps (3 nights)-took the telepherique (cable car) up Mt. Blanc. How was I to know that Laurie was scared of heights? This was a turning point in her life. She is no longer scared of heights.
Grenoble (1 night)-We don't like that town. Nothing there. Sorry Grenoble. I know you had the Olympics, but…..
Provence and Cote d'Azur (5 nights)-visited 10 famous towns in the two areas. Most unusual memory was during a sunbathing episode in Nice. There was a young woman who kept going around the beach dressed in a different outfit. She'd do a circuit, change in public, and then show a new outfit. It was kind of like a fashion show. She says nothing and has no price tags attached to the clothing.