I'll never forget Louie, the head caretaker at the school where I was Principal. He used to always say, as we were heading to a classroom, "You move so quickly. I can never keep up with you!"  If Louie saw me today, he still wouldn't be able to keep up with me. But instead of zipping around a school, I'm running, biking, paddling, hiking or walking long distances in France. I'm an active boomer on a mission. One of the wonderful things about France is that there are so many things to do for the active boomer….or traveller of any age.
Even though I'm a boomer (aka "baby boomer" who was born between 1946-1964), I don't act look my age. I think it's the Chinese genes (and hair colouring).  But really, I think a lot has to do with keeping active and that includes being active when travelling.
As you can see in some of my other posts, I have done a variety of activities that not only keep me in shape, but allow me to eat lots of great French foods. Here are some ideas for seeing France…."actively". They range from a leisurely "burn" of calories to an intense cardio workout:
Running
While some people plan their trips by considering the restaurants, museums, or attractions, when I travel to France, I first start by finding out where a running race might take place. Basically my trip revolves around a running race. [Note: my best advice is to do the race at the beginning of your trip. If you do it at the end, your feet and legs will be too tired to run after doing busy days of touring. Runners need tapering time.]
Food is my reward for doing an activity. While running 42.2 kilometres (a marathon),  I think about the foods I will eat. One burns almost 3000 calories in a race so one can eat just about anything after a race.  But I must confess, after running that long, one doesn't have an appetite but day dreaming about food is always fun.
Marathon du Medoc
One of the most memorable races was the Marathon du Medoc. Runners do not do this race to get their best time. We run it for the wine. Yes, there is wine at every one of the 22 water stations. Little sip of wine, little water, little food (like granola bars, grilled beef, or oysters) and off we go through vineyards and past famous chateaux. It's a big party and one of the most memorable things I've ever done. THIS was an active experience worth doing.
Paris Marathon
When I ran the Paris Marathon, one of the hardest things (besides running) was passing a restaurant that was preparing the dishes for lunch. I vividly remember the time and place. I had run just 32 kilometres and I was near Bois de Boulogne on Rue Molitor when all of a sudden I smelled roasted chicken. It was glorious. The memory brings back the aroma. Heaven. THAT kept me going for another 10 kilometres.
That's not to say you need to run a marathon. France has all types of races ranging from 5 km to ultra marathon (over 42.2 km) . I've done the "20 km de Paris" twice and it starts at the Eiffel Tower. You could even join a runner group's meetup. In Paris there is the Paris Hash House Harriers ("A drinking club with a running problem") and they meet every Thursday night and Sunday morning.
Hiking
If I can't find a running race that fits my dates, I will look at a region and investigate where I can do some outdoor activity. I've done some hiking in Utah, the Grand Canyon and in Cinqueterre, Italy and hiking in the French Alps is one of my favourites. In France, the Pyrenees and the Auvergne would also be great areas for hiking or skiing. In fact, many say that the Auvergne is France's best-kept skiing secret: The Guardian article.
In the French Alps, the hike near the bed and breakfast Chalet Savoie Faire where I stayed had an amazing hike up to Le Refuge du Nant du Buerre and Le Grand Cretet in July. It was a leisurely 2 1/4 hour hike with a delicious lunch at the refuge. My reward for making it. In the distance one could see Mont Blanc.
Hiking down to Chamonix from Plan de l'Aiguille was more challenging, but the views were just as good. I'm not a seasoned hiker, so someone who does hiking would likely find this easier.
Walk, Walk, Walk
I just love to be active when I am on vacation. In Paris, for example, I will walk ALL day. Here's a typical route:
starting in the Latin Quarter

crossing the Seine River to the Louvre

through the Tuileries gardens

down the Champs Elysee to the Arc de Triomphe 

across the Seine to the left bank towards the Eiffel Tower
head east to Luxembourg Gardens

back to the Latin Quarter
Along the way I will stop at a museum, cafe, store, restaurant or park. But everything is on foot….or by bicycle if I rent a Velib. Rarely will I take the Metro. Paris is too beautiful to miss underground. Plus, I'm less guilt-ridden when I indulge in a pastry or an extra glass of wine when I have been "on the move" all day.
Another alternative is to follow the "walking route" that is often promoted by tourist offices. In Saint-Remy-de-Provence, for example, there was the Van Gogh walk which started in town and ended at the Saint Paul de Mausole (Saint Paul Asylum) where he stayed in 1889. Along the way were placards showing famous Vincent Van Gogh paintings. It just made the walk much more interesting. A similar route takes place in Arles. Check out: Arles In The Steps of Van Gogh
Some Other Walking Tours I've Taken
Biking
I've written previously about biking in France and have done two tours. One thing I've learned is that I prefer not biking from 9-4. While we did stop at wineries or for a picnic lunch, arriving in town at 4 pm left little time to explore the town and area.
One just unpacks, takes a shower and then heads down for aperitifs and then dinner. My ideal bike trip would just have me riding in the morning with more time in the afternoon for other activities. You can check out what a bike tour is like in my post: What It's Like To Take A Bicycle Trip In France
Water Sports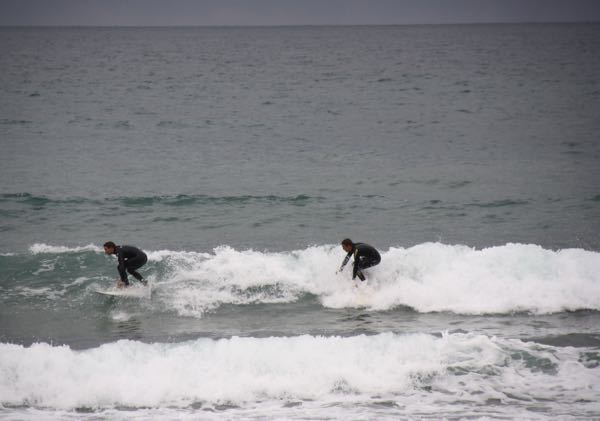 France has water on its three borders: the Mediterranean Ocean in the south, the Atlantic Ocean on the west, and the North Sea to the north. When I was in Biarritz, located in the south west, just south of Bordeaux, there were were hard-core surfers riding the waves. Supposedly Biarritz is known to be the surfing capital of France. If you're not up to that, there are so many places for great swimming and kayaking.
Kayaking
When I have been in Provence, I have rented a kayak with friends where we paddled our way down the Gardon river, underneath the Pont du Gard. I could do this activity again and again. Not only is it beautiful, it's easy! No rapids. Just an easy sail down the river. And you can stop along the way and have a picnic lunch. Post: Paddling A Kayak Under The Pont du Gard.
Are YOU an active boomer?  What do you like to do when you travel?
Check out these other posts where you can be active in France: