When Is The Best Time To Visit France?
*This post contains affiliate links. If you make a purchase through these links, I get a small commission at no extra charge to you. It helps support the running of this website and I do appreciate your help.*
A common question asked is, "When is the best time to visit France?" My answer is usually: There is no "best time". It depends on what you want to see and what kind of weather you want. That's when it's best.
I schedule my trips to coincide with special events that might happen only once a year in a particular place, like a wine festival or a marathon race. Or I'll pick a time of year when the weather is cool and there aren't as many visitors so that I can easily visit tourist attractions without the hoards of tourists (like me!).
Here's some insight into the 3 seasons when travelling in France: high season, shoulder season, and off-season.
1. Visiting France In High Season
(a) The Weather In High Season
July and August is high tourist season and it can be incredibly hot, particularly in the south of France. Although, to be honest, anywhere inland can be horribly hot in the summer.
During a bike trip in the Burgundy region in the month of July one year, the temperatures got up to 38 degrees Celsius. Not only was it tough biking 60 kilometres in that heat, but our hotel room was not air conditioned and it was so bad that my friend and I decided to sleep by the pool.
Summer, however, does present many festivals and special events so don't discount this time of year. If you're by the water, the heat won't be as unbearable. Etretat in July was lovely especially when I took a boat ride from Fécamp.
The ocean breeze kept things cool. Riding a bike on Ile de Ré and along the coast to Dune du Pilat were both enjoyable because I was on the coast.
(b) Advantages And Disadvantages
From mid-July to the end of August, the Parisian locals vacate the city to take their holidays and therefore, many businesses, such as restaurants, close.
High season is when most places are open (ie. museums). And it's the time to attend festivals, but you will encounter the most crowds, the highest temperatures, and the highest prices for accommodations. Keep in mind that not all places have air conditioning.
If you love to hang out at a beach, this is your time of year to visit. But, the beaches will be busy and be prepared for traffic jams, particularly around the Côte d'Azur and Montpellier. One summer while travelling from Avignon westward, I ran into back-to-back traffic on the highway.
(c) Special Experiences During High Season
If I hadn't been in France in July/August I would not have seen or attended:
Fête de la Véraison—Châteauneuf-du-Pape's Wine Festival held the first weekend in August
Lavender-the best time to see the lavender fields is in Jully, around Sault
Bastille Day-Parade down the Champs Elysee and fireworks in Normandy
Cocarde d'Or In Arles (Provencal bullfighting)
Events at Versailles including sound and light shows, musical fountains, and fireworks
Les Féeries du Pont-sound and light show and fireworks took place in the month of June
Watching the Tour de France…live!
Paris Plage—-where the banks of the Seine River are turned into beaches with umbrellas, lounge chairs, and vendors selling food/drink.
More concerts will take place in the shoulder and high seasons
2. Visiting France In Shoulder Season
(a) The Weather In Shoulder Season
There is a reason movies and songs have the phrase, "April In Paris". It is simply one of the most beautiful times of the year to visit Paris and many parts of France. The temperature ranges from 15-20 degrees Celsius and the tourists have not yet started to overrun the major cities and popular sites.
The shoulder seasons, April/May/June and September/October are lovely because the tourists have left and the locals are back to their daily routines. The weather is not so hot but very comfortable, maybe even warm in some areas. Sure you might have more episodes of rain in April, but the advantages outweigh the disadvantages.
What's great about the shoulder season is that you can still do many outdoor activities that you would do in the summer, such as hiking, biking, and kayaking. And the gardens will still be amazing in the Spring.
(b) Advantages And Disadvantages
Shoulder season is my favourite because there are fewer tourists. This is especially advantageous when you are visiting places like Mont Saint-Michel or Carcassonne when it you are standing shoulder to shoulder on a street.
When I was in Mont Saint-Michel in the month of May, I was shocked how empty the area was at dusk. It can be crazy busy during the day, but as sunset approaches, all the the tour busses leave. It was so easy to walk along the ramparts and through the village streets.
When I was in the Loire Valley one April, I could not believe how many châteaux were empty. No line ups, easy to move around in the châteaux, and no problem getting accommodations. When I was in Les Baux in early June one year, I decided to visit Les Carrières de Lumières. I didn't book any tickets in advance. I just showed up and entered immediately.
I was surprised, however, that in small towns or more rural areas of France, things seemed to have shut down. i noticed this in the Pyrénées-Orientales department of the Occitanie region in early June, when I stayed in Prades.
I visited towns of Evol and Eus, which are designated "Les Plus Beaux Villages de France" and it was if the entire village was empty. The larger town of Villefranche-de-Conflent, where you pick up the "Le Petit Train Jaune" (Little Yellow Train) was certainly busier and had many restaurants open. That's the risk you take with travelling to small towns in off-season.
(c) Special Experiences During The Shoulder Season
If I hadn't been in France in shoulder season I would not have seen or attended:
3. Visiting France In Off-Season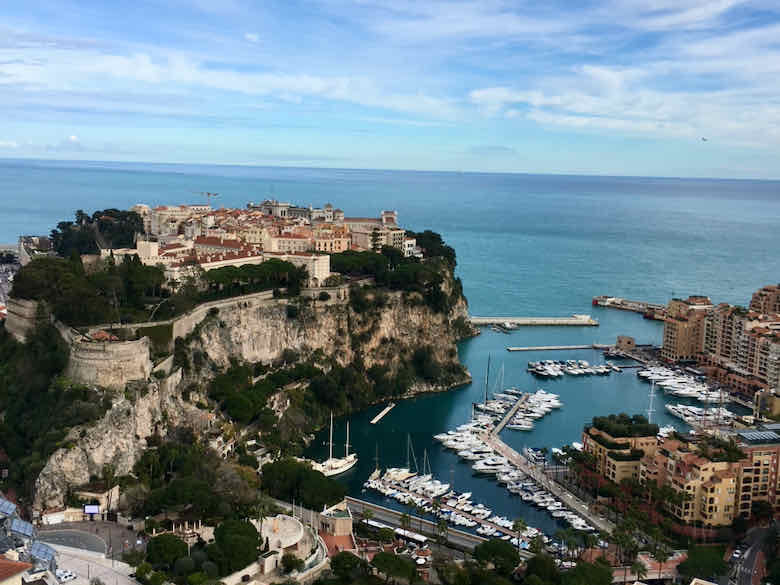 (a) The Weather In Off-Season
The months of November to March are considered off-season in France. The weather can be much more unpredictable with snow, rain and colder temperatures….but also nice weather. When I have visited Paris in December twice, the weather it did rain on New Year's Eve as well; however, for the most part, it was pleasant and perfect for walking around the city.
January in Paris was fantastic and it's actually a time I would consider visiting again. Bright and sunny but not overly cold. Sure you needed a winter jacket but not boots. Even a walk at night was enjoyable.
Although cold at times, the sun was out and it was comfortable sitting at a café having a glass of wine. I have visited March numerous times and I was shocked that the temperature reached 20 degrees during all but one visit. The worst part was the rain while running the Paris Half Marathon. But the day before it had been wonderful. As I mentioned, the weather in off-season is much more unpredictable.
The one place where it will not really be off-season will be the French Alps and French Pyrénées because these are the locations for winter sports. Skiing is very popular and the prices will be much higher.
However, the south of France in the off-season is now my favourite time to visit. The weather in Nice, Menton and towns along the coast in February and March were perfect. A light jacket, no rain, plenty of sunshine and few crowds (except for special events like the Fête du Citron).
(b) Advantages And Disadvantages
The advantages of visiting in off-season are possibilities of good weather and lower prices for accommodation. The only two downsides are the weather and the possibility that certain places (ie restaurants) are closed.
When I was in Cordes-sur-Ciel in the month of January, I believe only one restaurant was open and it was fully booked. Keep in mind, however, that this is a small town. In major towns like Bordeaux, Nice, and Menton you'll have no problem finding a lot of restaurants, stores, and museums open.
When I was in Marseille in January there were no boats going to Château d'If, so I had to go back in the month of May when they were running again. That's probably the biggest downside of off-season—that certain attractions might be closed or a place (ie. museum) might decide to do renovations at that time.
(c) Special Experiences During The Off-Season
If I hadn't been in France in off-season, I would not have seen or attended:
TRAVEL RESOURCES
Booking.com and Expedia: are the companies I use for finding accommodations.
VRBO: is super for booking apartments and houses.
AutoEurope: is the only car rental supplier that I will use–with the best prices, and they will refund the difference if the price goes down.
Trainline: offers an easy way to book train tickets.
Get Your Guide and Viator: Both offer tours, city cards, tickets, airport pickups, and so many other things you'll need at your destination.
Orange SIM Card-this is the company I use when I want a physical SIM card
Orange e-SIM and Airalo e-SIM-both companies offer e-SIMS and get great reviews
Post to your favourite board on Pinterest.