What It's Like To Take A Burgundy Barge Cruise
If you're looking to do something different on your next trip to France, read on to find out what it's like to take a Burgundy barge cruise. It certainly helped me relax and recharge after packing in so many activities during a recent trip. I did some slow travel on CroisiEurope's MS Jeanine and it was a new way for me to see the countryside, smaller villages, and historical sites and enjoy the local foods and wines in this lovely region of France.
No more driving, hopping on and off trains, booking tours, or making dinner reservations. Everything was taken care of for me. All the meals, wine, beverages (other than premium beverages), and daily excursions were included in the 6-night/7-day cruise and when I say meals, I mean gourmet French cuisine with exceptional wines.
*This post contains affiliate links. If you make a purchase through these links, I get a small commission at no extra charge to you. It helps support the running of this website and I do appreciate your help.*
1. CroisiEurope's Burgundy Barge Cruise
A barge cruise is not like a typical big-ship cruise. I have been on an ocean cruise to the Caribbean, where there were thousands of other passengers. For this Burgundy barge trip with CroisiEurope, the experience was much more intimate with fewer passengers (less than 24) and more personalized service.
CroisiEurope is a family-run, international company with headquarters in Strasbourg. It specializes in French cruises but also does canal and river cruises throughout Europe, Africa, the Baltic, Vietnam, the US, South America, and other worldwide destinations.
2. What Is A Barge?
In French, a barge is a "péniche" and it's a flat-bottomed boat that was originally used on canals to transport goods. It was fascinating to learn during our tour at a barge museum, that initially, these boats travelled along the canal using manpower…or should I say by women and children who pulled the barge as they walked on towpaths! [Towpaths are paths or dirt roads located beside a canal or river and were used by human or animal labour or machines to pull the barge.] They'd do this for 14 hours a day over 13 kilometres. Then the women would go home, head out to get water, and then go back home to make dinner. Horses, trucks, trains, and then mechanized boats were eventually used.
Today, barges are like floating hotels, but much smaller! And the canals are primarily used by holiday cruisers and tourists for leisure travel. In addition to cruise line barges like the one I was on, families and couples often hire canal boats for a week or more.
3. What's It Like To Take A Barge Cruise On MS Jeanine?
(a) Navigating Locks
The good news is that MS Jeanine is modern, fully equipped with engines, and no hard labour is required to pull the boats! This luxury barge moves at a snail's pace (or should I say a slow pace) —from 3km to 8 km an hour. It's very easy to walk faster than the barge, so you know it's not going fast!
I never got tired of watching the barge maneuver through a narrow lock ("écluse") where there are only a few inches between the boat and the wall. Sometimes the locks were opened/closed manually by lockkeepers who would speed ahead of our barge on motorbikes or in cars to be sure they were ready to get us through the locks. And other times, the entire process was automated. [Click on the image above to see a time-lapse video of the barge navigating through a lock or click here: YouTube video of the barge moving through the lock].
(b) The Layout Of MS Jeanine
The decor on the barge is colourful and cheery. All cabins/staterooms and public areas are air-conditioned and have Wifi. There are three levels to the barge with the top being the sun deck. It was not always open (as we were often going under bridges); however, when it was, one could relax on one of the many lounge chairs.
The middle level has the main deck, with a bar area, lounge, dining room, and outdoor deck. This outdoor area on the main deck has many tables, umbrellas and chairs, and a hot tub. The lower deck had all the cabins which you accessed by a flight of stairs.
(c) The Staterooms/Cabins
Most of the staterooms have 2 twin beds. While it was not overly spacious, it did not feel cramped. Measuring just under 100 square feet, I would call it cozy and comfortable. It was efficiently laid out, with room to store my suitcase, my garments on shelves, and a small closet to hang clothes. It was equipped with a safe, a small dressing table, a blow dryer, mirrors, lots of electrical outlets (220 volt-European sockets), and a bathroom with soaps and shampoo and a toilet and full-size shower (with excellent water pressure).
It also had a large window above the beds which looked outside. Not a bad view, eh? Housekeeping cleaned the cabin daily and fresh towels were replenished usually while you had breakfast.
At night, the boat didn't sway at all and I didn't hear any engine noise either. The bed was very comfortable and I slept well. While the cabin was small, I really only used it to sleep, shower and change for dinner.
In an effort to cut down the use of plastics and be more environmentally responsible, CroisiEurope has refillable glass water bottles in each cabin. I love that the ship had a water fountain machine in the lounge that dispensed sparkling water, cold water, and water at room temperature.
(d) Service And Crew
The 6 crew on board the MS Jeanine are multi-lingual with the main language being French; however, it was not difficult communicating with any of them in English. Florian (our captain), Mathias (deckhand), Lilla (cruise manager), Bernadett (waitress/server), Krasmira (cabin stewardess), and Mohamed (French chef) all made a special effort to make our journey the ultimate in comfort.
It was the nice, little touches that the crew did that made the trip so enjoyable. For example, after being on a tour when it was particularly warm, we were greeted with a cold drink when we boarded. Or, while sitting on the deck watching the barge go through a lock one day, we were given a pre-lunch cocktail like an Aperol spritz with nuts.
I just felt like they went out of their way to make sure every detail was taken care of and that our needs were met. I was seated at a table with 2 English-speaking passengers and after the first day, I really wanted to converse with the French passengers too, and asked the cruise manager if all the tables could be grouped together. This was quickly arranged as there were only 7 of us and everyone seemed much happier with the arrangement.
(e) Your Fellow Passengers
For 7 days I sailed on the MS Jeanine. While it can accommodate a maximum of 24 passengers with 12 staterooms, the week I went there were only 7 passengers with 6 crew members. This is rare and just luck of the draw as the following week the cruise was sold out.
There were 2 Americans and 2 French couples, and me, the lone Canadian. The French guests pretty much only spoke French with a little English. I spoke enough French that I could converse with the French passengers adequately. One couple, in particular, was extremely understanding and helpful when I made mistakes. I really enjoyed talking to them and the husband actually said my French improved during the cruise.
If you take a CroisiEurope barge cruise, in all likelihood you'll have a mix of nationalities. I'd consider it a non-English speaking cruise and if you only speak English you'll be okay as the crew does speak English. However, as this is a French cruise line, it often has a large contingent of French-speaking guests, particularly for cruises in France (although I think it really depends on the cruise you take). I would suggest that trying to learn some French and using a few phrases while on board will make your interactions with the other passengers more enjoyable.
It's hard to say what is the average age of a passenger is on a barge cruise as this particular cruise only had 7 passengers. I think I was the youngest (early 60s) and the others were in their 70s. The other passengers were experienced cruisers, having done river or barge cruises in France in the past. The French couples had previously done cruises in the Dordogne, Loire, and Alsace.
4. Exceptional Food And Wine On A Barge Cruise
In addition to the superb service, what stood out for me on this cruise was the food and wine….and those cocktails! Prior to the cruise, each passenger is asked to complete a form to indicate any dietary requirements, food or allergies or even mobility issues, and accommodations and alternatives were always offered.
The breakfast buffet kick-started the day with freshly-squeezed orange juice, yogurt, fruit, cheese, meat, croissants, baguettes, and pastries. Just before lunch, it was time to partake in the daily cocktail—a creative concoction like a vodka, pineapple, curaçao cocktail, or a Piña Colada.
Lunch And Dinner
The multi-course lunches and dinners were beautifully and creatively presented by Chef Mohamed. Many times he would do the plating in front of us. Dishes included:
salmon en crôute with spinach
duck with cherries and a blackcurrant sauce with sweet potato puree and asparagus [Note: in the photo above, this was a HALF portion as I didn't think I could eat a full serving. I was wrong. I went back for more!]
crayfish in lobster sauce
beef tenderloin with speculoos sauce accompanied with cauliflower purée and carrots
All of the dishes were absolutely delicious. I put the quality at par with some of the finest restaurants I've ever eaten at in France…including Michelin-starred restaurants.
The lunch menu had four courses: an appetizer (often a couple of different salads), a main course, 2 different regional cheeses (ie. Saint Nectar, Maroilles, Morbier, and Comté), and a dessert plus wine. Our cruise director or server would give us an overview of each wine that would be paired with our meal. We were treated to French wines from many regions with an emphasis on those from Burgundy (ie. Bourgogne Aligoté).
Dinner had three courses: an appetizer (ie. foie gras or Bayonne ham), a main course, dessert (ie. Crème brulée, or pears in wine sauce) plus wine. We ate in the dining room and if the weather was pleasant, we ate on the open-air terrace. At all times there were white linen tablecloths and china and the meal lasted about 2 hours.
All I can say is that you will NOT go hungry and you will NOT be lacking wine or liquor on this barge cruise. There is an open bar and accommodations are easily made. For example, if white wine is being served but you'd prefer red, no problem. Want a beer instead of wine? No problem.
5. Burgundy And The Doubs Valley
The barge cruise I joined was the "Burgundy and the Doubs Valley" itinerary.
(a) Canals, Rivers, And Ports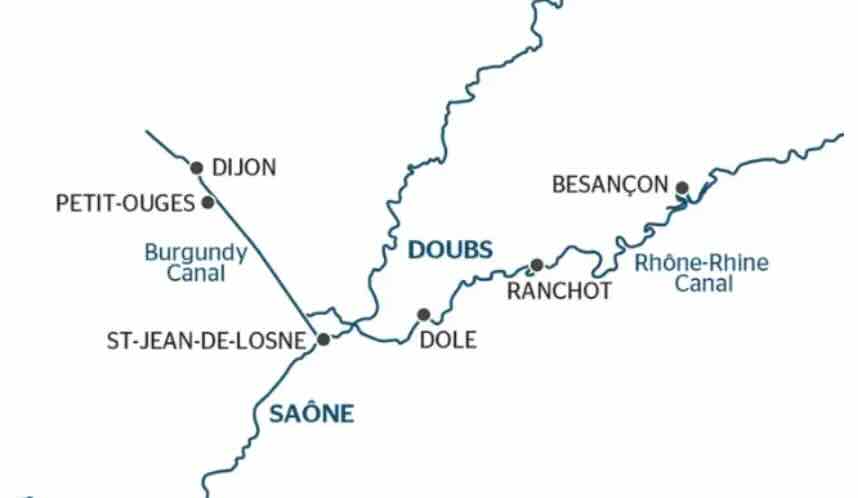 We travelled from Dijon to Besançon and the first night we were moored in Dijon and the last night in Besançon. We never cruised at night and overnight stops were in smaller, charming villages such as Peitit Ouges, Saint-Jean-de-Losne, Dole (birthplace of Louis Pasteur), and Ranchot.
Our entire journey only covered only 115 kilometres but we did pass through 54 locks so inevitably it was slow travel..but truly enjoyable travel as we cruised along these different waterways:
Canal du Bourgogne
Saône River
Canal du Rhône au Rhin
Doubs River
(b) Historical And Cultural Excursions On Our Barge Cruise In Burgundy
Each day, an itinerary was posted in the bar area, indicating when breakfast was to be served, where we would be heading that day, and the times for any excursions, cocktail hour, lunch, apéritifs, and dinner.
Audio sets were provided to all passengers for our private walking tours and excursions. This helped us hear the local tour guide in case it got noisy. Sometimes we had a guide that spoke in English and French and other times the English passengers went with a guide who only spoke English.
The following excursions/tours were included in our itinerary. We sometimes took a bus from the barge for our visits. I found the tours very informative. They included:
Grand Crus Wine route with a visit to Château du Clos de Vougeot-a winery built in the 12th century by monks; it was followed by a wine tasting at La Grande Cave de Vougeot
Petit-Ouges: charming country village
Dole: a very pretty town and the birthplace of Louis Pasteur
Saint-Jean-de-Losne: one of the most picturesque port towns during the trip. It is at the intersection of the Saône River and Burgundy Canal and is a major port for boat enthusiasts who are looking to buy, sell, and repair boats. Excellent tour of La Maison des Mariniers where we learned about the history of barging and tasted some local wine/food.
La Saline Royale of Arc-et-Senans- it is a UNESCO World Heritage Site; here we learned about the fascinating endeavor that ran from 1780 to 1895, to transport salt water 21 km from Salins-les-Bains to the factory at Arc-et-Senans.
(c) Activities
A barge cruise is a relaxing cruise. This is not a party boat! You can be as active or non-active as you want. Most people sat on the deck or inside the lounge reading, playing cards, playing board games, sitting in the hot tub, or having a drink. When docked there was even a game of boules amongst passengers and crew.
A few times I walked on the (very flat) towpath, alone or with some of the crew. I'd pass runners, walkers, bicyclists, fishermen, and young people on rollerblades and scooters. But for the most part, it was a quiet, leisurely walk. It was fun checking out the lock houses. Some have actually been purchased and turned into homes, complete with gardens…and even artwork.
The barge does have bicycles on board that you can use to do an excursion and one afternoon I did just that and rode to the last lock where we were going to dock. What I most enjoyed was just sitting on the desk with a drink, either reading or watching the barge get us through the lock.
6. Final Thoughts
So, did the CroisiEurope Burgundy barge cruise meet my expectations of providing me with rest and relaxation? Yes, without a doubt. I re-energized and was ready for the next part of my trip. It was a nice change to focus on smaller towns and villages after visiting the big city of Dijon. Do consider a pre- or post-cruise stay in Dijon or Besançon.
The service, food, and wine onboard the MS Jeanine barge exceeded my expectations. And, there were just enough excursions that didn't make the entire 7 days feel crazy busy. The entire crew provided exceptional service and they went out of their way to give attention to passenger needs and comforts.
One bonus for me was the opportunity to speak French so much. I not only improved my French but learned much more about French culture.
So if you're looking to immerse yourself in French culture and cuisine, and open yourself to exploring more of rural France, consider this Burgundy barge cruise. It will be slow but ultimately rewarding.
7. Getting To The Barge
The Burgundy and the Doubs Valley cruise began in Dijon; however, the reverse itinerary is also available. I stayed in Dijon the night before the cruise and the night the cruise ended. I decided to try out two different hotels (Hôtel des Halles and Ibis Styles Dijon Central) and to be honest they were equally great. They were both close to the train station (a 10-minute walk) and the city centre. A taxi from the centre of Dijon to the barge rendezvous was less than 10 €.
Check out the best prices here: Hôtel des Halles and Ibis Styles Dijon Central
8. Frequently Asked Questions
Here are the questions I was most interested in knowing when taking the barge cruise:
Will you get seasick on the barge?
I think it's highly unlikely you'll get seasick. I am very sensitive to getting motion sickness and I never came close to feeling queasy or nauseated. The boat doesn't rock back and forth like a typical big ship. Even when sailing, the barge moved at a smooth, slow speed and the waters were calm.

How did I meet up with the barge to start the cruise?
The day before the cruise, I stayed in Dijon as this was the starting point for the cruise. I left my luggage in the hotel during the day so I could explore the city. Later in the day, I took a taxi to the dock for the 6:00 pm embarkation. After check-in, there was a welcome drink (champagne) with the crew and all passengers before dinner.
Is there much free time?
While there are daily excursions, there is plenty of free time on the barge and when you arrive at a town (ie. Petit-Ouges, Dole, or Ranchot) there might be time to walk around before or after dinner.
Do you tip at the end of the cruise?
Yes. Tipping is at the discretion of the passenger; however, CroisiEurope suggests anywhere from €5 to €10 per day per person. An envelope is left in your cabin the night before you disembark.
What was the dress code?
Casual. Even on the last night (the gala night), I wore a casual dress that I had worn on the first night. Shorts and a T-shirt were the typical outfits during the day. I changed for dinner but was still casual.
Are meals taken together at the same time?
Yes for lunch and dinner, we all ate together at the same time. Lunch was at 12:00 and dinner was usually at 7:30 pm. We ate in the dining room or outside on the terrace. For breakfast, a buffet was available during certain hours (ie. 7:30-8:30).
Were there any extra costs?
Your transfers to the starting point and from the final destination are extra. At our final destination, I took a taxi from the barge to the train station in Besançon. Beer, wine, drinks from the bar, water, juice, coffee, and tea are all included in your package when you are on the barge. There are also some drinks that are on a special bar card and wine list that cost extra. Plus any drinks/food off the barge are at your expense. The CroisiEurope barge cruise was truly all-inclusive.
Disclosure: I was a guest of CroisiEurope, but any opinions expressed in this post are my own.
Pin to your favourite board on Pinterest.