On July 14, 2019 there were two big celebrations: my birthday and Bastille Day. While the events will be different for 2020 due to the coronavirus, here's what you can look forward to in future years. Consider celebrating Bastille Day in Paris by attending the military parade on the Champs-Élysée, dancing at a fireman's ball, or taking a dinner cruise which finishes at the Eiffel Tower with fireworks.
*This post contains an affiliate link. This means if you make a booking, I do earn a commission on each sale at no cost to you. It helps support the running of this website and I do appreciate your help.
Celebrating Bastille Day In Paris On July 14
July 14 is BIG in France. While English-speaking countries know it as Bastille Day, in France, it is La Fête Nationale or Le Quatorze Juillet. It is France's national holiday and one of the biggest summer events in the country, and especially Paris where there is a lot of celebrating and fireworks.
Historical Event: July 14, 1789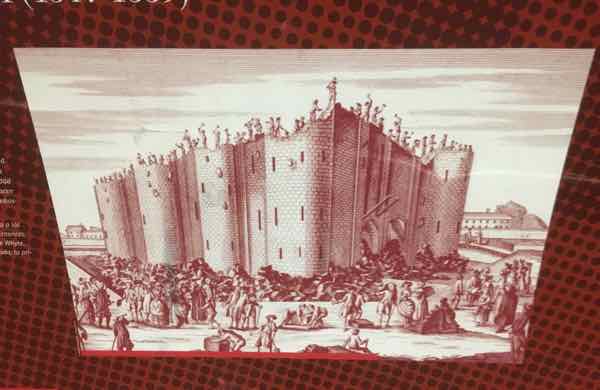 It all started on July 14, 1789. A mob stormed the fortress and prison known as the Bastille. In addition to holding political prisoners (only seven of them), it also held gunpowder and munitions which is what the crowd really wanted. They were revolting against the dictatorial rule of the monarchy. At the time, King Louis XVI was the reigning monarch and his excesses had led to economic turmoil. The majority of French lived off the land, had high taxes and were starving.
This attack was a symbol of the French Revolution. It was the end of the feudal system and the beginning of the Republic. Soon after, the Third Estate (commoners) gained power.
Bastille Day Traditions In Paris
Firemen's Balls: Le Bals des Pompiers
Today, celebrations for Bastille Day actually begin on July 13 with festivities in the main squares and in fire stations. One of the traditions are the firemen's balls, called "Le bals des pompiers". The Paris fire brigade was created in the early 19th century by Napoleon. Today the balls take place on July 13 and 14. They are open to the public with drinking, dancing and partying outside the stations in Paris' 20 arrondissements. The party continues into the wee hours of the morning.
Guingettes Along The Seine
If you'd prefer to do your dancing during the day instead, do consider heading to the banks of the Seine River. There you will find "Guingettes" taking place. These are open-air dance venues with live music, dancing and food. Much more informal "pop-up" guingettes can be found along the Seine where someone brings an amplifier and people spontaneously start dancing.
Lunch At Le Jules Verne Restaurant In The Eiffel Tower
Many, many years ago (embarrassed by my hair and shoulder pads in this photo, but it was the early 90's!), I celebrated Bastille Day and my birthday at the Eiffel Tower with my friend, Laurie. We had lunch at Le Jules Verne Restaurant. While our table wasn't right by the window, the experience was truly special.
Today there are 4 restaurants/bars at the Eiffel Tower:
58 Tour Eiffel on the 1st floor (closed until Autumn 2020)
Le Jules Verne Restaurant on the 2nd floor
Champagne Bar on the 3rd floor
La Bulle Parisienne on the 1st floor
Military Parade Down The Champs Elysée
1880 was the first year there was a parade to celebrate Bastille Day. It was held at the Longchamp Racecourse in Bois de Bologne on the edge of Paris and continued there until 1914.
Since 1919, this parade, Défilé de la Victoire, (also known as the Victory parade celebrating the victory of WWI), has been held annually on the Champs Elysée starting at the Arc de Triomphe and ending at Place de la Concorde. The only exceptions were during WWII when there was no parade when the Germans occupied Paris (1940-1944). And on various occasions during the 1970s some different routes were used (ie. Bastille to République); however. since 1981, the parade has remained on the Champs Elysée.
The parade's opening ceremony begins with the President inspecting the troops and the playing of the national anthem, La Marseillaise. The President then joins the Chief of the Defence Staff in an open army vehicle and they travel to Place de la Concorde where the foreign dignitaries and special guests are.
France's allies from WWI were invited to take part in the parade in 1919 and have continued to take part ever since. Female military personnel didn't take part in the parade until 1971.
Bastille Day Parade In 2019
As I was celebrating my birthday in Paris in 2019, I HAD to attend the Bastille Day parade. Each year the parade has a theme and for 2019, the theme was "Action Together", referring to the military campaigns that France has joined with other European nations. Today, the Bastille Day parade is one of the oldest and largest military parades in the world.
Events At the Parade
There were over 4000 military personnel who took part in the ceremony and they included:
an aerial flyover of aircraft. Trailing smoke from their engines painted the sky with the colours of the French flag in red, white, and blue stripes.
foot soldiers (from various military divisions and academies, the troops of France's invited allies, national gendarmeries, the French army, air force, and foreign legion) marched past
helicopter fly-past
French army in mobile column (ie. armoured tanks)
military regiments on horseback
The one thing we did not see (but it is in the video above) was the flying soldier—yes he was flying on a Zapata Flyboard. It was done right in front of the President and foreign dignitaries. Pretty cool.
In 1990 I got a photo of President Mitterrand and in 2019 I got one of President Macron, so I was happy. But what brought the biggest smile on my face was hearing the loud cheers for the fire brigade and for the police dogs.
If You're Interested In Attending The Parade
The first year I attended (in 1991) I got there fairly early (ie. 8:30 am) so I was able to get a good spot close to the Champs Elysée road. In 2019, we got there at about 10:00 and it was very crowded. There's not a lot of room on the sidewalks due to the barricades. There were probably 5-8 rows of people in front of me so of course there were times that someone was blocking my view. If you really want an unobstructed view of the parade, you need to get there early.
The President of the Republic (Emmanuel Macron) didn't inspect the troops until 10:00 and once he got to Place de la Concorde, the opening ceremonies officially began which was at about 10:20 and the parade was over by noon.
Crowds And Security
When timing your arrival, keep in mind that there is a lot of security. The Metro stations near Place de la Concorde (ie. Concorde, Franklin D. Roosevelt, George V, Champs-Elyésée-Clemenceau) and Charles de Gaulle-Etoile are typically fully or partially closed from 8am-noon. It's best to just avoid them completely.
Regardless which stop you get off at, the Metro in Paris will be jammed. If you can, walk to the parade.
Celebrate Le Quatorze Juillet On Champ de Mars?
Many months before I started my 2-month trip (which culminated with the Bastille Day celebrations), I decided I wanted to celebrate my birthday in Paris in a special way. I had considered doing a picnic at Champ de Mars, the grassy area in front of the Eiffel Tower because there are often concerts and entertainment. It's one, big party.
I changed my mind when I found out one would have to get there incredibly early (ie. early afternoon) and it would be very crowded—-thousands of people. The bigger problem was that there are no toilets and you can't just use the facilities at a nearby restaurant. So I decided to nix that idea.
Dinner Cruise And Fireworks On The Seine
As this was a big birthday for me (turning 60), I decided to get all out and got tickets for a dinner cruise on the Seine River. I was floored that the Bateaux Mouches were sold out in mid-March. So, I booked with Bateaux Parisiens. My friend and I arrived at 8:00 pm and the boat did not set sail until we were partly through our meal…which was outstanding (as was the service—friendly and not pretentious). Our 6-course dinner included wine and champagne and the meal that night consisted of:
Foie gras
Smoked-salmon tart
Veal with vegetables and potatoes
Cheese and a mixed green salad
Sorbet and cake
Petit fours
Still and sparkling water
Coffee and tea
The cost of the cruise was about 190 Euros per person. It was a bit more expensive because we had a table by the window (rather than in the centre of the ship, although in hindsight the views were very good there too). I also think the price was higher booking in March (if you consider 4 months ahead of time late!). I will say, however, that it was an experience I will never forget.
Throughout the cruise there was live music (a singer and a violinist) and the boat cruised on the Seine past all the iconic monuments such as Les Invalides, Cathedral Notre Dame, La Conciergerie, Musée Louvre, and ended at the Eiffel Tower. It docked right in front of it in time for the fireworks which began at about 11:00 pm. We went outside onto the deck and watched the colourful explosions for about 30 minutes. It was the perfect location to see the show.
Plans For July 14, 2020
Due to the Coronavirus outbreak in 2020, there will not be a parade down the Champs-Elysée for the first time since 1944. Understandably, the need for social distancing is needed and gatherings of more than 5,000 people are banned.
Instead, there will be a ceremony at Place de la Concorde with 2000 participants and 2500 invited guests. There will be a tribute to the frontline healthcare workers and military who helped out with the pandemic. Other recognitions include:
countries who also assisted France by taking in French patients. These include Germany, Switzerland, Austria, and Luxembourg.
the 50th anniversary of the death of President Charles de Gaulle
It was announced in mid-June that the Firemen's balls have been cancelled for 2020 in Paris and the French Departments 92, 93, and 94. And, on July 8, the Paris tourism board announced that there WILL be fireworks on July 14 in 2020!
Celebrating La Fête Nationale In Other Parts Of France
While much of this post has been about Bastille Day in Paris, I should point out that cities all over France also celebrate in a big way. I attended one of the best (ever) fireworks display on July 13 in Normandy in 2018. Etretat had the most amazing fireworks which lit up the famous alabaster cliffs. I don't think I've seen anything better.
Honfleur and Le Havre had their fireworks scheduled for July 14 that same year, but I did not attend them. I just felt nothing could top what I had seen the day before in Etretat. Carcassonne is well known for having impressive fireworks; however, the crowds can be massive.
Tips For Celebrating Bastille Day In Paris
Book your dinner cruise more than 6 months in advance. I booked through Viator and they were great in providing me with updates and instructions about getting through security.
A day or two before your dinner cruise, double check with the company about security. With Bateaux Parisiens, we were sent "passes" to get through security at the dock. I'm glad I checked out what wharf (quai) to go to ahead of time.
It's better to use a Metro station away from the events to get to or from the event. Just walk there. The ones near the Eiffel Tower or Place de la Concorde will be too packed.
Get to the parade by 9:00 am to get a good spot.
Do not bring a knapsac or big purse to the parade. As you approach the area it will be packed with lots of security and your bags will be searched.
For the parade, wear comfortable shoes and clothes, and bring a hat, sunscreen, sunglasses, and a bottle of water (and a camera/smartphone, of course). 
Be prepared to stand at the parade for a long time. There won't be any places to sit.
If you decide to go "partying" on July 13, areas like Place de République will be crowded and noisy, and often people set off firecrackers. 
Many boutiques and department stores will be open.
Many museums will be open—but likely crowded.
If you'd like more information about Bastille Day events and the French revolution, check out these articles:
Have you ever attended a Bastille Day celebration in France? Please let me know where you were and what you thought.
Pin to your favourite board on Pinterest