Making Dark Chocolate Macarons– Le Cordon Bleu Tips
I learned how to make dark chocolate macarons at Le Cordon Bleu in Paris and with practice, I have finally developed the ideal recipe to create these delicious French cookies. I'll be sharing tips I acquired at the famous culinary school to help you make the perfect macaron. I will never again buy macarons when I know how easy it is to make them.
French Macarons or Macaroons?
These sweet meringue cookies are called macarons, NOT macaroons. Macarons are made with ground almonds, egg whites, sugar and have a sweet ganache filling so that they are a sandwich-style cookie. Macaroons are also cookies, but are made with shredded coconut and once baked form a small mound cookie. What makes things so confusing, however, is that the English translation for macaron is……ugh…macaroon. Forget Google Translate. Just ask for a "macaron" in France or anywhere in the world. You'll get the right cookie.
History Of French Macarons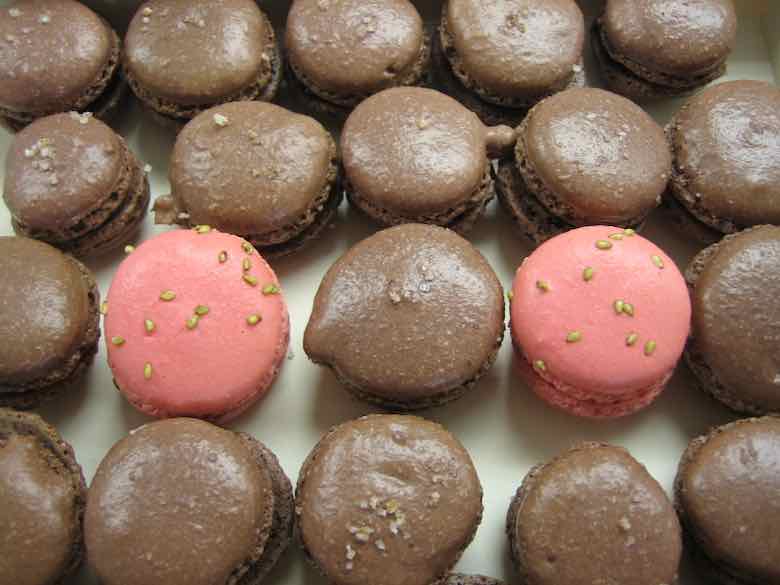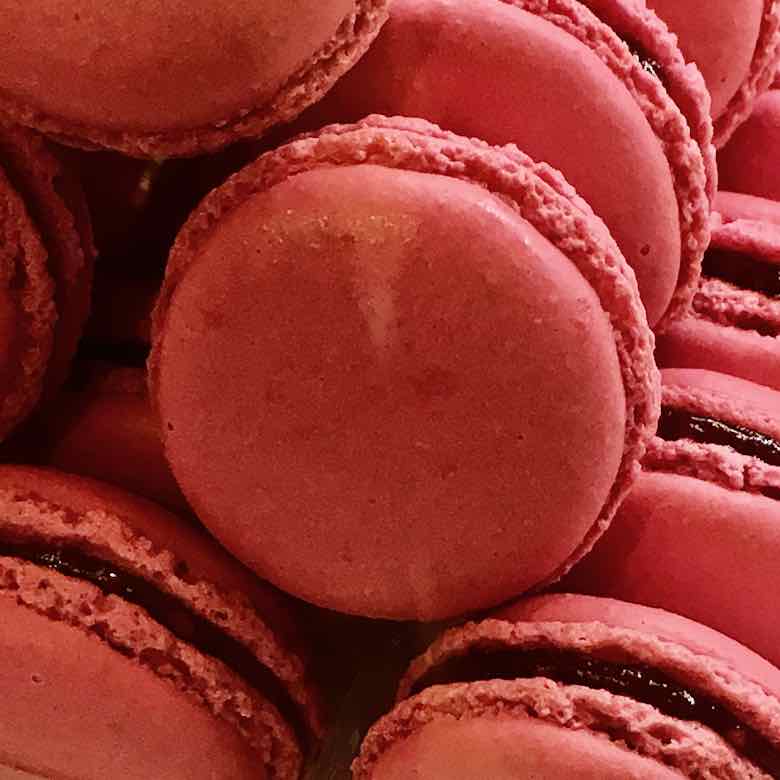 According to Wikipedia, macarons have been made since the 8th century in Venetian monastaries. Supposedly they were made for French Queen Catherine de' Medici when she went to France. And, according to Larousse Gastronomique, the macaron was created in a convent in France in 1791 and were simple cookies without fillings. In 1792 two nuns sold the cookies in exchange for accommodations during the French Revolution. They were known as the "Macaron Sisters".
It wasn't until the 1930s that the cookie became more like a sandwich, with sweet fillings, such as jams, inside. They grew in popularity and evolved to having sweet ganache fillings such as chocolate, pistachio, and many more flavours. Today they are extremely popular at patisseries such as Ladurée, Pierre Hermé, and Mulot.
Dark Chocolate Macarons At Le Cordon Bleu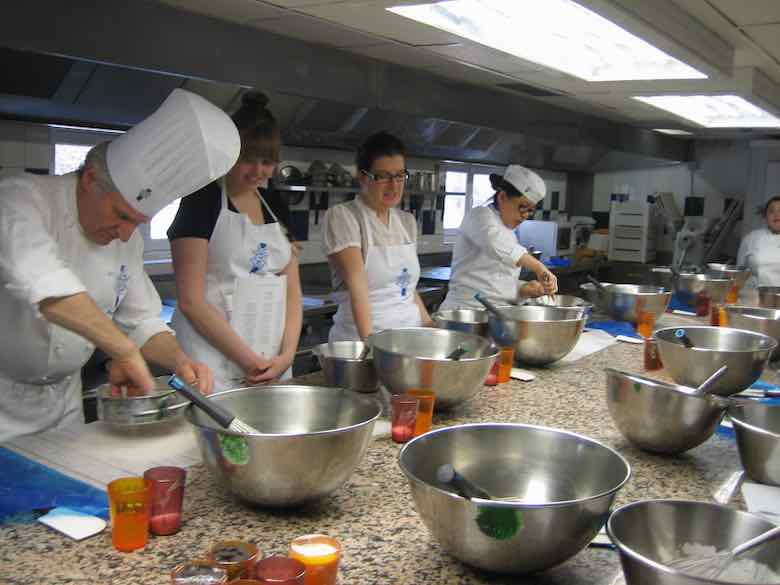 Les Secrets du Macaron
Making macarons in Paris is certainly one of the all-time highlights of my trips to Paris. I signed up for the short course "Les Secrets du Macaron" (The Secrets of Macarons) at Le Cordon Bleu in Paris a few years ago. At the time, the cost was about 90 Euros for a 3 hour class.
Equipment and Instruction
Everything was provided to us: the recipe, utensils, ingredients (already measured out), apron, and tea towel. The instructions were given in French by the pastry chef; however, there was an English translator. We worked in small groups but ultimately prepared and baked our own dark chocolate macarons with fine "fleur de sel" sea salt.
After our Chef demonstrated the various techniques, we then "attempted" to emulate what he had done. His assistants circulated around the class to help us when needed. Forget electric mixers. Everything was by hand and believe me, your hand/arm muscles get a work out as you whisk the egg whites.
Why called "Secrets"?
We were given valuable pieces of advice from the chef that would help ensure our macarons would turn out perfectly. I'll share those secrets and tips with you in this recipe.
Dark Chocolate Macaron Recipe
Hate to disappoint you but you can't just gather all the ingredients and start baking.
There are some steps you need to take days before you begin. Read through the recipe in advance so you can prepare what you need. This recipe will make a chocolate macaron with a dark chocolate ganache filling. It is this filling that "makes" the flavour. The food colouring "makes" the colour. You will first make the macaron shell, then the dark chocolate ganache filling, and then assemble the cookie and ganache to form the macaron.
Yield: makes approximately 36
Prep: 2 hours 15 minutes
Cook: 20 minutes
Total time: 2 hours 30 minutes
Ingredients For The Chocolate Macaron Shells
Dry Ingredients
150 g confectioners' sugar (icing sugar)
90 g ground almonds (be careful if you decide to use almond flour. Sometimes it is basically ground almonds; however, not always)
15 g unsweetened cocoa powder
Fine "fleur de sel" sea salt
Wet Ingredients
80 g egg whites (about 2-1/2 eggs; see note below for a big tip)
1 pinch cream of tartar (1 gm)
35 g sugar
red food colouring
Ingredients For The Dark Chocolate Ganache
150 g dark chocolate wafers (55-60% cocoa chocolate. If the percentage is too high, it may need a little water if it separates)
2 egg yolks
100 g sugar
100 ml heavy cream (ie. whipping cream)
1 vanilla bean (pod)
Kitchen Equipment
[After I took this course, I visited E. Dehillerin, one of Paris' best kitchen supply stores, where I purchased many of the items needed to make the macarons. Check out my post, "My Favourite Kitchen Supply Store: E. Dehillerin In Paris"]
Whisk (I know some people use a stand mixer but I guess I'm a traditionalist. I would also never use a food processor as the ingredients are just too delicate—see step 2 concerning the macaron shell)
Pastry bag or piping bag
Mixing bowls–ideally flat bottom steel bowls
Saucepan
Spatula
Parchment paper or silicone baking mats
Baking sheet
Secrets And Tips For Making Perfect Macarons
Measurements: Making macarons is not difficult; however, being very accurate with your measuring and procedures is crucial. With French recipes, dry measurements are done by weight (grams), not by volume (cups, tablespoons, etc). Using a scale makes all measurements extremely accurate, which you'll definitely want for this macaron recipe.
Egg Whites: 2-3 days in advance, rest the egg whites. Separate the yolks and whites and cover the whites with plastic wrap and place them in the fridge. This is the key to making the perfect macaron. Fresh egg whites are NOT the best for macarons or for meringues. Add some sugar to the egg whites to stabilize them. You can even freeze the egg whites in advance. Just put them in the fridge the day before you start baking.
Almonds: You can grind your own almonds with or without the skins. Do not roast the almonds before grinding them. When you grind them, they should look like pastry (it stays together when you make a ball as there is oil in it)
Whisking technique: start in the middle of the bowl and move to the outer edge of the bowl, turning the bowl as you do this.
Folding technique: the term is"scaping the bowl" or "macaroner". Turn the bowl while you hold the spatula in the mixture and lift the mixture from the side of the bowl to the centre. The action of turning the bowl folds the mixture.
Magnets. Use magnets to hold down the parchment paper onto the baking sheet.
Refrigerate. The macarons are at their BEST in a day or two—-put them in the fridge to dry them out.
Directions For Making The Macarons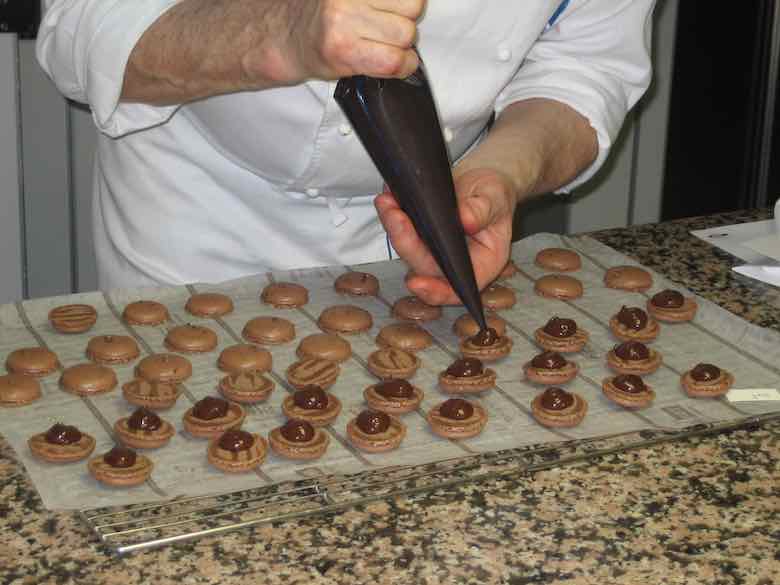 1. Making The Macaron Shells
Step 1: Preheat oven to 160° C (320° F)
Start with the wet ingredients. Add egg whites to an empty bowl: start whisking to 70-80% (starting to look like a peak)—-3 to 5 minutes by hand
Then add sugar a little at a time (3 sets): soft peaks, not too firm (like a bird's beak)
Add a few drops of red food colouring—-it enhances the colour of macaron, but don't use too much (as it makes it more liquid). It should look light pink.
Whisk the mixture and then fold the mixture ("macaroner"-see the tips above)
Step 2
Fold in the dry ingredients. (Do this in 3 sets). Do not mix well. Finish mixing the batter by scraping with a spatula. Put the mixture into a pastry bag with a tip.
Line a baking sheet with parchment paper—which can be held down with magnets.
Form macarons on the baking sheet. They should be 1.5″ to 2″ apart.
Drop the baking pan on the table to flatten them a few times (only if the dough seems firm)
Lightly sprinkle each with sea salt (optional)
Step 3
Rest them on a baking sheet 15-20 minutes—the cookies need to dry so that when you touch them they won't stick to your fingers
Step 4
Bake the macarons in the oven at 160° C (320° F) for 15-20 minutes but NOT golden, just set—-it depends on the size of macarons and at the halfway mark, turn the baking sheet so the macarons bake evenly.
Open the oven door every few minutes to let the steam out
Touch and feel the tops of the cookies—they should not be TOO soft but not hard
The "perfect" cookie will have a shape more like a cylinder, with flat sides rather than a disk with sloping sides.
2. Making The Dark Chocolate Ganache
Step 1
Cut the length of 1 vanilla bean. Scrape out seeds with a knife and put them in a saucepan.
Add cream and a little sugar.
Turn on the heat and bring the mixture to a boil
Step 2
In a separate bowl, add the egg yolks and the rest of sugar. Do not whisk until the sugar is added.
Add the boiled cream to the bowl which has the whisked eggs. It will basically become Crème Anglaise (light custard) and the base for the ganache.
Put the saucepan of cream/yolks (Crème Anglaise) onto an stovetop for 20 seconds. Don't go over 80 degrees because you will overcook it.
Step 3
Pour the Crème Anglaise into the chocolate (use a flat bottom steel bowl) and whisk. Do not do this over heat.
If the chocolate won't entirely melt, put it back over heat but whisk while doing so
Add a little alcohol if you want (ie. Rum and Grand Marnier==1.5 tbsp or more)
Add the mixture to a pastry bag—-don't make a big hole at the end. Just enough for the plastic tip to protrude out.
3. Assembling The Macaron Cookies and Ganache
Flip over 1/2 of baked macarons onto a tray. Be sure they are cool—at room temperature.
Put the "imperfect" macarons on the bottom.
Top each flipped macaron with a dollop of ganache and then top the cookie with the other macaron.
You're done! And yes, you can freeze them.
How Much Are Macarons In France?
One macaron typically sells for about 2-3 € each in France. Many places sell extra-large macarons. To be honest, they look really weird—like big sandwiches and not at all delicate looking…with a much higher price to go with them. So, now that you know how to make macarons why would you ever buy them?!?!
What's your favourite macaron flavour? (While I love dark chocolate macarons, I really like raspberry too!)
If you're interested in more culinary experiences, be sure to check out these posts:
Pin to your favourite board on Pinterest