What Are The Best Lemon Pastries To Buy In Menton?
You know the saying, "When life gives you lemons, make lemonade"? This is the perfect phrase to describe my recent trip to France. Nearby Italy had a Coronavirus (COVID-19) outbreak and the Fête du Citron festival had been cancelled but I was still able to enjoy Menton and enjoy lots of lemon pastries and treats.
*This post contains affiliate links. If you make a purchase through these links, I get a small commission at no extra charge to you. It helps support the running of this website and I do appreciate your help.*
Lemons In Menton
Let me start by saying, I ate my way through Menton and they were all related to the lemon- lemon desserts, limoncello, lemon pate, lemon jam, and lemon candies. Why all the lemons? Legend has Eve (of Adam and Eve fame) burying a lemon in the ground where Menton now stands. The city is renowned as the centre of the lemon industry in France. In the surrounding area, a variety of different types of lemons, limes, clementines, and mandarine oranges are grown. So, why not have a festival every year to celebrate the citrus products (primarily the lemon) in such a beautiful seaside town?
Fête du Citron: Lemon Festival
Update: the next Fête du Citron is scheduled for February 11-26, 2023
I had tickets to attend the Fête du Citron in Menton. The famous "Lemon Festival" runs from February 15-March 3 and has ongoing parades (day and nighttime), the Jardins de Lumières (Garden of Lights), an Orchid Festival, and many more events. Unfortunately, hours before I flew to France on February 26, the rest of the event was cancelled due to the public health situation in Italy. Menton is located only a couple of kilometres away from the Italian border.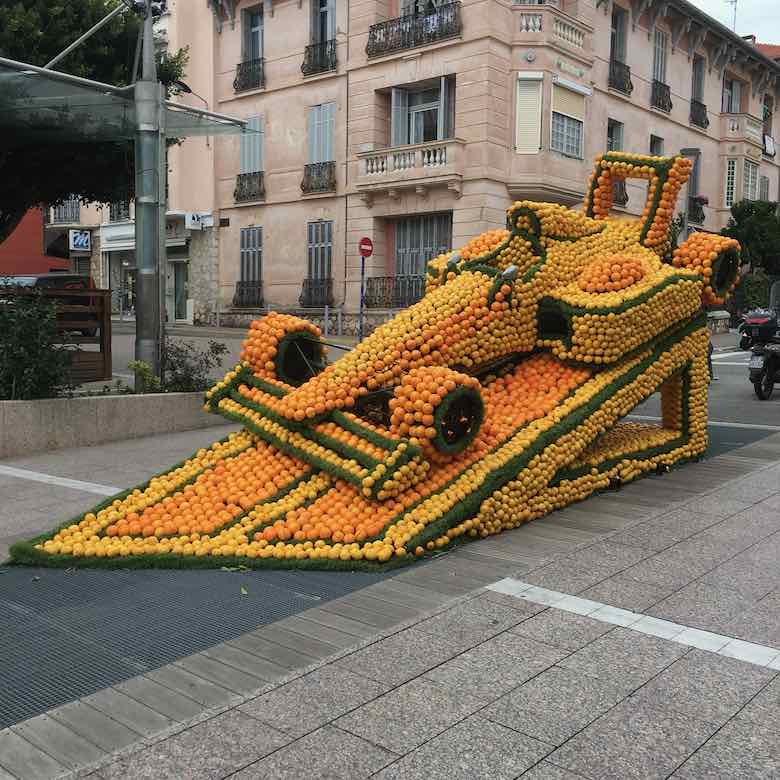 While I was extremely disappointed (because the primary reason I made the trip was to attend the festival), all was not lost because I still got to see the tops of the lemon/orange sculptures that were located in the Jardins Biovès. And a few more very creative sculptures were located throughout the city. And then there were all the lemon desserts I got to eat.
Lemon Pastries, Products, and Treats In Menton
During the week that I was in Menton, I tried to eat at least one lemon dessert or product. Some days I had two. Here's a list of the lemon delicacies you should try and I've indicated where I purchased them. Don't worry, you can get these year-round, not just during the Fête du Citron:
1. Citronnier
The Citronnier from F. Leroy was almost too beautiful to eat. This lemon mousse filled with lemon caramel was my favourite lemon pastry. It had the perfect tart lemon taste and was light and fluffy.
Cost: 4.5 €
Purchased from: Boulangerie Patisserie F. Leroy la Cigale Fabrice
Address: 27 Avenue Carnot, 06500 Menton, France
2. Eclair Citron Meringue (Lemon Eclair With Meringue)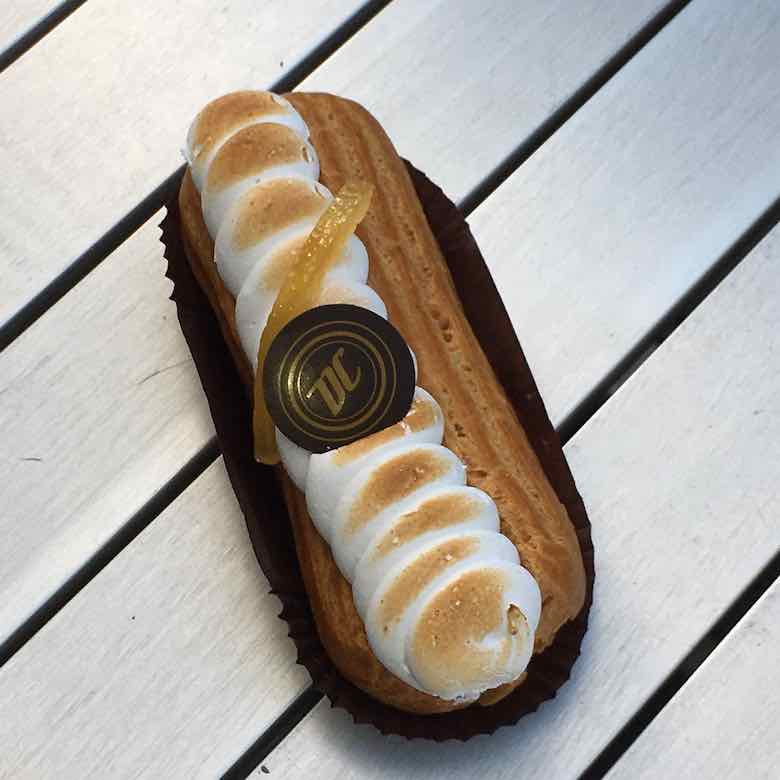 Start with choux pastry (pâte à choux) and create an eclair. Then, instead of chocolate or whipped cream, fill it with lemon custard and top it with meringue.
Cost: 3 €
Purchased from: Sucre et Délices – Rey et Fils
Address: 35 Avenue de Verdun, 06500 Menton, France
3. Tarte au Citron de Menton (Lemon Pie)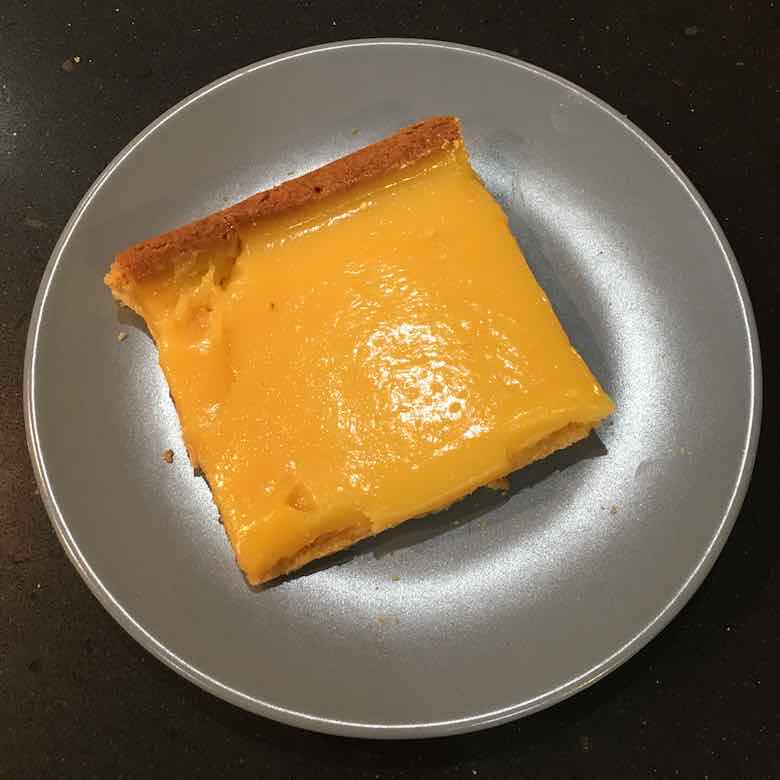 This was the classic lemon tart on a shortbread cookie and my first dessert in Menton. Au Baiser du Mitron also carries some of the best bread in Menton, including a variety of Provencal Fougasse breads.
Cost: 3.5 €
Purchased from: Au Baiser du Mitron booth during the Saturday farmer's market
Address: Marché des Halles-5 Quai de Monleon, 06500 Menton, France
4. Beignet Citron (Lemon Donut)
Canadians will be familiar with "Timbits", those little donut holes. These were filled with a lemon jam with sugar on the outside. I ate 4 because buying one just didn't seem right. I picked them up at La Madone, a highly rated boulangerie. There was a lineup when I arrived.
Cost: 0.60 € each
Purchased from: Boulangerie La Madone, Menton
Address: 21 Avenue de la Madone, 06500 Menton, France
5. Cake Citron (Lemon Cake)
This was one, moist lemon cake. It was sweet and a bit sticky with lemon infused throughout. The bakery also carries lemon tarts, lemon eclairs and a wonderful assortment of other pastries.
Cost: 3.5 €
Purchased from: Boulanger Patisserie Jean Luc Pele
Address: 1 Rue Partouneaux, 06500 Menton, France
6. Lemon Candy, Jam, Pate, and Limoncello de Menton
The lemon candy (Bonbon à la Confiture de Citron) was a wonderful and not too sweet treat. Hard on the outside and soft and chewy inside.
Cost: 4€.
Candy purchased from: Maison Herbin-La Boutique
Address: on rue Saint-Michel around the corner from Herbin Confiturerie on 2 Rue du Vieux Collège
The Confiture Citron Vert (Lime Jam), Pate au Citron de Menton (Olive and lemon paste), and Limoncello de Menton were gifts from my Airbnb hostess. The lemon liqueur was strong so the small amount in the bottle was just right. The lime jam reminded me of key lime pie. I liked it a lot. The pate was more like a tapenade. The taste of olives was very pronounced and I felt the product was too salty.
Store: Au Pays du Citron- a major shop in Menton that sells many lemon-based products including soaps.
Address: 24 Rue Saint-Michel, 06500 Menton, France
Two Lemon Treats Outside Of Menton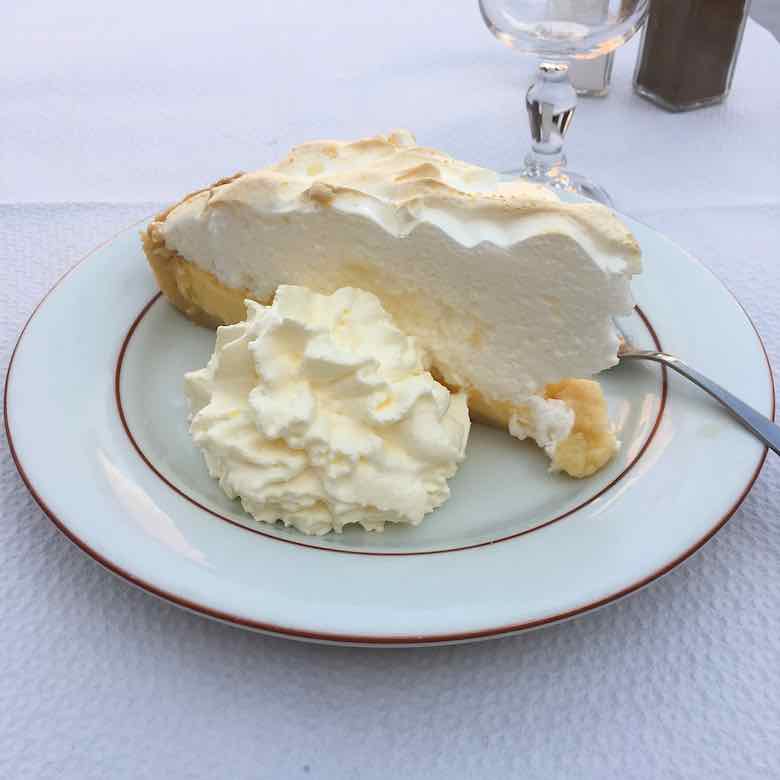 I have to mention two more desserts I had outside of Menton. There was the excellent Lemon Meringue Pie (Tarte au Citron Meringue for 4 €) with my lunch at Les Acacias in Biot and a Lemon Sorbet (Citron Sorbet) in Nice at the very popular Fenocchio Maitre Glacier (4 € for 2 scoops). When the Lemon Festival in Menton runs again I hope to attend. I'll also be sampling more lemon desserts because you can never get enough.
Where To Stay In Menton
I absolutely loved the apartment I rented in Menton: centrally located with an elevator, this 1 bedroom apartment was spacious with a large kitchen and sitting area. There was a balcony and the owner was a Superhost. I highly recommend staying here (and would stay again in a heartbeat):Apartment With Balcony In The Centre Of Menton
TRAVEL RESOURCES
Booking.com and Expedia: are the companies I use for finding accommodations.
VRBO: is super for booking apartments and houses.
AutoEurope: is the only car rental supplier that I will use–with the best prices, and they will refund the difference if the price goes down.
Trainline: offers an easy way to book train tickets.
Get Your Guide and Viator: Both offer tours, city cards, tickets, airport pickups, and so many other things you'll need at your destination.
Orange SIM Card-this is the company I use when I want a physical SIM card
Orange e-SIM and Airalo e-SIM-both companies offer e-SIMS and get great reviews
Pin to your favourite board on Pinterest