11 Beautiful And Famous Bridges In France To Photograph
"A thing of beauty is a joy forever". I think this line from the poem "Endymion" by John Keats, accurately describes some of the most famous bridges in France. Many have interesting histories and legends associated with them and while they are famous they are also quite beautiful. Each is worthy of a photograph.
*This post contains affiliate links. If you make a purchase through these links, I get a small commission at no extra charge to you. It helps support the running of this website and I do appreciate your help.*
11 Beautiful And Famous Bridges In France You Should Photograph
One of the oldest bridges is in Paris. One bridge is the tallest in Europe. One inspired a song. One became known as the "love lock" bridge of Paris. Come discover the bridges that can bring you joy, and when you see them in person, they'll bring you some beautiful photographs.
1. Pont du Gard (Gard)
One of my all time favourite bridges is Pont du Gard. It means, "Bridge over the Gard", although the river it actually goes across is the Gardon River in Provence. It is quite the site to see from many angles. I have kayaked under it, walked across the top, and have attended a sound and light show that blew me away. Pont du Gard is 902 feet long, 60 feet high, and consists of 3 levels and 6 arches. It is made of limestone and was recognized as a Unesco World Heritage site in 1985.
(a) Pont du Gard's History
Pont du Gard is a man-made aqueduct that was built in 1 AD. The Romans were responsible for constructing this enormous structure and it was part of a much bigger system that carried water from Uzès to Nimes over a distance of 50 kilometres.
A road was constructed in 1743 alongside the bridge; however cars are no longer allowed on the road. Today only pedestrians can use it to cross the river.
(b) Activities And Events At Pont du Gard
Until the mid 1990s you could actually walk across the top of Pont du Gard aqueduct. I did it (pictured above in 1991….in my MUCH younger days) and am surprised I didn't fall off and die as there were no railings or barriers. Today, there are guided tours; however, they only take you through the top channel (and they certainly won't let you go on top).
While you cannot walk across the top, you can take advantage of the outdoor activities in the area and have a picnic along the shores of the river. Kayaking on the Gardon river and passing under the Pont du Gard is an experience that I highly recommend. I wrote about this experience in this post about 5 Activities You Can Do At Pont du Gard (And 1 You Can't).
Attending a sound and light show (especially if there are fireworks) will also be incredibly memorable. I hope they repeat "Les Féeries du Pont" that I attended in 2017. The audience was spread out on the shores of the river, facing the grand arches and food trucks served inventive meals just before the entertainment began. Illuminated characters mingled amongst the crowd and an announcer provided commentary to go along with the show and fireworks. Keep your eyes open for future special events.
Location: 400 Route du Pont du Gard, 30210 Vers-Pont-du-Gard; 25 km west of Avignon and 24 km northeast of Nimes
Entrance fee: yes
Visitor's centre: yes (it also has a museum with audio-visual displays and reconstructions of the bridge)
2. Pont d'Arc (Ardèche)
Another famous bridge in France is Pont d'Arc. I intentionally travelled to the Ardèche in 2018 so that I could photograph this natural bridge and kayak under it.
(a) Pont d'Arc History
Pont d'Arc is located in an area famous for its prehistoric caves (Chauvet-Pont-d'Arc- and the Caves at Aven d'Orgnac). The arch was formed over time due to erosion. The Ardèche river slowly created a natural arch that today measures 60 metres wide and 54 metres high and is considered the gateway to the Ardèche Canyon. It is over 500,000 years old.
(b) Activities At Pont d'Arc
I wasn't the only one who was enjoying the beauty of Pont d'Arc. As you can see from the photograph, lots of people were sunbathing, swimming, canoeing, and kayaking near Pont d'Arc. You can also hire a boat to take you on a tour of the area. Check out my post on kayaking under Pont d'Arc here.
Location: 5 km from Vallon Pont d'Arc, 52 km southwest of Montélimar and 46 km northeast of Alès
3. Pont Valentré (Cahors, Lot)
When travelling between Toulouse and Rocamadour, a good stopping point is in Cahors. While the name of this town may make you think of deep-red Cahors wine, it is also quite famous for Pont Valentré, a bridge which was constructed in the 14th century during the Hundred Year War.
Pont Valentré's Legend And History
It took over 70 years to build Pont Valentré and legend has it that the supervisor of the project was getting so fed up with how long it was taking to build that he made a pact with the devil where he would give up his soul in exchange for a speedy completion.
When the supervisor had second thoughts, he tricked the devil by asking him to fetch water using a sieve. Satan decides to get back at him by removing one of the stones each night from the central tower.
The bridge was restored in 1879 by Paul Gout who added a stone with the image of an imp into the central tower (now called the "Devil's Tower). It was done so that the devil would believe that his revenge is working.
It's a nice legend and only a legend because 750 years later Pont Valentré is still standing with 8 arches and 3 towers. It measures 138 metres long and 40 metres high and crosses the Lot River.
Location: 114 km north of Toulouse, 205 km east of Bordeaux
4. Pont de Normandie (Seine-Maritime)
If you're visiting Honfleur or Le Havre, you'll be close to a famous bridge that crosses the Seine river and connects the two cities. It is aptly named Pont de Normandie and was designed by Michel Virlogeux who also designed the Millau Viaduc.
Pont de Normandie History
A more accessible route to ship goods from northern to southern France (without going through Paris) was created in 1959 with the construction of the Pont de Tancarville; however, traffic was increasing rapidly so another bridge was constructed. It took 7 years (and 10 million hours of work) to build and on January 25, 1995, at a cost of € 233 million, Pont de Normandie was inaugurated. Pont de Normandie:
is a cable-stayed bridge (184 stay cables) where each tower is connected to the deck by a series of diagonal cables. (With suspension bridges, the cables run vertically).
spans 4 lanes of highway and also has 2 paths (for pedestrians and bicyclists) alongside the roads.
is 2141 metres long, 214 metres high, and 22.6 metres wide
was the longest cable-stayed bridge in the world between 1995-2004. This record was broken nine years later by a bridge from Greece.
has guided tours on the Honfleur side (reservations are required) and a walking path to explore the Seine estuary on the Le Havre side.
Location: 5 km east of Honfleur, 22 km southeast of Le Havre
Toll: yes (5.4 € one way but free for pedestrians, bicyclists, and motorcyclists
5. Pont Saint-Bénézet (Avignon, Vaucluse)
Before you enter the medieval walls of the town of Avignon, you'll no doubt see a most unusual sight: a bridge that stops in the middle of the river and doesn't reach the other side. That is the famous Pont Saint-Bénézet, more commonly known as Pont d'Avignon.
(a) Pont d'Avignon's History
Back in the 12th century, a wooden bridge was constructed across the Rhone river to connect the towns Avignon and Villeneuve-lès-Avignon. Legend has it that a young shepherd named Bénézet was told by a higher power to build a bridge in Avignon.
This bridge was constructed but didn't survive. It was destroyed in 1226 and soon after, another bridge, made of stone, was built. It had 22 stone arches but through the centuries parts of it kept getting washed away by the strong river currents and flooding.
Eventually so much of the bridge had collapsed that today, all that remains are four arches and a gatehouse (on the Avignon side). It was designated a UNESCO World Heritage Site in 1995 along with Avignon's Palais des Papes.
(b) "Sur le Pont d'Avignon" song
Besides being known as an incomplete bridge, Pont d'Avignon gained notoriety from the song, "Sur le Pont d'Avignon" which many children learn to sing. The song, about a dance, originated in the 15th century but became the song we know today in an 1853 operetta called "L'Auberge Pleine" by Adolphe Adam. The first chorus is:
Sur le Pont d'Avignon
L'on y danse, l'on y danse
Sur le Pont d'Avignon
L'on y danse tous en rond
On the bridge of Avignon
We're all dancing, we're all dancing
On the bridge of Avignon
We all dance in circles
What's interesting about this song is that although it says, "Sur", meaning "on" the Avignon bridge, the dance actually took place under the bridge as the bridge would not have been wide enough to accommodate all the dancers.
(c) Visiting Pont d'Avignon
A visit on the bridge at Avignon is worthwhile. You can take a tour and inside there is an excellent museum with 3D multimedia displays. They explain how the bridge was constructed and destroyed.
Location: By the Rhône River, 0.5 km from the Palais des Papes in Avignon
Entrance fee: yes
6. Millau Viaduct Bridge (Aveyron)
Some impressive superlatives describe the Millau Viaduct:
the longest bridge in France.
holds the world's record for being the highest or tallest bridge in the world (based both structural height and deck height-336 metres).
the most expensive bridge to build in France (€ 394 million)
Millau Viaduct's History
Located near the town of Millau, the Millau Viaduct is a cable-stayed bridge. It was designed by English architect, Norman Foster and French structural architect, Michel Virlogeux, who also designed the Pont de Normandie.
The Millau bridge was constructed in 2004 over the Tarn valley and river and it became part of the A74 autoroute as a way to alleviate traffic for those travelling between Beziers and Paris. It provides the shortest route from northern to southern France with 16 lanes of traffic!
Location: 20 km from the town of Millau
Tolls: yes (just over 11 €)
7. Pont Julien (Vaucluse)
I came upon Pont Julien during my stay in Provence a few years ago. It is only 6 kilometres from Bonnieux and while cars and trucks were forbidden to use it after 2005, bicyclists and pedestrians continue to cross this historic bridge.
It's also a popular place to have a picnic if you're staying in Bonnieux or after having visited the weekly Apt market as there are trees surrounding the area that provide shade and grassy area to lay down your picnic. This is a quiet spot that is quite picturesque. It's quite amazing to see a structure that is over 2000 years old.
Pont Julien's History
What makes this bridge so unique is that the Julien bridge was built in Roman times around 3 BC to be part of the Via Domitia, a road that connected Spain and Italy. Limestone from neighbouring Luberon quarries was used to create the bridge which has three arches and spans the Calavon River. It measures approximately 38 feet high, 262 feet long, and 20 feet wide.
Be sure to walk under the bridge where you can really see the work that had been done to construct this impressive bridge.
Location: 6 km north of Bonnieux and 6 km west of Apt, with free parking
8. Pont des Arts (Paris)
Pont des Arts (or "Passerelle des Arts") is just one of 5 bridges that is just for pedestrians in Paris. From 2008 to 2015, there were thousands of padlocks attached to the mesh wire sides. While not invented in France, the tradition was for lovers to attach a padlock to another lock, grate, or wire on the bridge to symbolize their enduring love. The couples would often write their initials on the lock. That's why the bridge is also known as the "love lock" bridge in Paris. Over the years more than a million locks had been added and when city workers cut some off, more would take their place.
As you exit on the left bank, you'll face the Institut de France and on the right bank, after crossing Quai Francois Mitterrand, you'll enter the Porte des Arts and Cour Carrée, which is one of the main courtyards of the Musée de Louvre.
Pont des Art's History
Pont des Arts was constructed in 1804 and became a national historic monument in 1975. It was the first metal bridge in Paris, however, due to damage due to two World Wars and boat crashes, it was in bad shape. So it closed in the late 1970s due to a barge hitting it and collapsing much of the bridge.
A new Pont des Arts bridge was inaugurated in 1984 and in 2015, all of the locks were removed because they were damaging and weighing down the bridge and affecting the structure. It was becoming dangerous….and an eyesore.
In place of the wire, the city installed glass sides to the bridge so locks couldn't be attached. It is much more attractive, but sadly, the locks have appeared on other bridges. Guess the city will remove those in time.
While there are 37 bridges in Paris, Pont des Arts is one of the most famous ones that crosses the Seine River. It's a very popular spot, especially at night time. Here you'll find lots of people having picnics (me included). Serenaded and entertained by musicians and the passing tour boats, this is a great place to hang out.
9. Pont Neuf (Paris)
Pont Neuf is often considered the centre of Paris. It is actually a bridge in two parts, connecting Ile de la Cité to the right bank and the left bank. If you head north to the right bank, one of the areas you'll hit is Les Halles, which was renovated in 2018 with a gigantic canopy added over the shops. Heading south to the left bank will take you into the 6th arrondissement and Luxembourg Gardens.
Pont Neuf also connects to a most interesting island. At the tip of the island is Square du Vert-Galant which has a small grassy area. It's great for picnicking….or just watching the boats go by.
Pont Neuf's History
In French "pont neuf" translates to "new bridge" but this arched bridge is anything but. Pont Neuf, in fact, is the oldest standing bridge that spans the Seine River. Built in the early 16th century, Pont Neuf was unique in that it actually had pavement to protect pedestrians from mud and horses.
It was called "new" because at the time, it was the newer bridge without houses and this was in contrast to the older bridges crossing the Seine river that did have houses.
Three King "Henry's" were involved in the creation and construction of the bridge:
Henry II-who wanted it but was turned down because it was too expensive
Henry III-who got the construction started
Henry IV-who finally got it completed
After Henry IV was assassinated, his widow and second wife, Marie de' Medici, ordered a bronze equestrian statue of Henry IV be created and located on the island to honour his reign. It is located on the island above Square du Vert-Galant.
Measuring 232 metres long and 22 metres wide, it has 12 arches or spans that support the bridge. It's beautifully designed with 381 stone masks (mascarons) that have been added to the sides of the bridge. Each one is different and represents a divinity or god from mythology. Today we see reproductions. The originals, from the 1500s, are housed at Château d'Écouen (which houses a vast collection of items from the Renaissance), located just outside of Paris. In 1889 Pont Neuf was designated a Monument Historique.
10. Pont de Bir-Hakeim (Paris)
Pont de Bir-Hakeim is on my list for two reasons. The first is that it is the BEST place to view the fireworks at the Eiffel Tower on New Year's Eve. When I did it a few year's ago, it was spitting rain, so having protection from the overhead viaduct was a nice bonus.
The second reason is that the architecture is beautiful, especially the colonnade-a long row of metal columns which support the viaduct and the stone arch in the middle. It's a great place to take photographs. Filmmakers certainly like this bridge too, because it was featured in the Leonardo DiCaprio movie, "Inception".
What's unique about this bridge is that there are two levels, one for cars and pedestrians and a higher level (Viaduc de Passy) for Line 6 of the Paris metro.
Pont de Bir-Hakeim's History
Pont de Bir-Hakeim is a steel arched bridge that crosses the Seine River. It is 237 metres long and 25 metres wide and runs between the 15th arrondissement on the left bank to the 16th arrondissement on the right bank. It just crosses the tip of the Ile aux Cygnes.
The original bridge was built in 1878 and the bridge that you see today was constructed in 1905. In 1948 the name was changed from Pont de Passy to Pont de Bir-Hakeim in recognition of the battle fought by the Free French Forces against the Germans in Libya during World War II.
11. Pont Alexandre III (Paris)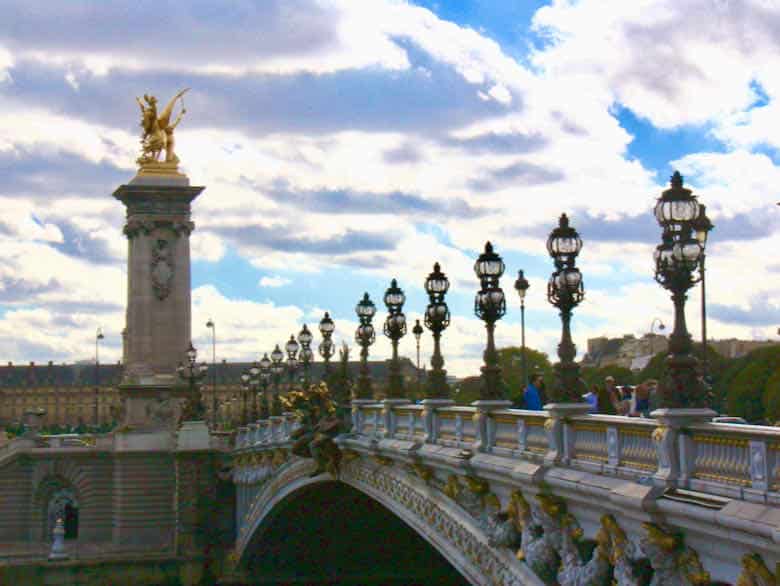 Another bridge in Paris that is famous and beautiful is Pont Alexandre III. Why do so many people like it? Why should you be sure to walk on this bridge? It is ornamental and designed in the art nouveau style enhanced with sculptures, lamps, golden statues, and various reliefs on the sides of the arches (ie. nymphs, cupids, sea monsters, and cherubs).
No wonder so many movies such as, "Midnight In Paris" have included scenes at this bridge. And it is one of the best bridges to get views of the Seine, the Grand and Petit Palais, and the Eiffel Tower. It's elaborate, but beautiful, and do consider visiting when the Belle Epoque lamps are lit.
Pont Alexandre III's History
This deck arch bridge is 160 metres long and is made of steel. It crosses the Seine River and was built in the late 1800s (the Belle Epoque era) and named after Russian Czar Alexandre III who was a key player in the alliance between France and Russia. His son, Czar Nicholas II of Russia laid the first stone in 1896.
Built for the Exposition Universelle in 1900, Pont Alexandre III led visitors across the Seine River from Hôtel des Invalides on the left bank to the Champs Elysée on the right bank. On their way, they would pass the Grand Palais and Petit Palais, which were also built for the World's Fair. In 1975 Pont Alexandre III was designated a Monument Historique.
At each end of the bridge are sets of socles with 17-metre-high stone pillars. On top are the gilded statues of Pegasus being supported by Fame of Industry, of Commerce, the Sciences, and the Arts (Renommée de l'Industrie, du Commerce, des Sciences, et des Arts).
TRAVEL RESOURCES
Booking.com and Expedia: are the companies I use for finding accommodations.
VRBO: is super for booking apartments and houses.
AutoEurope: is the only car rental supplier that I will use–with the best prices, and they will refund the difference if the price goes down.
Trainline: offers an easy way to book train tickets.
Get Your Guide and Viator: Both offer tours, city cards, tickets, airport pickups, and so many other things you'll need at your destination.
Orange SIM Card-this is the company I use when I want a physical SIM card
Orange e-SIM and Airalo e-SIM-both companies offer e-SIMS and get great reviews
Pin to your favourite board on Pinterest