I am so honoured that Francetraveltips.com is featured in these publications, websites and podcasts. Check out the interesting articles here.
Writing
Guest Contributor At Impact Magazine
Contributing Writer For Google's New Travel Tool, "Touring Bird"
In September 2018 Google launched a new travel tool that only focusses on experiences in cities. It's called Touring Bird . Many of my contributions are"Local Tips" in Paris—-and these are experiences that I have written about on my website. Paris is one of 20 top travel destinations that are featured in the initial launch.
Contributing Writer At GettingOnTravel.Com:
At the online travel magazine, Getting On Travel.  Articles:
Picture Perfect Kayaking In Southern France
Best Boomer Tips For Savvy Boomers
Mais oui! Learning French at a language school in France
Easy-To-Find Happiness In France
Tips For Hiking The French Alps (When You're Not Really A Hiker)
Guest Contributor At Auto Europe:
Other Contributions:
Best Canadian Credit Cards – Travel Hacker Guide—CreditWalk
Three Places In Provence To Visit More Than Once—Perfectly Provence
The Romantic Cruise Destinations For Couples In the Mediterranean—Azamara
Exploring The South Of France– A Road Trip Guide
My video of the sheep migration during the Transhumance in Saint-Remy-de-Provence: 11 Traditions From The South of France. – Frenchly.us
Chateau de Villandry- Fairytale Châteaux-The Best Castles In France– TwoDrifters.us
A special lunch in Robion, Provence- "My Blogger Pals Share Their 2016 Travel Secrets"– journeywoman.com
Visiting Avignon, France—"Trip of a Lifetime: Bloggers Pick Their Must-See Destinations"–rachelheller.org  
Gates at Château de Fontainebleau, France-"Gates Around The World: Doorways To Travel"–MoreTimeToTravel.com   
Stained glass window in Chateau d'Amboise–"Windows Around The World Open Doors To Lifestyle and Culture" —MoreTimeToTravel.com   
Unique door at Musée Grévin in Paris— "Picturesque 'doortraits' around the world" —MoreTimeToTravel.com 
Kayaking At The Pont du Gard—"12 Best Outdoor Adventures In Europe"–ContentedTraveller.com 
Picnic Spots in Paris—"Pique-Nique Parisien: Best Picnic Spots In Paris"—DuVine Cycling and Adventures  (Duvine.com)
Free Save Splurge—FreeInParis.com  
Marathon du Medoc: A Challenge Not To Be Missed – oneworld365.org  
A Delicious Challenge. France's Marathon du Medoc –Running Room Magazine  
Website Interviews
Alumna turns French dreams into a travel reality Western University (known as the University of Western Ontario when I attended)

Interview With France Travel Expert Janice Chung-Travel Awaits

9 Travel Bloggers Tips To Inspire Your Next Trip To France and Paris France-Hotel-Guide.com
Language Cooking Classes In France: A Conversation With Janice Chung– PinkPangea.com
23 Unconventional Places Introverts Would Love To Travel—lifehack.org
Podcast Interviews
I had the honour to be interviewed on two podcasts:
 "Join Us In France" where I was the featured guest three times.

I shared many unique experiences one can try in France. Check out the podcast in iTunes or on the Join Us In France website. Or you can listen to the podcast here.
I discussed the many chateaux in the Loire valley and described many of the experiences one can have in the area, such as doing a hot air balloon ride through the area. The podcast can be found in iTunes or on the Join Us In France website (Loire Valley Castles You Shouldn't Skip).
Highlights of my trip to Etretat in Normandy with a focus on seeing the magnificent cliffs in the episode, "Tips For A Visit To Etretat In Normandy".

"1001 Travel Tales" where I shared travel tips for those planning a trip to France. Check out the podcast on Stitcher, iTunes, or on the Just Go Places website where you can also read the transcripts.
Recognition
1. Five Of The Best Blogs About France 2018 (French Waterways)
2. Top 10 France Travel Blogs (Feedspot)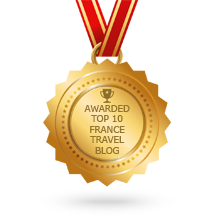 3. Top Travel Blogs For France (VidaLingua)
Top Travel Blogs For France–VidaLingua (creates apps for learning languages)
4. Top 100 French Blogs and Websites For Francophiles (Feedspot)