Flamingos, Wild Horses and Rediscovering Aigues-Mortes
Going back to the great walled fortress of Aigues-Mortes was on my list during my recent trip to the Gard department in the south of France. I hadn't been there in about 25 years and the trip WOULD have been perfect if I had seen wild Camargue horses and real flamingos. Sadly, it was not to be. I did see (somewhat) wild horses and the medieval town, but I did not see my little pink birds. The closest I got to seeing a flamingo was the sign on a road nearby. But it's just not the same. C'est dommage (too bad).
Walled Fortress of Aigues-Mortes
Aigues-Mortes is a medieval walled town and fortress located 90 kilometres northwest of Marseilles. It is surrounded by marshland of the Camargue, which is also known for its flock flamboyance of flamingos and wild horses. When I visited the town in January I only saw that flamingo sign and I don't think the herd of white Camargue horses were that wild. After all, they were in a fenced pasture off the D62.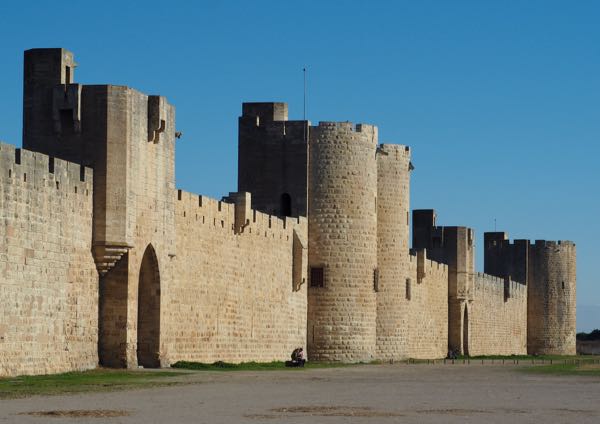 I should have known that you really have to take an excursion INTO the wetlands of the Camargue Natural Park (Park Naturel Regional de Camargue) which are east of Aigues-Mortes to see either creature. The government created an oasis in the Etang du Fangassier (the Fangassier Pond) to assist the flamingos in their breeding. According to one report, the numbers reached 10000 pairs in May  2016. Through the Spring, Summer, and Fall, you'll be able to see thousands of flamingos. It would be quite a sight.
A future trip, no doubt.
Ramparts
One thing I did enjoy besides wandering on the outside of the town to see the scope of the walls, was walking on the upper ramparts. One gets a great view of the entire walled-in town and when I went (in January) it was tourist-free! No difficultly in getting any photos.
Festivals
The first time I visited Aigues-Mortes was during their medieval festival in August called, "La Fête de la Saint Louis". It's perhaps a perfect time for children as wandering through so many medieval castles can get dreadfully boring for them if there isn't some entertainment (or opportunity to jump around and move like a knight in armour).