Food, Wine, And Tours At The Montmartre Wine Festival
Visiting Paris in October? The Montmartre wine festival is THE Paris event to attend where the city celebrates the grape. Did you know there's a vineyard in Paris? Yes, and it's located in Montmartre! The festival, also known as "Fête des Vendanges", is a 5-day celebration that involves wine tasting (of course), sampling foods from different regions of France, enjoying local entertainment (musical performances and dancing), and opportunities to discover more about the area. There are a number of free tours that are offered. I got tickets for two tours: a backstage tour of the Moulin Rouge and a tour of the Montmartre vineyard (Clos Montmartre).
[Update: the 90th edition of the Fête des Vendanges Montmartre has been set for October 11-15, 2023.]
If you've been to Montmartre, you know that it is hilly…the perfect place to plant grapevines. 500 metres northwest of Sacre Coeur on side street rue des Saules (intersecting with rue Saint-Vincent) you will come upon a vineyard on a hill—Clos Montmartre. Wine has been produced there as far back as the 12th century and in 1933 the City of Paris installed the vineyard to protect the area as a historical site. They didn't want to see developers changing the landscape of this area.
1.
Montmartre Wine Festival: It's All About Food And Wine
One of the highlights of the festival is the food and wine. There are booths set up all around Sacre Coeur. One has to go through a security check and once "in", you can wander up and down the aisles checking out the foods that are being offered—escargots, raclette, oysters, and regional dishes.
As it is a grape harvest there are wine producers from all over France and you will no doubt be inclined to get a glass (or bottle) of wine and then some food. Everyone stands around eating and drinking and it's just a big party. It's also very crowded…and I mean VERY CROWDED, particularly on the weekend. You'll not only encounter food and wine lovers, but also wine officials too.
2.
Free Tours During The Fête des Vendages
If your French is really good, I suggest you sign up for one of the free tours. The two I signed up for were in French so just be aware. I attended this event in October 2017 and 2018 and it's an event definitely worth attending.
Moulin Rouge Free Backstage Tour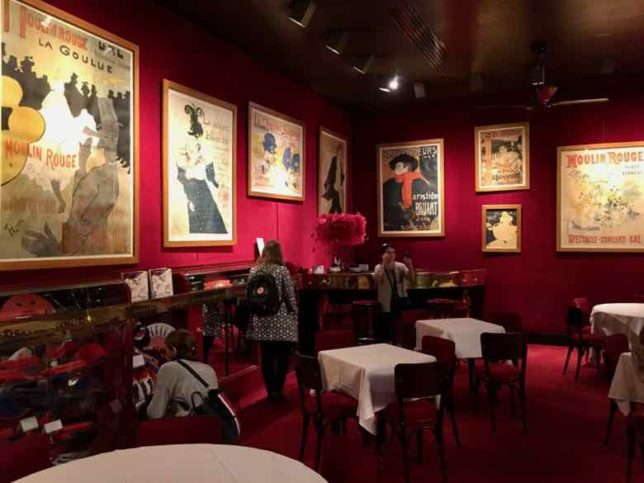 One of the most iconic symbols of Montmartre and Paris must certainly be the Moulin Rouge. Many visitors make reservations to see the show or have dinner with the show.
There are approximately 80 members from around the world who make up the "troupe". These talented men and women (primarily women) are outfitted in revealing, yet elaborate costumes that have sequins, feathers, rhinestones, and other decorative accessories. Different scenes and acts are presented with dancing, movement to music, and acrobatic acts.
Rarely can one see what the theatre is like when a show is not running; however, the opportunity often arises during Montmartre's Fête des Vendanges. While the ladies (and gents) were not there in their ornate costumes, we did get insight into the hall and its history. When you attend a show, photographs of the show and the hall are not allowed; however, during our tour, we could take lots of photos, except in one of the studios where the costumes were being made.
Although the Moulin Rouge tour was all in French it wasn't too bad because I was there to see the hall and the costumes. I did miss some of the discussion about the cabaret's history.
Clos Montmartre Free Vineyard Tour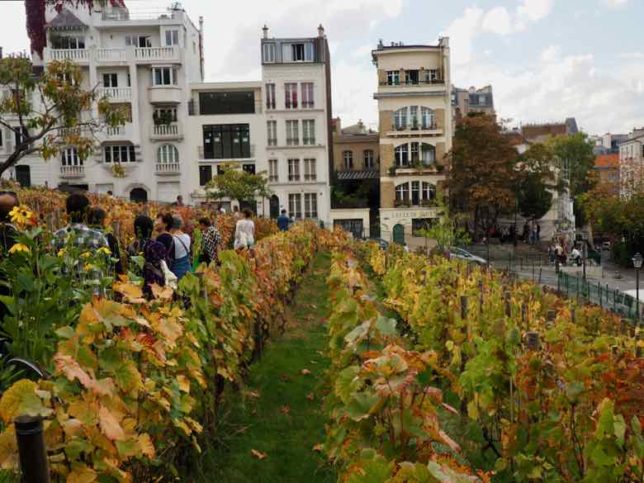 The vineyard in Montmartre covers a very small area. During this Montmartre grape harvest, approximately 1000-1500 bottles of wine produced at Clos Montmartre are auctioned off for charity and the vineyard is open for tours. I had a hard time understanding everything in French that was said during the tour, but at the very least I did get some lovely views of Paris.
Other events during the wine festival include:
tour of the area's iconic buildings

street performances
children's choir performances
photography exhibitions
visual arts exhibitions
musical performances
activities for children
closing ball (dance party)
3.
How To Get Tickets For The Fête des Vendanges Tours
Keep checking the Fête des Vendanges website. Tickets were offered a few weeks before the event. For the October 10-14 festival in 2018, I got up at 5:00 am on September 17 Toronto time to secure my tickets. They don't have a lot of tickets available so it is best to be online as soon as they are offered.
The 2022 festival runs from October 5-9.
Website: https://www.fetedesvendangesdemontmartre.com/
Pin to your favourite board on Pinterest