Which National Library Of France Site To Visit? The Richelieu Library
It's worth checking out the impressive architecture of the Labrouste Reading Room at the Richelieu Library in Paris. Just don't make my mistake and only google "Bibliothèque Nationale de France (National Library of France)" because there are four National Library of France sites.
[Updated December 2, 2022]
I began my search with Google maps. I typed in the "National Library of France". This is what popped up: Francois-Mitterrand Library, located in the 13th arrondissement. I just assumed the Labrouste Reading Room was located there. I headed on the Metro and arrived at this very modern building. Odd, I thought. The inside of the library that I saw in the photo looked really old. Not sure how it would be housed in this building, but OK, I'll look around.
Site #1: Bibliothèque Francois-Mitterrand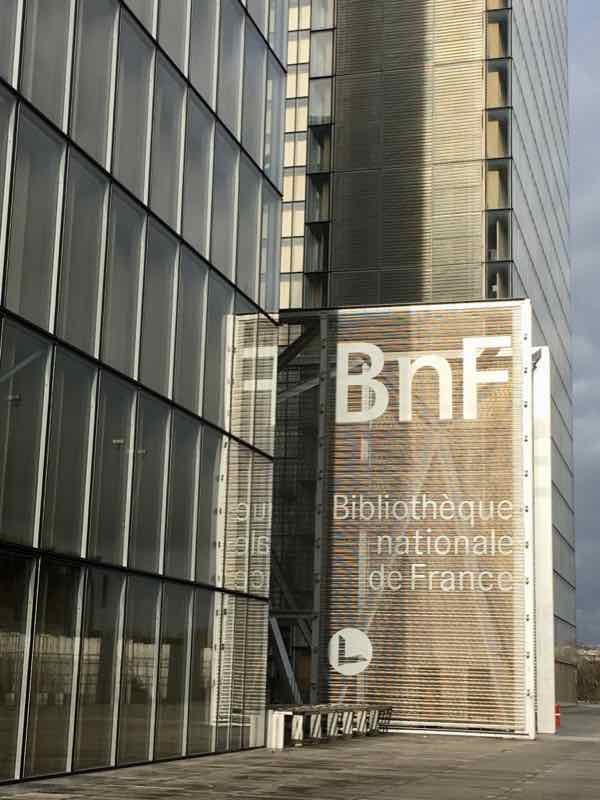 The construction of the library was announced by President Francois Mitterrand in 1988 and the building was finally inaugurated in 1996. As the design is very modern and the building is particularly large and high, it is also known as the "Très Grande Bibliothèque" or "TGB".
Photography Exhibit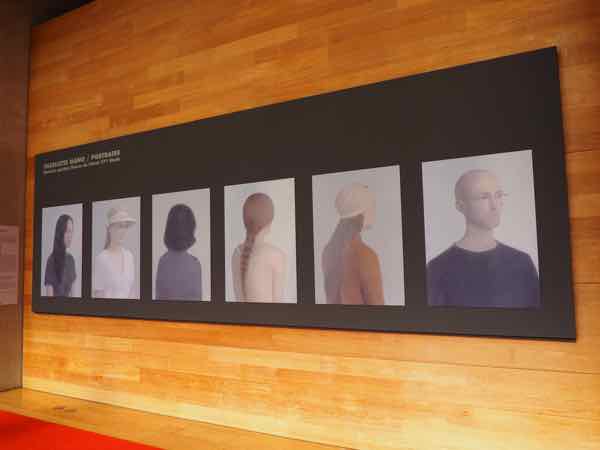 I wandered down the corridors that surrounded a large courtyard filled with trees and came upon a photography exhibit. Some interesting work was on display, but what really caught my attention was the permanent exhibition, entitled, "Les Globes".
The Globes of Louis XIV
King Louis XIV (1638-1715), also known as the Sun King, was best known for his interest in the arts, music, and literature. He was also curious about science as well and established the Paris Observatory and the French Academy of Sciences. One of his commissions involved the creation of two globes in 1681: a terrestrial globe and a celestial globe.
The photo above, unfortunately, does not adequately show how stunning they are nor how big they are. Actually they're gigantic. Each is just under 4 metres (12 feet) in diameter. One of the globes looks like a traditional map of the earth while the other shows the horoscope and solar system. They were created by Venetian cartographer Vincenzo Coronelli and are often now referred to as The Coronelli Globes. Through the centuries the globes have had various homes, including Chateau de Versailles.
So while the Francois-Mitterrand library was not exactly the library I was expecting to see, it turned out to be a pleasant surprise. As I prepared to leave, I showed the security guard a photo of the library I wanted to see. He said, "No, that [photo] is at the Richelieu site?" What?!?! I proceeded to locate the Richelieu library on Google maps and headed back to the centre of Paris.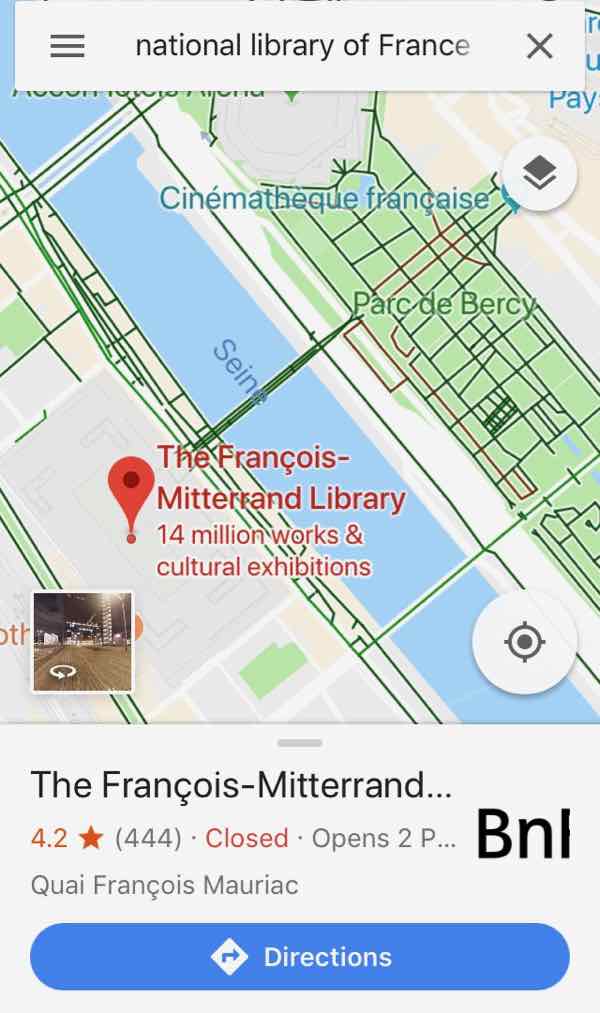 Site #2: Richelieu Library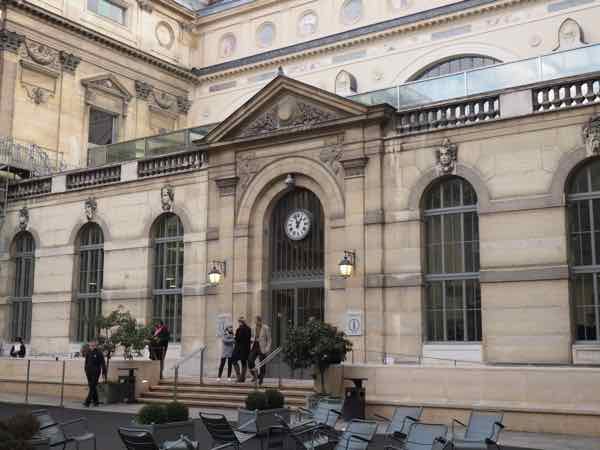 The Richelieu library, located just north of Palais Royal is a grand structure. It oozes French history (as compared to the other library which "oozes" modern architecture) and was built in the mid-19th century. Today it is in the midst of renovations, but the best parts can be seen. Even the vestibule of this library is impressive with a huge chandelier and stone carvings on the wall.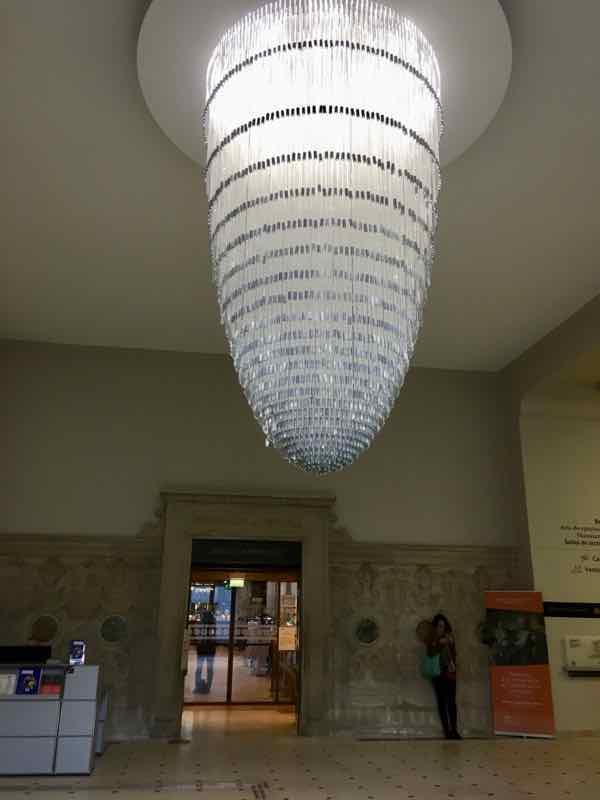 Labrouste Reading Room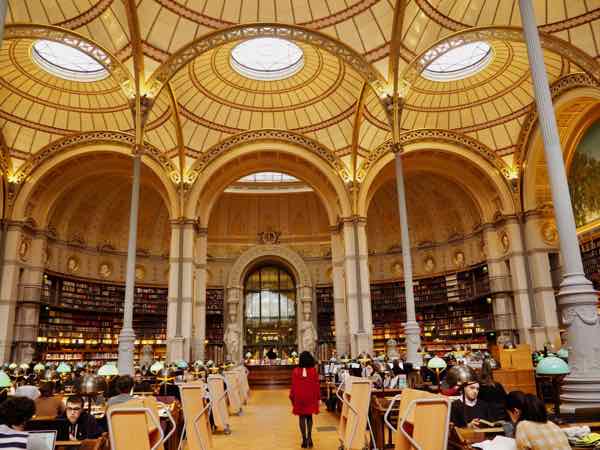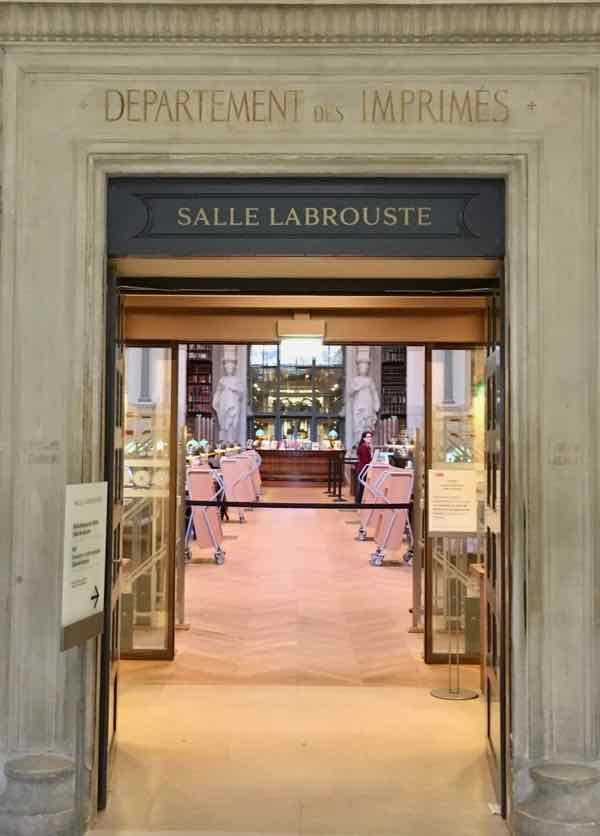 The main attraction, however, is the Labrouste Reading Room (the Salle Labrouste) and unless you are a researcher or student, you can only stand at the doorway to take photos. You cannot enter. That was good enough for me to get some great shots.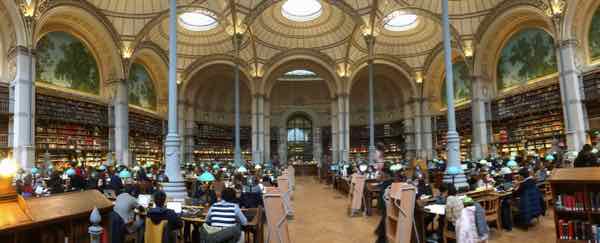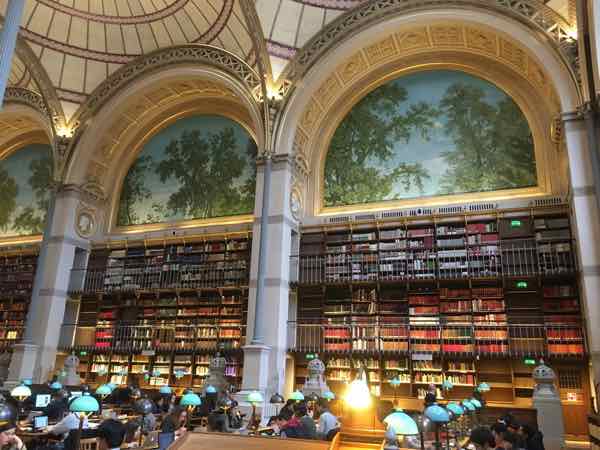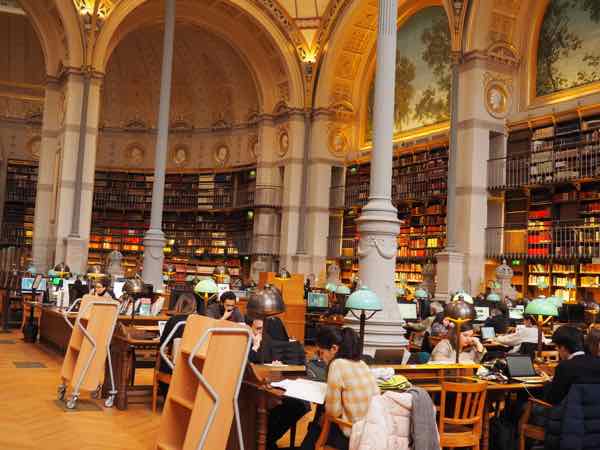 The reading room is named after Henri Labrouste who was the architect of the Imperial Library in 1854. Architects Bruno Gaudin and Jean-François Lagneau have been spearheading the renovations since 2008.
In September 2022, the renovations were finally completed and a new entrance for visitors was constructed on rue de Vivienne. 
Students, researchers, and visitors can now access the Oval Room, free of charge. There is also a new staircase taking you to the fully renovated Mazarin wing on the first floor, where there is a museum and exhibitions. One interesting manuscript on display is Victor Hugo's "Notre-Dame de Paris". 
As I wandered down a hallway while renovations were going on, I saw a stairway leading to the next floor. I proceeded up the stairs hoping to find a vantage point to take more photos from above; however, once I got up there, the door was locked. As I proceeded back down, a student signaled to me to head in another direction. He was quietly indicating that there was another stairway to get upstairs. I nodded a thank you to him and headed up those stairs.
Rotonde des Arts du Spectacle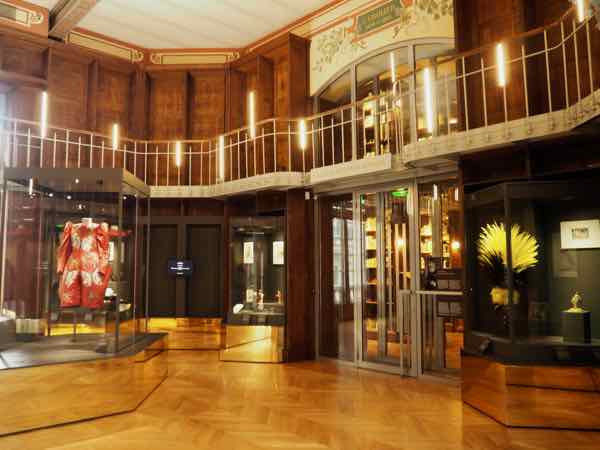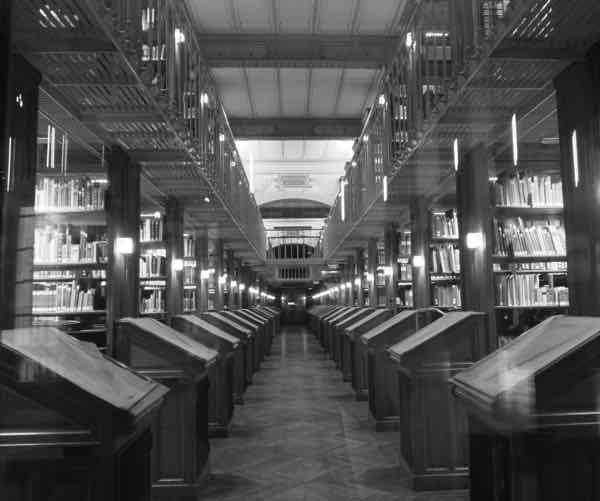 When I arrived, I found the Rotonde des Arts du Spectacle. There were artifacts and collections from the Performing Arts Department behind display cases and there was also a glass door that led into the Auguste Rondel gallery. Rondel was a patron of the arts and in this area are the Rare Book Reserves. The whole area almost looked untouched. Lots of wood and beautifully designed. Of course, I couldn't enter. It was locked. I don't know if I was even allowed there and I feel quite privileged to have seen the rooms.
Visiting the Richelieu site will provide you with magnificent architecture worth seeing. There are limited tours and you can check to see if one is available on their website:
Richelieu Site of the National Library of France
Bibliothèque Nationale de France
The Bibliothèque Nationale de France (BnF) was founded at the Louvre Palace by King Charles V in 1368. Today it is the 7th largest library in the world with over 40 million catalogued items. When you're in Paris, be sure to check out library at the Richelieu site and the temporary exhibitions at the Francois-Mitterrand location. There are guided tours at each.
Website: Bibliothèque Nationale de France
Through the centuries, the library has moved to various locations throughout Paris and while I have only written about two of the National Library of France sites, you never know. The other two sites might be equally as impressive. Here are the four National Library of France sites:
Bibliothèque Site Richelieu (59 Rue de Richelieu):
Monday 2:00 pm-7:30 pm
Tuesday-Saturday 9:00 am-8:00 pm
Sunday 10:00 am-6:00 pm
Bibliothèque Francois-Mitterrand (Quai Francois Mauriac):
Monday 2 p.m. – 8 p.m. (Research Library)
Tuesday-Saturday 9 a.m. – 8 p.m.
Sunday 1 p.m. – 7 p.m.
Bibliotheque de l'Arsenal (1 Rue de Sully):
Monday 2:00 pm-7:00 pm
Tuesday-Friday 10 a.m. – 7:00 p.m. 
Saturday 10 a.m. – 6:00 p.m.
Sunday closed
Bibliothèque Nationale de France-Musée de l'Opéra (8 Rue Scribe)
Monday – Saturday 10 a.m. – 5 p.m.