French Sites Where No Photos Are Allowed-More Reason To Visit
You'll usually see a sign posted on the door: Photography Forbidden. Unfortunately, there are a number of French sites where no photos are allowed inside and it's a shame, especially when the place is remarkable and unique. I like to share photos in my posts as they help communicate why I think the place is special. So for this post, I'll show photos of the outside of 6 places in France that are worth visiting and explain what's so special inside.
Why Is Photography Not Allowed In Some French Sites?
Some French sites, whether they be museums, churches, or caves, have their reasons for prohibiting photography or filming. You will see the "forbidden to take photos" sign or "Interdit de photographier" or "Défense de filmer", so don't try taking photos or videos. Their reasons for not allowing photography include:
1. Preservation: for example, to protect cave paintings from environmental pollution. Today, our breath, carbon monoxide, the oil and dirt from our hands, and the constant traffic through the caves can be harmful to the paintings and structure.
2. Copyright Protections: to ensure the artist (or the person who purchases a copyright license) has the exclusive rights to produce, reproduce, sell, or license a creation. This applies particularly to modern works where the copyright lasts 70 years.
3. Financial: to earn income for the site, often the only place to get a photo is in the gift shop. They have a monopoly on the selling of reproductions, photos, posters, postcards, etc. and it helps to keep the collection maintained and funded.
4. Visitor Experience: it's important to keep the visitors moving through an exhibit, especially in small spaces like a chapel.
5. Religious Reasons: a church or chapel is a place of worship where people go to pray and the last thing they need is to be interrupted by the sound of camera shutters and crowds. So, some places institute a ban on photography
6 French Sites Where No Photos Are Allowed
Here are 6 places I've been to where I only have photos of the outside, not the inside. I know there are others who break the rules and take photos, but I can't and didn't. I respect and follow the rules that have been set and hopefully I'll be able to explain how wonderful each place is to visit.
1. Matisse's Chapelle du Rosaire de Vence (Vence)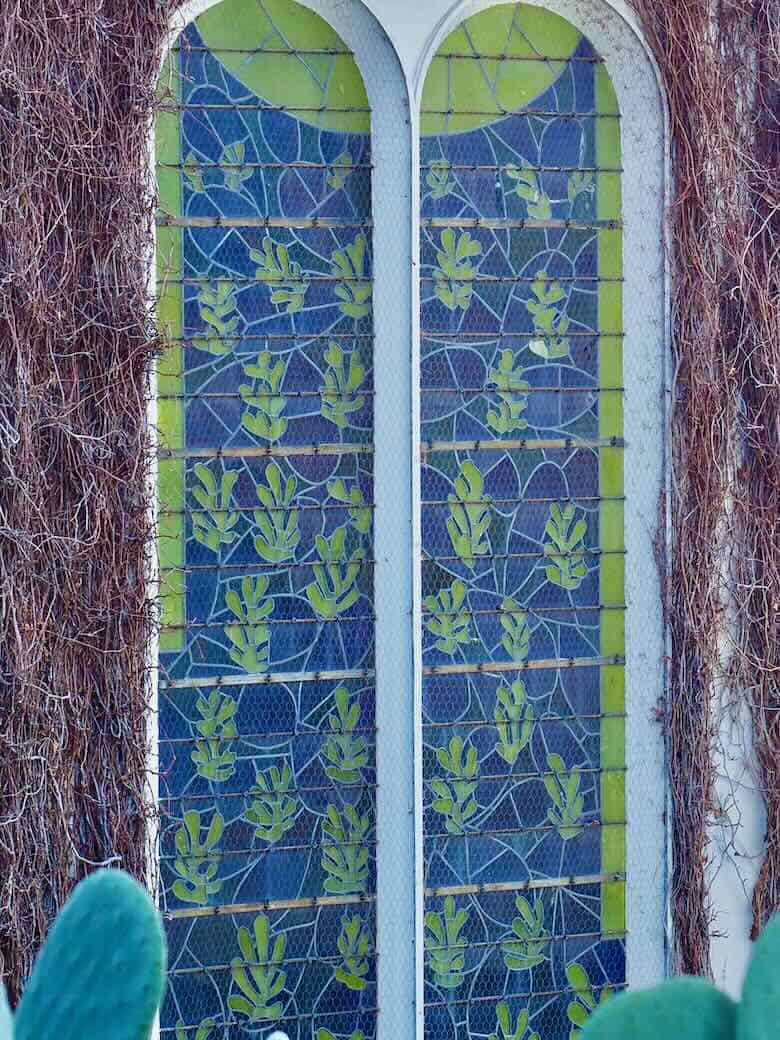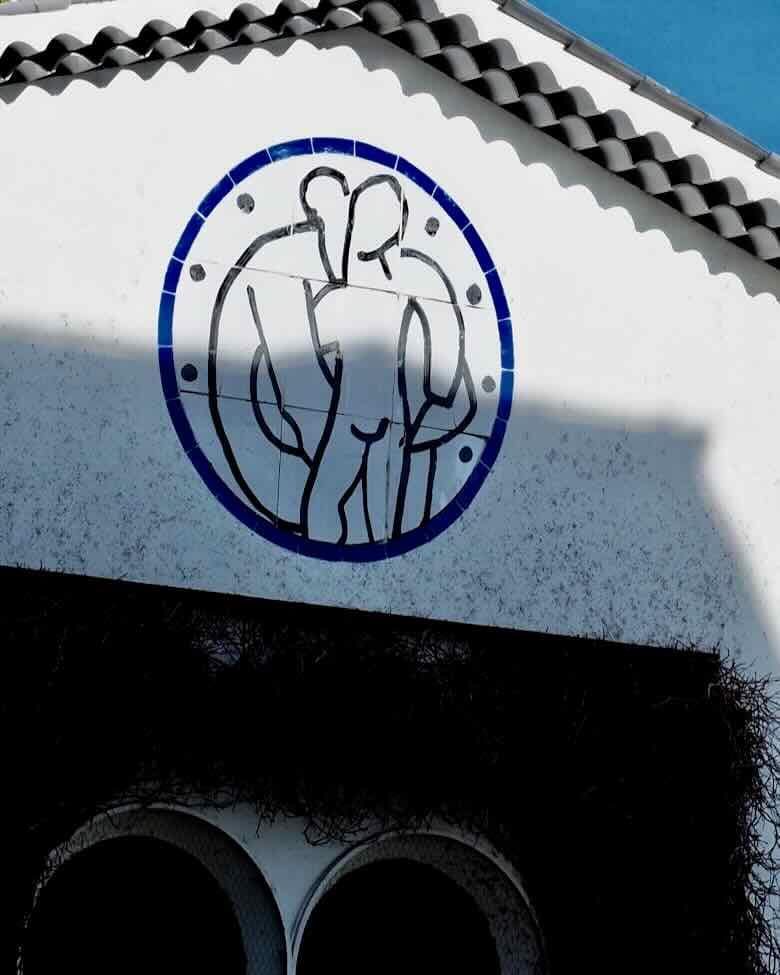 One of the star attractions in Vence, in the south of France, is the Chapelle du Rosaire (Rosary Chapel). Henri Matisse (1869-1954) helped the Dominican sisters build a chapel and the stained glass windows that he designed are renowned. The Chapelle du Rosaire is also known as the Matisse Chapel, Vence.
Matisse's connection with the Dominican order happened because Matisse had major surgery in Nice. His night nurse was Monique Bourgeois who eventually became Sister Jacques-Marie and joined the Dominican Order. They had a special friendship and it to thank his nurse, he designed the chapel. It took 4 years and was completed in 1951.
There are a few rooms that showcase his drawings but the real attraction is the chapel room with the stained glass windows (one is an image of Saint Dominic) and some abstract murals that Matisse did. When the light is streaming through the windows all the colours (yellow, green, and blue) are highlighted and it is truly beautiful.
Photos are not allowed at Chapelle du Rosaire de Vence. I would imagine it is due to the fact that it is a spiritual, religious place that is a place of worship. It is a chapel, after all. The distraction of visitors taking photos would interfere with those who are praying. Plus, the Order does make money from the sale of posters, postcards, and other souvenirs.
Outside, there are two abstract drawings by Matisse, one above the chapel window and one above one of the doorways. But without the sign out front indicating that the simple, white building was the chapel decorated by Matisse, you wouldn't even know it was there or so significant. The terrace at the back has excellent views overlooking the town.
Not only did Matisse design the chapel, but he also designed the priests' vestments in bright colours of red, green, black, purple, and rose, and many are on display. The gift shop is run by the nuns of the Dominican.
Address: 466 avenue Henri Matisse, Vence
2. Chapelle Saint-Pierre des Pecheurs (VIllefranche-sur-Mer)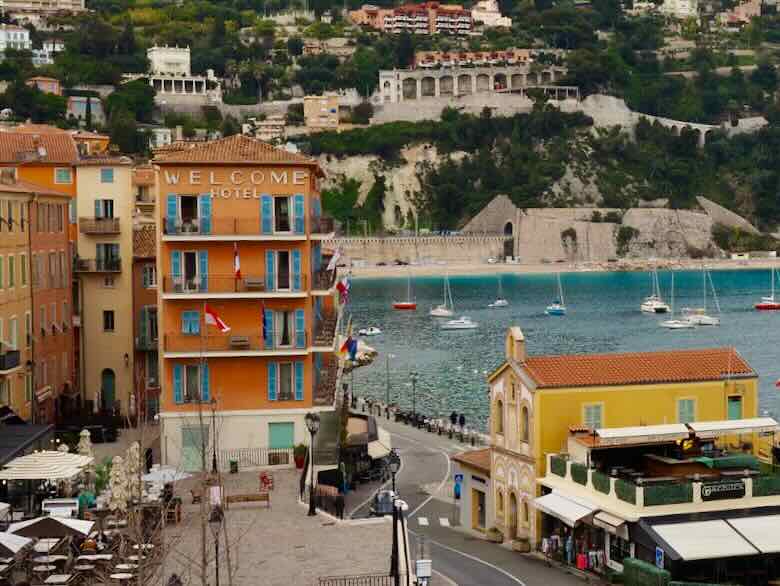 When I visited Villefranche-sur-Mer, I walked along the port and on the quay, I came upon a famous church, La Chapelle Saint-Pierre. Why so famous? The interior had been entirely decorated by filmmaker, poet, and artist, Jean Cocteau (1889-1963).
Cocteau lived at the Hotel Welcome (just around the corner) in 1925-1926. The hotel faces the sea and the Chapel Saint-Pierre. He returned to Villefranche-sur-Mer in 1956 to paint this very small chapel. Cocteau's frescoes, murals, trompe l'oeil, and chalk drawings are on the walls and ceiling. They depict Mediterranean life and the story of Saint Pierre, the Patron Saint of fishermen and this is why the chapel is also known as La Chapelle Saint-Pierre des Pecheurs.
His paintings and drawings are dedicated to the fishermen and are primarily done in blue and ocher, much like the ones done in the Salle de Marriage, located at the Hotel de Ville in Menton (where you can take photographs.
There is a 3 € entrance fee and proceeds from it and the sale of postcards are given to the "Prud'hommie des Pecheurs", the fisherman's association. The money supports the fishermen and their families. It's a nominal amount to see some beautiful art and is worth a detour. Photographs in Chapelle Saint-Pierre des Pecheurs, are forbidden.
Address: 4 Quai de l'Amiral Courbet, Villefranche-sur-Mer
3. Maison de la Photo (Villeneuve d'Aveyron)
Jean-Marie Périer photographed an incredible number of famous singers, bands, and entertainers from France and around the world in the sixties and seventies-the era of rock 'n roll and the British Invasion. A large collection of his celebrated photos are on display at La Maison de la Photo (also known as Galerie Jean-Marie Périer) in the very small town of Villeneuve d'Aveyron. Had someone not told me about this place, I would have never known about it. I did an excursion to this town from my base in Rodez.
There are a number of rooms that you walk through to see the collection of photos…photos of French singers like Johnny Hallyday and Sylvie Vartan, American singers like Bob Dylan and James Brown, and many other celebrities. There are also photos of bands like the Beatles and the Rolling Stones. These are absolutely stunning photos with vivid colours (as was the case in that era—-think, "flower power").
I wish I could show you the photos; however, I respected the rule that no still or video photography was allowed inside Maison de la Photo for copyright reasons. They do sell books about Périer's work, postcards, and posters. I was allowed to take photos in the shop, which is in the main lobby.
I was torn as to what to buy and decided to purchase a poster of French singer, Francoise Hardy because it had special meaning to me, or actually to my niece. When my niece got married, she walked down the aisle to one of Hardy's most famous songs, "Le Temps de l'Amour". The photo is also symbolic of the 1960s, when Hardy is wearing a Paco Rabanne dress. I believe it is made of metal.
There is a nominal entrance fee of 4 € and the lady at the front desk was very friendly but only speaks French.
Address: Pl. des Conques, Villeneuve D'Aveyron
4. Château des Milandes (Castelnaud-la-Chapelle)
Château des Milandes was the home to American singer Josephine Baker in the late 1930s to the 1960s. She was so in debt that she was forced to sell it in 1968. As I wrote in this post about Baker, "Josephine Baker's Château des Milandes And Her Crazy Banana Skirt" [LINK], she was quite a remarkable woman who was much more than just an entertainer.
The chateau is now owned by the Labarre family and the exterior is still in the style of the 15th century when it was built. The interior highlights Baker's life and is beautifully decorated in the Art Deco style. This period of the design was popular in the 1920s and 1930s and this was the period when Baker was especially popular and known for singing and dancing in a banana skirt.
A walk through the château is a walk through Baker's life, with memorabilia from her entertainment days when she was a singer and dancer in France. Besides raising 12 adopted children from around the world, here "rainbow tribe", she also spent time as a spy in World War I for the French Resistance and in later years was a civil rights activist who marched with Martin Luther King.
It was fascinating learning about Baker and I have so much respect for what she did in her life. Although I enjoyed wandering through the grounds and watching the birds of prey show, my main disappointment was that I was unable to take any photos or videos inside the château. My understanding is that photos are prohibited inside due to copyright and like Maison de la Photo, earns some income from the sale of photos/postcards.
Address: 24250 Castelnaud-la-Chapelle
5. Prehistoric Cave: Font de Gaume (Les Eyzies)
6. Prehistoric Cave: Grotte des Combarelles (Les Eyzies)
I grouped Font de Gaume and Grotte des Combarelles together because they both prohibit any photography or filming inside the caves. They are also both located in the Vézère Valley of the Dordogne department. I spent two wonderful weeks in the region and visiting caves is one of the fun things to do in the area. Check out the different types of caves you can visit here.
What makes these caves so unique is that neither are reproductions. They are the real thing and the caves go back 12,000 to 17,000 years. I was told during my tours that visitors, even from the middle ages, would put graffiti on the walls, so these caves have been exposed to thousands of years of "environmental pollution".
So why is photography not allowed in "real" prehistoric caves? I would imagine that it has to do with the effects of lighting and traffic flow—-ensuring the short experience inside is optimal where visitors don't wander off (to take photos).
Obviously, these caves are very dark and using a high ISO would produce low-quality images. One would need to use a flash (bad for the paintings) or a tripod to ensure there is less noise. But having tripods in a "living" cave would be cumbersome and potentially damaging to the interior. It could also be a copyright issue, where people would sell photos of the cave paintings. Upon entering Font de Gaume and Grotte des Combarelles, we placed our knapsacks and purses in a locked cupboard.
In an effort to preserve prehistoric artifacts and cave art, there are strict limits on the number of visitors allowed into the caves each day. I purchased tickets to both caves (as they are only 2 kilometres apart) and I had an English-speaking guide for Font de Gaume. The tour lasted about 1 hour and was very interesting. I felt very lucky to have gotten a ticket because, at the time, you had to line up early and only a certain number (7) were sold for the day. Post-Covid, tickets can only be purchased online. To learn more about Font de Gaume, check out my post here.
Font de Gaume Address: 1-4 Av. des Grottes, 24620 Les Eyzies
Grotte des Combarelles Address: 24620 Les Eyzies
Have you been to any French sites where photos are not allowed but should be visited? Please share.
Pin to your favourite board on Pinterest