What It's Like To Hike The Three Calanques de Cassis
Find out what it's like to hike the three Calanques de Cassis, France. The stunning views are definitely worth the effort: easy at first and then difficult. When you see the photos, you'll want to go. I did for many years. I wanted to hike the calanques in southern France and finally got my chance this past May. If you decide to go, will you be up for the challenge? Was I? Here's what the experience was like and this is your travel guide with everything you need to know.
*This post contains affiliate links. If you make a purchase through these links, I get a small commission at no extra charge to you. It helps support the running of this website and I do appreciate your help.*
1. Calanques National Park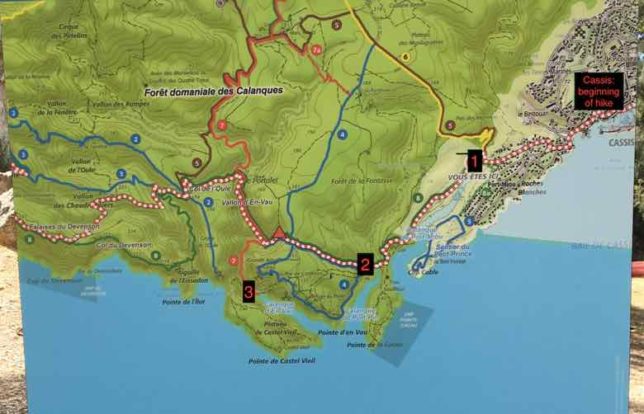 Calanques are inlets with very steep limestone cliffs which run along the Mediterranean coast for about 20 kilometres between Marseille and Cassis in Provence. This is the Massif des Calanques. The most well-known Calanques are:
Calanque de Port Miou
Calanque de Port Pin
Calanque d'En Vau
Just west of Cassis, there are 3 such inlets. Access is usually only by hiking to the opening, with the exception of Calanque de Port Miou. You can actually drive there and there is a car park, or you can dock your boat in the harbor. Calanque de Port Pin and Calanque d'Envau are accessible by foot only and as a result, they are not overrun with hoards of people. It's not that they don't want to visit. It's more likely they can't visit because the trek is too difficult.
2. Seeing The Calanques de Cassis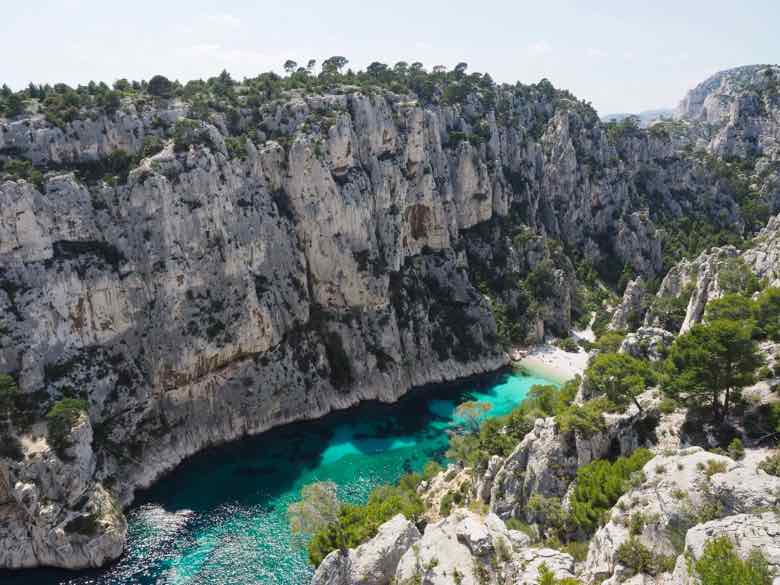 Le Parc National des Calanques (Calanques National Park) was created in April 2012 and became the 10th French National Park. My previous visits to France didn't enable me to hike in this unbelievably picturesque area because it is often closed between June 1 and September 30. There is too great a risk of forest fires due to the immense summer heat and dry conditions. So, instead, I have had to rely on taking a mini-cruise with one of the many boat companies that run tours out of Cassis.
3. Boat Tours Of The Cassis Calanques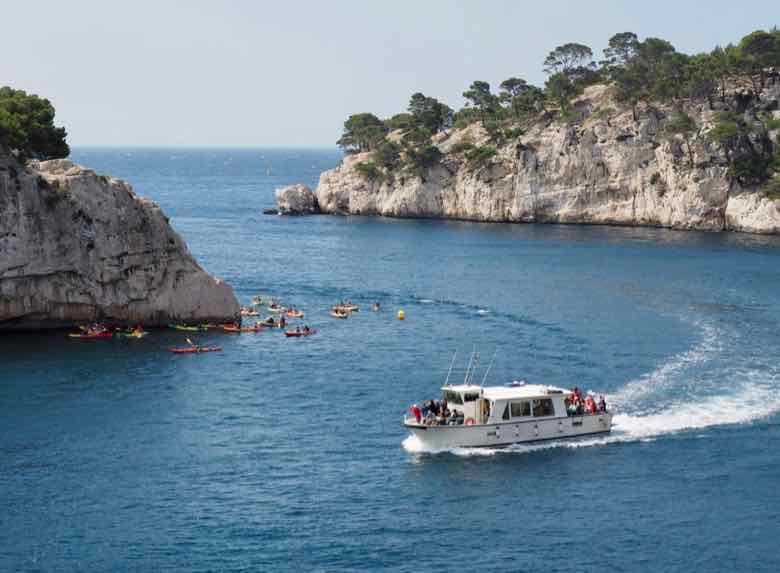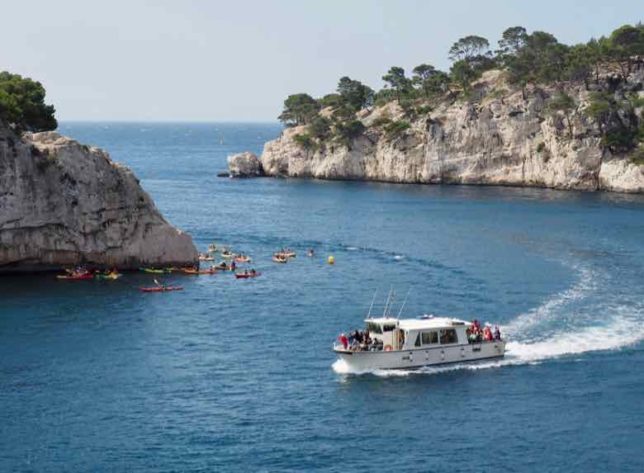 The Cassis harbor is a very popular tourist attraction and most people (like me in the past) only visit for a day. Staying a week really allowed me to get to know the town. The boat tours are lovely, but you definitely will get more impressive views from on top of the calanaques or in the coves. That's where you get the WOW factor, not from the boat.
The boat tours can last anywhere from 45 minutes to 2 hours and get close to many of the Cassis calanaques but not close enough to dock.
4. What It Was Like To Hike Les 3 Calanques de Cassis
During the 3rd week in May, I spent a week in Cassis. The weather was surprisingly cool (16-20 degrees Celsius), breezy, and sunny. This was in contrast to France's heat wave in 2018, yet perfect for an all-day hike. Do check with the tourist office to be sure there aren't any fire risks, especially in the summer months.
5. The Route:
The hike starts in the town of Cassis and you can just visit one calanque (Port Miou) and return or you can continue on to the next two calanques, Port Pin and En Vau.
The terrain is VERY rocky and steep, especially as you approach the end. As much as you'll want to peer out to the ocean or look ahead, it's much more important to look DOWN. It is so easy to trip and you are constantly maneuvering your feet to plant them safely on the ground. This is why I stopped so many times. I wanted to enjoy the moment and take photographs.
Doing all three in one day is doable if you are prepared. Bring a camera or smartphone is a must because the scenery that you will see will blow you away. I was stunned by how beautiful the turquoise waters of the Mediterranean were at each calanaque and along the coast.
Prefer to go with a guide and other hikers? Check out this tour: Calanques Cassis Hike: Port-Miou, Port-Pin & En-Vau.
1. Cassis Town To Calanque de Port Miou (20 minutes)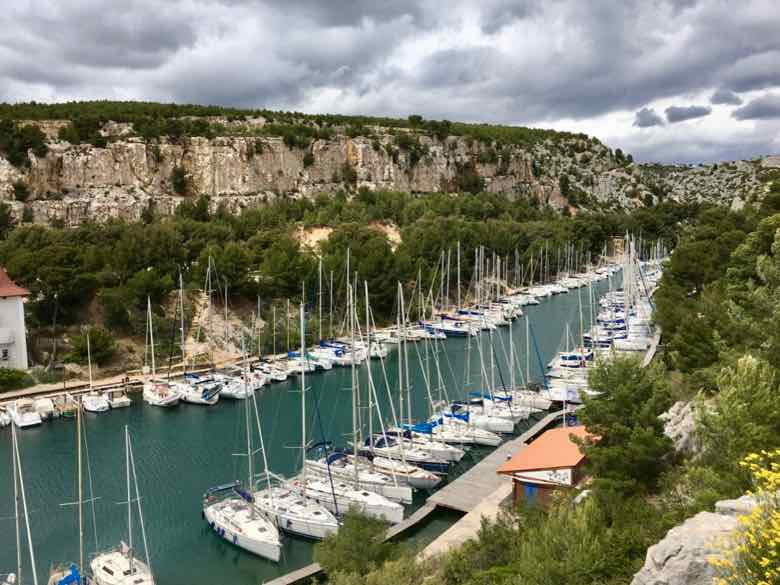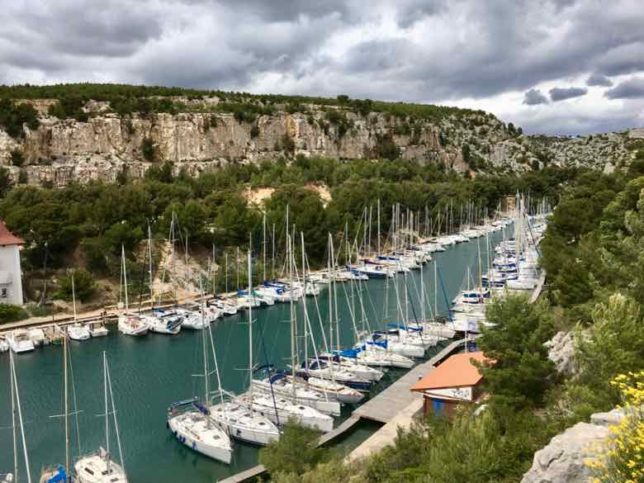 It only took me 20 minutes to get to Port Miou via Avenue du Reverand Père Jayne. There are few signs but you really won't get lost as you'll see other hikers heading in the same direction down towards the port which is filled with yachts. Your hike will take you high above the water's edge and the path is relatively flat until you get closer to the next calanque, Port Pin.
2. Calanque de Port Miou To Calanque de Port Pin (1 hour)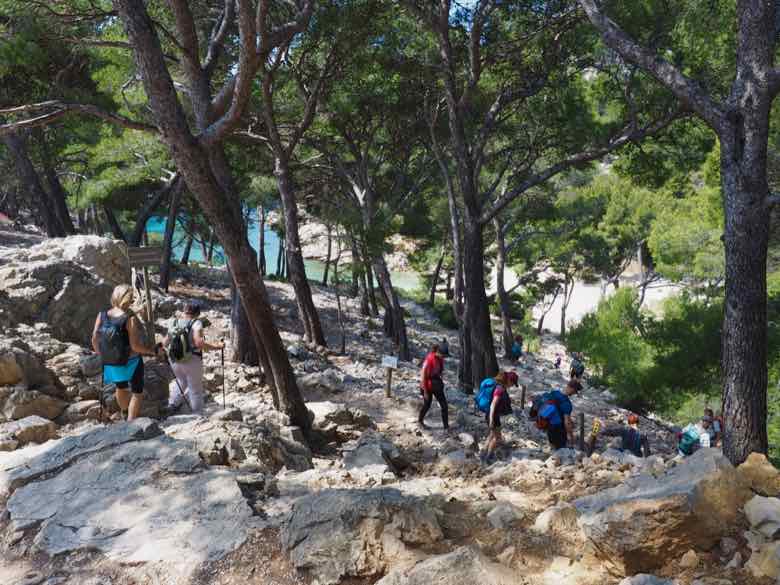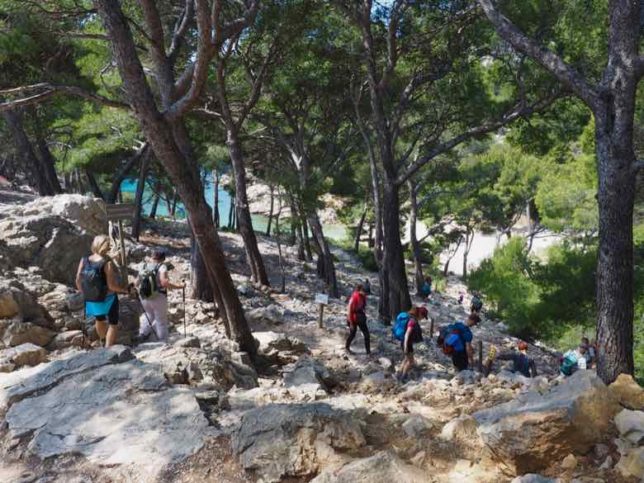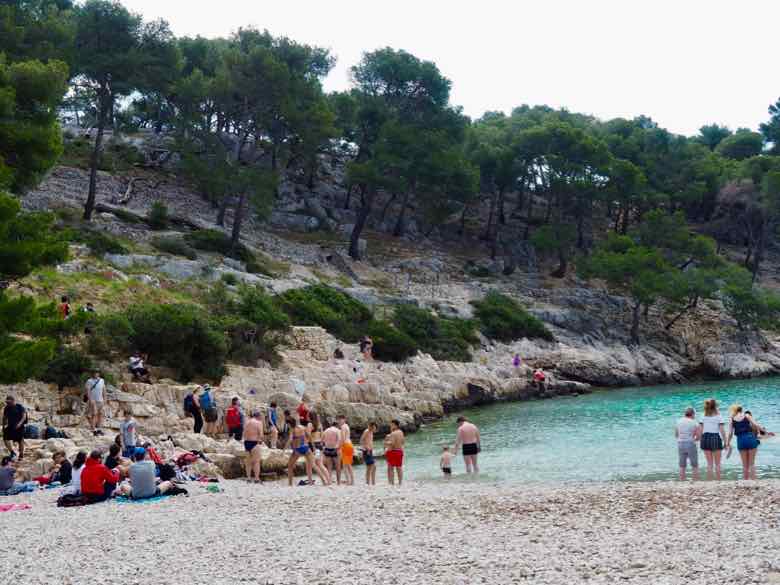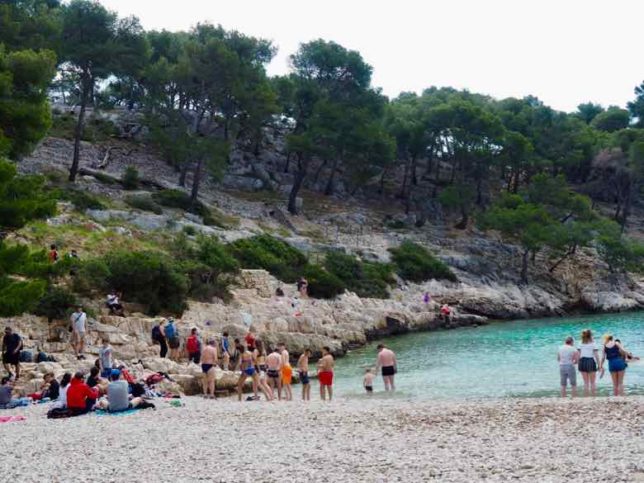 As you approach Calanque de Port Pin, you are in a rocky forested area. The descent doesn't last too long and going down is certainly harder than going up (that's your return trip).
When you arrive at Port Pin, you'll see an open cove where folks are swimming or having a snack. It's a secluded beach but it is not sandy. I stayed a while and then headed on the most difficult portion of the hike.
3. Calanque de Port Pin To Calanque d'En Vau (1 hour)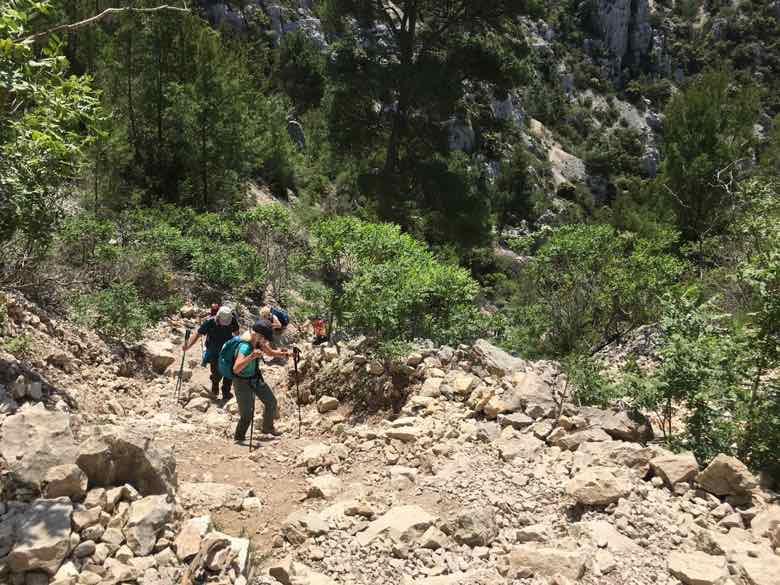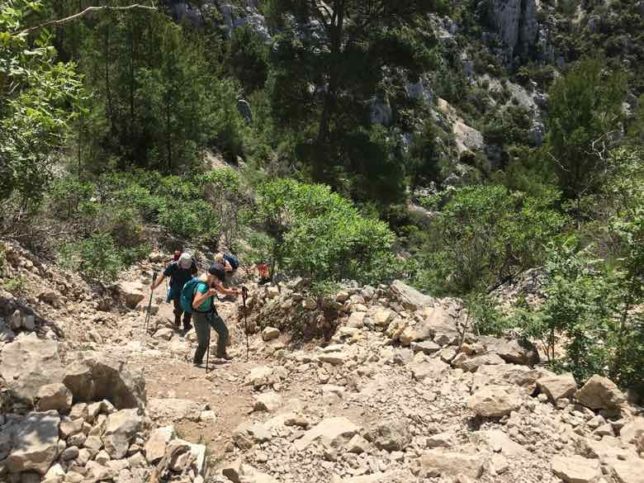 At Port Pin, you'll see a sign "GR98" with a red and white bar. It is more of an inland route but you will eventually see water. I asked another hiker if the red meant, "really difficult". She said no. It was just an indication of the route. There is another one that I took back that is blue.
While the terrain is rocky, it is also slippery—-with very smooth rocks—-so it is very easy to slip and fall even with trail running shoes. One goes incredibly slowly down the rocky hill. About 40 minutes into the hike I ran into a couple coming up the cliff. They told me that the next 10 minutes would be the most difficult descent but once I got to ground level it would be easy and I'd walk to an opening, which would be the Calanque d'En Vau cove and beach area.
My favorite photos are of this calanque and as you can see the area is pretty impressive.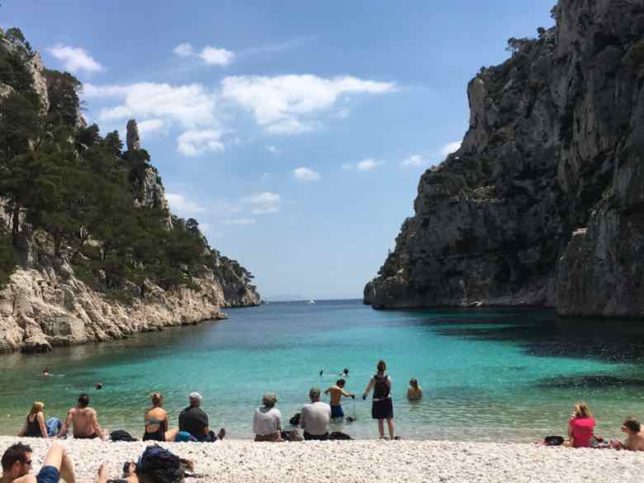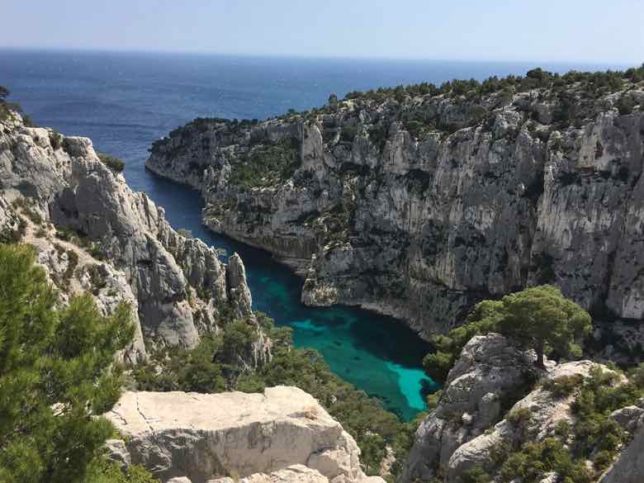 That descent was frightening. I did debate turning around. But, I took it very carefully (like everyone else) and watched where they placed their feet to help guide me down. My advice to you? Go slowly. Hang onto the rocks. Put your camera inside your knapsack so it's not swinging all over you and distracting you.
The final opening was beautiful and there were sunbathers, rock climbers, and swimmers hanging out at the beach. Note: there were a few women with newborns strapped onto their chests. There were also folks who had brought along their dogs. These hikers are "experts" in my opinion!
4. The Hike Back To Cassis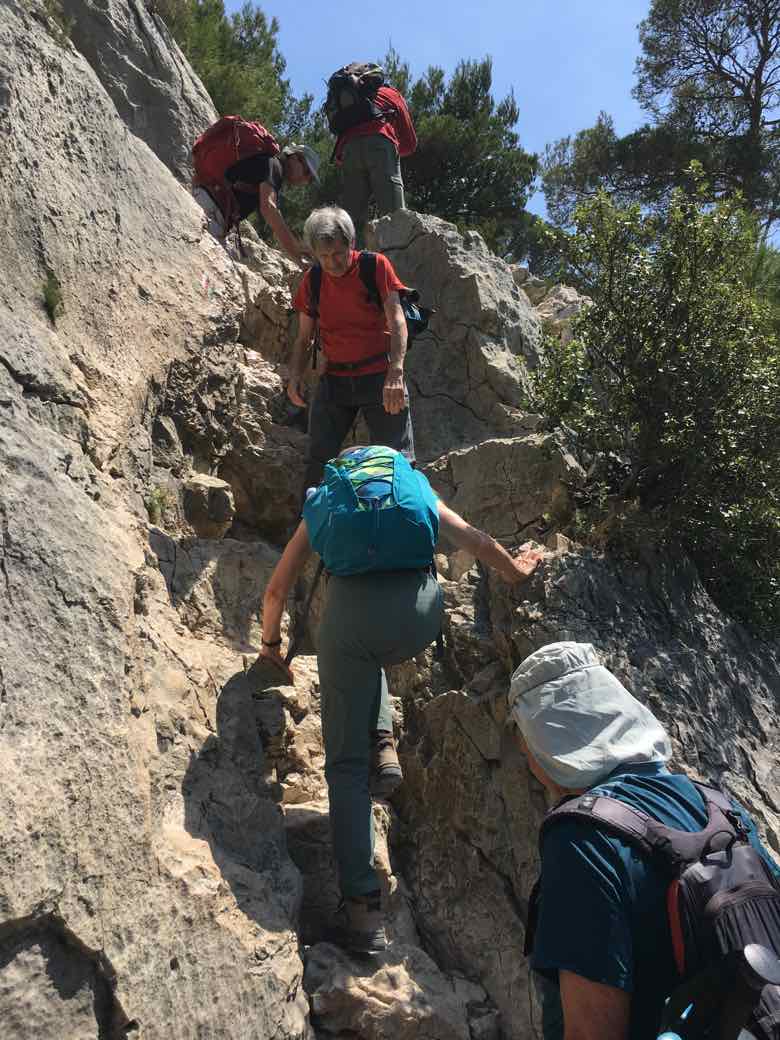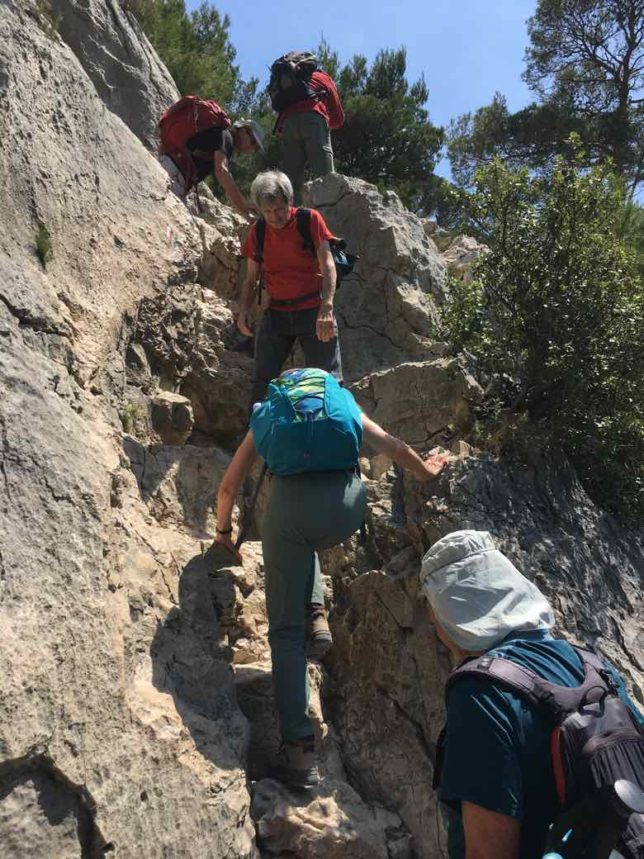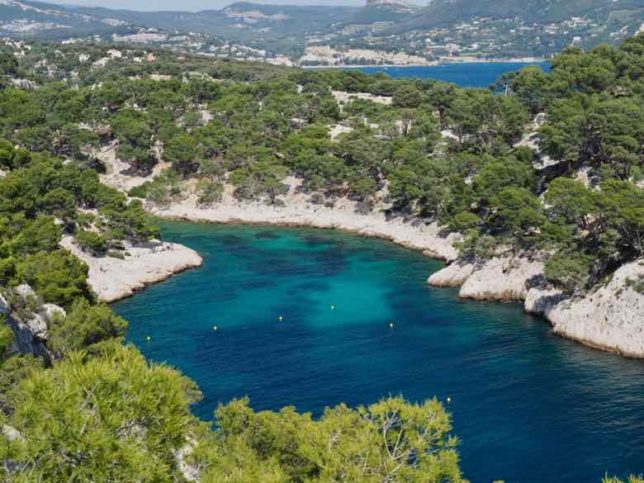 Returning back to town doesn't require that you backtrack entirely. Sadly, you DO have to go back UP the torturous cliff, but going up is SO much easier than going down. I took the "blue" route and it took me closer to the water's edge of Calanque d'En Vau. Of course, I got lost (no sense of direction) and decided the safest thing to do would be to turn around. Fortunately, after 15 minutes I ran into a French hiker who had a map and I followed her all the way back to Port Miou. The terrain wasn't too bad, but again, there were some steep, very rocky sections where you had to take your time.
6. How Fit Do You Need To Be?
So what should your fitness level be like to hike the three calanques near Cassis?
The trek to Calanque de Port Miou is easy.
The second requires some level of fitness where you are able to climb up and down big, steep rocks. So this means strong legs. You should also have good balance because the terrain is uneven.
The third hike, to d'En Vau was the most difficult hike I've ever done. Harder than the one from Aguille du Midi to Chamonix where I was cursing every few minutes. This third hike was especially difficult because of how steep and slippery some sections of the cliff were. It is all a descent to get to the cove and all uphill to go back. Some of those rocks (boulders) are big, so your leg muscles definitely get a workout.
They say that as you age, the more important it is to be able to rise out of a chair. I thought of this as I climbed up the rocks. It took all my leg strength to do this. There were some VERY capable people hiking the trail who looked older than me but boy, they were fit! This is one of the best experiences I've had in France and am so glad I pushed myself to complete the hike of the three calanques near Cassis. I also highly recommend you do it too!
7. Duration of Hike:
7 hours (with many stops for photos, a picnic lunch, and reorienting myself when I got lost for 15 minutes). I departed at 10:15 and returned at 5:15. If the weather had been warmer, leaving earlier would have been better.
8. Supplies/Equipment:
Convertible hiking pants (zip-off pant legs)
Trail running shoes (definitely need these or hiking boots)
Plenty of water (2 liters)—there are NO water fountains
knapsac
smartphone and camera with extra batteries and SD cards
picnic lunch and snacks (note: you take home your garbage)
sunscreen
hand sanitizer
paper towels or tissue paper
hat
optional: bathing suit and towel (I didn't)
At times I wish I had had hiking poles, yet they might have also gotten in my way. I was okay without them. I would say 50% of the hikers had poles.
9. Final stats:
Distance covered: 15.14 kilometres
Number of steps: 23, 557
Number of calories burned: 1763
10. Where To Stay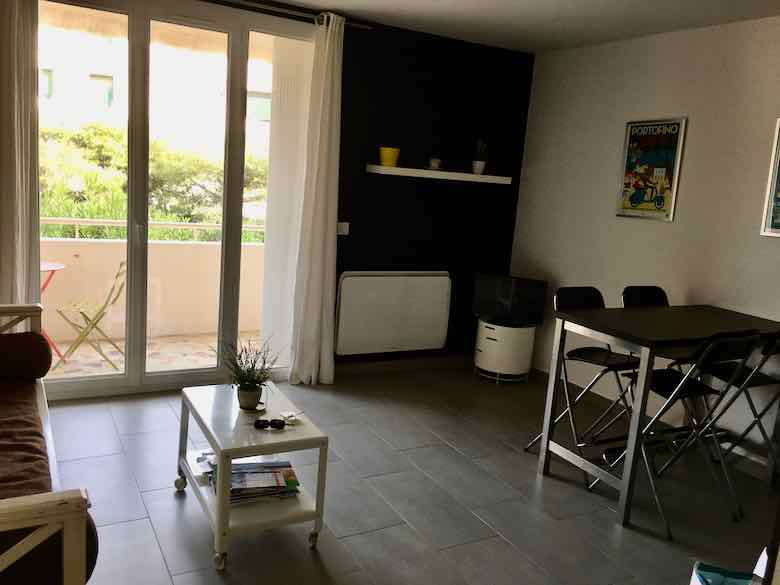 I had a fabulous apartment in the centre of Cassis, only a few blocks from the port. It was ideally situated to hike the Calanques because I just had to walk up a couple of streets to start my journey. No need to drive to the start. Check out this 1-bedroom apartment with a balcony and free, secured parking. [Note: Sadly this location doesn't appear on Airbnb anymore. If things change I'll add the link.]
Pin to your favorite board on Pinterest