When I have taken French Immersion classes at Ecole des Trois Ponts in Riorges, France, we had Wednesday afternoons off and I would often venture into the nearby town of Roanne. While Roanne is perhaps best known for having the 3 star Michelin restaurant, La Maison Troisgros, it has another "claim to fame". Roanne is the town where "La Praluline" originated and it is something every visitor to the Auvergne Rhone-Alps region should try.
A famous French bread is the brioche, a sweet bread made with milk and (lots of) eggs and butter. It is like a pastry, but richer and often considered a viennoiserie as it is commonly mixed with raisins or chocolate or served on its own. It is eaten at all times of the day and often at breakfast. The Praluline recipe also uses the brioche, but there's a (sweet) twist.
La Praluline: A PInk Praline Brioche
Auguste Pralus was a pastry chef who had a patisserie in Roanne in 1948. Seven years later, he was awarded the prestigious Meilleur Ouvrier de France (the highest honour for a chef in various categories).
Pralus created a pink sugar praline brioche bun and called it La Praluline. It became the star of Maison Pralus. The recipe uses Valencia almonds and Piedmont hazelnuts from the best producers. They are first grilled and then coated with rose sugar. According to the store website, 1.2 tonnes of pink pralines are manufactured each day.
These nuts in caramelized sugar are crushed before being added to the soft dough. After baking, what results is a very unique looking brioche with pink morsels poking out. It almost looks like a colourful moon rock!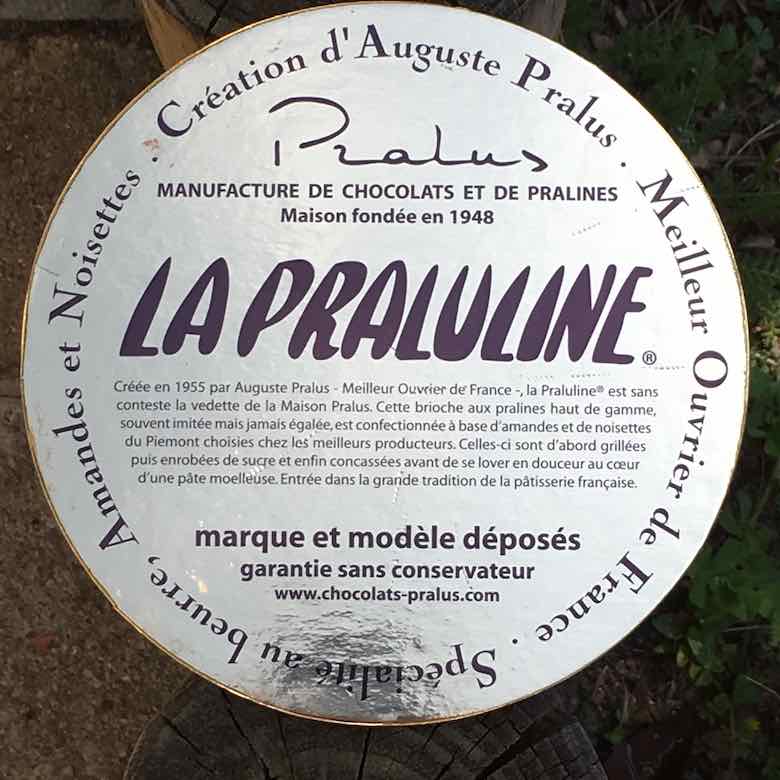 On the brioche cardboard is a description of the process with the emphasis on "Specialité au beurre, Amandes et Noisettes" (Specialty with butter, almonds, and hazelnuts). That just about sums it up. When you try it, it's RICH, buttery, sweet, and delicious! (Think pralines and cream ice cream but in a bun??!!)
I bought a small one and it was beautifully wrapped with a ribbon. I shared it with my fellow classmates and teachers at break time. A little slice went perfectly with a mid-morning coffee.
Maison Pralus Boutique
In the Roanne shop window, these sweet golden mounds with specs of sugary rosé nuts fill the window. Two sizes are offered: the small (300 gram) bread for 5.9 € and a much larger (600 gram—that's 1.3 pounds) bread for 11 €. It is said that there are times when the shop sells more than 800 Pralulines in a single day! That is how popular and renowned they are.
Where To Find The Pralus Shops
Today, Auguste's son, Francois Pralus, runs the business and it has expanded its offerings with high-quality Pralus chocolates made from the best cocoa beans in the world. There are more boutiques throughout France, including Paris, Lyon, Sete, and St. Etienne.
Maison Pralus shop in Roanne: 8 Rue Charles de Gaulle, 42300 Roanne, France
If you're in a city where there's a shop, buy the small pink praline brioche. 55 years after its creation, La Praluline continues to be a big hit. I know it's sweet, but what a treat and so unique in France.
Pin to your favourite board on Pinterest