#3: Loire Valley and Paris
During this trip to the Burgundy and Loire regions and Paris, I was able to stay in some pretty amazing hotels which also served fabulous meals. After visiting Switzerland for a few days, I headed to:
Beaune:
Located in the Burgundy region, Beaune is a great place to drink lots of wine (Marche aux Vins). 
Loire Valley:
In the Loire Valley, I had many picnic lunches and visited numerous chateaux as they are often closely situated.
Auberge du Bon Laboureur
One of the hotels I stayed at was the Auberge du Bon Laboureur in Chenonceau which also had an excellent dinner and was right around the corner from the chateau. This made it very easy to go to the sound and light show at the chateau in the evening. There was classical music and images projected onto the castle. The commentary was in French so it was difficult to understand, yet, was worth doing.
Chateau d'Artigny
It's even better staying in a chateau and I did so at Château d'Artigny. I was very fortunate that even though I was travelling in early July I was able to book a room at this hotel at the last minute.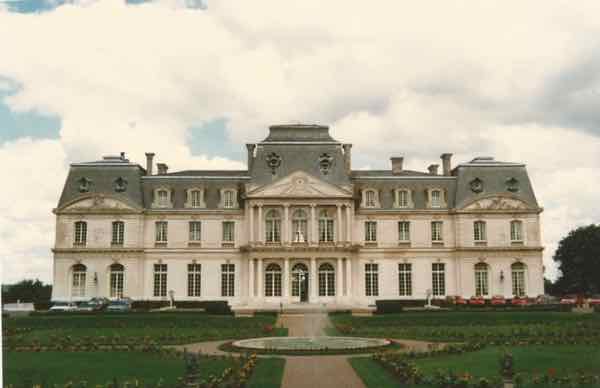 I had a superb dinner of:
1/2 bottle of Muscadet Sevre et Maine

Shrimp and tomatoes
Filet of sole in cucumber and lime sauce
Vanilla ice cream in a raspberry sauce with meringues
Historic Chateaux
One cannot get enough chateaux in the Loire Valley. I keep going back because these "homes" are magnificent and I have been lucky enough to have stayed in two of them.
When in the Loire, be sure to visit these historic chateaux:
Chateau de Chenonceaux
Chateau Azay-le-Rideau
Chateau de Chambord
Chateau d'Ussé (of Sleeping Beauty fame)
Chateau de Chinon
Chateau de Villandry
Chateau Cheverny
Chateau d'Amboise
Chateau Chaumont-sur-Loire
Chateau Blois
Fontainebleau:
The gardens at at this magnificent chateau were beautiful, just like those in Versailles. 
Chateau de Fontainbleau, France. Photo: J. Chung
Paris
I finally returned to Paris for 4 nights and each day walked a minimum of 5 hours and visited:
Georges Pompidou Centre—looking at modern art

Eiffel Tower- watched a film on the history of the tower

Arc de Triomphe
Fauchon-to look at the fine foods
Galeries Lafayette–view from outside the cafeteria is spectacular
Sacre Coeur-I still haven't taken a liking to this area
Luxembourg Gardens-there was a band playing Aaron Copland's tune, "Fanfare For A Common Man"