What You Need To Know About Bouillabaisse In Marseille
Every time I travel to France I like to try something new. During my recent trip to the south of France, I decided the time had finally come for me to try bouillabaisse. This is a popular Provencal fish soup/stew that originated in Marseille and to my surprise I learned a few things I hadn't expected…or wanted. Thought maybe you should hear about these….surprises.
Marseille
*This post contains affiliate links. If you make a purchase through these links, I get a small commission at no extra charge to you. It helps support the running of this website and I do appreciate your help.*
When I was in Marseille, it seemed every restaurant had a billboard out advertising their "signature"bouillabaisse dish. The price started at 25 Euros (about $38 Cdn) and went up and I wanted to be sure to go to a restaurant that really made it well. The restaurant we went to had been recommended by our hotel and we checked out the reviews which were positive. It was called Chez Loury Restaurant Le Mistral and was located one street away from Le Vieux Port.
Surprise #1: What Is Bouillabaisse?
I always thought that bouillabaisse was simply fish soup—-a broth with a bunch of fish and other seafood thrown in. OK, I actually imagined fish heads floating in the broth. I have no idea why. Maybe a cartoon from when I was a child?
To my astonishment, this traditional bouillabaisse is much more elaborate and complex. Originally, Marseille fishermen made this stew using the rockfish that they were unable to sell at the market. We had to make a reservation in advance as the restaurant wants to buy fresh fish in the morning.
According to Wikipedia, there are at least three kinds of fish in the traditional stew: red rascasse, sea robin, and European conger. I've never heard of these, but granted, there are a lot of fish in the sea (sorry).
There are other fish, mussels, sea urchins and shellfish that are often added to the recipe as well as onions, leeks, tomatoes, saffron and Provencal spices.
What I was expecting:
I really thought I would get a fish broth with lots of fish meat and shellfish (with shells). Not quite. In fact there were three servings. After placing our order, the server came out with a platter to show us the SIX, yes SIX fish I would be eating. (Sorry about the blurry photo. I guess I was in shock).On the menu they show you the fish and their names. She then heads back to the kitchen and the chef does his work.
What I got:
Course #1–The Broth:
The broth is served with grilled slices of baguette on the side and rouille. Rouille is like aioli but has more ingredients/spices and is spicy. It is a mayonnaise made with egg yolks, olive oil, breadcrumbs, saffron, a ton of garlic, and cayenne pepper. The sauce is put on top of the baguette slice (crouton) and then added to the broth.
Course #2–The Meal:
In the bowl were some boiled potatoes and four of the fish on top. There was a LOT of fish.
Course #3–The Soup: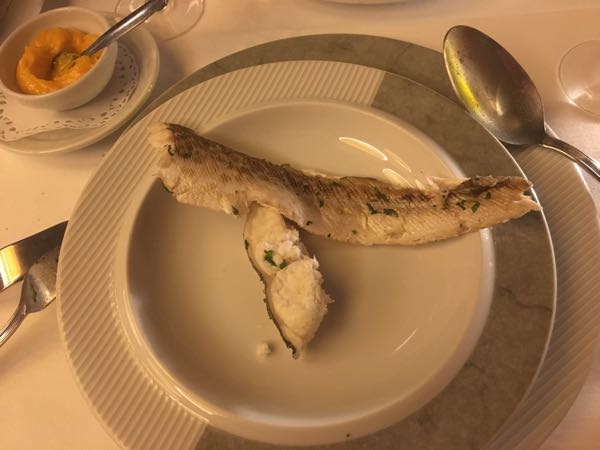 The waitress brought out the third dish which had the final two pieces of fish. After placing it on the table in front of me, she then brought a small tureen and dished out more fish broth — the same broth from course #1. So here was my fish IN soup. Again I could add the crouton and rouille, which of course I did.
Surprise #2
In the middle of the night, my friend Laurie, who also had the bouillabaisse, was extremely sick. [I'll spare you with the details]. We wondered if it was food poisoning as I seemed to be okay during the night.
But that was short lived. It was in the morning that the bouillabaisse affected me. We had weak stomachs all the next day but for some reason I didn't feel like I had food poisoning. I felt it was simply our stomachs not agreeing with rich food. Who knew that fish could be "rich"! I subsequently found out that it's not really the fish, but the rich broth and the accompanying rouille that is hard on one's system.
My Recommendation
While I highly recommend you try bouillabaisse when you are in Marseille or the south of France, just be aware that your system might not be used to eating so much fish or rich food. While our Traditional Bouillabaisse (3 courses, 6 fish) was 48 Euros (about $68 Cdn), you could opt just to have one course with 3 fish for less money. This is what I would do next time. Another option is to just get fish soup. It will be accompanied by croutons, rouille, and cheese (often Comté or Gruyère).
Have you ever had bouillabaisse and gotten a "bad" reaction?
TRAVEL RESOURCES
Booking.com and Expedia: are the companies I use for finding accommodations.
VRBO: is super for booking apartments and houses.
AutoEurope: is the only car rental supplier that I will use–with the best prices, and they will refund the difference if the price goes down.
Trainline: offers an easy way to book train tickets.
Get Your Guide and Viator: Both offer tours, city cards, tickets, airport pickups, and so many other things you'll need at your destination.
Orange SIM Card-this is the company I use when I want a physical SIM card
Orange e-SIM and Airalo e-SIM-both companies offer e-SIMS and get great reviews