Flying To Paris On Icelandair: Carry-on Size Tips
For your next trip to France, you might consider flying to Paris on Icelandair with a carry-on. One of the best reasons is that you can make a stopover in Iceland for free. The country is absolutely beautiful and definitely worth a visit. If you decide to do this, you need to be aware of their carry-on size policy and restrictions because they're not what you think they are. Their rules drove me crazy but in the end, everything worked out well.
1. Traveling Icelandair To Paris With Carry-On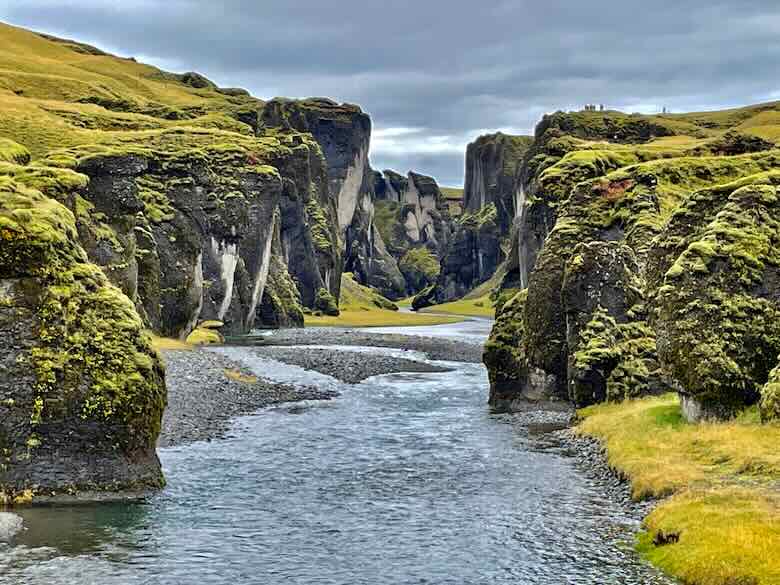 In September, my friend and I made a 7-night stopover in Iceland on our way to Paris. It is a stop I highly recommend. As you can see from the photo (Fjarðarárgljúfur Canyon located in southern Iceland), the scenery is stunning. The airfare to Paris at the time was much cheaper than taking Air Canada or Air France. Plus, we could stop off (1-7 nights) and visit one of the most beautiful places on earth.
My airfare (Economy Flex) was $1319 return (all in). This was a fully-refundable airfare which means that there was free cancellation. It included one checked bag, one carry-on bag (hand luggage), and one personal item. We both chose to do carry-on because there have been too many bags lost in transit by so many airlines, so we simply didn't want to take any chances.
(a) Icelandair Economy Class And Saga Class
Icelandair is considered a 3-star airline (somewhat budget). While it's not like Air Canada or Air France which are considered 4-star airlines (according to Skytrax World Airline Star Rating), the flights were perfectly fine. They have two classes: Economy and Saga, which is like premium economy. Economy does provide complimentary coffee/tea/soft drinks, in-flight entertainment, blankets, and pillows but there are extra charges for food, headsets, and Wifi, which are included with the Saga class.
The difference between the airfares usually has to do with making changes, and fees for seat selection, cancellation, and baggage.
Economy has 3 airfares: Economy Standard, Light, and Flex
Saga has 2 airfares: Saga Premium and Saga Premium Flex
(b) International Luggage Sizes Vary By Brand
The problem with many luggage brands is their "international" size criteria. There is not one standard. What may seem to be acceptable, might not be with Icelandair. One brand might measure 21.5 X 14.5 X 9" while another brand is 22" X 15" X 9". Each airline has its own rules surrounding the allowable weight and size of bags that are checked in and allowed on board so it's in your best interests to be sure yours comply.
2. Icelandair Baggage Policy
(a) Carry-On Luggage
What gave me frustration was Icelandair's policy about carry-on bags. All airlines want to be sure that the item will fit in the overhead bin. As mentioned, my Samsonite Freeform Hard Side Spinner carry-on measures 21.5" X 14-1/2" X 9" (54.6cm X 36.8cm X 22.5cm) but Icelandair's carry-on baggage size and policy are as follows:
1 carry-on item:
which can weigh up to 22 pounds
maximum dimensions: 21.6" x 15.7" x 7.8" (55 x 40 x 20 cm) and this includes the handle and wheels
1 personal item:
such as a handbag, backpack, or laptop bag that must fit under the seat in front of you
maximum dimensions: 15.7" x 11.8" x 5.9" (40 x 30 x 15 cm)
(b) Checked Luggage
Icelandair's baggage allowance for checked baggage (Economy, international) is: the maximum total size (length + width + height), including handles and wheels is 62 inches (158 cm). The maximum weight is 50 pounds (23 kg)
3. Dilemma With Icelandair's Carry-on Size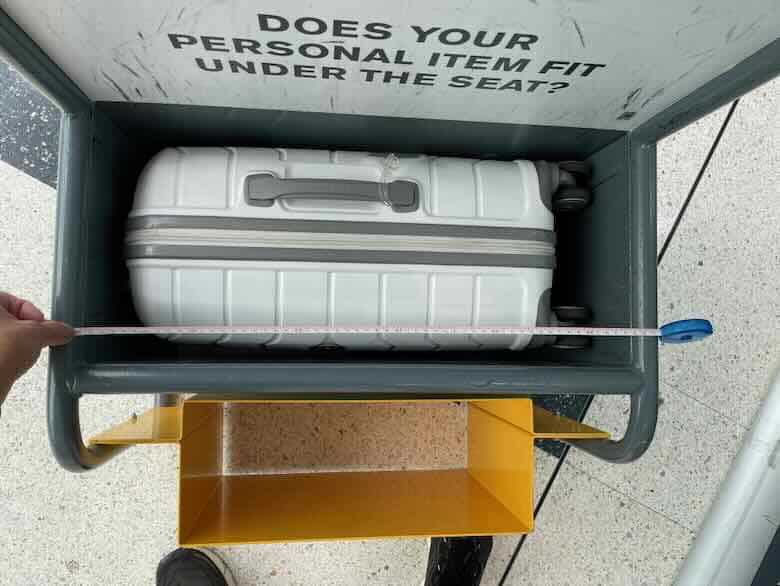 (a) What Size Will Work On Icelandair?
The carry-on size that is allowed by many other airlines is larger than Icelander's carry-on size. As an example:
Air Canada's carry-on size is 21.5" X 15.1" X 9"
Icelandair's carry-on size is 21.6" X 15.7" X 7.8".
The difference between 9" and 7.8" is significant and finding a bag that is 7.8" or less is close to impossible.
When I contacted Icelandair, all they would say is:
"Your carry-on bag must fit in the overhead compartment and must thus be within the maximum dimensions (including handles and wheels). However, this is evaluated on a case-by-case basis by the check-in staff."
(b) Icelandair Carry-on Sizer
I was unsuccessful at finding a suitcase that met the size criteria at a reasonable price. I visited Pearson International Airport in Toronto to see the carry-on sizer myself. It's a metal structure where you place your luggage to show if it meets the size restrictions. My biggest concern was the 7.8" depth.
I measured the sizer and put my Samsonite Freeform Hard Side Spinner carry-on inside. It fit! Here's what I found:
Carry on: 21.6" X 15.7" X 9"
Personal item: 15.7" x 11.8" x 5.9"
So there was much more room than 7.8 inches!
To my surprise, even though Icelandair said the bag must not be larger than 21.6" x 15.7" x 7.8 (55 x 40 x 20 cm), the sizer used by Icelandair actually allows larger luggage. For my flights, my 21.5" X 14-1/2" X 9" suitcase was OK. (Zoom in on the photo!)
Whether Icelandair changes its sizer to match what is stated online is unknown. All I can tell you is that I had no problem.
4. Flights Between Toronto, Iceland, And Paris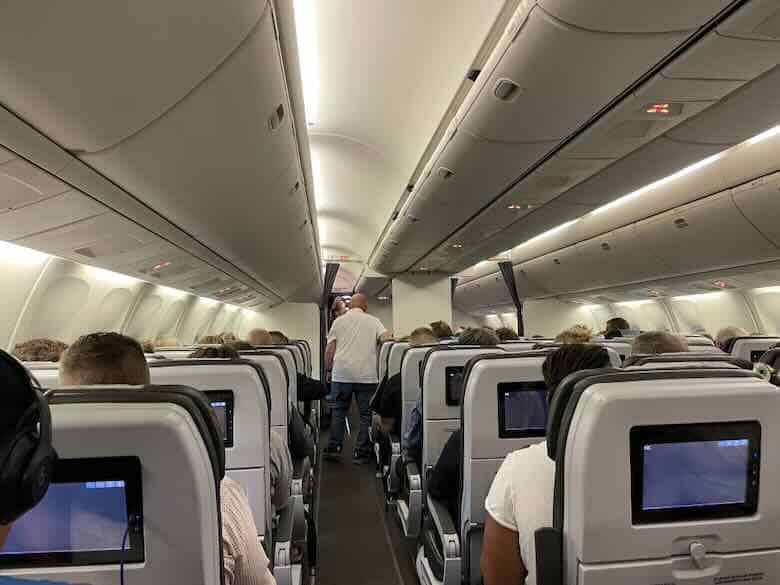 (a) Icelandair Check-in
Icelandair online check-in, 24 hours before the flight, was possible and because I was only doing carry-on, there was no need to go to the check-in desk at the airport. This was not the case leaving Paris; however, as you will read, everyone had to check in—and have their carry-on bags examined!
(b) Icelandair On-board Experience
My friend and I booked our seats in advance and chose aisle seats (in a row with 3 seats). The leather seats were not too cramped (32" pitch and 17" width) although not the most comfortable, but fine for a 5-1/2 hour flight. If the price had been better, I would have preferred to book a Saga Class fare. It's basically like a Premium Economy class (40" pitch and 20" width).
The airline isn't exactly no-frills. You do get a blanket and pillow and non-alcoholic beverages; however, there is a charge for food. I had heard that the food that you can buy on Icelandair isn't the greatest, and we had eaten beforehand so we just needed a few snacks. The airline does carry some interesting alcoholic beverages. My friend purchased a Venezuelan rum and Icelandic vodka (1200 krona or $7 each).
I brought my own noise-canceling earbuds for the onboard entertainment which was fine. There were lots of movies to pass the time.
After one week in Iceland, we took another flight from Reykjavik to Paris. It was only 3-1/2 hours and we were seated in a row with 2 seats. It was an uneventful flight. We flew back from Paris to Toronto with a stopover in Iceland for 1.5 hours. It actually wasn't that bad as it broke up the long trip.
FAQ
1. I'm bringing a carry-on that will fit in the overhead and a personal item that will fit under the seat. Am I allowed to bring a purse too?
You can bring a purse, but you need to be sure the purse will fit into the personal item because the purse is considered a personal item and if it is not packed, you will be considered as having 3 items.
2. Is Icelander strict about carry-on baggage?
Icelandair can be incredibly strict. When flying from Toronto to Iceland, we got our boarding passes in advance and didn't have to go to the check-in counter. Flying back from Paris to Iceland and then to Toronto, no passengers were able to get their boarding passes in advance. We all had to line up at the check-in and it was there that they weighed the luggage, even if it was carry-on.

If a bag seemed too big to qualify as carry-on, they made the person check the bag. That means that the wheels and handles would have to fit in the luggage cage, although, interestingly, I did not see the flight personnel using the luggage sizer.
It is worth flying Icelandair to Paris with carry-on if the price is good and especially if you want to stop over in Iceland. Just be prepared to abide by Icelandair's carry-on restrictions and rules.
Pin to your favourite board on Pinterest