Renter Beware: Costly Roadside Assistance In France
Travelling can be a wonderful experience when you rent a car. But not always. After 30 trips to France, I guess it was time for me to have an awful experience. My roadside assistance experience in France was not just stressful, but a shock to my wallet. I have a little story nightmare to share with you about renting a car in France. Hopefully, you'll never encounter the types of problems I did, but if you do, you'll understand what to do to navigate the difficult task of renting a car and dealing with road assistance issues.
*This post contains affiliate links. If you make a purchase through these links, I get a small commission at no extra charge to you. It helps support the running of this website and I do appreciate your help.*
1. My French Car Rental Experience
I always book my car rental through AutoEurope. They work with all the major car rental companies and have always had the best prices (Note: although I am an affiliate of AutoEurope and earn a commission on rentals made by my readers, I'd still use them regardless). I chose Hertz due to its worldwide reputation and price and did not add on any extra coverage as my Visa credit card included the collision damage waiver.
Important note: Only collision damage was covered. Nothing else.
The rental was for 10 days, picking up the car in Lyon and dropping it off in Avignon. I headed south from Lyon towards the Ardeche (Vallon Pont d'Arc) where I was staying and within two hours into the journey I saw a flashing warning light on the dashboard. I drove to the next service centre and tried to figure out what the warning light meant.
And that French message, "Contrôler pression des pneus"? = "Check tire pressure".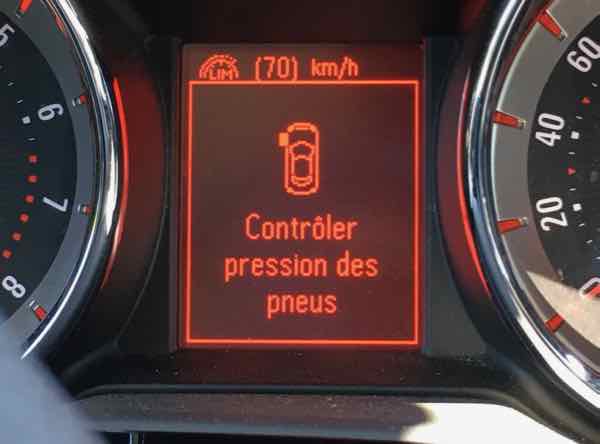 Important note: all car instructions were in French until I was able to change the language to English.
When I realized the problem was related to the tires, I tried to check the pressure but did not have a tire gauge. I was able to get help from the service centre manager. He showed me how to check my tires and add air.
Important Note:
use of the air pressure machine is FREE and to get a reading on your tires, you just push the nozzle into the tire. The needle will show the current pressure.
air pressure in France is not measured in pounds but rather kPa (kilopascals).
2. Help From The Service Station
It turns out the tire pressure in one of the tires was low. After adding air, the car's dashboard still showed a problem with the tire pressure. The attendant and I checked and double checked the pressure on all the tires. They were fine but the car's computer wasn't registering.
3. Called Roadside Assistance
I tried calling the roadside assistance number that was on the Hertz key fob but it wouldn't go through.
Important Note:
Not all SIM cards for France will permit 1-800 calls. My Le French Mobile SIM card did not.
Hertz did not list any other phone numbers even when I texted them for additional phone numbers so I had the service centre call on my behalf.
4. Roadside Assistance Truck Shows Up
10 minutes later a tow truck showed up. He checked my tire pressure and concluded that the tires were fine but the car's computer wasn't registering. I asked him if it was safe to drive. He said yes.
The tow truck guy gave me a bill for 124.83 Euros and said he could only take cash. Fortunately, I had the cash and paid him. He said I could get reimbursed by Hertz.
Important Note: I should have called Hertz to confirm that it was okay to pay cash.
5. Ongoing Warnings
I then proceeded to drive to my destination during which the warning light was still on. When I arrived at my B and B, the owner, who knew about cars, checked my car and confirmed that yes, the tires were fine but the car was not registering this.
For the next 9 days, I always had the warning light on and in the last few days, a beeping warning came on that the gas cap was loose. I was constantly checking the tires and gas cap.
6. Shocking Charge Upon Dropping Off My Car
I arrived at the Hertz car rental office in Avignon just before it opened. I was determined to get a refund for the roadside assistance payment of 124.83 Euros that I had paid. I explained to the attendant on duty my problem and he deducted some Euros off the remaining cost of the rental (airport surcharge fee). I then proceeded to the office to pay the bill.
Imagine my surprise at getting charged an
additional 221 Euros
"For what?" I asked.

"For using our roadside assistance", the salesperson said.

"But I already paid 124.83 Euros", I said.

"But this 221 Euros is the charge to use our service", he said.

"So it wasn't included? Why do you have a roadside assistance phone number on your key fob?", I asked.

"It's an additional 5.5 Euros per day to get roadside assistance coverage", he said.
Important Note:
I was never offered this option of roadside assistance coverage.
I called my credit card company but they said they only covered collisions. If I was in a collision and had to call for roadside assistance, that might have been covered!
I had the Hertz rental guy try to call Hertz's main office but he couldn't get through. He would not lower the charge.
I could not stay any longer to argue as I had to catch a train to Paris.
Once in Paris, I sent a private message via Twitter to Hertz but they said, no, they would not reimburse me.
I contacted AutoEurope and they said that if Hertz would not reimburse me, that I should contact AutoEurope's customer service department to assist me. I did and they opened a case and put through a query to Hertz about my claim.
For just over 2 months I waited for them to resolve this.
7. Escalating My Complaint To The CEOs of Hertz and AutoEurope
I sent an email to the CEO of Hertz and forwarded it to AutoEurope's customer service and their CEO requesting a refund. I said that I had a lemon of a car and while I had not purchased roadside assistance, I believed some sort of "compassion" was warranted.
To my surprise, 5 minutes after sending this email I got an email from AutoEurope saying Hertz would be reimbursing me $390—-not all I had paid, but most of it. I believe it was just a coincidence that I got this reply 5 minutes after sending my email.
AutoEurope wrote: "…..who have forwarded their most sincere apologies for the billing error, and advise that they have now issued a refund of the roadside assistance charge….".
8. Moral Of The Story About Roadside Assistance
I tried not to let this rental ruin my vacation. In fact, I only used this rental for 1/2 of my trip in France. I told myself it was only (a lot of) money, I wasn't hurt, and I hadn't been in an accident.
I am VERY pleased with the help I got from AutoEurope. In the end, I don't think it was their fault that it took over two months to get a resolution to this problem. They kept in touch with me and even though I tried to appeal to Hertz initially, I believe it was because of AutoEurope's "clout" that I was able to get some money back.
Advice For Your Next Car Rental
Now more than ever I am very careful when I rent cars.
Be sure to ask: is roadside assistance included and if not, how much is it?
If you have a problem with your rental, visit your rental company office as soon as possible and get a new car
If you do have a problem with a car rental and you booked through AutoEurope, start with the car rental firm (in my case Hertz) and if that fails, ask AutoEurope to open a case to assist you.
If there is no resolution after a few weeks, start sending emails to the car rental firm and AutoEurope. Hindsight is always 20/20 and I was more than patient waiting 2 months. I sent over 16 emails but had to keep waiting for responses.
Check to see if your phone can make 1-800 calls. This will be extremely important if you are stuck on the highway or out in the countryside
Besides sending emails and making phone calls, also make use of social media. I have often found that contacting a company's customer service via Twitter messaging can often produce positive results. While I had to escalate the problem to AutoEurope, my initial discussions with Hertz via Twitter did produce some initial, immediate responses.
For information about the more interesting and fun things to do in the Ardèche, check out this post for itinerary ideas: What Can You See And Do For 2 Days In The Ardèche?
For a subsequent trip I leased a car and it not only included roadside assistance but SO much more. And, I saved money (versus renting). Check out this post: Benefits Of Leasing A Car In France.
TRAVEL RESOURCES
Booking.com and Expedia: are the companies I use for finding accommodations.
VRBO: is super for booking apartments and houses.
AutoEurope: is the only car rental supplier that I will use–with the best prices, and they will refund the difference if the price goes down.
Trainline: offers an easy way to book train tickets.
Get Your Guide and Viator: Both offer tours, city cards, tickets, airport pickups, and so many other things you'll need at your destination.
Orange SIM Card-this is the company I use when I want a physical SIM card
Orange e-SIM and Airalo e-SIM-both companies offer e-SIMS and get great reviews
Have you ever had a bad experience renting a car in France?