Paris has the Eiffel Tower. Rome has the Colosseum. London has the Tower Bridge. What is the symbol for Nice France? La chaise bleue. When you discover this, you'll start to see blue chairs everywhere, starting with a line of blue chairs along the boardwalk in Nice that goes along the Mediterranean Sea.
**Contains affiliate links**
Symbol For Nice-The Blue Chair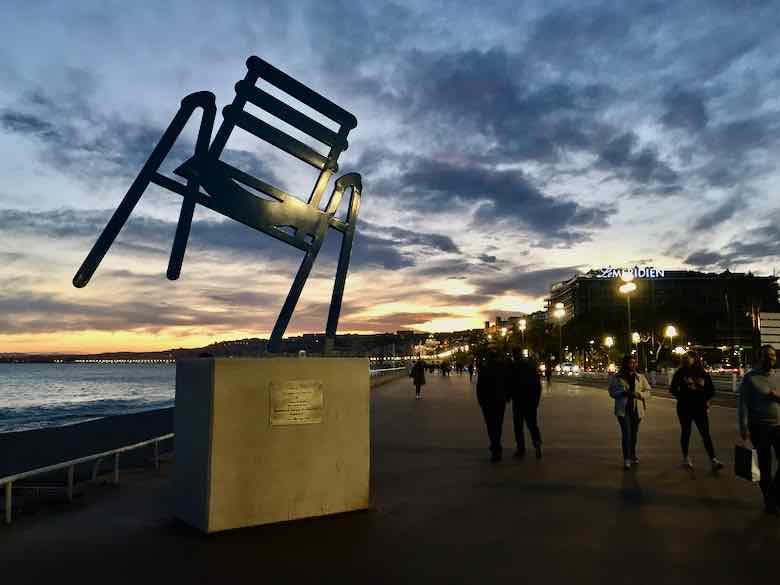 One of the most pleasant outings I had during a recent stay in Nice was walking along the Promenade des Anglais at dusk. The sky was lovely and I enjoyed taking photos of "Les Chaises Bleues"—those iconic blue chairs are a symbol of Nice and the Côte d'Azur—the blue representing the Mediterranean sea and sky and they have captivated me ever since.
History Of La Chaise Bleue
In the 1950s, the town of Nice wanted to line the Promenade des Anglais with chairs so visitors could have wonderful views of the Baie des Anges (the bay that goes from Nice to Antibes).
Charles Tordo manufactured white wicker chairs for a Monsieur Ballanger, who owned the concession. It wasn't free to sit on the chairs. It was a money-making business where people would pay a fee to sit on these wood chairs and relax or sunbathe. The chairs were initially white wicker and eventually blue ones made out of wood were added but the practise of paying to sit stopped years later and in the early 2000s, the city eventually got rid of the chairs (primarily due to theft).
Years later, the city brought them back and had French architect and designer Jean-Michel Wilmotte redesign the chair. This time they are connected and anchored to the ground (I guess so people won't steal them). In 2014 a large "chaise bleue" sculpture by Sabine Geraudie was erected on the boardwalk. You'll see the iconic "chaise bleue" all over town and I think one of the most creative examples of how the chair is represented is in the acrylic artwork at the store, "Transparence".
Boutique Transparence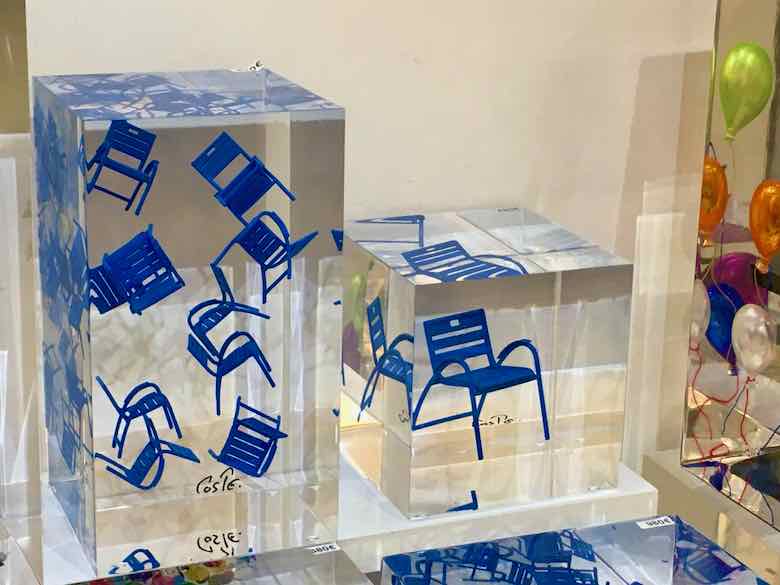 Located in Vielle Ville, the store "Transparence" carries very unique works of art "made with plexiglas which is an acrylic resin". When I visited the store, I learned about the hand-crafted creations by artist Thierry Wintrebert from his wife Danielle, who was working there that day.
Her husband has been making these miniature artifacts that he calls "inclusions" for over 40 years. By definition, according to the Merriam-webster dictionary, an "inclusion" is a "gaseous, liquid, or solid foreign body enclosed in a mass" and that's a perfect description for what Wintrebert has created.
To say these are just square or rectangular clear cubes containing objects inside would be a disservice. These inclusions are works of art and made with incredible precision. Because of his love of the sea, many of the objects Wintrebert adds to the resin are related to water— ships, fish and divers. But he also has hot air balloons, butterflies, balloons, and the iconic "chaises bleues" (blue chairs) of Nice—all in miniature size.
They are made out of paper, bronze, or brass and carefully placed into the resin. Resin is carefully poured into the container in layers and after it has been heated for 8 hours, the "block" is sanded and polished by hand.
These items are not cheap. The smallest item (2" cube) is 45 € and my favourite was the "chaise bleue" because it is the symbol of Nice. Some of the larger ones go for over 1000 €. They can be very heavy and fortunately, the store ships around the world. I kind of regretted not buying one, but I knew I couldn't carry one home (no room in my luggage) and just didn't know where I would display it. Perhaps I'll go back in the future to get one.
Transparence, Nice: 2 Rue Jules Gilly, 06300 Nice, France
Where To Stay In Nice
Airbnb Apartment in Nice
I really lucked out with an apartment in Old Nice. It had modern furnishings and a view facing the trams but the area was incredibly quiet. Super location for restaurants and shopping. I only stayed 4 nights and wish it had been longer: Apartment in the heart of Nice.
Ibis Styles Nice Aéroport Arenas
Before flying home I decided to stay at an airport hotel. It simply makes your departure a little less stressful. I stayed at the Ibis Styles Nice Aéroport Arenas and it was very clean, modern, had an excellent breakfast and was reasonably priced.
Check out my itinerary for this trip and the other sites and experiences I had on the Côte d'Azur
Pin to your favourite board on Pinterest