13 Things To Do In Bayeux And The Surrounding Area
There are so many things to do in Bayeux and the surrounding area of Normandy that I decided to use this city as my base when I was visiting the area in early June. It was a special time to visit this area as coincided with the D-Day anniversary.
It's never too early to start planning a future trip, especially for 2024. It's going to be a busy year for France. In addition to hosting the Olympics, France will also be recognizing the 80th anniversary of the D-Day and Normandy Invasion and there will be major events at many of the D-Day landing beaches and sites. Be sure to book your accommodations and transportation well in advance.
A. Things To Do In Bayeux And The Surrounding Area
I had a car so I was able to visit many sites but never drove more than 30-40 kilometres away from Bayeux. If you don't have a car, there are numerous tours available from Bayeux. I highly recommend these 13 memorable activities, tours, sites, and events plus two restaurants that I would go back to in a heartbeat.
*This post contains affiliate links. If you make a purchase through these links, I get a small commission at no extra charge to you. It helps support the running of this website and I do appreciate your help.*
D-Day Sites In Normandy
During World War II, the Allies landed in Normandy on June 6, 1944, called D-Day. They began their assault of the Normandy Invasion by landing on Sword Beach, Juno Beach, Gold Beach, Omaha Beach, Point du Hoc, and Utah Beach.
If you try to visit all the beaches plus add in Arromanches and Sainte Mère-Eglise, it is doable; however, it's a lot of ground to cover in one week (or in my case, 6 days). Sainte Mère-Eglise is famous for being liberated by American paratroopers. Private John Steele is best known as his parachute got caught on the church steeple. He was left clinging to it during the invasion.
As you'll see in my list of sites, I visited Juno Beach (again) so I could have a tour of the bunkers. I also visited Arromanches, and Omaha Beach on my way to Point du Hoc. Having a car made my itinerary much easier to plan, yet, I was pretty busy and couldn't visit all the centres. If you don't have a car, consider taking a guided tour. Here are some tours of Normandy beaches from Bayeux and Paris.
(a) D-Day Tours From Bayeux
If you're looking to see more D-Day sites from Bayeux, consider this tour: Bayeux: American D-Day Sites In Normandy Full-Day Tour.
(b) D-Day Tours From Paris
1. Begin With A Walking Tour Of Bayeux
(a) Historic Guided Walking Tour
One of the first things I did after I arrived in town was take a 2-hour historic walking tour of Bayeux. We met in front of the Bayeux Tourist office and walked through modern and medieval Bayeux and got a wonderful overview of Bayeux's history and important sights. We did the circuit of old Bayeux and passed by many half-timbered buildings as well as walked through parts of the newer sections of Bayeux.
Some of the highlights included:
Seeing the Liberty Tree (Arbre de la Liberté) which was planted in the centre of the square, Place de la Liberté in 1797….during the time of the French Revolution. It is located beside the Cathedral in Bayeux. My understanding is this is the place to be to see the summer sound and light show. I didn't make it there as I simply didn't have enough time.
Lace Conservatory—Conservatoire Dentelle de Bayeux-we stopped at this lace museum and saw how labor-intensive the work is…it's estimated that this piece, from Napoleon III's time (the 1800s) took 10,000 hours!
Place Charles de Gaulle-we visited the very spot where de Général de Gaulle stood to give his first speech on French soil after the Normandy Invasion began. Bayeux was the first town to be liberated and it was de Gaulle's first stop on June 14, 1944, after having been in Britain.
It was an excellent tour (and yes, in English). Check out the details and prices here: Bayeux Walking Tour.
(b) Old Bayeux Heritage Trail: Self-Guided Tour
Another option is to do a free, self-guided tour by following the Bayeux Heritage Trail. There are bronze makers on the ground with a symbol of trees (which were found in the Bayeux Tapestry). At 23 different stops, there are panels providing a description of the attraction. It takes about 1hr30 and you cover about 2.5 kilometres. Here is a link to the map: Bayeux Heritage Trail Circuit.
2. Patisserie À La Reine Mathilde
À La Reine Mathilde is the oldest bakery in Bayeux (since 1898) and certainly one of the prettiest. After looking at the delicious pastries in the window, you'll be tempted to buy something to satisfy your sweet tooth. You can take out or eat in the tea room where there are a few tables.
Address: 47 Rue Saint-Martin, 14400 Bayeux
3. La Cathédrale Notre-Dame de Bayeux
You can't miss the Bayeux Cathedral as it rises above the city from the centre of town and can be seen from quite far away. This national monument (designated in 1862), was consecrated on July 14, 1077, in the presence of William the Conqueror and is dedicated to the Virgin Mary. It housed the Bayeux Tapestry for centuries.
Through the centuries, there was much damage so it had to be rebuilt. There is a mix of styles (Neoclassical, Gothic, and Romanesque) with Gothic from the 13th century being the most widely used. The Bayeux Cathedral crypt and the western towers are in the Romanesque style and these are the only sections that date back to the 11th century. The central tower is much newer (19th century).
What's interesting is that the Cathedral was never bombed during World War 2 and so you are able to see an impressive interior and exterior. The stained glass windows are beautiful in the different side chapels, so do take your time to walk around the church. The exterior is imposing and magnificent and in the summertime at night time, when there is a light show on the cathedral.
Bayeux Cathedral Address: Rue du Bienvenu, 14400 Bayeux
4. Visit The Famous Bayeux Tapestry
William, the Duke of Normandy was at war with the English at Hastings on October 14, 1066. A famous Bayeux Tapestry (Musée de la Tapisserie de Bayeux) was created to tell the story of this Norman conquest of England.
Why was it such an important battle?
Edward the Confessor, the King of England had made Anglo-Saxon Harold Godwinson King and William disputed this. William believed he was the rightful King of England, not Harold.
William brought his armies (Norman, Breton, Flemish, French, and mercenaries across the English Channel to invade England. William's armies were comprised of 1000 archers, 4000 foot soldiers, and 2000 cavalry for a total of about 7000 men. Harold II also had about 7000 men-Anglo Saxons and Danes. It is said that 5000 of those men were inexperienced.
It was a bloody fight that lasted all day and King Harold was eventually killed. The battle actually ran from 9 a.m. to 6 p.m. William was crowned King of England in Westminster Abbey and became known as William The Conqueror.
Tapisserie de Bayeux
Not only is the tapestry over 1000 years old, but it is also incredibly long (about 70 metres long and 70cm high). The tapestry is actually an embroidery where the 9 panels are carefully stitched together. It is so well done in telling the story and has been viewed by the public since 1983.
Today, you are provided with an audio guide (available in 16 languages) that explains each of the scenes. You are not allowed to take photos or videos when viewing the tapestry.
The tapestry is currently housed in the former Seminary of Bayeux; however, it will move to a new museum in 2027.
Bayeux Tapestry Address: 13B Rue de Nesmond, 14400 Bayeux
5. Memorial Museum Of The Battle of Normandy
The Battle of Normandy Memorial Museum covers the various military operations that occurred after the landings on D-Day and covers the period from June 7-August 19, 1944. It is an extensive museum with a lot of artifacts and equipment (ie. guns, vehicles, artillery, etc) not just used by the Allies, but also by the Germans.
What makes this museum different is that it gives an account of all the operations in the summer of 1944. Many other museums related to the D-Day beaches just cover those specific operations (ie. Omaha Beach or Juno Beach) so it's nice to have an overview.
It is fitting that the museum is located in Bayeux. The city was the first mainland town to be liberated on June 7 and it did not suffer a lot of damage during the war as compared to other cities like Caen.
If you have time to add in the Battle of Normandy Museum after seeing the Bayeux Tapestry, be sure to get the 2 museum passes (14 €) as you will save a bit of money.
Battle of Normandy Museum: Bd Fabian Ware, 14400 Bayeux, France
6. Juno Beach Centre Museum And Bunker Tour
On June 6, 1944, 14,000 Canadian and 7,000 British troops landed on Juno Beach and launched their attacks along the 8 kilometres of beach. In 2003, the Juno Beach Centre opened and today it has not only a museum but also a 45-minute tour of the of the area just in front. Juno Park has remains of two German defensive fortifications that were built in the early 1940s.
I visited the museum in the past (check out Itinerary #8: Normandy and Paris) but they had not opened the bunkers to the public, so on this repeat trip, I visited the museum again and took the tour (12 €).
As I wrote in this post about D-Day And The Normandy Invasions, I visited Juno Beach in 2005, I wanted to see the specially engraved plaques that listed the name, rank, decorations and dates of service of various soldiers. It's a nice tribute to those who had served and is a way to support the Juno Beach Centre which celebrated its 20th anniversary in 2023.
(a) Juno Beach Museum
Inside this museum, you are introduced to Juno Beach by experiencing an immersive 4-minute video. It's as if you are on a landing craft and landing on the beach. It is interspersed with images of Canada.
What follows are displays of Canada's role before, during and after the War and a celebration of various cultures in Canada. The video, "They Walk With You" contains footage of the Canadians landing in Normandy.
(b) Young Canadian Tour Guides
This year's team of student guides are comprised of young Canadians who are students in a postsecondary institution or have graduated within the last 3 years. They have to be fluently bilingual (English and French) and if hired, work for 6 months at the Centre, leading tours for visitors, giving presentations, and conducting educational workshops for school groups.
All of the guides have a solid understanding of Canada's contribution to World War II and are very passionate about their work at Juno Beach. My tour guide, Jean-Philippe said he was inspired to apply because his grandfather, Maxime, had landed on Utah Beach under the command of General Leclerc.
(c) Bunker Tour At Juno Park
against the Atlantic seaboard. Hitler wanted to prevent the Allies from getting through areas that the Germans had already overtaken. Juno Park was originally known to the Germans as Stütztpunkt (Strongpoint) 31 and had 12 smaller and 15 larger bunkers spread out over the 1,500m stretch of beach.
Local French citizens and prisoners were forced to build trenches and bunkers. The first bunker was built in 1942 and was used as barracks by the Germans and they even had a furnace area and a shower area in the event of gas attacks (there weren't any). The second bunker was built in 1944 and was used as the headquarters for Strongpoint 31. It was an observation post that was only cleared (revealed) in front of Juno Beach Centre in 2004.
Along with 3 anti-tank guns, and 12 machine guns, including a 360° machine gun, it was a formidable defence and offence. Sadly, after the troops landed on the beaches on D-Day, there was little protection for them because their tanks didn't arrive at the same time.
Tickets: You can only get tickets for the tour, on-site, at the Juno Beach Centre. Reservations are not possible. The tour is in English for ages 6 and up and will not run if there is bad weather.
Address: Voie des Français Libres, 14470 Courseulles-sur-Mer, France
7. Omaha Beach And Pointe du Hoc
(a) Omaha Beach
On my way to Pointe du Hoc, I stopped at Omaha Beach. Here you can see the famous sculpture, "The Braves" by Anilore Banon. By the sculpture is an explanation by the artist. It honours the courage of the men who endangered and often sacrificed their lives for the freedom of the French people. The Braves consists of 3 elements:
"Sculpting is engraving in people's hearts the spirit of infinite hope."
"The Wings Of Hope
So that the spirit which carried these men on June 6th, 1944 continues to inspire us, reminding us that together it is always possible to change the future.
Rise, Freedom!
So that the example of those who rose against barbarism, helps us remain standing up against all forms of inhumanity.
The Wings of Fraternity
So that this surge of brotherhood always reminds us of our responsibility towards others as well as ourselves.
On June 6th, 1944 these men were more than soldiers, they were our brothers.
Signed, Anilore Banon"
(b) Pointe du Hoc
Pointe du Hoc was a German-fortified stronghold during the Second World War. It is a 90-foot cliff that has bunkers and posts where the Germans had machine guns. What's amazing is that the American Provisional Ranger Group climbed the cliff on June 6, 1944, and after two days of fighting overtook the German post. Sadly, when reinforcements finally showed up, only 90 of the 225 soldiers had survived.
Omaha Beach (Memorial): Av. de la Libération, 14710 Saint-Laurent-sur-Mer, France
Pointe du Hoc (D-Day Monument): 14450 Cricqueville-en-Bessin, France
If you're based in Bayeux and want to see Omaha Beach and Pointe du Hoc, you might consider this half-day tour: Omaha Beach, Cemetery, and Pointe du Hoc Tour.
Or this full-day tour devoted to the D-Day American Beaches: From Bayeux: D-Day American Beaches and US Airbourne Day Tour.
8. Arromanches-les-Bains Musée du Débarquement
I also visited Arromanches-les-Bains and the new D-Day Museum (Musée du Débarquement) which opened in April 2023. The exhibits are extremely well done in explaining not just the Normandy invasion along the coast, but also the importance of Mulberry Harbour. There are many, many D-Day museums in towns throughout Normandy; however, I highly recommend that this museum be #1 on your list.
Address: Place du 6 Juin, 14117 Arromanches-les-Bains, France
9. Bény-sur-Mer Canadian War Cemetery
The Canadian Cemetery at Bény-sur-Mer is particularly meaningful as I am Canadian. Just over 2000 Canadian soldiers who fought and died at Juno Beach on D-Day and in the early days of the Battle of Normandy are buried here. There are graves of a few British and one French soldier who fought alongside the Canadians. It's a beautiful resting place for our fallen soldiers, many of whom were only teenagers.
There are three graves that remind me of the movie, "Saving Private Ryan". They are the graves of 3 brothers from Toronto. George Westlake died on June 7, 1944, and four days later, on June 11, 1944 brothers Albert and Thomas, were also killed in action. The Westlakes are just one of nine sets of Canadian brothers whose graves can be found there.
10. La Maison des Canadiens-Canada House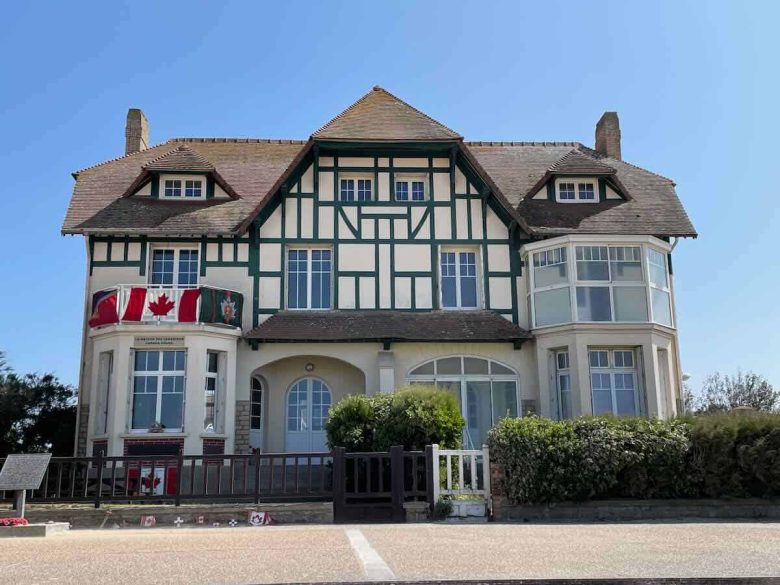 I am often asked what the highlight of my trip was and it was a private visit to "Canada House" (also known as Maison de Queen's Own Rifles of Canada). It was the first house to be liberated in Operation Overload by Canadian, along British, and American troops on June 6, 1944. It's located in Bernières-sur-Mer and is actually not owned by Canadians or Canada. I'll never forget meeting lovely Nicole Hoffer, who was married to the grandson of the owners of the house. (Her spouse died a few years ago.). She shared information about the history of the house during WWII. Here's the post: Why Is Canada House On Juno Beach In Normandy So Famous?
Address: 34 Prom. des Français, 14990 Bernières-sur-Mer, France
11. D-Day Anniversary At Juno Beach
All of the D-Day memorial sites have special events coinciding with the June 6 anniversary, and wherever I went, I would see veterans, their families, and special tour groups. At Pointe du Hoc, there was a special ceremony for 2 American WWII veterans who made a special visit to the site. It was very moving.
(a) 20th Anniversary Celebrations
In 2023, Juno Beach celebrated its 20th anniversary so it was an especially important year. In the days leading up to the D-Day Anniversary and on June 6, many special events took place, including:
Musical performance of bagpipes & drums with military vehicles
Juno Park Panama Swing band with dancing
Simply Two (Quebecois accordion-violin duo, François Michaud and Viviane Arnoux in concert)
The open-air cinema "Storming Juno" was postponed until July. It is a docu-fiction film about the storming of Juno Beach by Canadian soldiers
June 6 Commemorative Ceremony of D-Day and the Battle of Normandy and Juno Beach Centre and Bunkers-Open Doors
1930s and 1940s Lindy Hop dancing
Normandy Jazz Patrol-1940s jazz concert
(b) June 6 D-Day Anniversary
I went back to Juno Beach Centre on June 6 for the commemoration of the 79th anniversary of D-Day and the Normandy Invasion. The event was attended by many dignitaries and Canadian military personnel.
Recognition was given to British Veteran Albert Fenton, who was in attendance. He was a driver with the Royal Army Service Corps. They were responsible for providing ammunition, fuel, and food and unloading ships at the Mulberry Port. He landed with the 2nd Canadian Armoured Brigade on June 7, 1944.
There were about 500 people in attendance. The speeches (only a few in English) were followed by music, the laying of wreaths, and a reception with cider and hor d'oeuvres. I can imagine that there will be even larger and extensive celebrations for the 80th anniversary of D-Day in 2024.
Juno Beach Centre Address: Voie des Français Libres, 14470 Courseulles-sur-Mer, France
12. Caramels d'Isigny
Isigny is renowned for Normandy butter and there's a store where you can buy the butter, caramels, cheese, wine, Pommeau, and other gifts. They are delicious. I took a tour of the factory (4 €); however, the operations were done for the day so I didn't see it in action. However, the displays were good enough to explain the process of producing caramels.
Address: Zone Artisanale Isypole – rue du 19 mars 1962, 14230 Isigny-sur-Mer, France
13. Marathon de la Liberté, (Bénouville to Caen)
One of the reasons I went to Normandy, besides the D-Day anniversary, was to take part in the Marathon de la Liberté. Held on the weekend closest to June 6, there are many events including a 10km race and rollerblading race. There are Scottish bagpipers that begin the ceremonies of the start of the race.
So if you're a runner, do consider doing one of the races. I ran in the Pegasus Half Marathon, which starts at the location of the famous Pegasus Bridge in Bénouville, Calvados, and ends in Caen where we sampled various Norman delicacies. (The original bridge is now housed at the Pegasus Museum). You can read about the race in this post about Running Races In France.
B. Restaurants In Bayeux And Surrounding Area
1. Bayeux Centre: La Normande
Because I was unsure of my plans for certain days, I sometimes just showed up at restaurants in Bayeux but sadly couldn't get into any of my chosen ones, so I cooked dinner at my rental. If you are visiting Bayeux during busy periods, such as around the D-Day anniversary, you'll definitely need to make dinner reservations.
I did make reservations at La Normande in Bayeux and the dinner was excellent.
Appetizer: foie gras in pommeau was the best I've ever had. The flavour with pommeau and walnuts made it much tastier than regular foie gras.
Main course: sliced chicken in cider with mushrooms and potatoes was presented in a cast iron plate/bowl and the sauce wasn't too creamy but good.
Dessert: apple crumble with Isigny ice cream
House Wine (Merlot): 37.5 cl (half bottle)
Cost: 46 €
My Rating: 10/10
Address: 46 Rue Saint-Jean, 14400 Bayeux, France
The other restaurants that I wish I had been able to eat at: Chez Paulette, Hôtel de Lion d'Or, La Table du Terroir, Le Moulin de la Galette, and La Rapière.
2. Asnelles, Normandy: Accalmie
I had lunch at Accalmie, a very good restaurant in Asnelles near Gold Beach, where I had hoped to buy some butter cookies from the famous Les Sables d'Asnelles, but they were closed.
The Menu Midi (Entrée, Plat, Dessert) was:
Appetizer: Tomato Farcie with shrimp-lots of fresh vegetables
Main course: Cabillaud (cod fish) with beans and mini potatoes
Dessert: Creme brulée
1 glass of wine
Cost: 29 €
My Rating: 8/10
Address: Rue Devonshire Régiment, 14960 Asnelles, France
C. Plan Your Trip To Bayeux
1. The Weather In Bayeux And Normandy In Early June
I should point out that I was quite surprised at how cold it was in the northern part of Normandy in early June. The temperature in Bayeux and northern Normandy ranged from 11°C to 16 °C and when I took the walking tour in Bayeux I shivered. It was the wind that made it so cold.
I layered my clothes—a Gortex jacket, sweater, shirt, and pants and could have used something even warmer. It never rained and the sun did come out which made it quite pleasant; however, it could also be quite chilly, so keep this in mind.
When you are closer to the English Channel, it can be quite cold. Caen, to the south, wasn't quite as cold. And, two weeks later, when I returned to Rouen, just east of Bayeux, the temperature was more than double! (ie. 28° C).
2. Hotels In Bayeux, France
I chose Bayeux as my base because the city is smaller and more quaint than the larger city of Caen. It's a medieval town with a lot of hotels, restaurants, and historical sites. Bayeux is also closer to the D-Day beaches so that was an added benefit. I found a convenient Airbnb called La Frégate that was only 20 minutes away (by foot) to the centre of town and had free parking. It was fine for a single person as it was a studio.
You might consider these accommodations in Bayeux: Hotels In Bayeux.
3. How To Get To Bayeux
Car: Driving from Paris to Bayeux. Duration: 3 hours (about 265 kilometres)
Train From Paris To Bayeux: From Paris, there are no direct trains. You'll have to travel from Gare Saint-Lazare, Paris to Caen and then transfer to Bayeux. Duration: 2 hours 45 minutes

To find the best schedule and prices, check Trainline.
My experiences in Bayeux were part of my 37th trip to France. For more information, check out my itinerary here: Trip #37 To France: 18 Days In Normandy, Burgundy, And Back To Normandy.
TRAVEL RESOURCES
Booking.com and Expedia: are the companies I use for finding accommodations.
VRBO: is super for booking apartments and houses.
AutoEurope: is the only car rental supplier that I will use–with the best prices, and they will refund the difference if the price goes down.
Trainline: offers an easy way to book train tickets.
Get Your Guide and Viator: Both offer tours, city cards, tickets, airport pickups, and so many other things you'll need at your destination.
Orange SIM Card-this is the company I use when I want a physical SIM card
Orange e-SIM and Airalo e-SIM-both companies offer e-SIMS and get great reviews
Pin to your favourite board on Pinterest