Unique Things To Do In Dijon (When You Have 1-2 Days)
Is Dijon worth visiting for a day or two? Certainly, many people who take a barge cruise in Burgundy often start or end their journey in Dijon. Yes, I do suggest staying in Dijon before and even after your cruise. While I could have stayed in Besançon at the end of the cruise I took, I really wanted more time to explore this beautiful city in depth. In this post, I share some unique things to do in Dijon as well as information about a few restaurants and hotels.
*This post contains affiliate links. If you make a purchase through these links, I get a small commission at no extra charge to you. It helps support the running of this website and I do appreciate your help.*
1. Dijon Walking Tour: The Dijon Owl Trail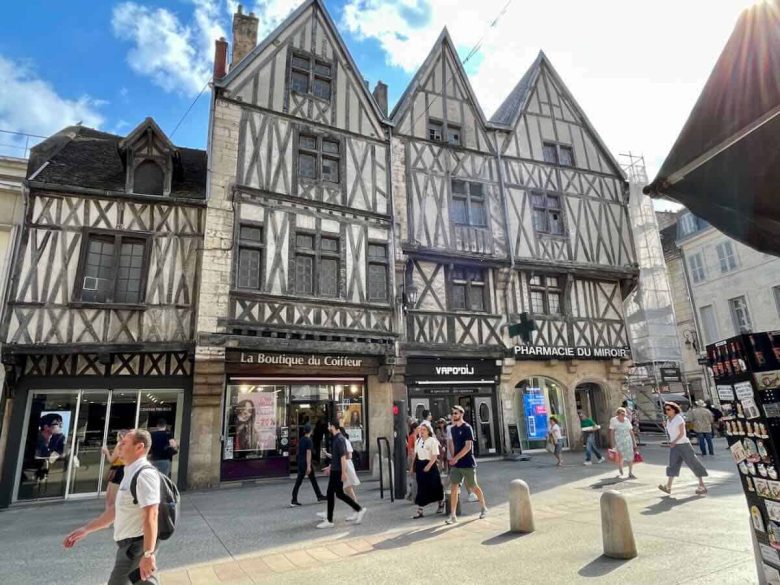 When you're in Dijon you're going to see the owl images and designs everywhere! Dijon's symbol is the owl. It has become the city's talisman and good luck charm and dates back to Athena, the Greek goddess of wisdom. The owl symbolizes wisdom and good luck in Dijon and you can find it used everywhere in the city–as markers on the pavement to shortbread cookies!
Dijon Owl's Trail Booklet
If you only have one day in Dijon, I suggest you start off your visit by stopping at the Dijon tourist office to pick up the Dijon Owl's Trail booklet (Parcours de la Chouette) (4€). It provides 4 self-guided walking tours of Dijon.
It's very well done and the booklet is easy to follow and you'll get an excellent overview of the city. You can do parts of the tour or all of it. At the very least it will give you an idea of some historical monuments and important sites as you walk around Dijon.
While you can purchase the booklet, there is an app where you can download the maps onto your smartphone for a few Euros; however, I couldn't do this in Canada. Perhaps once you are in France you can.
The Owl's Trail Route
The first route is the original "Owl's Trail" and there are bronze arrows on the sidewalks and pedestrian streets that bring you to 22 stops where you'll discover historic sites in Dijon. You know you're at the right place when you see the bronze owl and number on a marker located on the ground in front of the site. The booklet has a brief description and history of what you are looking at.
There are 3 additional routes that explore other sections of Dijon. These were added in 2011.
There's one place you should be on the lookout during your walk, as it is not obvious, but it does have a great tradition. That is "La Chouette de Dijon".
(a) La Chouette de Dijon
On Rue de la Chouette (Owl Street) you will find stop #9 which is called "La Chouette de Dijon". It's the most famous "Owl" in Dijon. Here you'll encounter a stone sculpture of an owl that has been carved into the corner of a buttress of Notre-Dame Cathedral. Make a wish when you're there because good luck is brought to those who rub the owl with their left hand. It's been there for centuries and is now pretty worn down, owing to the thousands of passers-by who rub the little bird.
(b) Some Highlights Along The Owl Trail
During your walk, there will be many places that you might consider stopping at for a tour or visit. They include:
(i) Place François Rude: this beautiful square with a fountain and carrousel is named after the Dijon sculptor who is best known for the work he did on the La Marseillaise frieze on the Arc de Triomphe in Paris.
(ii) Old Town Of Dijon–walking down Rue des Forges from Place François Rude to Place Notre Dame and finally to Place des Ducs de Bourgogne takes you through the old section of Dijon. It is filled with cobblestone streets, half-timbered buildings, gothic architecture, and Monsieur Moutarde which I talk about later in this post.
Don't miss the stone spiral staircase in the inner courtyard at Hôtel Chambellan (34-36 rue des Forges), a 15th-century Gothic mansion that at one time was a hotel. Today it is a historic monument, a UNESCO World Heritage site, and privately owned. (Hôtel Chambellan is not to be confused with Hôtel Le Chambellan, which is a two-star hotel located 0.5 km to the east).
(iii) Église Notre-Dame de Dijon: you can't miss this Gothic church from the 13th century that takes up a large amount of city space at Place Notre-Dame. It was deemed a historic monument in 1840 and a UNESCO World Heritage Site in 2015. What stands out are:
51 gargoyles on the western facade that were made in the early 1880s
the stained glass windows inside of the church. Only 5 of the original windows made in the 13th century remain. in the late 1800s, additional stained glass windows were added by glassmaker, Édouard Didron.
(iv) Place Grangier: While the post office is listed on the tour, I was immediately struck by two other sites in the area:
"Le Compteur du Temps" (The Time Counter) contemporary sculpture by Gloria Friedmann. There are twelve clocks shown on the 3 metre sphere and they tell the local time of cities from around the world. It is topped with a sculpture of a man that is more than a meter high.
"Hôtel des Postes" and Grangier Square are part of the route; however, it's the building north of this area that caught my attention. The architecture is so unique and it's odd/sad that a Millet Expert sports store occupies it now. The store is at the intersection of Rue du Château and 2 Rue du Temple.
(v) Musée des Beaux-Arts de Dijon is located in the former former ducal palace, Palais des Ducs et des États de Bourgogne. While there are a few sections from the 14th and 15th century, most of the palace is from the 17th and 18th century. I did not go inside the museum, preferring to gaze at the grand architecture and beautiful square, Place de la Liberation.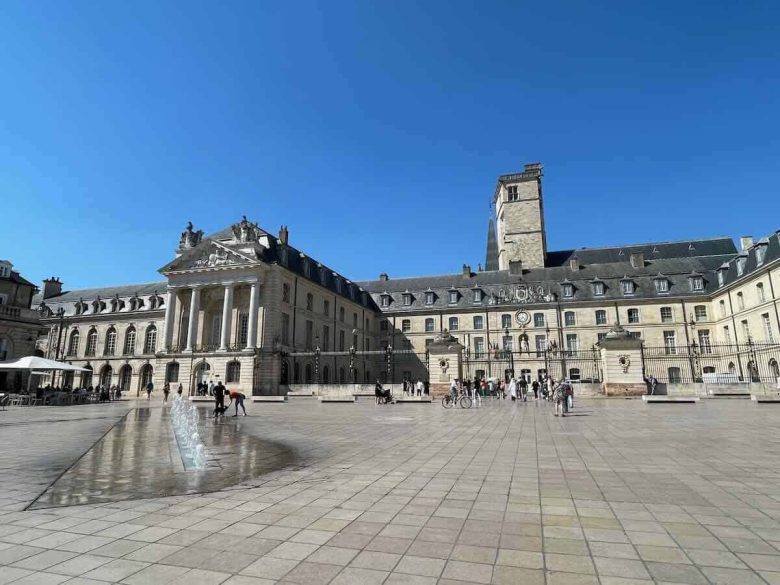 The Museum of Fine Arts is one of the oldest museums in France. It opened in 1787 and has the tombs of the Dukes of Burgundy. It is free to enter.
"La Tour de Bar" was built in 1365 by Philip The Bold and I love the staircase leading to the Tour de Bar
2. What To Do In Dijon France? Taste Some Dijon Mustard!
Visiting Dijon for a day or two wouldn't be complete without sampling some Dijon mustard. This is the city where it originated in the Middle Ages. "Moutarde de Dijon" dates back to the 1300s when the juice from unripe grapes was mixed with brown mustard seeds.
Today water, vinegar, white wine, and salt are added to the brown mustard seeds and 80% of the seeds come from Canada. Any country or region can call their mustard that's been done in the Dijon-style, "Dijon Mustard", but if they want to call it "Moutarde de Bourgogne", the seeds have to be from Burgundy.
Two mustard producers that have gourmet shops in Dijon are La Maison Maille and Edmond Fallot. I went to both and you can sample their wide variety of mustards and purchase various sizes of their products. Some are incredibly spicy!
(a) Moutarde Maille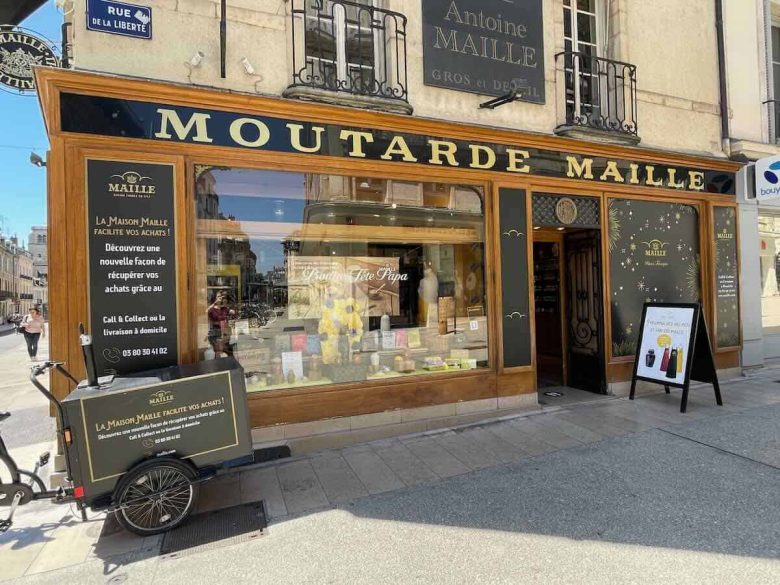 La Maison Maille mustard is certainly the most famous and well-known brand and it has shops in Paris and Dijon in France and other stores throughout the world. Antoine-Claude Maille opened the Paris establishment, La Maison Maille, in 1747 and it became the official supplier to King Louis XV's court. Today the Maille brand is owned by Unilever.
(b) Fallot Mustard
Edmond Fallot "La Moutarderie" is a family-run business started in 1840 and it is headed by Edmond Fallot's grandson, Marc Désarménien. The company has the last independent mustard mill in Burgundy. It has boutiques in Dijon and Beaune and there are English and French-speaking tours but these only take place in Beaune. At the Dijon store, you can taste their various mustards at the store's "Mustard Bar". I really liked the look and atmosphere of the Fallot store.
(c) The Great Mustard Shortage Of 2022
The average French person consumes 1 kilogram of Dijon mustard a year and 2022 was a painful year for the French. It was a bad year for mustard seed producers and Dijon mustard. The shelves which used to be full of Dijon mustard in grocery stores were bare. Production for all French mustard makers like Maille, Fallot, Amora, and Reine de Dijon was reduced significantly due to a number of world events.
First, there was the Russian invasion of Ukraine and shipments from there slowed. Then there was a shortage of grain from Canada due to a heat wave (blamed on climate change) and drought in Saskatchewan and Alberta in 2021. As mentioned, France imports about 80% of the seeds from Canada. A small percentage of seeds are produced in France.
Have things recovered? Can you now find Dijon mustard in France? Yes. Fortunately, the harvests in France and Canada in 2022 were exceptionally good and you can find the mustard everywhere when you travel in France.
3. Gingerbread At Mulot & Petitjean
I LOVE gingerbread and Dijon is the place to find some of the best. During my one day in Dijon before my barge cruise, I really wanted to go to the Mulot & Petitjean factory to take their tour and purchase some of their products (there are also a number of stores throughout Dijon).
(a) History
Gingerbread was introduced to the Burgundy region by Margaret III of Flanders, wife of Philip II of Burgundy in the 14th century. Mulot & Petitjean is the oldest gingerbread factory in Dijon dating back to 1796. It was started by Louis Mulot and has remained in the family through the generations. Today it is run by a number of Petitjean family members.
(b) Tour
The self-guided audio tour (8 €) is available in English and when you enter the first room, you are introduced to the family and the company's history. The "paintings" come to life. You'll have to experience it to understand what I mean.
After leaving the family room, you tour the factory and at the end, you are presented with a small plate of 4 different gingerbread products to sample:
original gingerbread–was a bit dry
glazed-very good, chewy
gingerbread with orange–nice, softer, bit crunchy on the outside
gingerbread with caramel–yum
Their products are not cheap but they are incredibly good. I purchased a Mulot & Petitjean tin box, some gingerbread hearts, and a gingerbread owl (total price: 17 €). I had intended to take them home for myself and as a gift but sadly I ate them all before the end of the trip because they were SO good!
4. Tour Philippe le Bon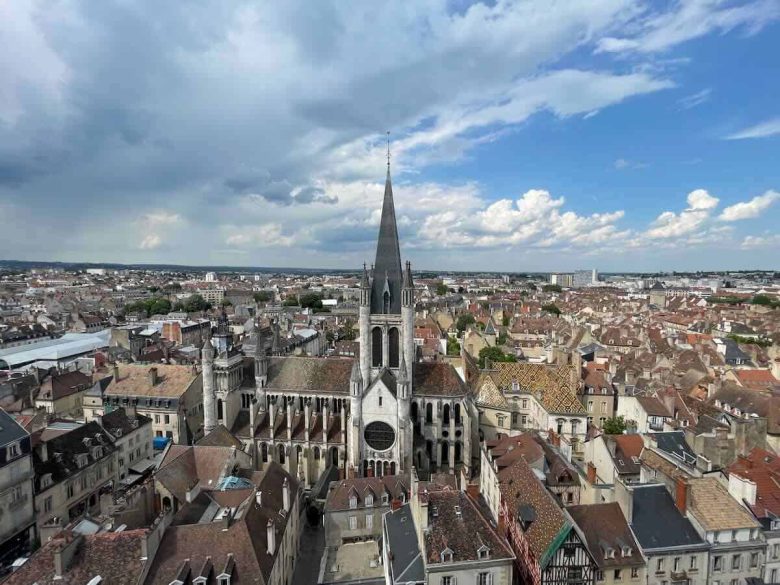 If you want panoramic views of Dijon definitely order tickets to go to the top of the Philippe Le Bon Tower. (It's only 316 steps!). You can only order tickets online, but the cost is cheap (5 €).
The rendezvous is in front of the tourist office and you are brought to the top of the tower by a tour guide. A "tour" isn't really provided. You're just given the opportunity to wander around the top to get great views. The duration is about 45 minutes.
Address: Pl. des Ducs de Bourgogne, 21000 Dijon, France
5. La Cité Internationale de la Gastronomie et du Vin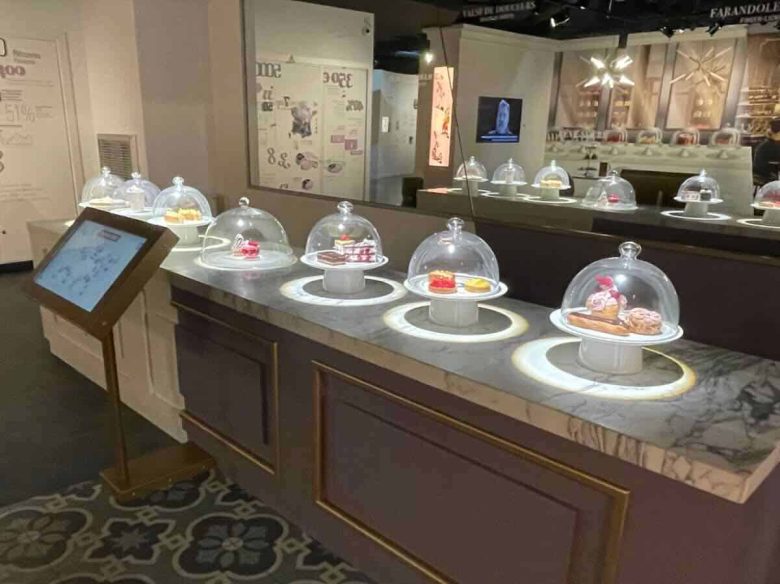 We all know that France is known for gastronomy and wine and now Dijon is home to a large, colourful complex celebrating the history, traditions, and importance of French food and wine, with an additional focus on Burgundy.
"The International City of Gastronomy And Wine" is large with shops, wine tastings, chapels, and restaurants. For a nominal fee, you can gain access to 4 exhibition areas that are very well done and provide interactive displays and activities for adults and children. I especially enjoyed "Panic In The Kitchen" where I had to make a chocolate mousse in a "virtual kitchen". You can read about this exciting complex in this post: Explore La Cité Internationale de la Gastronomie et du Vin.
La Cité Internationale de la Gastronomie et du Vin
Admission: 9 Euro and it gave me access to 4 exhibitions and I was given a little gift at the end (I chose a mustard by Edmond Fallot).
Address: 12 parvis de l'Unesco, 21000 Dijon
My experiences in Dijon were part of my 37th trip to France. For more information, check out my itinerary here: Trip #37 To France: 18 Days In Normandy And Burgundy.
6. Bakeries, Restaurants, And Les Halles Market In Dijon
(a) Aux Délices de la Chouette
The gougère is a Burgundy specialty. They are light puffs—pâte à choux—the same pastry used to make profiteroles, cream puffs and éclairs. With gougères, Gruyère cheese is added.
The first time I had gougères was in the town of Montbard, located just northwest of Dijon. They were much smaller than the one I had in Dijon (ie. the size of a golf ball) and were served with our pre-dinner drinks.
I purchased this enormous gougère at Maison Blanchard's "Aux délices de la chouette" ("To the delights of the owl"). They're located on the same street as "La Chouette de Dijon". Their gougère was as big as my hand and must have been at least 5 inches in diameter. Comté cheese was added to their recipe and a few years ago they won first prize at the Foire de Dijon for the best Gougère. No surprise. While not cheap, it certainly was delicious. (Price: 2.4 € )
Laurent and Catherine Blanchard are true artisans and their boulangerie, patissserie artisanal has the "Boulanger de France" label. In addition to picking up a gougère or two, don't miss out on getting one of the owl-designed shortbread cookies (La Chouette Huguette) or breads.
Address: 27, rue de la chouette, Dijon
(b) Monsieur Moutarde Cocktail Bar
Monsieur Moutarde is a popular restaurant with a nice terrace in the back. I wanted to check it out so I had a couple of drinks and an appetizer. Personally, I think it's overpriced and would definitely not recommend getting an appetizer. While called a "Seafood roll" with a drawing of a piece of sushi, it was nothing like it.
The description of the seafood roll in English: baked buttered sandwich bread (basically a small brioche loaf), crayfish, crab meat, fresh spinach shoots, white butter sauce, and pea shoots. I should have known better.
Just order a drink. The wines in particular are very reasonably priced. I had this delicious cocktail:
Their signature Air Mail cocktail (ingredients: 5 year El Dorado rum, lime juice, honey syrup, Prosecco) -12 €
Vin rosé du Moment-5 €
Appetizer: Seafood roll-15 €
Cost: 32 €
Address: 40 Rue des Forges, 21000 Dijon, France
(c) Dr. Wine Restaurant
Although Dr. Wine gets high ratings I was disappointed with some of the food. The price for the wine was reasonable but I have mixed reviews on the food. Perhaps if you order something different from what I ordered, you'll be happy. You will need reservations.
I sat at the back of the restaurant which has a lovely terrace. They serve tapas-like dishes. I had:
6 escargot–very good: hot, garlicky, buttery
Boeuf Bourguignon–it was small and served in a small pot (coquette?). While it was salty, the texture was excellent (beef falls apart) and had mashed potatoes. I just wasn't crazy about the presentation. Surprisingly, there was a lot of food in that container.
Dessert: profiteroles with praline mousse, chocolate sauce and vanilla ice cream. No whipped cream. The cream puff was not crispy. It was soggy and there was too much chocolate sauce.
-I had a glass of white wine (Bourgogne Aligoté) and glass of red wine (Bourgone Épineuil 2020). Both were excellent
Cost: 40.5 €
Address: 5 Rue Musette, 21000 Dijon, France
(d) Les Halles Historic Food Market
The main food market in Dijon is Les Halles, located in the centre of Dijon. It is housed in the original building that was constructed in the late 1800s and has now been restored.
It reminds me of Les Halles in Lyon where you find produce, cheese, meat, seafood, patisserie, boulangerie, and vegetable vendors as well as wine bars and cafés. There's also lots of prepared, foods which makes it particularly popular for those wanting to do take out.
The hours are quite limited and the only time I could visit was at 8:30 on a Thursday morning. The vendors were still setting up their stalls, so I was a bit disappointed there wasn't more going on and open.
Opening Hours:
Be sure to check out the opening days and times.
Thursday (7:30-1:00 pm)-Indoor Market only
Tuesday, Thursday, Friday, Saturday (7:30-1:00 pm)-Indoor and outdoor markets
Wednesday, Sunday, Monday-Closed
Where To Stay In Dijon
Before my barge cruise, I stayed at Hôtel des Halles, and after the cruise at Ibis Styles Dijon Central. I would recommend both.
1. Hôtel des Halles
Dijon is a very walkable city and the location of my hotel, Hôtel des Halles (also known as Hôtel Montigny) was great, only a few minutes to walk to the city centre. It was very clean, modern, and comfortable but it was a minimalist hotel room. I chose it because it wasn't far from the train station and from where I dropped off my car.
I had breakfast on the terrace and they had croissants, baguettes, cereals, yogurt, fruit, juice, and a selection of hot drinks (various coffees and teas).
Check out the best prices here: Hôtel des Halles
Address: 8 Rue Montigny, 21000 Dijon, France
2. Ibis Styles Dijon Central
You can't beat the location of the Ibis Styles Central Hotel. It is located in the centre of Dijon, around the corner from rue de la Liberté, which has numerous well-known shops and restaurants. It's also only a 3-minute walk to the Les Halles Market and 5 minutes to the tourist office.
The room was clean, spacious, quiet, modern, and overlooked Place Grangier. Breakfast was extensive with lots of cheese, meat, breads, fruits, crêpes, bacon, and eggs. On future trips, I would definitely stay here again.
Check out the best prices here: Ibis Styles Dijon Central
Address: 3 Pl. Grangier, 21000 Dijon
Pin to your favourite board on Pinterest