The Delicious Galette Des Rois Tradition In France
In France, on Epiphany, January 6th, the delicious Galette des Rois tradition takes place where the Cake Of Kings ("Galette des Rois") is shared among friends and family. Epiphany is on January 6 when the Magi (Three Wise Men or Three Kings) visited the baby Jesus in Bethlehem.
If you are traveling in France in December and into the new year you will see the popular king cake in boulangerie window displays in Paris and across the country promoting this French tradition.
La Galette Des Rois

History

The centuries-old practice was that a fève (bean) would be hidden inside in the centre of the cake. The youngest child would hide under the table, point out who the guests were and tell the server who should get the next slice. The first person to find the fève could choose who would become king (or queen) for the day.
What Is Galette des Rois?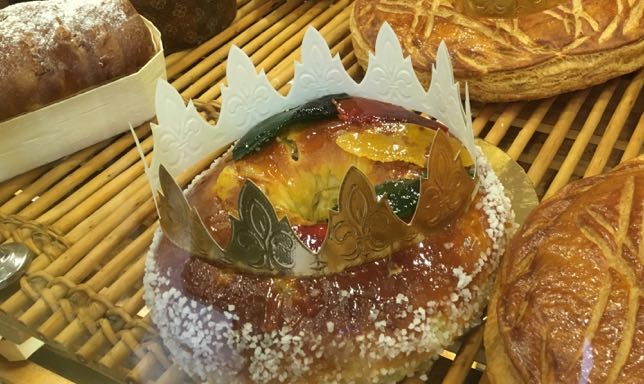 Today, La Galette des Rois is a puff pastry cake filled with frangipane (almond filling comprised of ground almonds, eggs, butter, and sugar) and in the late 1800s, the fève was replaced by a ceramic or plastic figurine or charm.
You can buy it by the slice or buy the whole thing! Some patisseries also sell "mini" galettes for those who don't want to overindulge in this rich, flaky pastry. Often accompanying the cake is a gold paper crown, given to the person who is chosen to be king or queen.
Made For The President Of France
Every year Elysée Palace makes a gigantic Galette des Rois for the President of the Republic. It looks like it is 4 feet in diameter and supposedly it is made to serve 150 people. There is NOT, however, a fève or charm inside. It wouldn't really be right to have a "King" or "Queen" in the Elysée Palace. [Remember the French Revolution?]
Pin to your favourite board on Pinterest