12 Amusing And Unique Sculptures And Structures In France
When travelling, you sometimes come upon amusing and unique sculptures in France. They catch your eye and make you smile….laugh….question….possibly cringe, and at the very least you'll never forget them. These 12 sculptures and structures (many created by famous French sculptors) are found in Paris, Bordeaux, Nice, Brittany, Normandy, and the south of France. They definitely caught my eye because they are unusual, (odd?), and sometimes beautiful. Perhaps a new era in French modern art?
1. Paris: Clock Sculpture
Just outside the Saint-Lazare train station in Paris is a sculpture with clocks….lots of clocks. The "L`Heure de Tous" (Everyone's Time) clock sculpture was created in 1985 by French sculptor, Armand Fernandez, who is simply known as Arman.
Arman used the art form called "Assemblage Art" where objects are gathered and put together to create a 3-dimensional sculpture. The clocks were welded together and show different times. They were part of a bigger "Accumulations" theme that included sculptures with axes, suitcases or musical instruments.
Location: Cour du Havre, 5 Rue d'Amsterdam, 75008 Paris
2. Bordeaux: Falling Car Of Bordeaux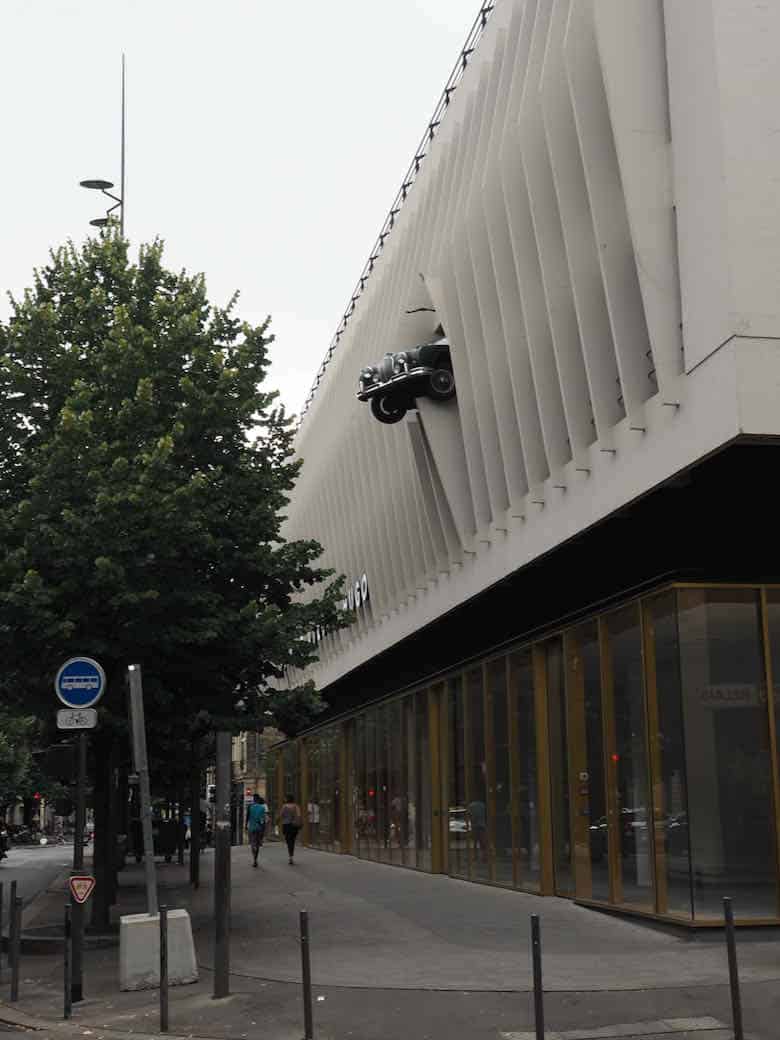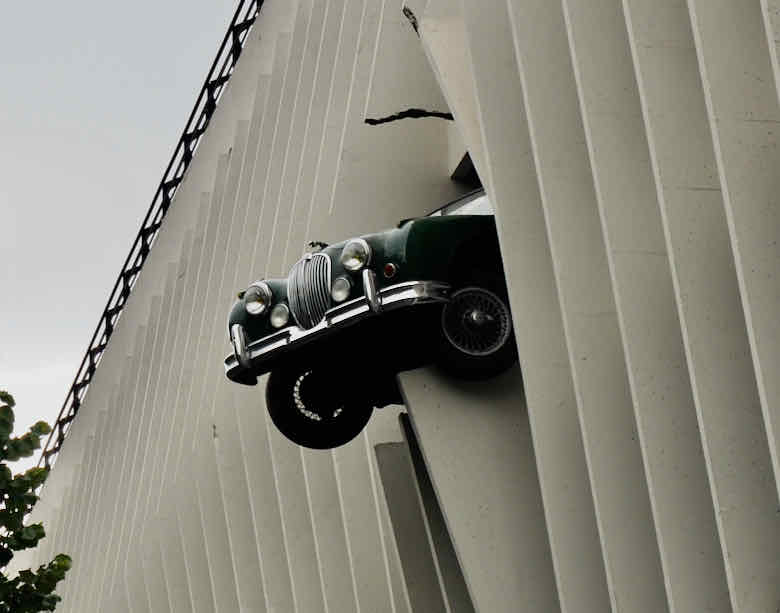 When you're walking down Cours Victor Hugo in Bordeaux, you'll see a multi-level, open-air parking garage. What looks like a car that has crashed through the second-floor barrier and is hanging partially out toward the street is actually an art installation. How do you know it's an art structure and not the real thing? Notice there's no damage to this expensive Jaguar automobile!
The garage was built by architects Pierre Laffitte and Jean Dauriac, who also created Bordeaux's Palais des Sports in the 1960s. It wasn't until the early 1990s that the Jaguar was added by architect Jean-Francois Dosso. While originally planned to be a temporary art installation, it is now a "fixture" in Bordeaux, so after you visit the Cité du Vin (an interactive museum all about wine), walk south, along the Garonne river in Bordeaux and check out this structure. It's less than 1 kilometre southwest of Porte de Bourgogne.
Location: 117 Cr Victor Hugo, 33000 Bordeaux
3. Nice: La Tête Carrée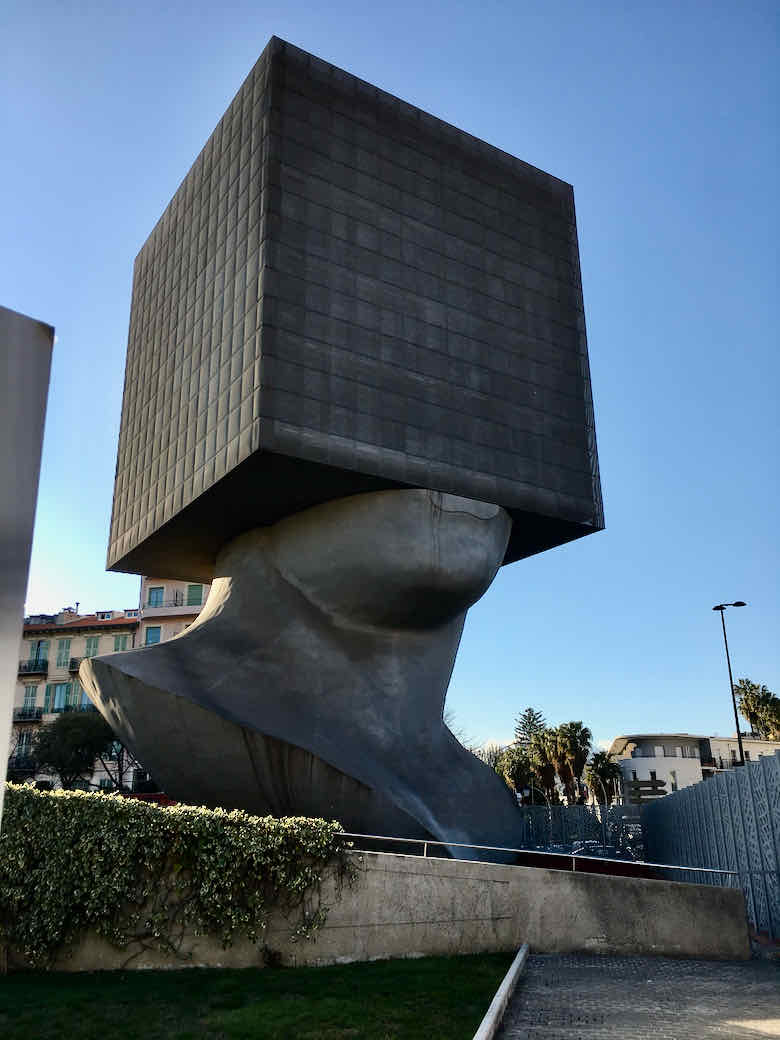 During one of my walks around Nice, I came upon a lovely garden called Jardin Sacha SOSNO. And love it or hate it, you'll see a giant 85-foot sculpture called "La Tête Carrée" (yes, square head).
Designed in 2002 by French sculptor and painter Sacha Sosno, this is actually a library with 7 floors. It has been given the title, "Thinking Inside the Box". Within the garden, there are other modern sculptures as well as the Museum of Modern Art.
Location: 25 Trav. Barla, 06000 Nice
4. Paris: Le Passe-Muraille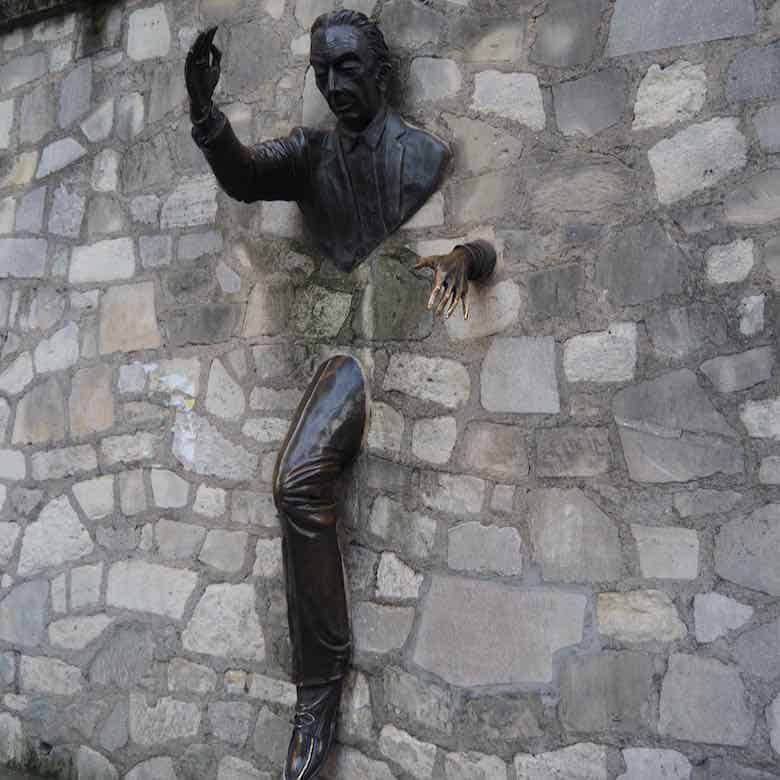 As I wrote in this post about unique spots in Montmartre one of the more imaginative things I saw was this bronze sculpture by Jean Marais. It is based on a short story by Marcel Aymé about Monsieur Dutilleul, who has the ability to walk through walls. His escape from a boring government job and a tyrannical boss takes him into another world where he robs banks and jewelry stores.
Location: Place Marcel Aymé-26 Rue Norvins, 75018 Paris
5. Paris: Le Nez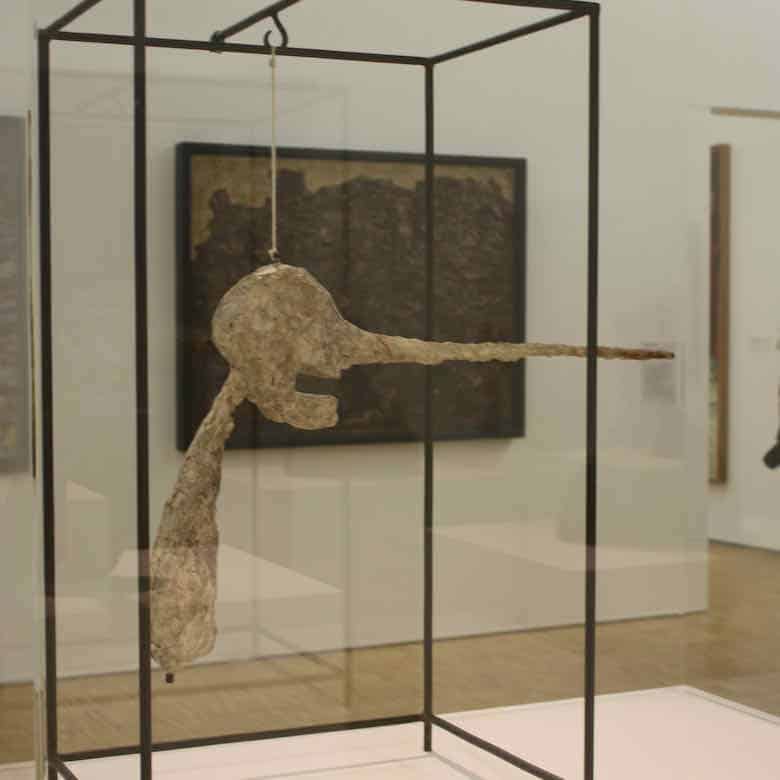 Le Nez, The Nose, by Alberto Giacometti (1901-1966) can actually be found in a number of museums such as the Centre Pompidou in Paris and Fondation Maeght in St. Paul de Vence. Swiss-born Giacometti was a sculptor and painter and I first saw his work at Fondation Maeght in 1978.
Many of Giacometti's sculptures are made out of bronze cast and he is especially known for his "figurative" sculptures such as the "Walking Man" an exaggerated figure that is very tall and thin.
What always catches my eye, however, is the amusing Le Nez. No ears. No eyes. A head that is suspended by a string or rope in a cage. And a very, long nose. Giacometti made various versions, some with the mouth closed and some with tongues. This version was at the Pompidou Centre in 2016.
Location: Place Georges-Pompidou, 75004 Paris
6. Antibes: Le Nomade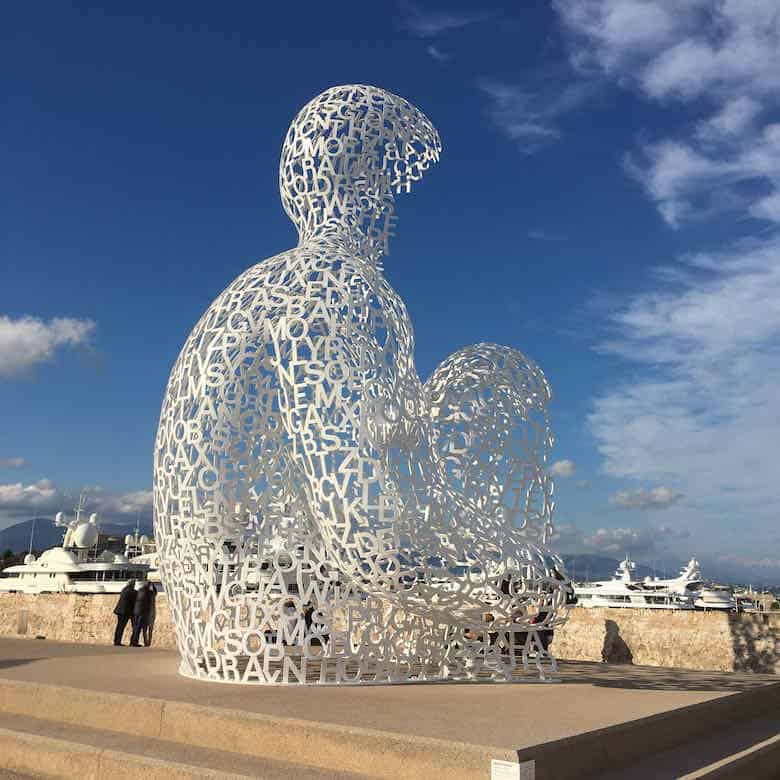 Jaume Plensa is a Spanish artist who has created the sculpture Le Nomade for Antibes in 2010. There are many versions of Le Nomade located around the world-in: Bordeaux (temporary), Texas, Singapore, Germany, Tokyo, and Montreal.
I loved taking photos from inside this 8-meter high outdoor sculpture, located by Bastion Saint-Jaume (Antibe's port). The nomad is sitting, with his arms wrapped around his knees and facing the Mediterranean Sea. The letters that form the shape of the person are made of stainless steel.
Location: 32 Quai Henri Rambaud, 06600 Antibes
7. Château de Chenonceau and Paris: Le Poisson Paysage
In 1991, I visited Château de Chenonceau and there was a temporary exhibition throughout the grounds called "Les Lalannes" by French sculptors, François-Xavier Lalanne (1927-2008) and his wife, Claude Lalanne. There were some very unique sculptures including this one called, "Poisson Paysage". I loved how it "frames" the castle with just the head and tail.
Missed the exhibition? Lalanne created many "poisson" sculptures and there is a similar one at the entrance to the Jardins des Plantes in Paris. With head and tail at opposite ends, there is a centre opening where a small, golden fish is displayed. Light reflects off the metal sculpture producing glistening colours and tones, like a fish in water.
Location for Le Poisson (Jardin des Plantes): 57 Rue Cuvier, 75005 Paris
8. St. Paul de Vence: Oiseau Lunaire (Moonbird)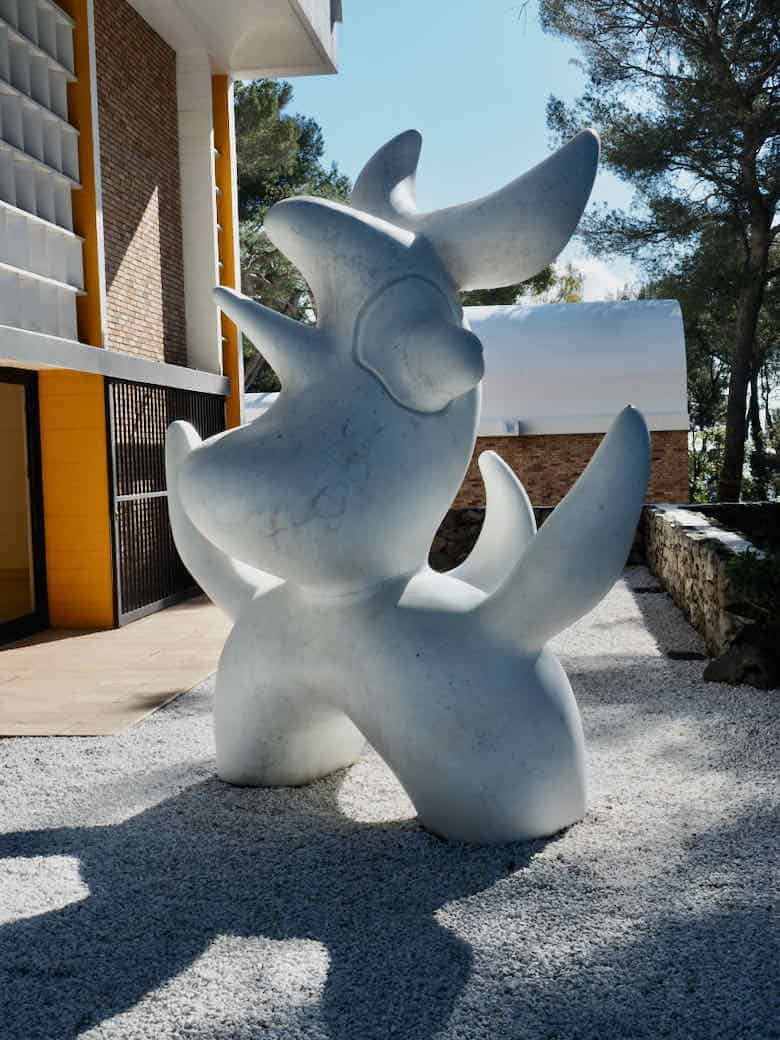 One of my favourite museums in the south of France is Fondation Maeght located in St. Paul de Vence. Here you will find modern art (by Fernand Léger, Joan Miró, Marc Chagall, and others) in the gardens and inside the museum.
Many of the contemporary works by Spanish painter and sculptor, Joan Miró, are on display and one that stands out is "Oiseau Lunaire" (Moonbird) where the mythical bird has horns and a crescent and looks ready to attack. Miró actually produced a number of versions of this bird starting in the 1940s. In the 1960s he created ones in bronze and then in marble. There is a bronze version in front of the Solow Building in New York City.
Location: Fondation Maeght, 623 Chem. des Gardettes, 06570 Saint-Paul-de-Vence
9. Paris: Stravinksy Fountain Sculptures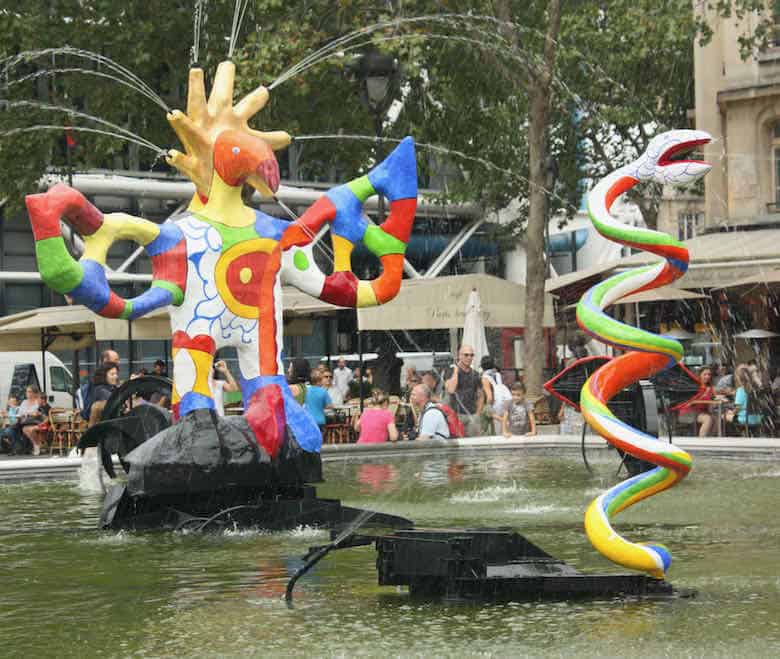 Some of the most famous sculptures in France are located at this prominent fountain in front of Centre Pompidou. The 16 sculptures created by Jean Tinguely and Niki de Saint Phalle pay tribute to Russian-born composer Igor Stravinsky and the fountain was completed in 1983, dedicated by Mayor Jacque Chirac and Claude Pompidou, the widow of French President Georges Pompidou.
The creations are colourful, fun and definitely whimsical and some of the sculptures move and some spray water. Each are named after music and operas written by Stravinsky such as "Oiseau de Fer" (Firebird) and "Le Rossignol" (The Nightingale) and it's a nice place to just hang out for a while.
Location: Rue Brisemiche, 75004 Paris
10. Etretat: Le Jardin Emotions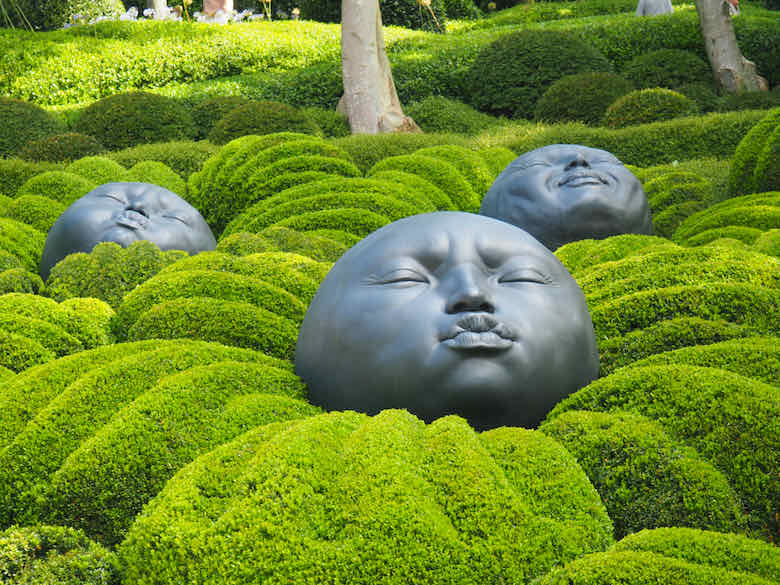 When you visit Etretat, you'll no doubt want to see the magnificent cliffs; however, don't overlook Les Jardins d'Etretat. They're high above the town and provide splendid views of the ocean and cliffs. But these aren't just your ordinary gardens. As I wrote in this post the gardens were originally designed with inspiration from Claude Monet; however, when you walk around, you'll see that much of the art and topiary are modern and perhaps even unusual and avant-garde.
Take "Le Jardin Emotions" as an example. As you enter the main entrance, the landscape is filled with green—trees, pathways, plants, topiary, and these silver "heads". According to the official website, the garden was modelled after Marie Antoinette's oyster farm. This garden presents the oyster floor and the faces express the "'moods' of the ocean and its inhabitants". So many emotions are communicated by sculptor Samuel Salcedo, such as happiness, anger, love, and exhaustion. Each head/face is made from polyester resin and aluminum powder.
Location: Av. Damilaville, 76790 Étretat
11. Menton: Fête du Citron
Although the festivities, Jardins de Lumières (Garden of lights), and parade were cancelled the day I left for France in February 2020, the Lemon Festival (Fête du Citron) in Menton still had amazing sculptures displayed that you could see. They were made out of lemons and oranges and the majority were located in the Jardins Biovès. While not open to the public during the pandemic, they were so large it was easy to take photographs.
THIS is a festival I want to attend when it takes place again. The whole area is filled with citrus fruits like mandarin oranges, clementines, lemons, and limes and the sculptures are simply magnificent and works of art. The Fête du Citron takes place in February and had to be cancelled in 2021. According to the official website, it will resume February 12-27, 2022.
Location of Jardins Biovès: Av. Boyer, 06500 Menton
12. Rothéneuf, Brittany: Rochers Sculptés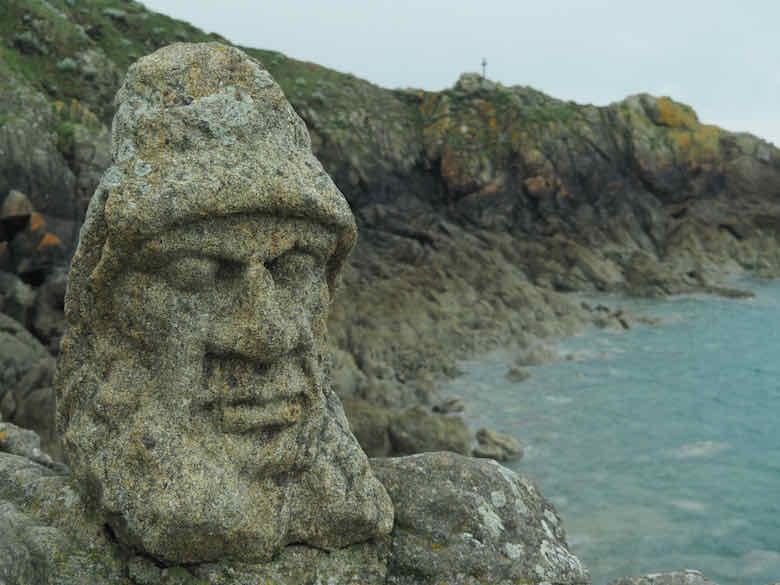 He was an abbot and also a hermit. He was blind and partially paralyzed. For 13 years he carved animals, figures, and faces into the granite rock that forms the cliffs in Brittany. The rock sculptures (Rochers Sculptés) that I wrote about in this post absolutely amazed me.
Yet, Abbot Fouré (1839-1910) must have been crazy or simply determined to create these works of art using just a chisel and hammer. I can imagine the rain and winds that are common in Brittany made his task not only difficult but dangerous. When I was walking around the area (cliff), it would have been so easy to slip and fall….into the English Channel.
Location: Chem. des Rochers Sculptés, 35400 Saint-Malo
Seen any amusing and unique French sculptures or structures that you'd like to tell us about? Please share!
Pin to your favourite board on Pinterest