One of the most interesting bicycle routes I have taken has been in the Dordogne region and not just because of the scenery. The landscape of La Voie Verte (Sarlat to Cazoulès) is, for the most part, flat with a few very picturesque towns and lots of fields. The best part was a surprise encounter to see the work of famed French photographer, Robert Doisneau.
1. La Voie Verte Sarlat To Cazoulès
In France, a voie verte is a greenway, a path for the sole use by bicyclists, rollerbladers, and pedestrians. Often part of the route involves a former railroad. In the Dordogne the bicycle route begins where I rented my bike, at Liberty Cycle in Sarlat and ends in the town of Cazoulès which is about 22 kilometres away. It was on my way back that I discovered the Doisneau exhibit. I'll start with that and then share my route.
2. Carlux And La Gare Robert Doisneau
Heading back to Sarlat from Cazoulès, I stopped at Carlux. A rather new building caught my attention. It was beside the railway tracks, not in a busy part of town. There was just a cafe next to it. It was called "La Gare" which meant it was or is a train station. Upon closer inspection I saw that it was called "La Gare Robert Doisneau" and its design/logo was a camera on a railway track.
This renovated station was in fact the home for a permanent exhibition devoted to one of my favourite French photographers, Robert Doisneau (1912-1994). It opened on April 30, 2018. In addition to the 2 permanent exhibitions, there are also temporary exhibits, training and meeting rooms, the Pays de Fénelon tourist office, and the cafe, "Resto de la Gare".
3. Who Was Robert Doisneau?
If you're not familiar with the name, you are likely familiar with Doisneau's photographs. He is so famous that on April 14, 2012 (which would have been Doisneau's 100th birthday) Google Doodles created a collage of 4 of his most iconic black and white photos including "Le baiser de l'hôtel de ville (1950)" (Kiss by the city hall) which shows a man and woman kissing on a crowded street in Paris.
Footnote about Doisneau and his photograph, "Le baiser de l'hôtel de ville": for decades Doisneau had kept the identity of the "lovers" a secret. In the early 1990s, a couple sued Doisneau saying he had taken their photo without their permission. They went to court and Doisneau revealed that the couple had actually been actors who he asked to pose for the photograph. So it wasn't a random kiss that was photographed, but staged. Doisneau won the court case in 1992.
Doisneau: The Humanist Photographer
Robert Doisneau is often considered a 'humanist" photographer because his photos focused on people's mannerisms and ways of doing things in their everyday lives. He showed the culture and customs of France through his photos of the people of France.
Doisneau's career began with photography for advertisements and magazines such as Life and Vogue. After the war he freelanced and did more street photography where his subjects were unaware that they were being photographed. Since his death in 1994, his photographs often showed spontaneous moments and have come to symbolize and represent what people think life is like in France.
4. Robert Doisneau And The Dordogne Region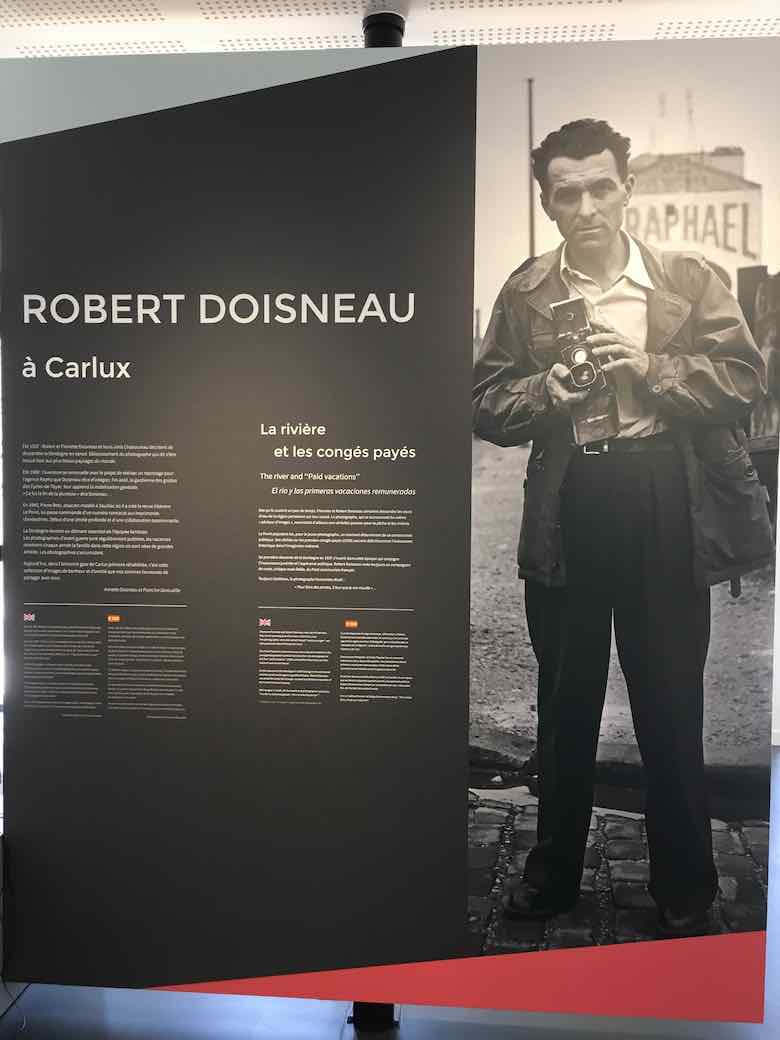 I wondered why an exhibition for such an acclaimed photographer would be out here in the Dordogne, in a town that only has a population of about 625. Why here, especially when Doisneau is renowned for his photos of Paris from the 1930s-1960s?
One of the first paid vacations Doisneau took was in the Dordogne and Lot regions. Over the next few decades he returned to the regions for his holidays. So it was fitting that a permanent exhibition might be housed in Carlux.
The gallery shows photographs from his first visit to the Dordogne in 1937—family fun, landscapes, and locals. There is a 1939 photograph of his wife Pierrette Doisneau standing on the train platform with 3 of her friends. Throughout the gallery you can see his photographs of family members and friends canoeing, swimming, and photos of locals at restaurants and at the market—ordinary activities frozen in time by a renowned photographer.
Robert Doisneau Station- Permanent Exhibition
There is also an interactive, digital activity called "Lab O". It takes you through the stages of film development. You select a negative and see how it is developed into a photograph—the old fashioned way—where photographs were developed in a darkroom, with chemical solutions, a stop bath, rinsing, drying, exposing the photo to light, and other techniques.
La Gare Robert Doisneau, Carlux
Address: La Gare Robert Doisneau, Carlux
Hours: Monday-Sunday 10-5
Admission: free
5. Sites Along The Way On The Greenway
If you're interested in seeing the Doisneau exhibition, bike there. It makes for a great day's outing. As soon as you depart from Liberty Cycle in Sarlat, you are immediately surrounded by green-lots of it. It's really breathtaking and cool, so it's the perfect excursion when it's really hot out.
The paved path is well marked and the trees often provide a canopy for shade as does the tunnel which I believe was a former railway passage. As you ride, just follow the "Véloroute et Voie Verte" signs. You'll ride along many fields and along the way, you'll no-doubt pass by or encounter an animal or two. I stopped along the way and had a picnic lunch. There were numerous benches and garbage cans; however, no toilets.
I highly suggest you pack a lunch and bring water because most of the villages you'll pass are very small (and pretty representative of the Périgord Noir region), including your final destination, Cazoulès . When I rode around this town, I didn't see any shops or restaurants there.
Some of the key villages along the route include Carsac-Aillac, Calvia-en-Perigord, and Peyrillac-et-Millac; however, these are 3 towns that you should make particular note of:
Aillac (first photo)-as you ride along a bridge, to your left is the charming town of Aillac. It's really picturesque and has the Église Notre-Dame-de-l'Assomption d'Aillac.
Rouffillac-Along the route, you'll see Château de Rouffillac high on a hill. I can imagine the views of the Dordogne Perigord Noir would be spectacular; however, I doubt you can visit the castle as it is a château-hotel. But it can be rented out by the week-yes, the whole château-if you're interested.
Carlux (see above)
The Sarlat Cazoulès Greenway Ends At Cazoulès
At Cazoulès I turned around to head back. You can't miss seeing a prominent sign indicating the end of the route.
"The Sarlat Cazoulès greenway veloroute ends here. The continuation to Souillac via the RD703 is not suitable for pedestrians and cyclists. This road is very circular and dangerous. It is your responsibility taking it. Be reasonable and stay cautious."
6. Where To Rent A Bicycle In Sarlat-la-Canéda: Liberty Cycle
Liberty Cycle is located on the outskirts of Sarlat right by the D704 and the Voie Verte Promenade Périgord – Quercy, They rent out hybrid bikes, mountain bikes, electric bikes, and bikes for children. My rental included a basket and lock.
Address: Voie verte ZONE DE, Avenue de Madrazes, Sarlat-la-Canéda
7. La Voie Verte Route From Sarlat To Cazoulès
Distance: 22.5 km (one way)
Cycle the Voie Verte from Sarlat to Cazoulès (Dordogne) and visit an exhibition devoted to French photographer, Robert Doisneau in Carlux. After you leave Liberty Cycle, the route starts on Chemin des Noyers and eventually joins onto the Voie Verte Promenade Périgord – Quercy:
Chemin des Noyers
Route de la Riviere
Voie Verte Promenade Périgord – Quercy
D703 to Cazoulès
I visited Carlux and La Gare Robert Doisneau on my way back from Cazoulès to Sarlat. Carlux was only 3 km off the D703.
If you like biking excursions like I do, check out these posts:
Pin to your favourite board on Pinterest