#11: Burgundy, Champagne, And Paris
Biking In Burgundy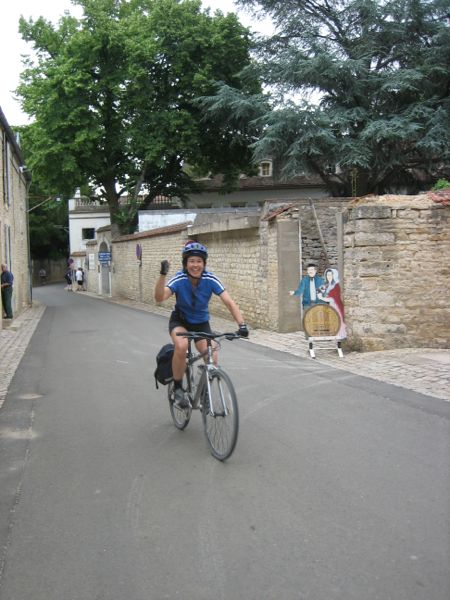 My friend Judy and I drank and ate our way through Burgundy when we took a one week bike tour through the region. Thank goodness for all the calories that we burned biking up those steep hills!  We couldn't resist the delicious French food and wine.
This trip truly put us "in the moment". There is nothing like riding a bike along a French canal. During this tour the weather was sunny but incredibly hot (around 38 degrees).
We arrived in Paris and rented a car so we could drive to Montbard, where our tour would start. We met our co-riders for dinner and they were all British. (Not surprising as the tour company, "Chain Gang" is British).
The first day of riding was sunny and hot so thank goodness for the breeze while riding and of course we drank a lot of water. We stopped at Abbey de Fontenay and road along the Canal de Bourgogne. Having a picnic lunch of baguette, ham, pate, cheese and wine was a perfect way to reenergize.That first day we rode 52 kilometres. Dinner at the hotel was ham, perch, beef bourguignon, dessert and wine.

The next day we rode to Chateauneuf ending with a steep hill. Much of the riding was along a canal and we had a picnic lunch and did 50 kilometres again. Dinner was a goat cheese salad, duck in a blackcurrant sauce, 3 cheeses, apple tart and sorbet. With wine of course.
Our ride the next day consisted of a few stops for ice cream and a full lunch of fries, beef in a sauce, and vegetables. I have no idea how far we rode that day but it ended at a hotel with a pool! Perfect before our dinner with champagne and a perch dinner. We celebrated Judy's birthday with Black Forest cake.
Unfortunately it was so hot (and the hotel was not air conditioned) that at 5 am Judy and I decided to go sleep by the pool. We just couldn't take the heat any longer. That day on our way to

 

Nuits St. George we stopped at two wineries. Dinner of lamb and lots of wine was followed by watching the World Cup Soccer. (France vs. Portugal. France won and eventually reached the finals).
In the morning we visited Cassisium where they produce cassis liqueur. We rode to a nearby town for lunch and then visited two more wineries. Our evening was in Beaune at a lovely hotel, "Hotel Belle Epoque". We ate dinner there and it consisted of smoked salmon, fish, fromage blanc, grilled pineapple, sorbet and wine.
On the last full day of our bike tour Judy and I decided to skip the bicycling and just take it easy in Beaune.
Drinking In Champagne
We drove from Dijon to Epernay and even though they said they were totally booked, we got into the Veuve Clicquot Ponsardin Champagne tour. Taking a tour of the caves is very interesting and the tour always  ends with a tasting!  Champagne Tasting In Champagne is one of my Top 100 Experiences in France.
We also visited these champagne houses:
Moet and Chandon

Heidsieck + Co.
Cheering In Paris
After visiting Epernay, we headed back to Paris at a time when France was against Italy in the World Cup Finals. We found a hotel off the Champs Elysée and claimed a spot in the bar where we watched the finals while drinking beer, wine and eating a very expensive sandwich! Alas, the French lost, but they do know how to party! Fireworks went off everywhere and the Champs Elysée and the round-about at the Arc de Triomphe was closed off.