Riding a bicycle in France is a fabulous way to explore a particular city or the country. You can either take a tour or rent a bike.
*This post contains affiliate links. If you make a purchase through these links, I get a small commission at no extra charge to you. It helps support the running of this website and I do appreciate your help.*
Paris
I have taken the Fat Tire Bike Co. tour twice because I liked it so much. The bikes are great, even for those who haven't been on one in ages. The 4.5-hour nighttime tour is best because the traffic isn't as bad and you end the tour at the Seine River where you take a boat cruise and have some glasses of wine. What better way to see Paris!
Renting a bicycle is another fun thing to do in Paris. There are a number of bike-sharing companies and one of the largest is called Velib program where you can use bikes that are located all throughout the city. You pick one up in one location and return it in another. 30% of their bikes are electric.
You have the option to sign up for a subscription, but if you don't want to, that's OK. With no subscription, it's "pay as you go" and costs 1 € for the first 30 minutes and then 1 € for each hour thereafter. Subscriptions are 5 € and you can use a bike for 1 day or more and the first 30 minutes are free. You are then charged by the hour.
One word of caution: I used Velib before another company took it over. I've now read mixed reviews. There are other bike-sharing companies so be sure to check the out. I read about one person using their debit card and having a "deposit" of 600 € taken from their account. Others complained about hidden charges.
Riding A Bicycle In Other Parts Of France
Bike Tours
I highly recommend taking a bike tour. There are many companies which will do tours in the Loire Valley, Provence, the Dordogne, and Bordeaux regions. I have done two bike trips and loved them both. One thing to consider: how long will you be biking during the day? Will you even have time to explore the city that you're staying in for the night? Check out my post about what it's like to take a bike tour.
Some Fun Bicycle Journeys I've Taken in France
If I am staying in a city for a few days, I like to rent a bike and explore either the city or area. I've done this in Provence, the Dordogne, southern France, and in the western region of the country.
Canal du Midi
The Canal du Midi has been around for over 300 years and while it has gone into disuse as a means for transporting goods, it is still used by pleasure boats which go from the Atlantic to the Mediterranean. Many people rent boats for a week.
Carcassonne is one of the popular stops along the way, so I rented a bicycle in town and took the whole day to ride westward to the town of Trèbes and then rode eastward to see more of the area. The trees over the canal create a canopy that is lovely and provide shade for those hot days. The path is just for bikes and walkers so no worries about maneuvering around cars. Here's my post about riding along the Canal du Midi.
I
le de Ré
I was staying in La Rochelle and for years I had heard about Ile de Re, which is an island that is actually connected to the mainland. However, instead of renting a bike in La Rochelle, I took a bus over to the island and rented one in Saint-Martin-de-Re, one of the island's main towns. From there I explored most of the island. Here's my post and some of the highlights: A Guide To Cycling On Ile de Ré
Sarlat
I discovered that in Sarlat, there was the Voie Verte–which is a dedicated bicycle path that used to be a railway line. It takes you from Sarlat to Cazoulès and is about 24 kilometres one way. You pass by farms and small, picturesque towns and it is peaceful, away from traffic, and pretty much flat. A lot of the time you are in the shade so in the summer it's not such a hot ride. I highly recommend this interesting excursion.
Arcachon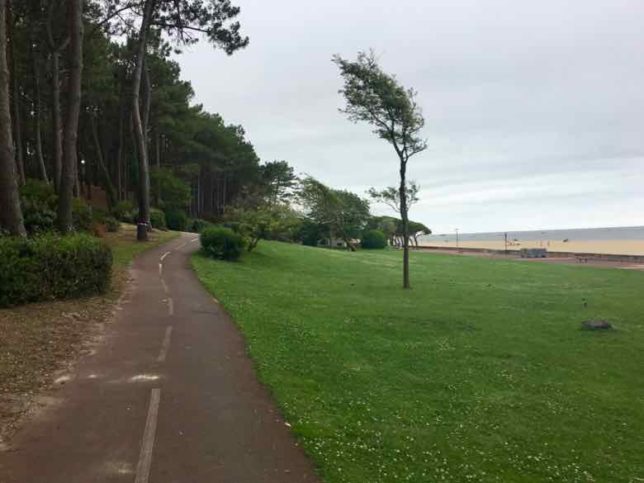 If you're visiting Bordeaux and have the time, take a drive to Arcachon and then rent a bike. While the seaside resort is full of restaurants and boutiques, the bicycle-only path southward to Dune du Pilat is worth the journey. Once you get there you can (try) to climb the steep sand dune and get great views of the Atlantic Ocean. When you return, reward yourself with a glass (or bottle) of wine and oysters. This is the place to have them!
Cavaillon
Cavaillon is a major town just east of Avignon. I was staying in Murs and decided I wanted to explore the area. I rented a bike in the centre of town (Cyclix) and did an afternoon bike ride to Mérindol which was only 20 kilometres away. There were dedicated bicycle paths for most of the journey and at times I rode along the Durance river. The rental company was especially helpful when I returned as I got a parking ticket. So, be careful when parking your car to be sure you've paid enough. I missed the sign!
Check out:
Pin to your favourite board on Pinterest