A Guide To Cycling On Île de Ré
For years I had heard about the French flocking to Ile de Ré as it is an ideal seaside resort with excellent beaches and away from the big cities of France. This is the North American equivalent of Muskoka in Canada or the Hamptons and Martha's Vineyard in the United States. So, I had to visit the Island, which is located on the west coast by La Rochelle, during my most recent trip. What better way to explore the island than by cycling on Ile de Ré. Is a day trip to Ile de Ré doable? Definitely.
*This post contains affiliate links. If you make a purchase through these links, I get a small commission at no extra charge to you. It helps support the running of this website and I do appreciate your help.*
1.
Why Visit Ile de Ré?
10 villages on one island? The oysters? The scenery? The food? The chic boutiques? The salt marshes? Paths just for bicyclists? You should visit Ile de Ré for those reasons and especially for the flat terrain, which makes biking on this oasis so easy and pleasant.
2.
How To Get To Ile de Ré
Ile de Ré is just 2 1/2 hours north of Bordeaux on the west coast of France. From La Rochelle, you can drive there in just over half an hour, but you'll have to pay a hefty toll and you won't use your car anyways as you'll be biking, right? So instead, just take the convenient bus (3A or 3B bus) from either the train station, the airport, Place de Verdun, or le Belvédère.
In one hour you'll arrive at Saint-Martin-de-Ré, one of the main towns on the island. The bus also visits the other 9 villages on the Island if you prefer starting your bike ride somewhere else. I had considered renting a bike in La Rochelle and biking over. Glad I did not do this as it would have added another 45 minutes (12 kilometres).
Cost comparison:
Cost to take the bus (return): 5 € (return; pay on bus)

Cost to take your car across the bridge to Ile de Ré: 16 € (return)
Cost to take a taxi to Ile de Ré: around 50 € (one way)
3.
Weather On Ile de Ré In July
Fortunately, I went in early July and although it was sunny and the temperature was 31° C, it really wasn't that bad. There was a cool breeze and it wasn't very crowded. From mid-July to the end of August watch out. Everyone is on holidays and the restaurants and bike paths can be jam-packed. So, try to visit in the shoulder season–May, June, early July, September, and October.
4.
Where To Rent A Bike
There are bike rental businesses all throughout Ile de Ré in the bigger villages. I rented from a company called YooToo (9 avenue Victor Bouthillier) because it was conveniently located as I walked into Saint-Martin-de-Ré from the bus stop and the price was good—13 € for the whole day. I got the premium classic bike which had 6 speeds, a more comfortable seat and it included a lock, bungee cords to strap in my bag, and a luggage rack. The service was excellent here and the store gets excellent ratings.
5.
My Cycling Route On Ile de Ré
A whole day spent on Ile de Ré was not enough. I took the 9:40 bus from La Rochelle and arrived an hour later. I spent the next 8 1/2 hours biking, stopping to eat or visit places and then took the 7:18 pm bus back. It was a long day (52 kilometres) and I feel I hadn't really spent adequate time visiting particular villages.
10 Villages On Ile de Ré
There are 10 villages after all, and I would have gone back the next day if I had had the time. So my recommendation is to actually stay on Ile de Ré for a couple of nights so its easier to explore the island at leisure.
Saint-Martin-de-Ré

Le Bois-Plage-en-Ré
La Flotte
Sainte-Marie-de-Ré
Rivedoux-Plage
Les Portes-en-Ré
Loix
Saint-Clément-des-Baleines
La Couarde-sur-Mer
Ars-en-Ré
My Visit
I covered most of of the north and west areas of Ile de Ré during my day's excursion but certainly not the whole island. I will say that I did not find any of the villages to be snobby or ultra-chic. But they were lovely. And along the way in some parts of the island, there were restaurants serving wine and oysters. The key stops were:
Start: Saint-Martin-de-Ré
Loix
Ars-en-Re
Saint-Clément-des-Baleines
End: back at Saint-Martin-de-Ré
6.
My Favourite Sights And Visits On Ile de Ré
1. Saint-Martin-de-Ré
This is a lovely village with lots of shops and restaurants. I started my journey here, first renting a bike and then sitting down at the harbour to have a coffee and croissant. Definitely a place to have a meal. I began and ended my journey here.
2. Along the way
Oyster farms: you will pass many oyster farms and restaurants featuring oysters and wine.
Salt marshes: one of the interesting features about Ile de Ré are the number of businesses harvesting sea salt, a tradition that goes back over a thousand years where the salt is raked up by hand and then dried in the sun where it crystallizes. Today, alongside the marshes, you can often pick up a big of salt through the honour system. I saw many businesses have unmanned displays with a box to leave your money. Honesty still prevails in the country!
3. Loix
On Loix, I visited L'Abeille de Ré, a honey farm where I learned about beekeeping and browsed the large boutique where they have a wide assortment of different types of honey. I bought one of their most popular, "Miel de Fleurs de L'Ile de Ré". The label on the jar states (translated):
"The Ile de Ré honey is a honey of wild flowers because the hives are located mainly in the heart of the marshes. Slightly fruity and acidic, it is characterized by a light and fine crystallization."
4. Saint-Clément-des-Baleines
Phare des Baleines (main lighthouse) is located at the far north-western edge of Ile de Ré. This 57-metre high tower was built in 1854 and is surrounded by a park, has an adjoining museum, and the original tower that was built in 1682. It's worth the climb up 257 steps for the views.
5. Ars-en-Ré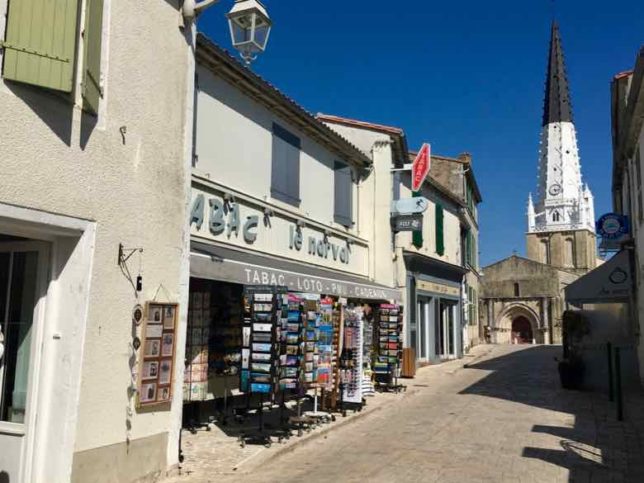 This village on Ile de Ré is designated one of the Les Plus Beaux Villages de France. Really enjoyed wandering through this pretty town on my bike. It was, however, very quiet.
7. Where To Stay In La Rochelle
I stayed right on the harbour at a hotel called Hotel Saint Jean d'Acre. The location could not have been better-close to restaurants and all the sights. My room was comfortable, modern, and air-conditioned and the price was right.
If you'd like to see some other bike routes, check out the scenic rides on the Peloton bike—there are 25 just in France.
Have you been to Ile de Ré? What was your favourite spot or activity?
TRAVEL RESOURCES
Booking.com and Expedia: are the companies I use for finding accommodations.
VRBO: is super for booking apartments and houses.
AutoEurope: is the only car rental supplier that I will use–with the best prices, and they will refund the difference if the price goes down.
Trainline: offers an easy way to book train tickets.
Get Your Guide and Viator: Both offer tours, city cards, tickets, airport pickups, and so many other things you'll need at your destination.
Orange SIM Card-this is the company I use when I want a physical SIM card
Orange e-SIM and Airalo e-SIM-both companies offer e-SIMS and get great reviews
Pin to your favourite board on Pinterest