**This post contains an affiliate link, which means that I may receive a small commission if you book through my link, at no extra cost to you.**
Trip Number 30 was at the end of my 2 1/2 week trip to Europe. It began with a visit to Portugal (Porto, Lisbon, Sintra, Coimbra, Fatima, Obidos, Lagos, and the Algarve, including Lagos and Sagres, which is the most south-western tip of mainland Europe). From Faro, Portugal, I flew to Paris for 4 nights.
My time in Paris was filled with lots of new sites, meals, and experiences. It was the beginning of March and the weather was cold and wet, yet when you are in Paris, it doesn't really matter what the weather is like. You are in Paris, after all! Here are some highlights of the 4 days (all the locations can be found on the map at the end of this page):
Paris: Day 1
Hotel Le Petit Belloy (1 Rue Racine, 6th arrondissement)
While I usually rent an apartment, as my friend and I were only staying 4 nights, we opted for this hotel: Hotel Le Petit Belloy.  I was very impressed with the service and amenities, including Nespresso coffee in the lobby available free 24 hours a day,, a nice, fairly large bathroom (large for Paris hotel standards), excellent, friendly concierge, and very comfortable beds. The room was quiet and while we didn't opt for breakfast, there was a kettle with tea and coffee.  The hotel also has an elevator and the location could not have been better: just off Boulevard Saint Michel and north of Boulevard Saint Germain. I highly recommend this hotel.
Lunch at La Jacobine (59-61 Rue Saint-André des Arts)
I just had a salad and glass of wine; however, it is very popular at dinnertime. The restaurant is actually in the Passage du Commerce Saint-André des Arts, in the same group of buildings that has Café Procope, the oldest restaurant in Paris (in continuous operation). THAT is another restaurant worth visiting.
Dinner at A la Biche au Bois
I wrote about this restaurant in my post, "Parisian bistro with traditional French cuisine: A la Biche au Bois". It had been recommended by pastry chef and author, David Lebovitz and if there's anyone who knows about food, it's him. He was asked in an interview if there was one, reasonably-priced restaurant he would recommend to visitors to Paris and A la Biche au Bois was the one he mentioned.
Paris: Day 2
Place de Furstenberg
I'm always on the lookout for pretty squares and areas that are peaceful retreats from the busy Paris traffic. In the 6th arrondissement near Boulevard Saint Germain is Place de Furstenberg. The architecture is lovely and artist Eugene Delacroix lived in the area and the Musée National Eugène-Delacroix is located at 6 Rue de Fürstenberg.
Parc Floral de Paris & Bois de Vincennes
I picked up my race kit for Sunday's Paris Marathon. The Parc Floral was the actual location, behind the Château de Vincennes. Yes, there is a château in Paris—the eastern edge.
Visite Two National Library Of France Sites
It is NOT the "Bibliothèque de France" that I was expecting. Turns out there are actually four sites for the Library of France. In this post I share why I really wanted to visit this library: Four National Library of France Sites —2 Worth Visiting
Coinstot Vino
This is a wonderful wine bar located in the 2nd arrondissement within the Passage des Panoramas. I have wanted to visit this place for a while as it is known for serving natural wines and small plates of food, like tapas. We initially weren't able to get in until we said we'd just stay for a drink. It was fully booked for dinner.
Bisous Restaurant
Bisou Crêperie: we ended up here for dinner as Chartier had an enormous line up. While I had been to the renowned Charter Bistro for lunch many years ago, my friend Monica has not. I could not believe how long the line was, but granted it was Friday night. Instead, we headed to Passage des Panoramas to eat at Bisou and had delicious crepes….not the touristy kind that are slapped together with cheap filling. I was impressed with the ingredients and especially the wine.
Paris: Day 3
Meat Vending Machine
There is a boucherie called Boucherie Basque L'Ami Txulette (120 Rue de Charonne in the 11th arrondissement) that gets rave reviews for the quality of meats it sells. It also has a meat vending machine at its storefront. It had filet of pork, pate, chicken and other meats vacuum sealed and ready to be sold. So, if the butcher's shop was closed and you HAD to have that steak, voilà! You can still get your meat.
Le Petite Ceinture
Between 1862 and 1934 there was a railway that encircled Paris but due to the expansion of Paris and the addition of the Périphérique road, this railway line went into disuse. It is now a popular place to discover nature that is side by side with graffiti. I will be honest and say I wasn't that impressed. Maybe it was simply the section that I saw. Here is the post, Visit the abandoned railway tracks in Paris? La Petite Ceinture, and you can decide for yourself.
Le Camion Qui Fume
For years I have wanted to try a burger from the food truck, "Le Camion Qui Fume". The truck actually is located near the Francois Mitterand lIbrary but is also in some other locations in Paris, including a regular restaurant location. I had their classic burger which is comprised of a beef patty, cheddar cheese, lettuce, pickles, tomatoes, onions, and the most delicious "secret" sauce. I HIGHLY recommend having a burger here.
Paris In Action
Met up with friend and fellow blogger, Stefanie, who lives in Paris and has a company called, "Paris in Action". She creates city hunts, like scavenger hunts, for visitors to Paris. It is a really creative way to see the city. We did visit the Museum of Modern Art and the Petit Palace. Entrance is free at both museums to see the permanent collections. Here's more about My City Hunt With Paris In Action.
Petit Palais Cafe
Le Petit Palais is a lovely art museum and the permanent collection is free to visit. It also has a cafe in a pretty garden setting. We ended our "adventure" with Stefanie here and had some wine and dessert.
Visited this very unique building that houses contemporary art studios. Squatters used to occupy this building and eventually the city took it over. Today, you can see the latest in art throughout the six floors. It's free to visit. Here's what it's like: "59 Rivoli".
Café Latin (14, Rue Gît-le-Cœur and Rue Saint Andre des Arts)
While this is an area with lots of tourists, I was pleasantly surprised at the meal I had at this restaurant. Grilled lamb and potatoes for 17 Euros. (I don't think I had wine due to the half marathon race the next day)
Paris: Day 4
Paris Half Marathon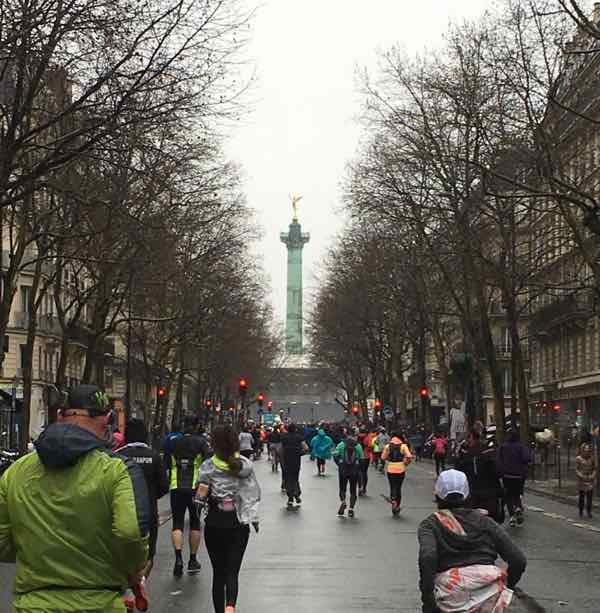 It was a cloudy and cold day to run 21.1 kilometres. It was about 5 degrees Celsius and it rained during most of the race; however, one puts all those negative thoughts away and determination gets you through the race. The Paris Metro was packed with sweaty, wet runners and I felt badly for the regular passengers who had to endure our "smell".
Dinner at Jim Haynes
What a wonderful experience to meet locals, expats, and Jim himself. He's an icon in the publishing/arts world and has been hosting these Sunday dinners for the past 40 years. Read about it here: Paris Dinner Soirée At Jim Haynes
Heading Home: Day 5
The cost of the shuttle from our hotel (Le Petit Belloy) to Charles de Gaulle airport was 18 Euros per person. Cheaper than a cab and we got there in good time; however, it was interesting that the driver dropped everyone off at Terminal 2A even though some people wanted 2E. They had a bit of a lengthy walk to their terminal. If there are more than 2 people in your group, a taxi would be better and cheaper.
Map of Key Sites In Paris During This Trip
Click on the map or this link and you'll be directed to a Google Map showing all the locations.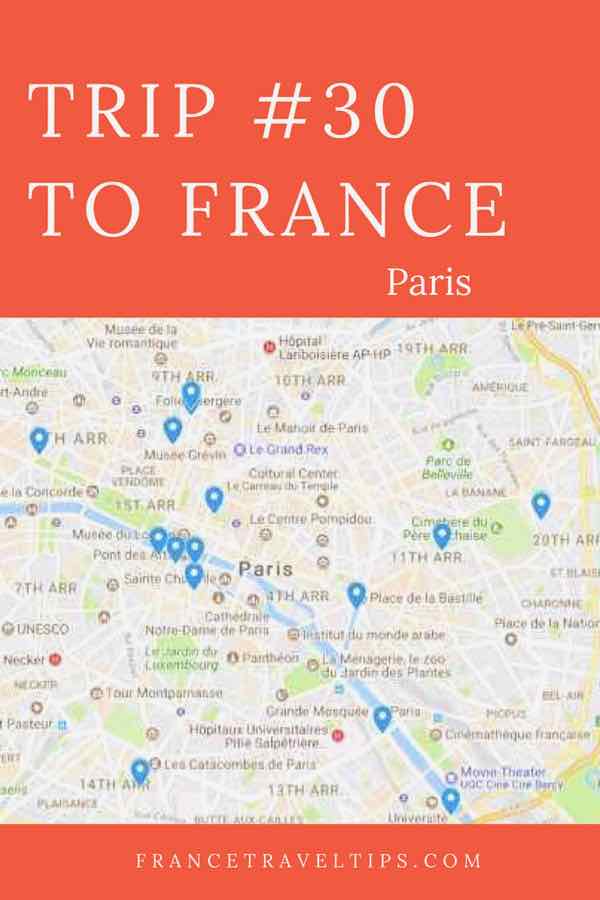 Google and the Google logo are registered trademarks of Google LLC, used with permission.