For many years I had heard about some rather unique dinners that take place weekly or monthly in Paris but had never attended one. These social events are often held by expats and they bring together locals, visitors, and other expats over dinner, drinks, and conversation. The perfect opportunity came when I travelled to Paris with my friend, Monica. While I vaguely knew about soirées, the Paris dinner soirée at Jim Haynes has now become one of my favourite experiences in France….EVER!
Updated January 7, 2021
On December 6, 2020, Jim Haynes passed away at the age of 87 in Paris. He was a lovely man who I had the pleasure of meeting at one of his iconic Sunday dinners. He had been holding dinner soirées for more than 40 years where people from all over the world gathered at Atelier A2 on 83, rue de la Tombe Issoire in Paris for some food and (great) conversation. The world has lost a very kind and generous man who made everyone's day a little richer and definitely more cheerful.
Sunday Dinner At Jim Haynes in Paris
Attending this dinner was unlike a typical dinner out. First, reservations were made by email about 2 weeks before the actual date. I simply asked if Monica and I could be added to the guest list. That same day I got a confirmation email (in English) from Jim's assistant and was provided with the address, time and cost (30 Euros per person but one can pay more).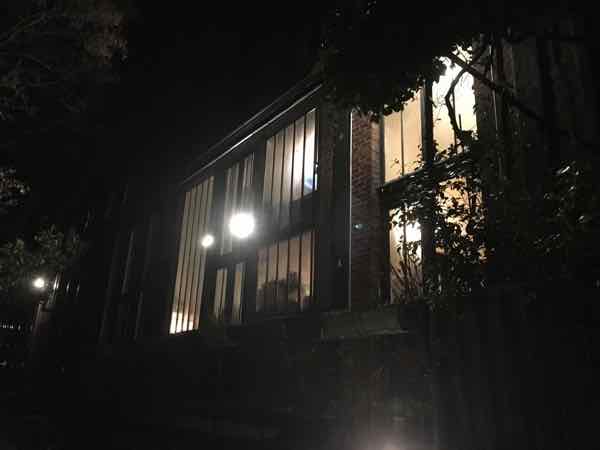 Monica and I arrived just after 8:00 pm, walking through a nondescript gateway into a quiet courtyard. It was immediately obvious where the gathering was. Jim's home was an atelier, which used to be a 3-story studio for sculptors. It had high windows and the lights inside were illuminating the salon and guests. There were already about 25-35 people there and upon entering we saw chef at work in the kitchen.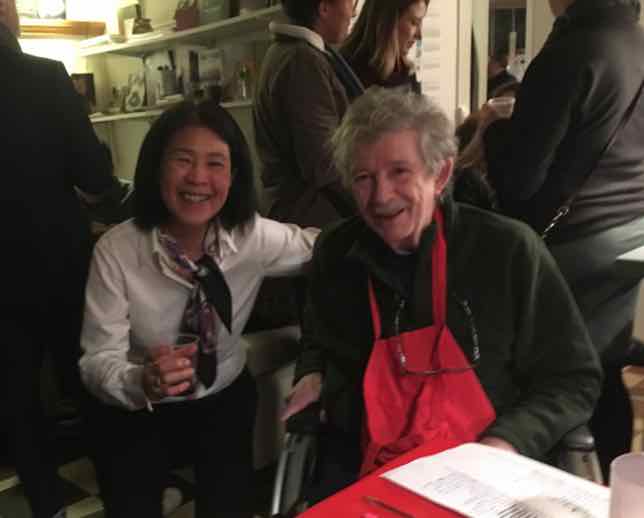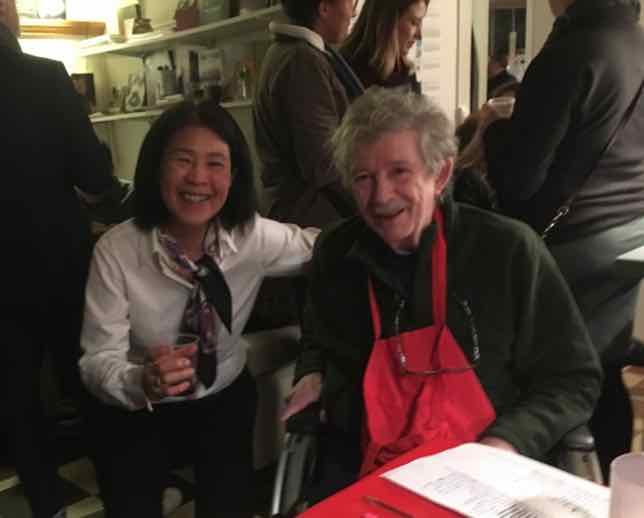 Then, at the end of the serving table sat a man I recognized as Jim. I had done a little research prior to our visit so I knew what Jim looked like. Monica and I introduced ourselves and Jim found our names on the list. When I told him we were from Canada, he mentioned another Canadian from Vancouver who often attends his dinners, suggesting we get in touch. This is Jim's talent. Before there was Linkedin, Facebook, and Twitter and other social media platforms, there was Jim Haynes.
Jim "did" social networking "live" before it became fashionable like today. He has a knack for bringing people together and making connections. He will readily introduce strangers to one another and from there we're on our own and I can tell you that in his welcoming home, it was very easy to converse—in English and in French— with the other guests.
The Host: Jim Haynes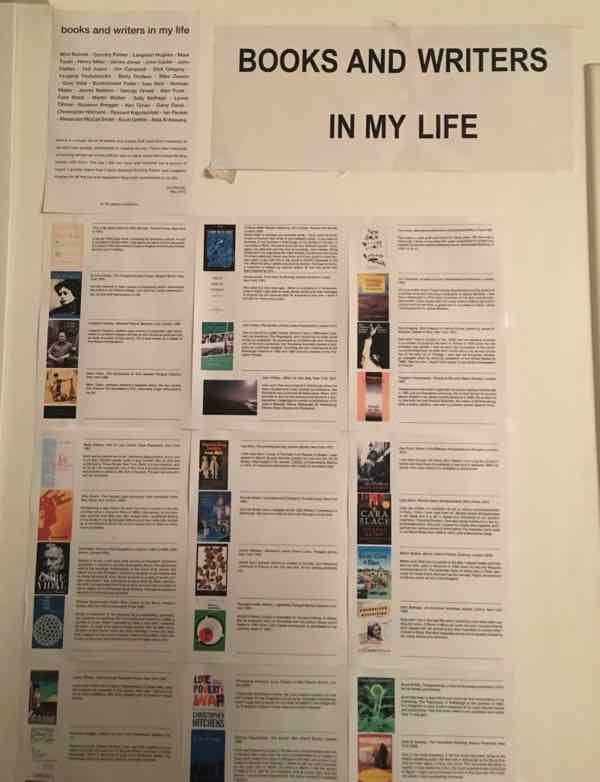 During the dinner, I had a chat with Jim. There is something very kind and gentle about the man who has hosted these dinners week after week for 40 years. He has a warm smile and a very inviting manner. You just feel comfortable in his company.
Jim, who is now in his mid 80s, was born in Louisiana and throughout his life has been actively involved in experimental art and underground cultural events. He attended Edinburgh University and was one of the founders of the Edinburgh Festival Fringe which is the world's largest arts festival. Jim has hosted and founded writer's conferences, directed festivals, edited and written books, and owned the Paperback Bookshop in Edinburgh.
One of his projects was the London Arts lab that he co-founded and as a result, well-known artists such as David Bowie and John Lennon/Yoko Ono used the space for rehearsing, performances, and exhibitions. Jim seemed to know everyone, including the Beatles. He networked even before people knew what networking was.
It was in 1969 that Jim moved to Paris where he taught media studies at the University of Paris for 30 years. The famous Jim Haynes dinners began in the late 1970s.
Weekly Dinner Soirées
Jim holds his weekly dinner soirées at his home in the 14th arrondissement. He told me he initially did the dinners twice a week but this got to be too much work and the only time a dinner is not held is in August when he attends the Edinburgh Festival. When the weather is nice, there can be upwards of 90 people and fortunately, there is room in the courtyard for the overflow of guests.
On the night that I attended, guests either stood around holding their plates of food or they sat on the benches or stools located throughout the salon. Everything took place around the kitchen on the first floor. While there were many of us in the room, it didn't seem crowded, likely because the conversation and guests were so interesting.
Jim's website's tagline is: The world is invited.




So true.
The Guests
What an eclectic, friendly group. Imagine a roomful of strangers who's main connection is Jim. As I talked to different guests, I discovered some came with a friend, some came alone, some were coming for a repeat visit, and one gentleman had come every week for 26 years. There was a wide range of ages and professions and I met some wonderful people including:
Abhi, an entrepreneur who is into "technology and frugal innovation". He has an organization called Improbabilité which brings groups of people together for special events (ie. Whisky tastings, dinners, high tea) in Paris a few times a year.
Chloé, who is working to become a professional athlete in the area of Jujitsu. She had just returned from 2 months of training in Brazil.
Ted, a photographer who was in Paris for Paris Fashion Week. Talk about coincidence. He is from Toronto and visits the same coffee shop as Monica.
Danette, a food and travel writer who had suggested Monica and I attend this dinner. She had recently published her cookbook, " Better Than Takeout Thai Cookbook" and had been a chef at one of Jim's previous dinners.
French actor Pascal Lagrandeur, who brought along his guitar and played for me.
Such an amazing array people from all walks of life. Everyone was casually dressed and no one was pretentious. It was very easy to strike up a conversation.
The Meal
Jim has a roster of volunteer chefs that he calls on to cook for the evening. There are always three courses and a vegetarian option. That night it was Jim's assistant, Christian, who was the chef. Dinner was already being plated when we arrived and we were encouraged to pick up our first course (salad) and help ourselves to juice, pop, or wine. The food could best be described as comfort home cooking—perfect for a wintery March night.
The following is a description of some of the dishes, provided by Christian, who has a flair for cooking and describing food. As you read his comments, you would no doubt expect that the food was delicious. And it definitely was.
Salad: Chou vert—"[is a ] green leafy cabbage that's rather like kale. They were simply done with yellow onions and red bell peppers sweated in olive oil with fleur du sel, then braised in vegetable stock fortified with about three heads' worth of roasted garlic and a heroic dose of dry red chilli flakes".
Main: Macaroni and cheese—"…had plenty of deeply caramelized onions and fennel incorporated into it prior to baking"
Main: Pulled pork—"…the pork shoulder was with a Japanese black garlic and Trappist ale-based initial marinade, finishing off with a six-hour braise in 5 litres of Heineken, and many spices in the sauce .…"
Red beans (kept aside for the vegetarian guests)—"…were loaded with Spanish smoked paprika, onion, celery, and jalapeño, initially sautéed in olive oil as well and then finished with garnish of sliced green onions."
Dessert: Peach cobbler—"I prepared them in a white vin chaud with star anise and cinnamon, reduced just until the dark brown muscovado started barely to caramelize a touch."
So it wasn't just the food that made this Paris dinner soirée at Jim Haynes a memorable experience. It was the people, the surroundings, and most importantly Jim, who made the evening a night to remember.
To be added to the guest list at one of Jim's dinners (Sundays from 8-11 pm), you'll need to write, email, or call Jim.
Check out his website for more details: https://www.jim-haynes.com
Address: Atelier A-2, 83, rue de la Tombe Issoire 75014 Paris
Pin to your favourite board on Pinterest