9 Famous Arches In France: What To See And Do
There is only ONE Eiffel Tower. You can't find a duplicate anywhere. There's also the Arc de Triomphe in Paris, however, did you know that there are numerous Arc de Triomphes or triumphal arches in France?
[Updated November 15, 2023]
*This post contains affiliate links. If you make a purchase through these links, I get a small commission at no extra charge to you. It helps support the running of this website and I do appreciate your help.*
I've seen at least 9 triumphal arches during my travels in France (a map at the end shows all the locations including 5 in Paris). Here are some you might encounter and a brief description of what you can see nearby. Not all of them are worth a special trip but you might encounter one during your travels.  If you can, head to the top for great views.
1. Paris: Arc de Triomphe de l'Etoile
Location and Access: Place Charles de Gaulle (originally Place de l'Etoile), at the western end of the Champs-Élysées. You can go to the top and the views are excellent. Arc de Triomphe tickets are 12 €; however, admission is included with the Paris Museum Pass and is free the 1st Sunday of the month (Jan 1 to Mar 31 and Nov 1 to Dec 31).
Nearby: shopping on the Champs Elysée or on Avenue Montaigne (pick up some macarons at Pierre Hermé on 133 Av. des Champs-Élysées); catch the 1 € shuttle to Fondation Louis Vuitton; walk south to the Seine to catch a ride on the Bateaux Mouches or to Le Grand Palais.
Little History:
The Arc de Triomphe de l'Etoile is the most famous arch in Paris. It is 50 metres high and 45 metres wide and was built between 1806 and 1836. Emperor Napoléon Bonaparte commissioned the construction after he was victorious at the Battle of Austerlitz. The monument pays tribute to the soldiers who fought and died for France in the Revolutionary and Napoleonic Wars. It's quite the work of art with the names of the generals and the French battles carved into the sides.
On November 11, 1920, the Tomb of the Unknown Soldier was interred and is worth going to the top day time or night time to get a view of the major avenues which radiate from the Arc.
2. Paris: Arc de Triomphe du Carrousel
Location and Access: Place du Carrousel. You cannot go to the top
Nearby: Louvre Museum; shopping underground in the Carrousel du Louvre; Musée Des Arts Décoratifs; walk around Palais Royale or along the Seine.
Little History:
It was built between 1806-1808 and was constructed to commemorate Napoleon's victories with numerous bas-reliefs done in rose marble.
It is 63 feet high and 75 feet wide and like the Arc de Triomphe de l'Etoile, there are numerous bas-reliefs on the sides, representing the Kingdom of Italy (History and Arts) and the French empire (Victory, Fame, History, and Abundance). They are done in rose marble. On the very top is the "Chariot of Peace" and surrounding the structure are 8 Corinthian columns of marble.
About half the size of the Arc at Place Charles de Gaulle, this Arc is situated across the street from the Louvre Museum's Pyramid. If you stand directly below the Arc de Triomphe du Carrousel, you can see the Arc de Triomphe de l'Etoile in your line of sight.
3. Paris: Grande Arche de la Defense
Location and Access: in the La Defense business district (in Puteaux, northwest of the Arc de Triomphe de l'Etoile). The rooftop is no longer accessible to the public
Nearby: Shop at Les Quatre Temps, a huge shopping mall; Fondation Louis Vuitton is about 4 kilometres southeast of the Arch on the edge of Bois du Boulogne.
Little History: This monument and building were created as a result of a competition led by French President Francois Mitterrand with it's unveiling on the bicentennial of the French Revolution, July 14, 1989.
In the shape of a cube and measuring 110 metres wide and 110 metres high, the Arche was built to celebrate humanitarian ideals rather than any military victories. It is very modern and quite a contrast to the "old" of Paris. As such, people either love it or hate it.
4. Paris: La Porte Saint Martin
Location and Access: At the intersection of Rue Saint-Martin, Rue du Faubourg Saint-Martin, Boulevard Saint-Martin and Boulevard Saint-Denis. You cannot go to the top.
Nearby: Walk over to Canal Saint Martin and wander around the area and along the canal; just southeast is a great restaurant, Chez L'Ami Louis; walk west along Boulevard Saint-Denis to the next arch/porte: La Porte Saint-Denis.
Little History: Another triumphal arch in Paris! This one was built in 1674, commissioned by King Louis XIV where the bas-reliefs show his many victories. It is small compared to the others, reaching a height of only 18 metres. It is called a "Porte" as it is in the location of a medieval gate that was used to fortify Paris.
5. Paris: La Porte Saint-Denis
Location and Access: intersection of Rue Saint-Denis, Rue du Faubourg Saint-Denis, Boulevard de Bonne-Nouvelle and the Boulevard Saint-Denis. You cannot go to the top.
Little History: This arch was also commissioned by King Louis XIV and it is very similar to La Port Saint Martin. My thanks to Stefanie Talley of Free In Paris for the photo!
Nearby: Just west is Musée Gourmand du Chocolat – Choco-Story, Musée Grévin, and just southeast is Musée des Arts et Métiers.
6. Orange: Arc de Triomphe d'Orange
Location and Access: in Orange, in the south of France. You cannot go to the top.
Nearby: the arc is located just outside of Orange and visiting the Théâtre Antique d'Orange is a must.
Little History: It's at least 2000 years old. There is no definitive date as to when the arch was built; however, historians guess it was around the reign of Augustus (27 BC-AD 14). In the south of France, the Roman influence was very strong where there is also the famous Roman Theatre of Orange. The Arc measures 19 metres high and 8.4 metres wide and according to the Orange Tourist office, it is dedicated to the glory of the founders of the Roman colony of Orange.
7. Montpellier: Porte du Peyrou
Location and Access: Rue Foch, just east of Boulevard Ledru-Rollin near the park, Jardin de Peyrou. You can go to the top.
Nearby: Place Royale du Peyrou, where a weekly market is held; Cathédrale Saint-Pierre de Montpellier; Jardin des Plantes de Montpellier; walk in the pedestrian-only area of downtown Montpellier.
Little History: Constructed in 1693 and modeled after Porte Saint-Denis in Paris. 22 years after it's construction, bas-relief panels and inscriptions were added to pay homage to King Louis XIV and some of his battles.
8. Nancy: L'Arc Here
Location and Access: at the entrance to Place Stanislas. I do not believe you can go to the top.
Nearby: walk around the area; walk around Vieille Ville (Old Town); visit Parc de la Pépinière and you might catch a free concert as I did, and the Musée des Beaux-Arts de Nancy.
Little History: Designed by Emmanuel Héré and constructed in the 1750s to honour King Louis XV. It is an important landmark in Nancy and connects Place Stanislas to Place de la Carrière. Place Stanislas, Place de la Carrière and Place d'Alliance are listed as World Heritage sites by UNESCO.
9. Dijon: Porte Guillaume
Location and Access: In the 1700s, Porte Guillaume was the city gate (St. William's Gate) and was the entrance to the city which was surrounded by walls and ramparts. Today, it stands alone at Place Darcy and is located at the beginning of Rue de la Liberté. It was designated a historic monument in 1938.
Nearby: this triumphal arch was very impressive. I walked from the train station and it led me to Dijon's former medieval section. This area is now one of its grandest streets. Walking eastward down Rue de la Liberté I entered the commercial shopping district and encountered restaurants, and famous shops like Maison Moutarde Maille and Mulot et Petitjean. Don't miss the lovely park to the west, Jardin Darcy, which is on the Owl's Walk that I discuss in my post about Unique Things To Do In Dijon.
Little History: Porte Guillaume was designed by Jean-Philippe Maret but it didn't always have this name. The first name for the arch was "Porte Condé" (for the Prince de Condé), then it changed to "Arc de la Liberté" (during the French Revolution), and finally in the 19th century, "Porte Guillaume" for Guillaume de Volpiano (William of Dijon).
A special plaque was placed on the monument on the occasion of the 220th anniversary of the French Revolution in 2009. It is in memory of Thomas Jefferson and the strong friendship between the United States and France.
Any other arcs, arches, or portes that you've discovered in France?
Map Indicating Locations Of Arches In France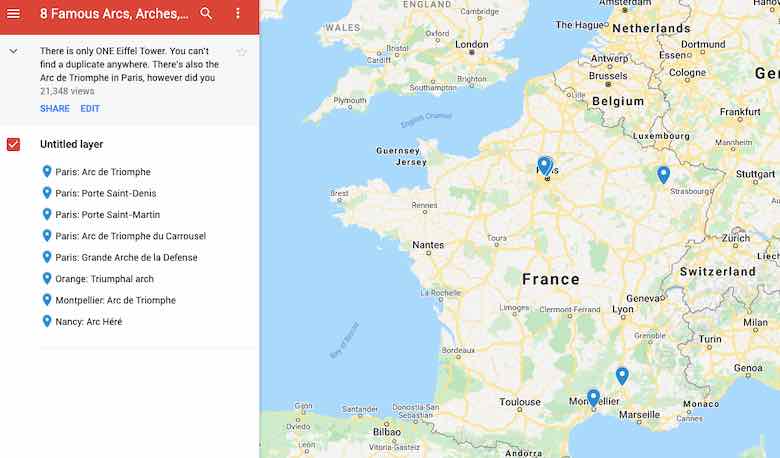 Click on the map or on this link and you'll be directed to a Google Map indicating all the places in this post.
Google and the Google logo are registered trademarks of Google LLC, used with permission.
TRAVEL RESOURCES
Booking.com and Expedia: are the companies I use for finding accommodations.
VRBO: is super for booking apartments and houses.
AutoEurope: is the only car rental supplier that I will use–with the best prices, and they will refund the difference if the price goes down.
Trainline: offers an easy way to book train tickets.
Get Your Guide and Viator: Both offer tours, city cards, tickets, airport pickups, and so many other things you'll need at your destination.
Orange SIM Card-this is the company I use when I want a physical SIM card
Orange e-SIM and Airalo e-SIM-both companies offer e-SIMS and get great reviews
Pin to your favourite board on Pinterest