Check out this prison on an island in the Mediterranean Sea not far from Marseille's old port. It is reminiscent of the federal penitentiary that is also on an island near San Francisco. This is France's Alcatraz: Château d'If. Alexander Dumas' stories, "The Count Of Monte Cristo" and "The Man In The Iron Mask" come alive when you take a boat excursion to this famous prison.
1. Excursion To France's Alcatraz: Château d'If
Enjoying an excursion to Chateau d'If starts with your boat ride over. It's a great way to get views of the Mediterranean coastline and Marseille. You'll stop at Port Frioul on Ratonneau, one of the Frioul islands and I now wish I had spent some time there. It has a lovely harbour as well as some restaurants and shops. As you head to Ratonneau you get excellent views of Château d'If and Notre Dame de la Garde in Marseille. And on Château d'If the views are excellent too.
But the real attraction is the prison on the island of If. Seeing the living conditions of the prisoners is what surprises visitors the most. Scary, like Alcatraz. Certainly no vacation spot and the living conditions were horrendous. Knowing about the history and some of the legends and novels associated with the island and prison makes your visit much more interesting.
2. History of This Prison Island Called "Château d'If"
The island of If is very small-just 3 hectares or slightly over 7 acres. Château d'If was built from 1524-1531 under orders from King Francis I to protect the French coast from invasions. This part of France was an important trading area for France but the chateau was never attacked. As the fortress was the only thing on the island it was perfectly suited to be turned into a prison. It ceased being a prison in the 19th century and is now a protected Parc National des Calanques site. Does it remind you of Alcatraz?
It appears from the inscriptions found on the courtyard walls and cell walls that many prisoners (ie. revolutionaries and opponents of Napoleon III) resided here in the 1800s. Political and religious prisoners were frequently sent here. If you plotted against the King or were Protestant, you were sent here. If you were in the opposing political party, you could be sent here. If you were in a violent fight like the Count Mirabeau was in 1774, you could also be sent to this prison. During WWI, Chateau d'If was used to detain German prisoners. It was used as a prison from 1541-1945.
3. Legend of Château d'If In Literature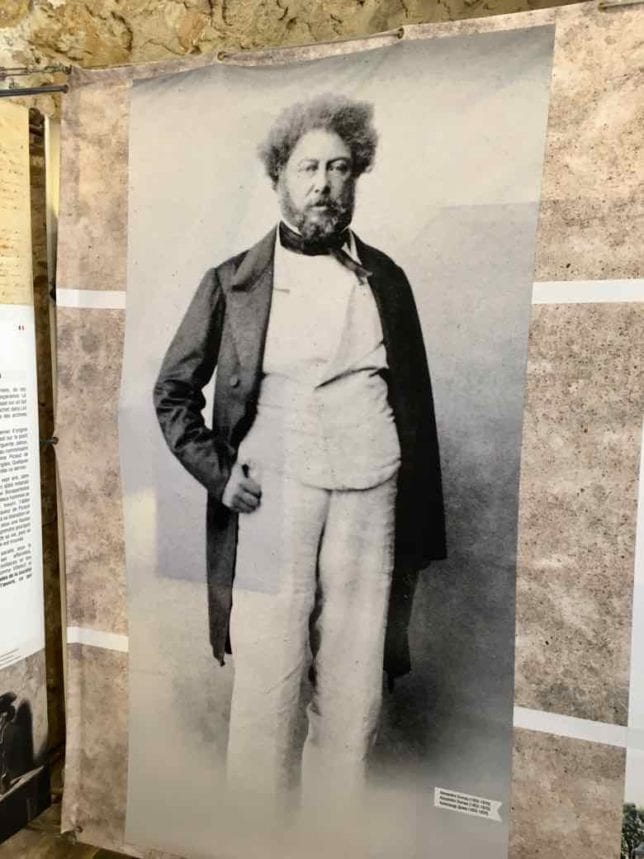 Alexandre Dumas (1802-1870) was born in Picardy, France and was a successful playwright and novelist. His father, Thomas-Alexandre Dumas was a general in the French army and provided inspiration for his son's writings. The elder Dumas had been imprisoned for two years in southern Italy and Alexandre's character is also imprisoned, but for much longer. Dumas is buried in the Pantheon in Paris alongside other great writers—Victor Hugo and Emile Zola.
Count of Monte Cristo
Château d'If is so closely connected with Dumas' books that many people believe there WAS a "man in an iron mask" and that he WAS imprisoned in Château d'If. False. And Edmond Dantès never existed. Dumas wrote the successful novel, "The Count of Monte Cristo" in 1844 about Edmond Dantès who is wrongfully convicted and imprisoned. He transforms himself into the Count and plots his revenge on those who were responsible for his seven years in prison at Château d'If. It's an engaging story (and movie) that covers his horrible time in prison, his escape, how he gets rich, and his plan for vengeance.
Man In The Iron Mask
In the Three Musketeers trilogy, "Vicomte de Bragelonne: Ten Years Later", the "man in the iron mask" appears. He has to wear this mask to conceal his real identity, which is the identical twin of the King—King Louis XIV. The three musketeers rally together to free this prisoner and have him replace the real King who they feel is a dictator and tyrant. Leonardo DiCaprio starred in the popular movie of the same name in 1998. There has been speculation that Louis XIV did imprison someone and put him in a velvet (not iron) mask, but one isn't sure if even that is true. Makes for a great story though.
4. Prison Conditions
As you can imagine, the prison conditions were pretty awful for the 17th century. You wouldn't want to be a prisoner there. The cells were unsanitary, cramped, and full of disease. True dungeons. A bed with a blanket? Fresh water? Well, you could pay a little extra each day for a private room, but that's about it. There is graffiti from the 1800s and in the cells, the windows are very small. You basically lived in a concrete box.
Many cells have been dedicated to fictional and real prisoners. This is the sign indicating the cell where the "L'Homme au Masque de Fer" (man in the iron mask) was held. It's a legend that was taken from the Alexander Dumas book and Château d'If capitalizes on this. There are also cells dedicated to Edmond Dantès and the Count of Mirabeau (1774-1775).
So if you're travelling to Marseille and have the time, taking an excursion to France's version of Alcatraz, Château d'If, is really enjoyable and merits a visit. And at Paris' Relief Map Museum, there is a 3D construction of the island.
Visiting Château d'If
Cost: 8 Euros
Guided tours: are only in French
5. How To Get To Château d'If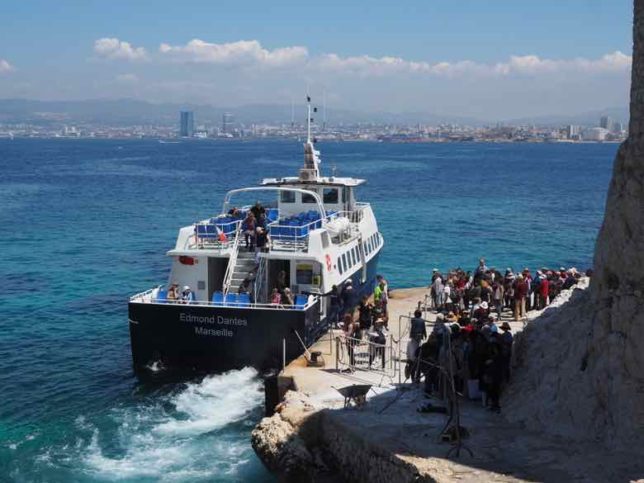 Marseille's old port has a few water shuttle companies that will take you to Château d'If. The cost to get to the island is around 11 Euros and entrance into the Château is 8 Euro.
And while the prison is open all year, you might not be able to get there if the waters are too rough. This happened to me in the month of January a few years ago. I was in Marseille and really wanted to go, but boats weren't running.
The Château is closed Mondays except in the Spring and Summer.
Pin to your favourite board on Pinterest