When is a palace not a palace? When the owner decides to call his building a palace and transforms it into the birthplace of a famous liqueur. That place is Palais Bénédictine In Fécamp, which is in the north part of Normandy and it is one of those hidden gems in France that should be visited.
1. Palais Bénédictine In Fécamp
The boat tour that I took to see the cliffs at Etretat started in the town of Fécamp, which is just 15 kilometres north of Etretat. After finishing my boat tour I decided to take some time to visit Fécamp. I came upon a most impressive building with gothic-renaissance architecture and saw that it was Palais Bénédictine. I quickly discovered, however, that this palace wasn't "royal" in the usual sense of the word.
Instead, the building is part distillery and part museum and it is on Rue Alexandre Le Grand, named after the founder of Bénédictine. Le Grand rebuilt the palais in 1900 after the original building was destroyed in a fire in 1892.
2. History of Bénédictine D.O.M. Liqueur
Merchant Alexandre Le Grand was a wine merchant who recreated the Bénédictine liqueur which contains 27 herbs and spices such as thyme, clove, coriander, nutmeg and cinnamon. The story goes that the original recipe had been brought to Fécamp in 1510 by Venetian Benedictine monk, Dom Bernardo Vincelli. He and his fellow monks produced the herbal elixar at the Bénédictine Abbey of Fécamp for centuries until the French Revolution destroyed the Abbey.
Le Grand supposedly found the recipe in 1863 and this is when he began to market the liqueur, giving it the name Bénédictine D.O.M. in deference to the Benedictine monks. The D.O.M. stands for the Latin phrase, "Deo optimo maximo", meaning "For our best, greatest God". Soon after, the first Bénédictine Palais was constructed.
3. Bénédictine Palace Tour (Self-guided)
The Palace is impressive beginning with the outside design. Although built in the 19th century, the style is gothic-renaissance. It has a grand staircase on the outside and inside, the stately design continues in each room with rooms filled with stained glass windows and furnishings from the time period. Another room highlights the artwork and posters inspired and promoted by the brand.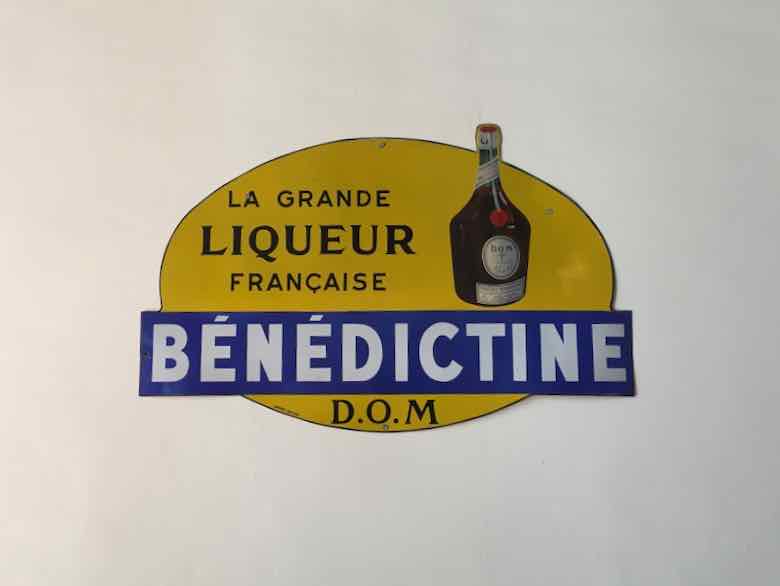 4. Bénédictine Distillery Tour (Guided)
Bénédictine is an herbal liqueur or disgestif. The recipe is a secret and during our tour, certain parts of the distillery were locked behind cellar doors.
The tour began in the basement of the Palais and our tour guide did speak in English. He showed us the many casks and the distillation process which includes the addition of honey and saffron, heating, aging, and filtering. Pretty technical stuff and not the most exciting. To be honest, it's the palace architecture, furnishings, museum, and tastings that are the attractions.
5. Tasting Of The Benedictine Liqueur
While most people think of Camembert cheese, apples, Calvados brandy, and Pommeau when they think of Normandy, Bénédictine liqueur is especially famous in the region as well.
When I learned that the ingredients were herbs and spices, I immediately thought of Chartreuse, which is also made from herbs. I did not like Chartreuse when I tried it in Grenoble. Okay, I hated Chartreuse. Fortunately, Bénédictine is much, much more enjoyable.
When I finished my distillery tour, I ended up in the winter garden. My tour included two drinks so I chose the (straight) liqueur and a cocktail—Bénédictine plus grapefruit juice. I was pleasantly surprised how enjoyable both were. The liqueur is amber in colour and the taste is slightly citrus and sweet (thanks to the addition of honey and sweet spices) and not overly herbal or medicinal.
6. Bénédictine Straight Up Or In A Singapore Sling
While one can drink Bénédictine on its own, today cocktails made with Benedictine are quite popular. In fact, one of the variations of the classic Singapore sling cocktail uses the Bénédictine liqueur. It was created by bartender, Mr. Ngiam Tong Boon at the Raffles Hotel in Singapore in the early 1900s.
7. Recipe: Benedictine DOM Singapore Sling
Ingredients
1-ounce dry gin
1/4 ounce Bénédictine
1/2 ounce lime juice
1/2 ounce cherry liqueur
1/4 ounce Cointreau liqueur
4 ounces unsweetened pineapple juice
1/3 ounce Grenadine (or less if you don't want it to be too sweet)
A dash of Angostura bitters
Ice cubes
Garnish with a pineapple slice and maraschino cherry
Steps
Combine the first 9 ingredients into a cocktail shaker.
Shake well.
Strain into an ice-filled highball glass.
Garnish with a pineapple slice and maraschino cherry
Another cocktail that you might be interested in making is the French 75, also known as the Soixante-quinze cocktail.
8. Palais Benedictine, Fecamp
The Palace has various tours such as the one I took and others which involve learning how to make different cocktails. Prices for guided tours, tastings, and meals range from 14 € -115 € and you can book these in advance.
Travelling to the Palais Benedictine is easy, especially from Etretat as it is only 16 kilometres away. It is 200 kilometres northwest of Paris and if you're going to go that far, stay a while in Normandy. (I'd suggest making your base in Etretat).
Address: 110 Rue Alexandre le Grand, 76400 Fécamp France
Open: Tuesday-Sunday 10:00-12:00 and 2:00-6:00 pm
For more things to see and do in Normandy, check out these posts:
Pin to your favourite board on Pinterest