France has many delicacies such as macarons, ratatouille, and frogs legs. But what about eating snails in France? I discovered many years ago (the hard way) that not all snails are alike. They come in many various forms and are served in different ways. So that you know what you're getting yourself into, here are a few anecdotes.
[Updated December 16, 2019]
1.
Eating Snails In France
The French word for "snail" is "escargot". Not all snails are edible and it is the land snail that is most often eaten. So do people eat snails? Oh ya…and a ton of them.
I read somewhere that over 500 million snails are eaten in France every year. They are popular hors d'oeuvres for sure. Why do people even eat snails? It likely goes back to prehistoric times when animals provided protein and snails were easy to catch. Through time, they have become a delicacy and are often part of a bigger dish.
Just be sure you order the right snails in France. In addition to the traditional escargot in garlic butter, there is also the bulot, and cargolade.
2.
Traditional Serving Of Snails In Garlic Butter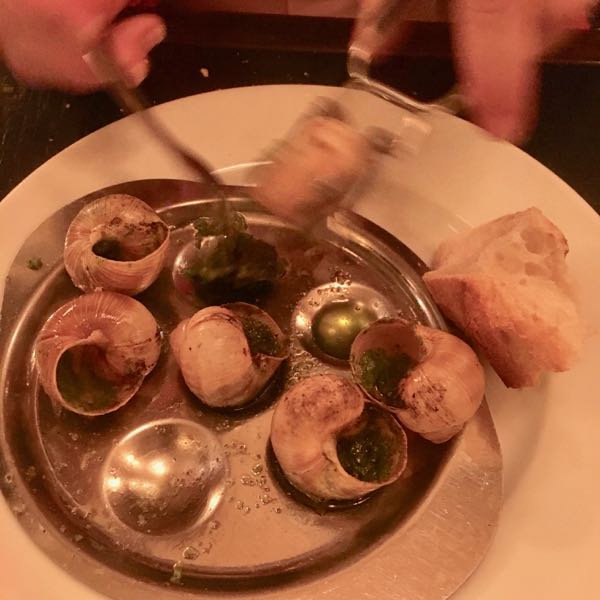 Usually in France and most places in the world, when you order "escargots" as an appetizer at a meal you get 6 or 12 snails in or out of their shell. They have actually been taken out of their shells, cleaned (thank goodness) and cooked. The classic Burgundy Snail recipe ("Escargots à la Bourguignonne") has them cooked with garlic butter, parsley or thyme. The snails are then put back into their shells with the escargot butter.
3.
How To Eat Snails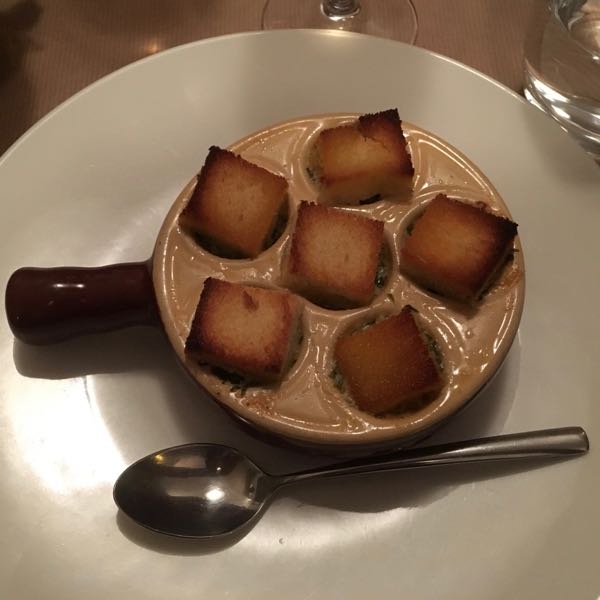 If the snails served in their shells, they are often placed on tin trays made especially for serving escargots. They are served with an escargot tong (to securely grasp the snail shell) and a snail fork (to pry it out of the shell) and lots of bread to soak up the melted butter.
Snails not served in their shells are placed on tin trays or ceramic dishes with indents for each snail. They are usually surrounded by melted butter. The snail fork is still used to eat the escargot. You can make it into a meal by ordering more than 6 or 12. I've been known to have a whole dinner of just escargots—2 dozen with lots of bread and wine.
4.
Escargot In Puff Pastry
One of my most memorable escargot appetizers was in Burgundy and they were served in a sauce in a ceramic dish. The dish was covered with a large topping of puff pastry. It was a very large appetizer and simply delicious.
There are other types of "escargot" that you might not be as familiar with: bulots and cargolades.
5.
Bulots
In a previous post, "Definitely An Experience Eating These Foods" I wrote about my surprise with the bulots I had in Honfleur. I wanted escargots but the waitress recommended bulots and said they were snails, like escargots. I ordered them and was disappointment to discover not only were they NOT served in garlic butter, but they were big and chewy. They were also served with garlic mayonnaise. A much different experience than the traditional "escargots".
I ordered them and was disappointment to discover not only were they NOT served in garlic butter, but they were big and chewy. These bulots are sea snails or whelks. They are traditionally served with a garlic mayonnaise. It was a much different experience than the traditional "escargots".
6.
Cargolades
When I visited Collioure, our hotel recommended we go to one of the few restaurants open in early January, "Le Jardin de Collioure". It had paella on its menu as well as something that was new to us: cargolades.
Cargolades are a specialty of this southern area of France. Collioure is very close to the Spanish border and the dishes in the area are strongly influenced by the Catalan culture. Cargolades are French snails again. These are grilled in their shells on cast iron and when you order a dish, you get about 25 of them!
Once again, they were lacking the garlic butter but on the side was aioli. They were a different experience again. However, I've decided (as you can tell from my disappointment in dishes lacking garlic butter) that I prefer the traditional escargot.
7.
Snails In Paris
Every time I'm in France, I make the effort to have escargots. In Paris, there is a restaurant that I still want to visit. It specializes in this French delicacy and gets excellent reviews. You can order the traditional Burgundy Escargots—6, 12, or 36 snails in garlic butter—or one of their unique dishes (ie. 36 snails served three ways-with garlic, curry, and roquefort).
"L'Escargot Montorgueil" -38 rue Montorgueil, located just north of Les Halles in the 1st arrondissement.
8. Can You Make Your Own With Garden Snails?
By the way, if you're wondering if you could just use those snails you find in your garden to make your own "snails in garlic butter", I'd suggest you make sure they're safe to eat. Remember, only some land snails are used in cooking!
If you're interested in trying more unusual foods in France, check out this post: Definitely An Experience Eating These French Foods.
Check out my growing list of unique experiences in France for more ideas: Top 100 Experiences
Pin to your favourite board on Pinterest