If you want to visit the most beautiful places in France, where do you start? Where are they exactly? You can start by looking at the list of designated "Les Plus Beaux Villages de France". In each region of France, there are a select number of villages that have been designated the MOST beautiful villages of France. Here are the highlights of each "village de France" that I have visited in each region.
[updated September 19, 2021]
Where Are The "Les Plus Beaux Villages de France"
There are over 32,000 villages and in 1982 the French government created the list to promote the small and picturesque French villages of quality heritage. While Paris, Bordeaux, and Lyon are grand and have much to see, many visitors often overlook the small towns in France and these are definitely worth a detour.
Every year, I try to visit more of the villages that are considered the most beautiful in France and so far I have visited 34. Initially, I thought many more villages that I had visited would be on the list. Will I visit them all? Who knows, but I'll certainly have fun trying. [Note: the number that has been designated "the most beautiful villages of France" keeps changing as more villages are added. Currently, the "164" is the number published by the organization and they are found in 14 regions and 70 departments of France.] Take a look at some of the small towns in France I've visited and I think you'll agree, they deserve the recognition and they are worth visiting.
Les Plus Beaux Villages de France Criteria
To be designated one of the "Plus Beaux Villages de France", communes must submit an application form, have an on-site evaluation, and meet certain criteria.
Most villages don't make the list and it's understandable when you consider the criteria:
there must be some rural character with no more than 2,000 inhabitants

they must have two national heritage sites
there must be an on-site evaluation and
the application must have mass support from the town council.
The Most Beautiful Villages In France That I Have Visited
Here are the 34 that I have visited from the list of villages in France.
Auvergne Rhône-Alpes (4)
Pérouges
(Department: Ain)
When I was heading to Lyon from Switzerland, I had read that Pérouges was on the list of Les Plus Beaux Villages de France, so I had to drop in. After going through the fortress gates, I came upon many shops with local crafts and foods. Pérouges was built in the 12th century and has retained the medieval atmosphere (and towers) and it is known for its medieval festivals.
Yvoire
(Department: Haute-Savoie)
Yvoire is another medieval town (700 years old) located between Geneva and Evian. If anything stands out in my mind it's all the flowers and not surprisingly, one of the attractions is the "Garden of Five Senses". After walking through the fortress gates and along the narrow cobblestone paths and ramparts, you are provided with stunning views of Lake Geneva.
Vogüe
(Department: Ardèche)
As I drove north from seeing the caves at Aven d'Orgnac, the road began to follow the Ardèche River and past the Viaduct de Vogüe. The scenery of towering rocks on my right slowly changed to a commune of houses built into the rock. This was Vogüe and the Château de Vogüe is now a school run by the sisters St Joseph d'Aubenas.
Balazuc
(Department: Ardèche)
18 km north of Vallon Pont d'Arc in the Ardèche and 9 km south of Vogüe stands Balazuc, a medieval village that seems to be built into the rocks on the cliffs. The 11th century château is now a hotel. At the end of the town there is a bridge that crosses the Ardèche River where you can get excellent views.
Provence-Alpes-Côte d'Azur (7)
In this region, there are certainly plenty of "plus beaux villages de Provence" (most beautiful villages in Provence). It had the highest number of villages with this designation (especially in the Vaucluse department)—more than any other region I have visited…so far. The best villages in Provence included:
Roussillon

(Department: Vaucluse)

I feel most people think of ochre when you mention Roussillon. The ochre pigments in this area are orange and were used in the 18th and 19th century for textiles and paints. Today one can visit the "Sentier des Ocres" (Ochre Path) for a fee. Also nearby is an entire area of hills and valleys with ochre. It is called Le Colorado Provencal and it is worth visiting.
Les Baux-de-Provence
(Department: Bouches-du-Rhône)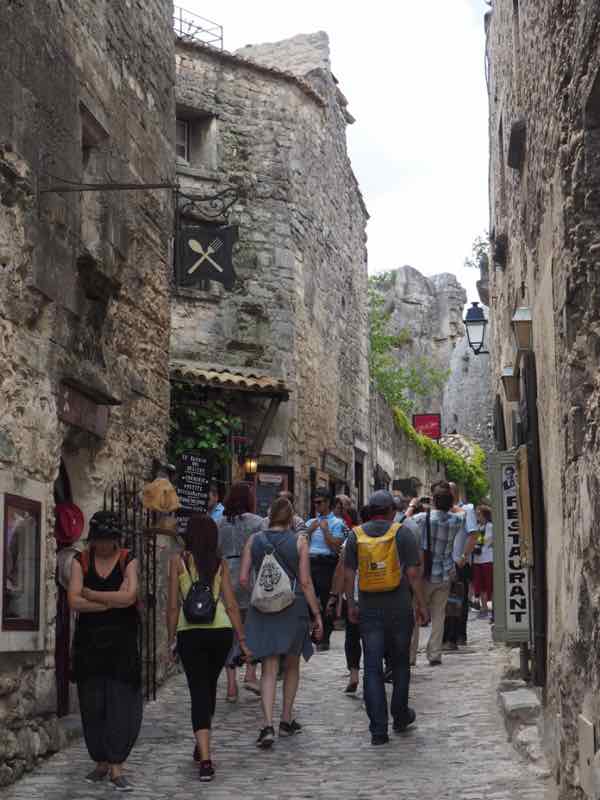 While Les Baux-de-Provence town is often considered overrun with tourists, particularly in the high season, it is worth walking through the cobblestone streets and also visiting the Château des Baux de Provence and the nearby Carrières des Lumières.
Gordes (Department: Vaucluse)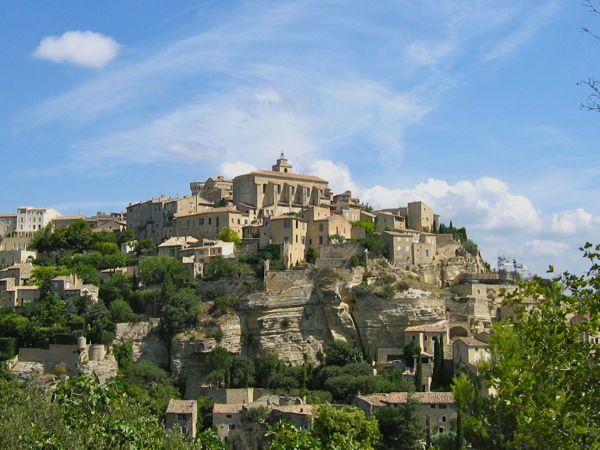 I have a fondness for Gordes because it was the first town (outside of Paris) that I had ever stayed as a young person. While significant development (and money) have been invested in the village, making it an expensive place to stay, I still consider it to be the Most Beautiful Hilltop Village in Provence.
Lourmarin (Department: Vaucluse)
Lourmarin is the town that writer Peter Maybe finally decided to live in after being hounded by tourists in Menerbes. It might be considered a high-priced village as there are many art galleries and (expensive) shops, but the architecture and Château de Lourmarin continue to make it a very popular place to visit in the Vaucluse.
Menerbes (Department: Vaucluse)
The village of Menerbes sits on a hill overlooking the Luberon countryside. It is similar to Gordes as there are many winding cobblestone paths so it's fun just explore the town and head upwards to the Maison de la Truffe et du Vin (Truffle and Wine).
Ansouis (Department: Vaucluse)
After having visited Lourmarin, I headed 10 km east to the very sleepy town of Ansouis. I was there on a Tuesday afternoon in June and I only bumped into two people. I came upon a closed art studio and Chateau d'Ansouis which has a collection of tapestries from the 17th and 18th century. The town does have a number of boutiques and art galleries but I guess I'll have to visit again when things are open.
Venasque (Department: Vaucluse)
Here is another village perched high on a hill. I came upon Venasque during a drive between the Abbey de Senanque and Bonnieux. The three Saracen towers of Venasque's original fortress still remain as well as the chapel of Saint-Siffrein, which is a very old religious site known for its baptistry.
Grand Est (3)
Mittelbergheim
(Department: Bas-Rhin)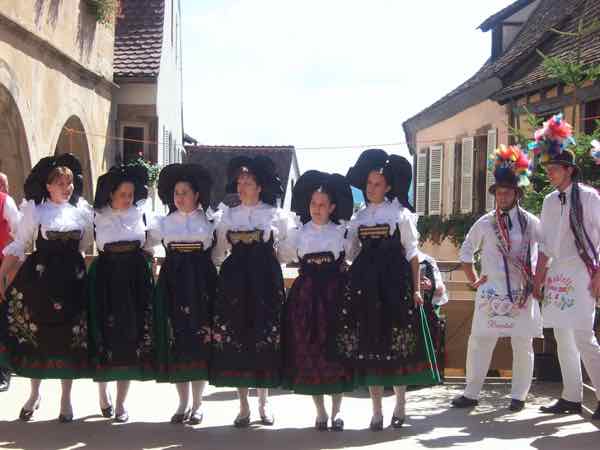 Mittelbergheim is surrounded by vineyards which produce excellent Alsatian wine. The last weekend in July is their Fête du Vin which not only celebrates wine but also local culture.
Eguisheim

(Department: Haut-Rhin)
Eguisheim has the added distinction of being the winner of the Favourite Village Of The French in 2013. A visit is not complete without a tasting at one of the famous Alsatian wineries. I had (and purchased) some lovely wines at Leon Beyer but what I most enjoyed was walking through the old town.
Riquewihr
(Department: Haut-Rhin)
Like Eguisheim, Riquewihr has an old town with lots of half-timbered buildings, cobbled streets, and another famous winery, Hugel et Fils.
Nouvelle-Aquitaine (6)
La Roque-Gageac
(Department: Dordogne)
As you drive toward La Roque-Gageac, the hilltop town certainly impresses. When you wander throughout the town, don't miss the walkway which provides excellent views of the Dordogne River.
Beynac-et-Cazenac
(Department: Dordogne)
Château de Beynac is an imposing site at the top of Beynac-et-Cazenac and was in the perfect position for a fortress in the 12th century. Along with La Roque-Gageac, it is a popular place to rent kayaks as the village is on the banks of the Dordogne River.
Limeuil (Department: Dordogne)
This medieval village sits high above two rivers—the confluence of the Dordogne and Vézère Rivers. It was a strategic position, during many different wars and attacks and today it has a lovely garden and park. I was especially impressed by the activities that were set up for children (and adults) to learn about the plants and nature.
Castelnaud-la-Chapelle (Department: Dordogne)
To me, the town of Castelnaud-la-Chapelle is all about the restored, medieval castle of Château de Castelneaud sits high above the Dordogne River and it is definitely worth a visit. The interior and exterior are not only immense, but creatively decorated with artifacts from the period as well as displays about its history. From this vantage point one can see the town of Beynac-et-Cazenac, La Roque Gageac, and Les Milandes.
Domme (Department: Dordogne)
The village of Domme is yet another that sits on a cliff. There are exceptional views of the Dordogne Valley and the medieval town is surrounded by fortress walls making it a bastide or fortress. The Knight Templars were imprisoned here in the 1300s.
Ars-en-Ré (Department: Charente-Maritime)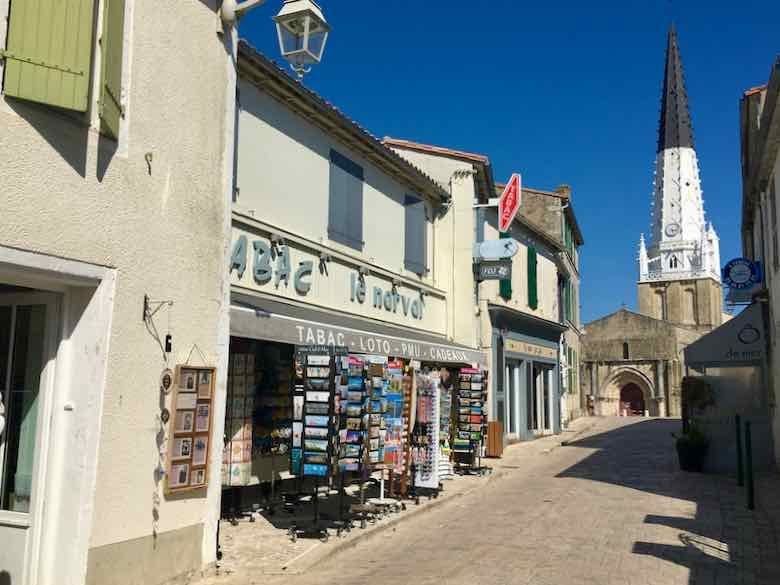 On the northwest part of Ile-de-Ré lies the small village of Ars-en-Ré. As I rode my bike to the Baleines lighthouse at the end, I passed by salt marshes and salt farms. The village has a fairly large harbour and the main focal point is the church, Église Catholique Saint-Etienne.
Midi-Pyrénées (3)
Saint-Cirq-Lapopie
(Department: Lot)
This photo is probably my favourite of all the Plus Beaux Villages. Saint-Cirq-Lapopie is a medieval village overlooking the Lot River and it is extremely popular. Just look at it! According to the Lot tourism board, the town has 13 historic monuments. But as a result, it is over run with tourists so if you want to visit, get there early or late in the day.
Autoire
(Department: Lot)
I subscribe to National Geographic Traveler Magazine and they often feature parts of France that are not always well known. When I saw a picture of Autoire, I had to visit the town and take a photo just like in the magazine. It is located right near the Dordogne border and is 68 km east of Sarlat.
Carennac
(Department: Lot)
This is another town highlighted by National Geographic Traveler Magazine and I had to see it. It was a bit busier than Autoire and there were a few restaurants open. 11th and 12-century structures have remained including the Church of St Pierre which is the focal point of the center's courtyard.
There are some picturesque places to visit in northern France where many of these towns in Brittany and Normandy had narrow streets, stone and half-timber houses.
Brittany (2)
Saint-Suliac
(Department: Ille-et-Vilaine)
Located south of St. Malo, Saint-Suliac slopes down towards the Rance River and on a cloudy day in late May it was pretty empty but it was a pretty village. If you do visit, try to go on a sunny, warm day. It will be even more attractive than it already is.
Rochefort-en-Terre
(Department: Morbihan)
In 2016 Rochefort-en-Terre gained another accolade: Favourite Village Of The French and it's understandable why. It really is a beautiful village and I quite liked visiting the "main strip"—- lots of shops with local products, a tourist office, and restaurants, The Parc du Chateau de Rochefort-en-Terre wasn't open but the grounds were lovely to walk through.
Normandy (2)
Veules-les-Roses (Department: Seine-Maritime)
Veules-les-Roses is a small town on the Alabaster coast located between Etretat and Dieppe. It has thatched roof houses, half-timbered houses and LOTS of roses everywhere. Hence the name which also refers to the Veules River which runs through the town. There are 3 restored watermills and one of the main attractions is the beach, making the town a popular vacation spot.
Beuvron-en-Auge
(Department: Calvados)
Half-timbered buildings populate this very pretty and quiet village that is located 30 km east of Caen. The main attraction is certainly the main square and street.
Bourgogne-Franche-Comté (1)
Chateauneuf-en-Auxois
What I most remember about his town is ending our day's bike ride heading up a steep incline to the town which sits high on a hill. Unfortunately, my friend's bike chain seized and she fell off her bike. Fortunately, she wasn't hurt. After dinner, we went for a walk through the town that has the fortress, Château de Châteauneuf, which overlooks the Côte d'Or region.
Occitanie (6)
Aiguèze
(Department: Gard)
Aiguèze is very close to the Ardèche border and is considered to be the entrance to the Ardèche Gorges. I had a lovely lunch at Restaurant La Bouchon and afterward walked among the ruins of the 12th-century chateau. From the fortress, you can look down upon the Ardèche River and get panoramic views of the area.
Villefranche-de-Conflent (Department: Pyrénées-Orientales)
This is another fortified town that switched hands between the French Spanish throughout its long history. It has retained its medieval "look" even though there are numerous shops and restaurants. The fortress walls still remain. The village is also one of the main stops for the "Little Yellow Train". In the town one can take the tunnel to see Fort Liberia, a UNESCO World Heritage site.
Camon (Department: Ariège)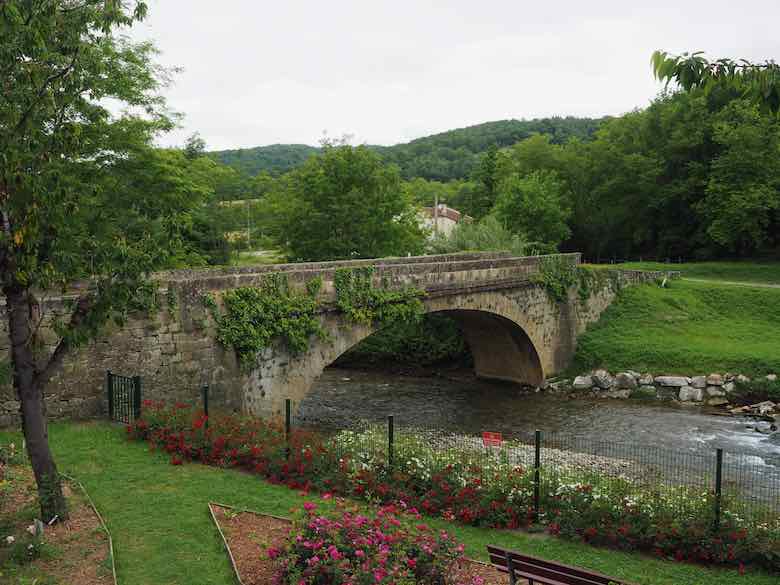 I enjoyed strolling around Camon which is celebrated for its rose bushes. Each year in May there is an annual Rose Festival and it is often called the "Little Carcassonne" due to its resemblance. It is a fortified village that surrounds a Benedictine Abbey. Unfortunately, the Abbey is private so one cannot visit it.
Evol (Department: Pyrénées-Orientales)
In the Eastern Pyrenees lies the medieval mountain village of Evol which is a commune of the village of Olette. Most striking are the houses. Many have shale (schist) walls and are covered with slate. The feudal castle of Château d'Évol was built in 1260 and much still remains.
Eus (Department: Pyrénées-Orientales)
On my way from Prades to Villefranche-de-Conflent in early June, I decided to stop off at Eus. It is a hillside village with very steep cobblestone paths. But it does provide excellent views of the countryside and at the top is Eglise Saint-Vincent-d'En-Haut. It was incredibly windy and maybe it was just the day or perhaps it's always like this because of the position of the town in the mountains. Just be forewarned.
Cordes-sur-Ciel (Department: Tarn)
Cordes-sur-Ciel was added to the esteemed list in 2021 and I was surprised it hadn't already been on the list. On my way from Bordeaux to Collioure, I stopped in this lovely village; however, it was quite deserted because it was early January. While only one restaurant was open (and full), all I could do was wander around town. Like Saint Paul de Vence in Provence, the village has many artisans and I can imagine it could be quite crowded in high season.
So, yes, I NEED to go back and conquer the remaining 130 towns. I have a lot of work to do.
Which of the 164 have you been to?
Map Of Les Plus Beaux Villages de France-My Visits
Click on the map or on this link and you'll be directed to a Google Map indicating all the places in this post.
Pin to your favourite board on Pinterest
Google and the Google logo are registered trademarks of Google LLC, used with permission.