For two weeks in October, I travelled to the Auvergne-Rhones-Alps region and then Paris—-basically Lyon, French Immersion, and Paris itinerary all combined into one trip. There were three main things I did:
2 days touring around Lyon
1 week doing French immersion and countryside walks with Ecole des Trois Ponts
6 nights in Paris
I will have more in-depth write-ups on many of these activities, so be sure you check back to Trip #29 for the details and links to the posts.
**This post contains an affiliate link, which means that I may receive a small commission if you book through my link, at no extra cost to you.**
Day 1: Lyon
The trip began with a flight to Lyon.
Getting into the city: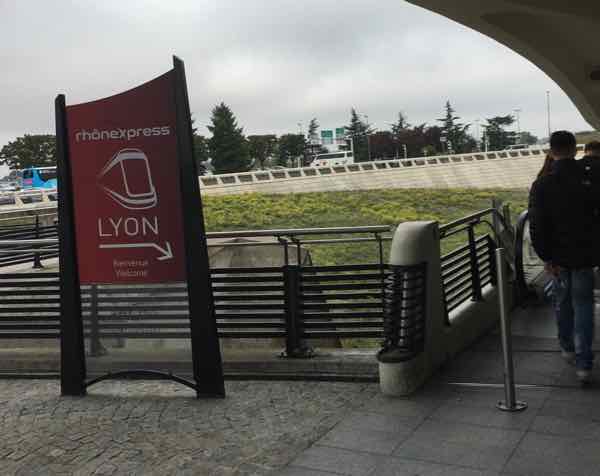 I bought my ticket to travel from the Lyon airport to Lyon's Part Dieu rail station in advance. It's with Rhone Express and the cost was 14.7 Euros (online) and is the easiest and cheapest way to get into town, taking only 30 minutes. 
Hotel near the train station:
I purposely chose a hotel near Lyon Part Dieu so I could just walk to my hotel and back when it was time to travel to my next destination. The  Ibis Lyon Part Dieu Les Halles was a great, inexpensive hotel that I highly recommend. I only paid 67 Euros (not including breakfast).
Highlights:
It was my second time to Lyon so I had already done the boat cruise and walked around the old town (vielle ville), so this time I took in these sights:
Traboules and wall murals (fresques)
Institut Lumière–celebrates the contributions of the Lumière brothers to French film making. They are considered the fathers of cinema. [Celebrating Cinema At The Lumière Museum In Lyon]
Museum of the Resistance: chronicles the fight against the Nazis during WWII

Le Grand Café des Négociants for their renowned hot chocolate (Chocolat Viennois)

(I highly recommend this) It opened in 1864 and the decor still retains an aura of

elegance. When the weather is nice, it's great to sit on the outdoor terrace sipping on

your wine or hot chocolate.
Day 2-8: French Immersion
The next day, I took the train to Roanne and then a cab to Ecole de Trois Ponts where I had enrolled in French Immersion classes and afternoon countryside walks (in French). Yes, we saw a lot of cows! I wrote about my experience there in this post: What To Expect When You Take A French Immersion Course In France. If you're interested in reading about my other experiences at this school, check out: My Experience Learning French At Ecole des Trois Ponts.
Day 9-14: Paris
After a week at the French school, I took the train to Paris (via Lyon). If you're looking for some new or different things to do in Paris, have a look at this list. It has a bit of everything: drinks before dinner, dining, shopping, museums, more photography, seeing historical sites, and attending an annual event in Montmartre.
Drinks
Angelina's
Hot chocolate from Angelina's (not my first and won't be my last). Yes you can do "take out". I relaxed in the Tuileries Gardens where there were many pieces of art on display….some fun ones too!
Le Dauphin
Had a glass of wine at "Le Dauphin" located in Place Dauphine, which is located not far from the Seine. It is one of my favourite places that has a quiet, peaceful courtyard and a few restaurants. (Rated #2 on my list of "Beautiful Spots To Get Away From The Crowds in Paris")
Dining
Les Pipos
Steak Tartare (for the first time) —-delish! Les Pipos is located in the 5th arrondissement on 2 Rue de l'École Polytechnique.
Le Petit Choiseul
Lunch walking through Passages du Choiseul (near Palais-Royal).[Sadly,this restaurant has closed]
Chats Mallow
Dessert at the cat café called "Chats Mallow (30 Rue des Volontaires in the 15e arr). To be honest, I much preferred, "Le Café des Chats" that I visited in 2013—-just a better atmosphere.
Shopping
Ly et Lys
A boutique on 43 Rue Monge that has really cute necklaces. I purchased one for a friend who was taking care of my cat.
Fleux
This store is located at 39 Rue Sainte-Croix de la Bretonnerie in the Marais. It has trendy items much like Merci and Colette (which closed December 20, 2017)
Historical Sites
Discovered the bullet holes from WWII in the St. Michel fountain.
Checked out the medieval houses in the Marais located on Rue Francois Miron and Rue Volta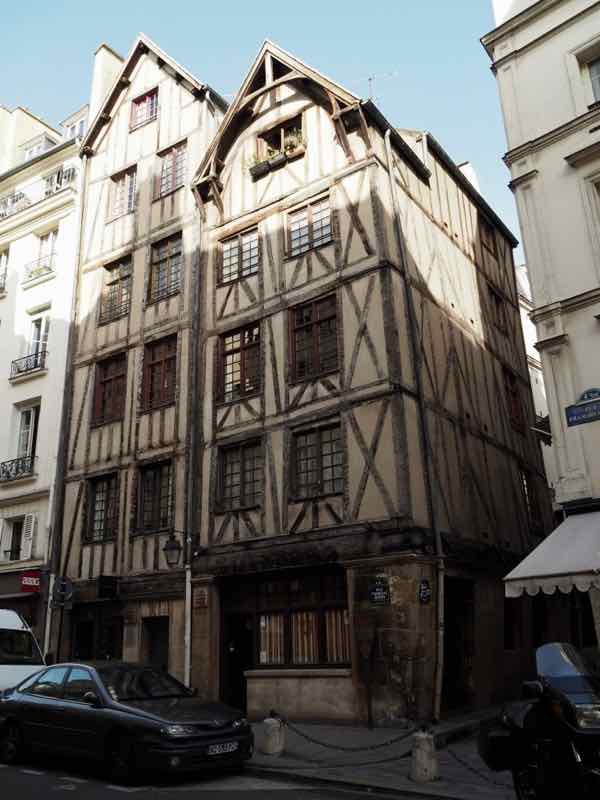 Located Point Zero at Notre Dame Cathedral
Discovered the last artifacts of the Bastille
They are in various areas of Paris and some art commemorating the 200th anniversary of the French revolution in 1989. More information about the locations of the remnants can be found here: Remains Of The Bastille: 4 Spots You Likely Overlooked
Cours Damoye
Wandered through the lovely hidden-away courtyards near the Bastille: Cours Damoye. (Rated #1 on my list of "Beautiful Spots To Get Away From The Crowds in Paris")
Arènes de Lutèce
Finally visited this amphitheatre from the Gallo-Roman times of the 1st century. It can be found just off Rue Monge.
Passage du Chantier
I also found this passage near the Bastille. It is known for having long-established furniture stores. I found the passageway to be a bit disappointing.
Paris Greeters
Took a tour with Paris Greeters–in the area of the Ternes district (17th arrondissement). Learned so much about the history of this area.
Museums
Yves Saint-Laurent Museum
Visited the Yves Saint-Laurent Museum that had recently just opened. Amazing fashions that have made history.
Deportation Museum
Visited the (free) Deportation Museum (Mémorial des Martyrs de la Déportation) near Notre Dame. It is a very moving memorial to the 200,000 people who were deported from Vichy France to the Nazi concentration camps. The experience is very powerful and sobering. You learn a lot about the Holocaust and it is very thought-provoking.
Photography Location
Photographed Paris from the terrace at Galeries Lafayette. My photographs would be better if it hadn't been so overcast. I also think the views from Printemps (Haussmann location) are better.
Special Events
Attended the Fête des Vendanges in Montmartre: so many vendors selling food and wine. It's an annual 5 day festival held in October, celebrating the wine harvest…yes, in Montmartre.
So perhaps you can understand why I keep returning to Paris. There are so many interesting sites to see, places to eat, and foods to try. Stay tuned for more posts about some of these places and experiences!