#31: The Ardèche, Provence, Paris and Normandy
**This post contains affiliate links, which means that I may receive a small commission if you book through my links, at no extra cost to you.**
I thought I'd share my travel itinerary for my recent trip to France. In late June I flew to Lyon to begin my journey which would take me to the Ardèche, Provence, Paris and Normandy
If you have been to Normandy, like me, you have probably visited the D-day beaches. This is typically on the top of many people's lists as the history and museums about World War II and the Normandy invasions are so interesting. However, if you've been to Normandy before, what else can you see and do? A lot! I visited more of the northeastern section of Normandy and my week overlapped Fête de la Nationale on July 14 (aka. Bastille Day).
I was very intent on seeing two things in particular:
Lavender in Provence
Fireworks at Etretat on the eve of Bastille Day
Itinerary: The Ardèche, Provence, Paris, and Normandy
I was able to see both and much, much more. On this page I'll keep updating the links to posts where I share more details about the experience or site. For now, here is a summary of some of the highlights:
Just As The Trip Began: Problems: Renter Beware: costly roadside assistance in France
3 nights in the Ardèche
A full 2-day itinerary is outlined in this post: What Can You See And Do For 2 Days In The Ardèche?
Stayed in a B and B in Salavas, very close to Pont d'Arc

Grotte Chauvet 2 Ardèche [Originally called "Caverne du Pont d'Arc"] (caves)

Visited the towns of Vogue, Balazuc, and Aigueze. All three have the designation, "Plus Beaux Villages de France";
Lunch at Restaurant Le Bouchon in Aigueze
Dinner at Bistrot Cayou near Salavas
On My Way To Provence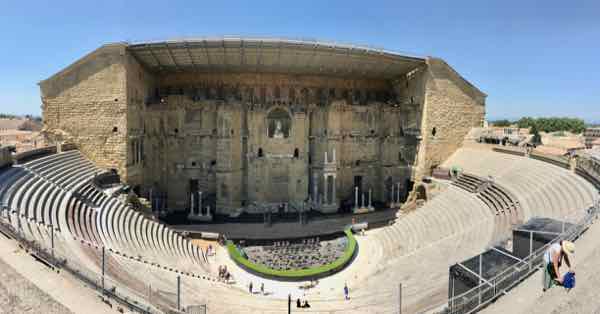 Mornas: big medieval fortress high on a hill; lunch at Cafe de la Poste
Orange: Théâtre Antique d'Orange and Roman Arc de Triomphe
One Week In Provence
I stayed in a gite located in Murs (7.5 kilometres NE of Gordes). It was my second time renting the place.  It is run by a lovely British couple and the house was spacious with one bedroom, a living room, kitchen, terrace, and two bathrooms. Out in the country and quiet, it does require a car and some driving to get to a market or active town, but it was worth it. Here is a link to the property: La Sarriette.
Found lavender at the Abbey de Senanque, Sault, and the areas near Sault and Bonnieux. Check out my post, "Where You Can Find Lavender In Provence".
Repeat visits to Venasque, Gordes, Bonnieux, Lourmarin, Menerbes, and Roussillon-All have the designation, "Plus Beaux Villages de France":
Repeat visits to L'Isle-sur-la-sorgue, St. Remy, and Arles.
Carrieres de Lumieres: Picasso sound and light show
Arles: attended the Cocarde d'Or— La Course Camarguaise (Provencal Bullfighting)
Vallon des Lavandes: learned about the distillation of lavender and about how lavender oil and lavandin oil can be used
La Ferme aux Lavandes—garden and outdoor cafe
La Forêt de Cèdres: Le Portalas hiking route
Goult: Cafe de la Poste for lunch
Lourmarin: Chateau de Lourmarin
1 Night In Paris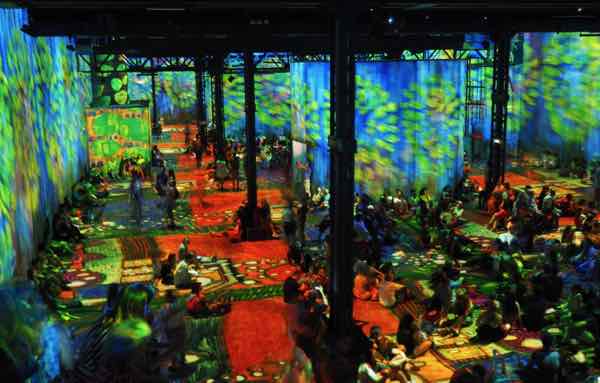 I travelled from Avignon to Paris via the TGV (the train strike did NOT affect me!!) and stayed in Paris for one night.
I stayed at the Hotel Palym which was right around the corner from the Gare de Lyon and had air conditioning! It's a modern, well-designed hotel (with lots of electrical outlets!). It was reasonably priced and I'd stay there again.
Les Embruns for lunch-had an excellent lunch of crepes and wine. It's located around the corner from the hotel
Ateliers des Lumières-I got last-minute tickets to this art exhibit featuring the work of Gustav Klimt and contemporary artists that is a sound and light show. Definitely worth visiting. It is like the one in Les Baux (Carrieres de Lumiere), however, rather than being located in a quarry, it is located in a former smelting plant
Guingettes (dancing along the Seine)
Checked out the colourful Rue Cremieux, a few blocks away from the Hotel Palym
One week in Normandy
En Route From Paris to Normandy:
Rouen
Les Andelys: Chateau Gaillard
Accommodations:
I rented a fabulous Airbnb called La Bergerie House located right on the edge of Etretat. It had a fabulous location where I could just leave my car and walk into town. Check out this post about Airbnb and Making Sure Your First Airbnb In Normandy Is A Success.
Highlights:
Hiked around the Etretat golf course (Chemin des Douaniers) to see the cliffs: Falaise d'Aval and Falaise Amont; and Chapelle Notre-Dame de la Garde. Here are two of the best ways to see the cliffs at Etretat.
Etretat: lunch at Bistretatais for moules frites
Etretat: dinner and fireworks at Le Homard Bleu on July 13 celebrating the arrival of Bastille day and celebrating my birthday (both July 14!)
Etretat: Auberge Express for Crêpe Normandie (crepe with Calvados and ice cream) and a glass of rosé wine
I headed south of Etretat:
to visit Pont l'Eveque (Calvados Experience) and drive the "Cider Route", visiting the towns of:
Beuvron-en-Auge (another one of Les Plus Beaux Villages de France)
Victot Pontfol: tour of Domaine Dupont and tasting of Calvados and pommeau
Cambremer
visited the quaint coastal village of Veules-les-Roses, Honfleur, Pont-Audemer, Allouville (to see Le Chêne d'Allouville–the oldest tree in France with a chapel in the trunk!), and Yvetot (to see Eglise Saint-Pierre d'Yvetot which has the largest stained glass windows in Europe).
One day I drove to Fecamp to take the "Le Mer Pour Tous" speedboat tour of the falaises. The boat takes you from Fecamp, south along the coast to the Falaise Amont and then back. The entire trip is about 3 hours.
In Fecamp I also visited the Benedictine Palais where they still make the herbal liqueur beverage
Back to Paris
Heading back from Etretat to Paris:
I did the "Route des Abbeys" which follows the winding Seine River from Allouville to Rouen. As one would expect there are MANY abbeys in several charming towns.
Villequier: Victor Hugo Museum not open
Caudebec-en-Caux
Abbey de St. Wandrille
Abbey de Jumieges
Duclair
Abbey at St. Martin de Boscherville
My final night:
I stayed at the Nomad Paris Roissy Charles de Gaulle at the airport. I arrived soon after France won the FIFA World Cup. The hotel is very modern and reasonably priced. I've stayed here in the past and love it. They have a restaurant and their excellent dinner buffet is just under 20 Euros.
So this three-week itinerary for my trip to the Ardèche, Provence, Paris and Normandy was busy but definitely full of unique experiences and sites.