A Multi-sensory Calvados Experience
There's a new tourist attraction in Pont-l'Évêque, which is known for its strong-scented (pungent), soft, pale-yellow cheese. It's a multi-sensory experience devoted to Calvados apple brandy, which has a much nicer smell. It's the multi-sensory Calvados Experience!
*This post contains affiliate links. If you make a purchase through these links, I get a small commission at no extra charge to you. It helps support the running of this website and I do appreciate your help.*
Multi-sensory experience devoted to Calvados: The Calvados Experience
In the heart of the Calvados department of Normandy is the town, "Pont-l'Évêque". A cheese has been given the town's name and it is often considered to be one of the 5 stinkiest cheeses in France. It's my all-time least favourite cheese. It smells really bad but fortunately, doesn't taste that way. But good news! Pont-l'Évêque may no longer have a negative association to the stinky cheese. I definitely got my apple fix at this new sight called, the "Calvados Experience".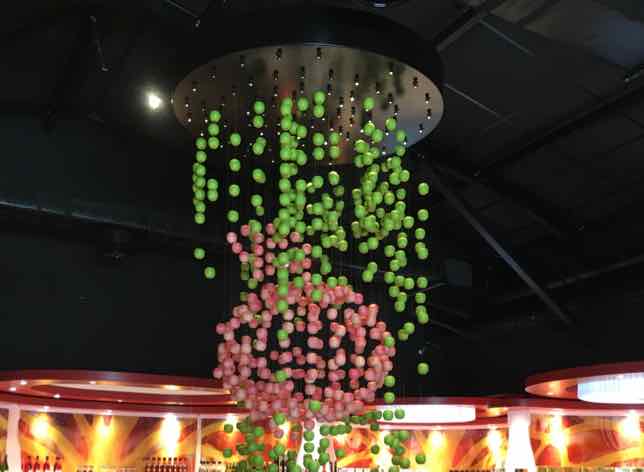 France has a growing list of museums and attractions which focus on wine and spirits. Bordeaux has La Cité du Vin. Paris has Les Caves du Louvre. Each has interactive displays and a tasting at the end.
The Calvados Experience tour takes you on a multi-sensory journey, exposing you to the regions, history, and production of Calvados starting with the simple apple. Your journey is like a walk through movie sets where you learn about the times of the Vikings to the present-day distillation. Four types of apples are used in the distillation: acidic, bitter, bittersweet and sweet.
One of my favourite experiences was walking on a pond of apples floating in the water:
Calvados Tasting
At the end of the tour, there is a tasting bar. Your ticket includes a tasting of 2 glasses of Calvados brandy: one young (aged 2 years) and one old (aged 6 years). It's an acquired taste and very powerful. There are hints of apple and not as pronounced as in the related apéritif called Pommeau.
Pommeau Tasting
I also paid an extra 4 Euros to sample 3 different types of Pommeau (which is made with 1 part Calvados and 2 parts apple juice):
Fleurs de Pommes—young and fruity
Pommeau—regular; dark and classic
Crème (de Pommeau)—like Irish cream but with a stronger Calvados brandy flavour
The boutique carries a wide selection of Calvados French apple brandy and a small selection of Pommeau from a variety of local producers.
Cost: 14.5 Euros
Notes:
Excellent reviews on TripAdvisor
Photography and videotaping are not allowed. Thank you to Calvados Experience for providing photos of the exhibits. (I paid my own admission fee).
Children are welcome to take the tour. At the end, they are provided with apple juice.
It is very difficult trying to find Pommeau outside of Normandy but easier to find Calvados. So, when in Normandy, stock up!
Click here to see the latest prices: Calvados Experience
Address: Route de Trouville, 14130 Pont-l'Évêque