Two Of The Best Ways To See The Cliffs At Etretat
Two of the best ways to see the alabaster stone cliffs at Etretat: by hiking and by speed boat-two of the highlights from my visit to Normandy, France. You'll get some spectacular photos of those famous Falaises d'Étretat. The cliffs at Etretat are truly a photographer's dream and I actually don't think you can take a bad photo.
*This post contains affiliate links. If you make a purchase through these links, I get a small commission at no extra charge to you. It helps support the running of this website and I do appreciate your help.*
1. Where Is Étretat?
When friends ask me about these Etretat cliffs, I tell them they're like the "white cliffs of Dover" in England—-white chalk cliffs taking a pounding from the cold waters of the English Channel. Étretat is located in Normandy, about 200 kilometres or 2.5 hours west of Paris. While many think of the D-Day beaches when they think of Normandy, Étretat and the alabaster stone cliffs—Côte d'Albâtre (Alabaster coast)—-are located more in the northeastern section of the region, north of Honfleur.
House rental recommendation
La Bergerie
As you can read in this post, I LOVED staying at La Bergerie, located in Etretat. There was free parking, I had the whole house to myself, and it was within walking distance of the town of Etretat and the cliffs. I would definitely stay here again.
2. Where Are The Falaises At Étretat?
The two key falaises in Normandy which provide excellent views are located on either side of the town and there are three portes (arches)in Etretat that are associated with them.
1. Falaise d'Aval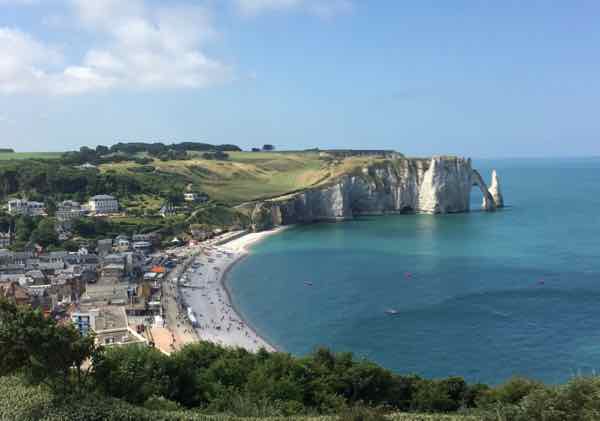 It is located just south of Étretat and there is a 70 metre high Aiguille, a rock that is jutting out of the water like a needle. But the real attractions are two natural arches: the Porte d'Aval (40 metres high) and the Manneporte (50 metres high).
You might also like to read these posts: 
–Where Are The Most Beautiful Villages of France?     
–Unique Sculptures Carved Into A Cliff In Brittany: Rochers Sculptés 
–How To Spend 2 Weeks in The Dordogne                      
–Hidden Gardens Worth Visiting In Etretat
2. Falaise d'Amont
The falaise d'Amont is located just north of Étretat and on top is the Chappelle Notre-Dame de la Garde and the arch is called Porte d'Amont.
Famous French writer Guy de Maupassant lived in Étretat and wrote hundreds of short stories and novels including, "Une Vie", where he describes an elephant's trunk dipping in the English Channel in Étretat. There is some controversy as to which porte he was talking about. Many believe it was the Porte d'Amont not Porte d'Aval. Take a look. Which one looks more like an elephant's trunk? I really think it's Porte d'Aval.
On top there is also a monument to French pilots Charles Nungesser and François Coli who attempted to make the first flight in their plane, "L'Oiseau Blanc" (White Bird) from Paris to New York City in 1927. Unfortunately, they never made it and it was in Étretat that they were last seen. Their bodies were never found. The original monument created in their honour was destroyed in 1942 by the Nazis. A new one was built in 1962. The Monument Nungesser et Coli is represented as a white arrow or spike that juts out of the earth pointing to America, where they were headed.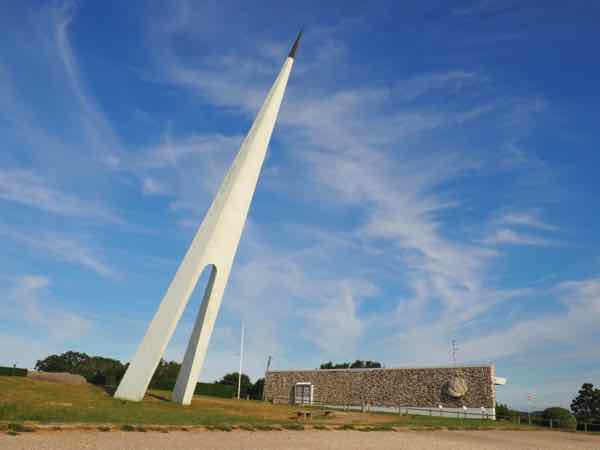 3. Literature And Art At Étretat
Many French writers (ie. Guy de Maupassant, Victor Hugo, and Gustave Flaubert) and impressionist painters (ie. Claude Monet, Gustave Courbet, and Eugène-Louis Boudin) spent time working in Etretat. In Les Jardins d'Étretat, there is a tribute to Monet made out of twigs by Wiktor Szostalo. While sounding odd, it really is beautifully done.
4. Two Of The Best Ways To See The Cliffs At Étretat
1. Easy Walk or Hike
(a) Around The Golf Course For Falaise d'Aval
To see the Falaise d'Aval, you cannot drive there. You can only walk. One could walk up from the town's main beach. A much more interesting route, however, is to take the relatively flat path that goes around the golf course. It starts just off the D940 road (near Avenue George V and Rue de Traz Perier) and the path (Chemin Petit Valaine) first takes you through some fields, by the golf course, and then along the coast (Chemin des Douaniers = coastal path).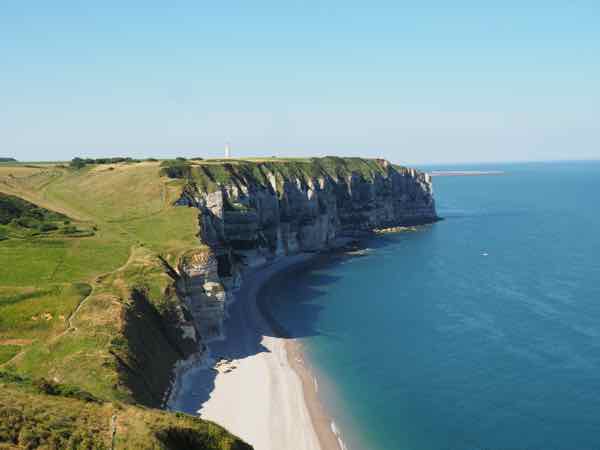 I left at about 10 am on a Sunday and there was hardly anyone out. As I got closer to the Porte d'Aval more people appeared. I have a feeling most people just walk up from the boardwalk. They don't do the whole circuit which is a shame because they're missing out on some wonderful scenery. The trek really doesn't take that long, perhaps only 2 hours (at a leisurely pace, stopping for photos). If you take this route you will see Manneporte, Porte d'Aval, and have excellent views of the Falaise d'Amont and the Chapelle Notre-Dame de la Garde.
(b) Walk Or Drive To Falaise d'Amont
From the beach at Étretat, you can walk up the (341) stairs to the top of this chalk cliff. It really isn't that bad. You can also drive up (Avenue Damilaville) there as there is a parking space by the Monument "L'Oiseau Blanc". From up top, you will get superb views of Ponte d'Aval and the town of Étretat.
2. Take A Speed Boat Tour
I went to the Étretat tourist office to enquire about boat tours and they recommended "Le Mer Pour Tous" which starts in Fecamp, travels south along the coast, and then returns to Fecamp. The drive to this town was only 16 kilometres, so it wasn't out of the way. This is one of the best ways to see the cliffs at Etretat because you are at sea level.
I will be honest and say I really debated up until about an hour before as to whether I really "needed" to take the 2 hour tour (33 Euros). I felt I had already gotten some fabulous photos of the cliffs. But I was wrong. The boat tour provided me with different perspectives and a thrilling ride. Not quite like an amusement park roller coaster ride, but close. Fortunately, the waters were calm that day and I did not get sea sick. I was advised that if I did, I was to raise my hand and ask for a bag. No throwing up in the boat or into the sea.
Our tour guide, Jerome was great. He provided commentary in French and some English and provided the English speakers with a handout in English that had more information. We were provided with life jackets and I was happy I sat near the back as the front section of the boat did not obstruct my view.
Check out this video which will show you some of the chalky cliffs of the Côte d'Albâtre which actually run for 140 kilometres.
5. Word Of Caution When Visiting The Etretat Cliffs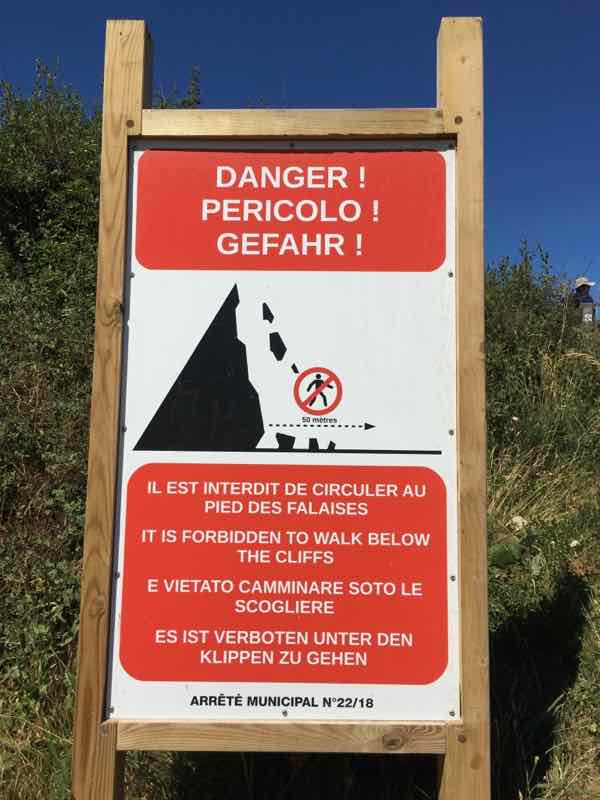 While one of the best ways to see the cliffs at Étretat is by hiking along the cliffs, keep in mind that there are no barriers. Be very careful getting close to the edge to get that great photo. There are a few sections on the path where there are viewpoints with barriers. If you're bringing children, hold onto their hands.
I believe over 50 people have died because they walked under the arches and got caught in the tide that quickly came in. Visitors are warned not to walk under the falaises. I saw a number and some who had decided to take their kayak ashore. But I would not take the chance. The water levels change very quickly.
If you're interested in staying in Etretat, do consider this excellent Airbnb. I stayed here for a week and loved its location, hostess and house. Note: it is also on VRBO: La Bergerie House
TRAVEL RESOURCES
Booking.com and Expedia: are the companies I use for finding accommodations.
VRBO: is super for booking apartments and houses.
AutoEurope: is the only car rental supplier that I will use–with the best prices, and they will refund the difference if the price goes down.
Trainline: offers an easy way to book train tickets.
Get Your Guide and Viator: Both offer tours, city cards, tickets, airport pickups, and so many other things you'll need at your destination.
Orange SIM Card-this is the company I use when I want a physical SIM card
Orange e-SIM and Airalo e-SIM-both companies offer e-SIMS and get great reviews
Pin to your favourite board on Pinterest