Impressive Views And Exhibits At Les Jardins d'Etretat
If I hadn't read about these unique gardens in Etretat, I would likely not have visited them and that would have been a shame. Les Jardins d'Etretat (Gardens of Etretat) are lovely gardens with avant-garde exhibits. They sit high on the cliffs of Etretat with excellent views of alabaster coast of Normandy.
*This post contains affiliate links. If you make a purchase through these links, I get a small commission at no extra charge to you. It helps support the running of this website and I do appreciate your help.*
Les Jardins d'Etretat
I highly recommend a visit to the gardens which at first, seem hidden. Fortunately, they are located right by Falaise d'Amont, Chapelle Notre-Dame de la Gard, and Monument "L'Oiseau Blanc" (which honours the two French pilots who disappeared near Etretat during their flight from Paris to New York City), so you'll have other sights to see nearby.
Creation Of The Gardens In Etretat
In the early 1900s, famous French actress Madame Thébault built a grand villa and an even grander garden in Etretat. She hired gardener Auguste Lecanau to begin construction of her garden which she designed with inspiration from Etretat resident and famed painter, Claude Monet. He was also an avid gardener.
The gardens were opened to the public in the fall of 2016 with a combination of permanent and traveling exhibitions on display. The gardens are not designed in your typical fashion with just trees, flowers, and bushes, however. They are rather avant-garde.
For more details, check out this page: Jardins d'Etretat Self-Guided Visit
Visiting Jardins d'Etretat
When you enter the gardens, you are given a map to follow with an explanation about the various gardens within the Jardins d'Etretat (or you can just wander). Some of the gardens are interactive and all have a theme or story behind them. Some of my favorites include
1. My Absolute Favourite: Claude Monet
Polish artist, Wiktor Szostalo, has created a twig sculpture of Claude Monet painting the Etretat landscape. It is reminiscent of Monet's painting, "Coucher de Soleil à Etretat" (Sunset at Etretat). What I love about this sculpture of vine twigs is that it is perfectly positioned on the edge of the gardens with Etretat and the Falaise d'Aval in the background. You can imagine Monet actually painting this scene of the Côte d'Albatre (Alabaster coast) from this vantage point.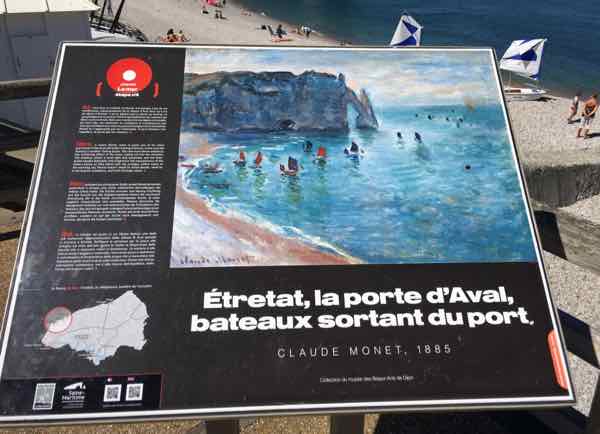 On the boardwalk at Etretat are a number of signposts showing works by Monet and they are placed at the spot that he might have stood. This is one of them showing the sardine fishing boats by the Falaise d'Aval.
2. The Clockwork Forest
In this video, you can see me turning a key that is part of the tree. As I turn it you can hear music being played. Whimsical and fun.
3. Le Jardin Emotions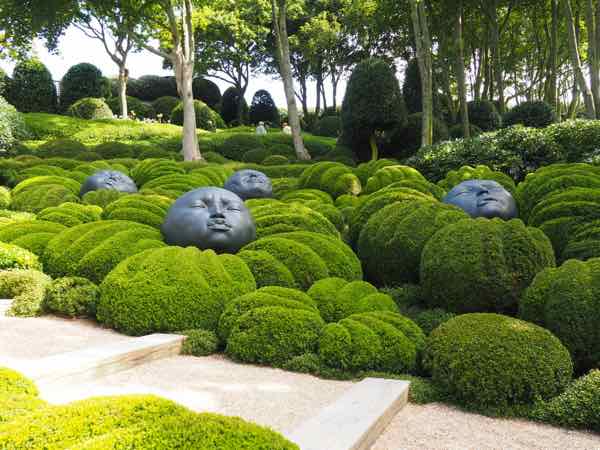 Upon entering the Garden of Sounds, you are presented with sculptures of human faces exhibiting various emotions. These were created by Spanish artist Samuel Salcedo.
4. Tree Hugger Project: Le Jardin des Etreintes et des Arbres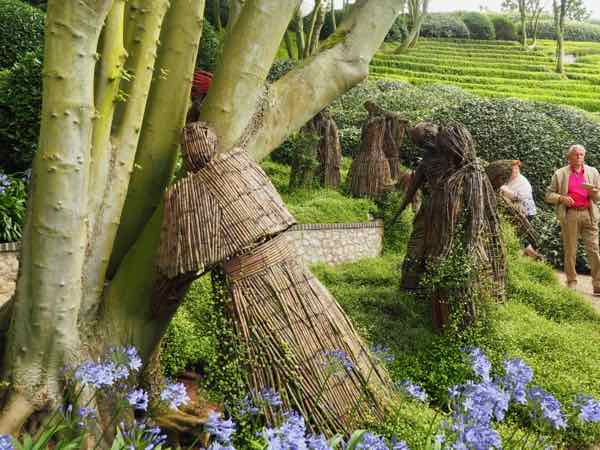 Artists Wiktor Szostalo and Agnieszka Gradnik collaborated on this environmental art project which focusses on rediscovering our environment and preserving nature. It has been on display throughout the world over the past number of years.
When you're visiting Normandy or staying in Etretat, be sure to check out the hidden gardens in Etretat. It will be worth your while as they are so unique.
Les Jardins d'Etretat