Charles de Gaulle Airport To Paris: Cheaper Isn't better
If I had ONE piece of advice when travelling to the heart of Paris, it's in this post. As I get older, I have realized that spending a bit more money makes it easier on one's joints and that when you are travelling from Charles de Gaulle airport to Paris, going the cheaper way is not always the better way.
Charles de Gaulle Airport To Paris
The main airport in Paris is considered to be Charles de Gaulle airport (CDG) located just northeast of Paris. It handles international and national flights. Orly airport is smaller and is considered the secondary airport for Paris. It is located south of Paris and typically handles more domestic flights.
Here are some options and costs when you are looking at transport from Charles de Gaulle airport to Paris:
1. Expensive Option: Taxi from CDG to Paris
Taking a taxi to/from Charles de Gaulle Airport To Paris city centre can be expensive and you might hit a lot of traffic coming into the city. Lord help you if you're on the Champs Elysée.
Update:  There is now a cap on the taxi fare to/from Charles de Gaulle airport: 55 € for the Right Bank and €62 for the Left Bank. (prices as of February, 2023)
2. Cheaper Way Into Paris: Train and Metro Subway
The Good: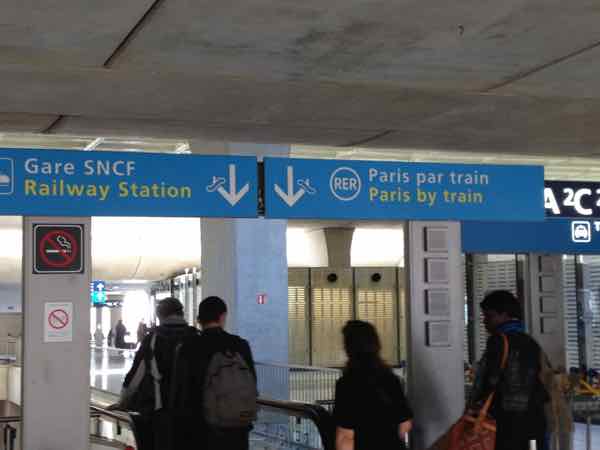 When I was younger travelling to France, I  wanted to save money and felt I could handle anything. I would arrive at Charles de Gaulle airport and hop on the RER train (located at CDG Terminal 2). There were escalators to take me to the train platform and there were no stairs to climb to get on the train so, so far, it was pretty seamless.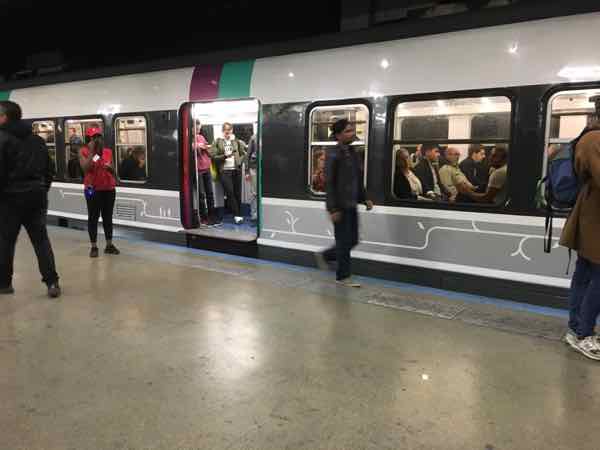 The Bad:
I would then arrive at Gare du Nord, go through the gates and transfer to a line on the Paris Metro. This required going up and down flights of stairs. Elevators? Not always! And if there are elevators, good luck in finding them. It is not a pleasant experience navigating your luggage on the Paris Metro. There's not a lot of room, particularly at rush hour.
The Ugly:
Arriving at St. Michel Metro station, I would have to climb more stairs (many flights of stairs) and go through numerous tunnels to transfer to the next metro station. So as you can see, there were many stairs, many connections, and if it were not for the 23-pound suitcase it would have been a breeze!
By the time I arrived at my apartment or hotel, I was drenched in sweat and exhausted, but being young, it wasn't a chore. I managed. And in my mind, it was the least expensive way to get into the city.
3. Wiser Alternatives Travelling From CDG Airport To Paris
Many years later, I'm down to doing half-marathons (21.1 km) rather than full marathons (42.2 km) as the muscles and joints can't take the training. And the ol' body can't take lugging a suitcase up and down stairs either, especially when there are many flights. I admit it. I'm getting old. But wiser too.
Instead of taking the RER B (Blue) and Paris Metro for 11.4 Euros (or your Paris Visit pass) (with the bonus stairs and connections), I now use one of four means of transportation travelling into Paris:
a. Roissybus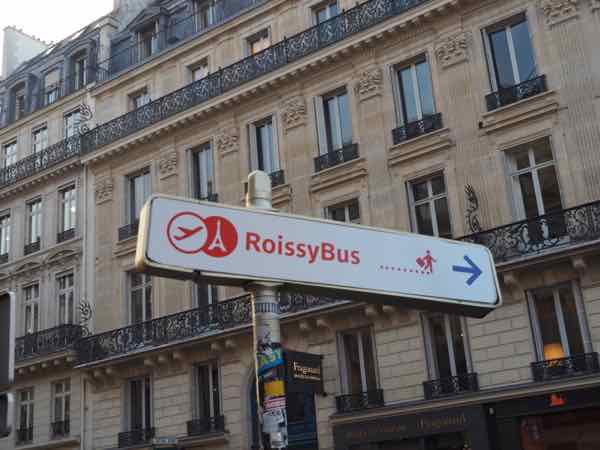 Roissybus charges 12.5 Euros. From Charles de Gaulle airport, it will drop you off by the Opera Garnier (corner of rue Scribe and rue Auber). You can then get to your final destination by taxi or Uber
Website: http://services.ratp.fr/en/ratp/r_61852/roissybus/
b. Le Bus Direct-no longer
Unfortunately Le Bus Direct formally called the Air France Bus, ceased operations in 2020 due to a decrease in passengers. It's a shame because they had a number of pick-up locations in Paris. 
c. RER B + Taxi
RER B (Blue line) to Gare du Nord and then take a taxi or Uber. Sure, it's a few Euros more, but a much more pleasant experience.
d. Shuttle From CDG To Paris
Arrange for a shuttle or ride-sharing service to take you from the airport to your hotel. For shuttles, it might be necessary to arrange this in advance. Shuttle prices start at about 18 Euros per person but keep in mind that this is a shared ride.
When I took a shuttle there were 5 passengers and the driver dropped all of us off at Terminal 2A yet some of the passengers' flights were at Terminal 2E and 2F so they had a bit of a walk to their terminal. I was surprised the driver didn't take them to their Terminal. 
UberX is about 45 Euros and Uber Pool is about 35 Euros, depending on your drop-off location. All prices depend on your drop-off location. (Note: prices for Uber have likely increased since this post was written).
Biggest Reason To Avoid The Metro
I would say the biggest reason to avoid taking the Metro from CDG is the chance that there is a strike by the Paris Metro. Sadly this has happened to me a few times. Strikes are common in France so there is a good chance you may encounter one during your stay. Taking the Roissybus or Le Bus Direct eliminates any worry about getting to the airport during a strike.
The moral of the story is: the cheaper way into Paris is not always the better way. Getting from Charles de Gaulle airport to Paris doesn't have to be expensive, nor does it have to be a pain. Get to your hotel in Paris with the fewest connections and stairs. Your body will thank you.