Château de Versailles Spectacle: Marie-Antoinette
I've seen some amazing fireworks and sound and light shows in France; however, one of the most breathtaking was the Château de Versailles spectacle, "Marie Antoinette-Destiny Of A Queen. A Show Of Fire and Light". It took place in 2019 and was scheduled to be presented again in 2020; however, it was cancelled due to Covid. It was truly memorable and hands-down, much better than Versaille's musical fountain shows. Nothing compares and if you have the chance to see this performance, get tickets right away.
1. Château de Versailles Spectacle And Story
For only 4 nights in July 2019, Versailles presented the magnificent show about Marie-Antoinette, "A Queen's Destiny". It was the second year to be presented and tickets were 25-110 € with seating in stands overlooking the Jardins d'Orangerie.
The beautiful gardens, designed by Louis XIV's chief gardener and architect, André Le Nôtre, became the stage for the performance. Le Nôtre also designed Château de Chantilly, Château de Fontainebleau, and Château de Vaux-le-Vicomte. The show tells the story of the most famous and last Queen of France, Marie-Antoinette, who was married to King Louis XVI of France.
Who Was Marie-Antoinette?
Marie-Antoinette was an archduchess born in Vienna, Austria on November 2, 1755 and married in 1770 at the age of 14 to Louis-Auguste, who would become King Louis XVI in 1774. This would make her the Queen of France.
As depicted in the Sophia Coppola movie, "Marie-Antoinette", Marie-Antoinette was seen by the French citizens as promiscuous, indulgent, and privileged at a time when most of the population starved. She became one of the most hated women in France.
As the country went through financial difficulties she continued to spend money on extravagances and she even retreated to Versailles where her husband created a "village" and retreat just for her so she could get away from court life that she found oppressive.
Marie-Antoinette was oblivious to the plight that the average French citizen was enduring. As the French Revolution began, she and her family were finally arrested in 1789 and imprisoned in La Conciergerie in Paris before being executed by guillotine at the Place de la Révolution (now Place de la Concorde) on October 16, 1793. [Her husband Louis XVI had been executed months earlier, on January 21, 1793].
2. Fireworks And Light Show At Versailles
(a) Special Effects
The Queen's life story is told with a light show and visuals that are truly impressive. There were pyrotechnics (firework displays), flames, fire bearers, illuminated characters, floating hot air balloons drifting down to earth, and projection mapping.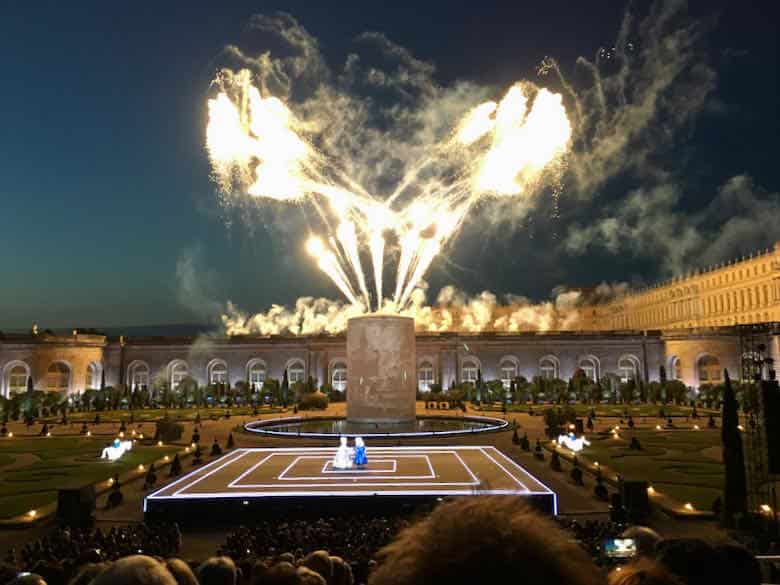 With projection (or video) mapping, instead of having an image projected onto a flat surface like a movie screen, the image or video is projected onto an irregular shape-2 or 3-dimensional object. In this show, the images were projected onto a large cylinder that was on centre stage.
The visuals in this performance are stunning. Marie-Antoinette's dress was self-illuminating as it had LED lights. They needed to be bright enough to be seen from hundreds of metres away. It weighed 25 kilos (about 50 pounds) because it was made with aramid (heat resistant) fibres, aluminum, carbon, polymers, a metal frame and fireproof material! I think this 21st century dress certainly outweighed the 17th century dresses!
(b) Group F
All the special effects were created by the company, Group F who do the Night Fountain shows at Versailles, and have produced spectacular shows around the world. I was fortunate to see one of their other shows: Les Féeries du Pont where the Pont du Gard in Provence was highlighted with fireworks, luminous characters, and an extensive array of visuals.
(c) Music And Commentary
Marie-Antoinette's life story is presented with music by Mozart, Tchaikovsky, and other famous composers and the commentary is done in French by Stephane Bern. Subtitles in English are presented so you'll still get the storyline.
Bern is a well known French journalist and television presenter who often reports on French historical sites, towns, and events such as Les Villages Preferes des Francais. Each year the French vote for their favourite village in France, their "preferred village".
3. Marie Antoinette-Le Destin d'Une Reine (2019)
In 2019, the show only ran for 4 nights in July. If you decide to go in the future, here's what you should know.
Start time: 10:00 pm
Duration: about 1 hour
The cost: ranges from 25 € – 110 €.
Seating: my seats (not the most expensive) were in the middle section of the stands and were excellent.
You are not able to wander through the gardens or estate prior to or after the show. You have to remain in the Jardins de l'Orangerie area.
Food and drinks are available prior to the show.
There was ample time to get from the Château to catch the last RER train at the Versailles Château Rive Gauche station.
4. Frequently Asked Questions (FAQ)
Did Marie-Antoinette say, "Let them eat cake!" 
No. Marie-Antoinette did not say, "Let them eat cake". Most historians say that she might have said, "Qu'ils mangent de la brioche!" (Let them eat brioche-bread!) in response to complaints that the peasants had no bread to eat. 
Check out the other ways you can explore Versailles: Tips For Visiting Versailles. Is One Trip Enough? . You'll want to return there to rent a bicycle or to explore Marie Antoinette's hamlet. An, if you're interested in discovering more unique experiences check out my ever-growing list: 100+ Unique Experiences In France
Pin to your favourite board on Pinterest