It will cost you 2 € to get in and you don't have to get married….but you can. It is in Menton's town hall and while official wedding ceremonies* take place here, the room is probably better known for the artwork on the walls and ceiling—all done by French artist, poet, author, playwright, and filmmaker, Jean Cocteau (1889–1963). The wedding hall is called "La Salle des Mariages-Jean Cocteau Menton" and it is one of those hidden gems in a city that's known for its lemon festival, the Fête du Citron. Some people like Cocteau's work while others find it "weird". You can decide for yourself.
Town halls (at least in Canada) are not known to be beautiful or interesting. They actually tend to be boring, bureaucratic buildings. So when I heard that there were murals in Menton's town hall, I had to check them out.
1. Salle des Mariages Designed By Jean Cocteau In Menton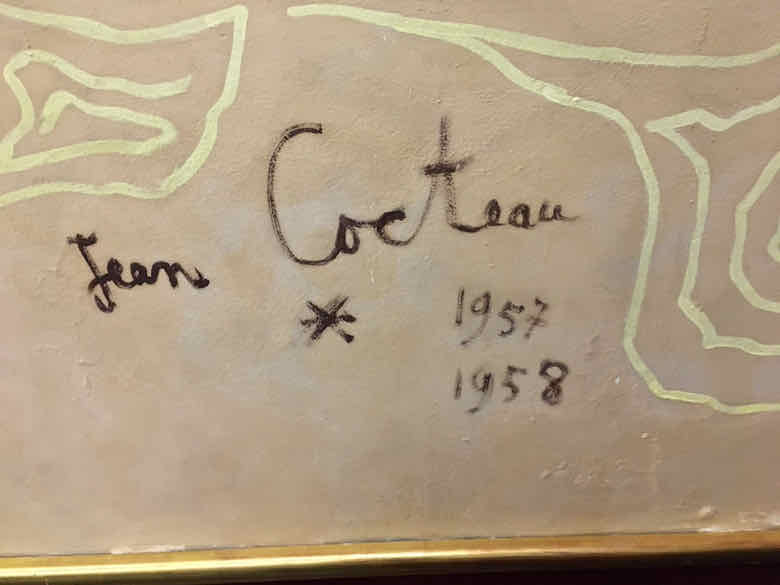 Jean Cocteau lived on the French Riviera in Saint-Jean-Cap-Ferrat beginning in 1950 and in 1955, while attending the Menton music festival, he met Menton's mayor, Francis Palmero. Cocteau was already a celebrated artist whose work was considered avant-garde and surreal. Not everyone is a fan of Cocteau's work but Palmero definitely was.
Soon after their meeting, Cocteau was commissioned by the mayor to decorate part of the town hall by turning the courtroom into a marriage room. He was given free rein to design it as he wanted and the wedding salon has turned into a work of art. It was unveiled on March 22, 1958 and was renovated in 2018.
2. Marriage Room In Menton's Hôtel de Ville
La Salle des Mariages has a simple entranceway with two white doors and the name of the room above it in classic Cocteau script. But simplicity ends once you walk through the doors. The dreamlike style that the artist often uses in his paintings celebrate romantic, eternal love and are done in pastel colours.
(a) Furnishings And Murals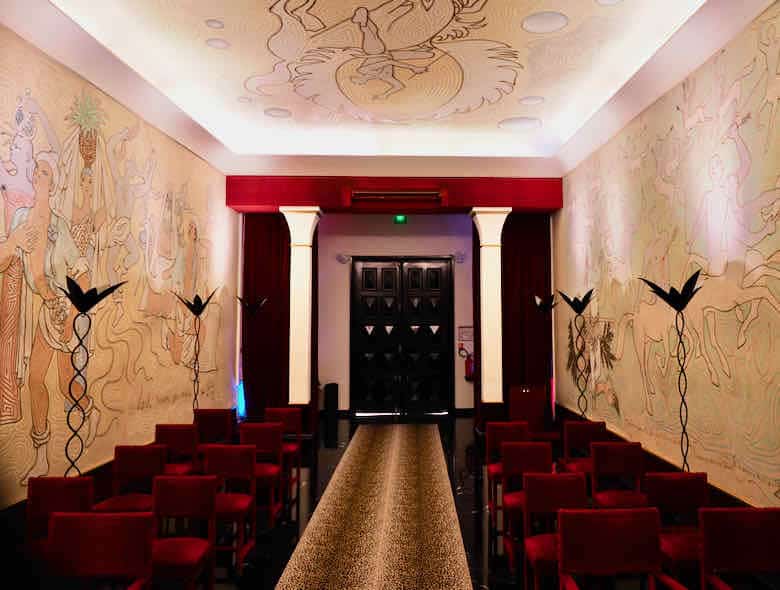 Cocteau designed the dimly lit room with wrought iron floor lamps on leopard patterned carpets. It is furnished with deep red velvet chairs for the audience and a dark marble floor. It's like being in a theatre and the dark furnishings contrast perfectly against the brightly coloured paintings on the wall and ceiling.
(b) Metonnaise Couple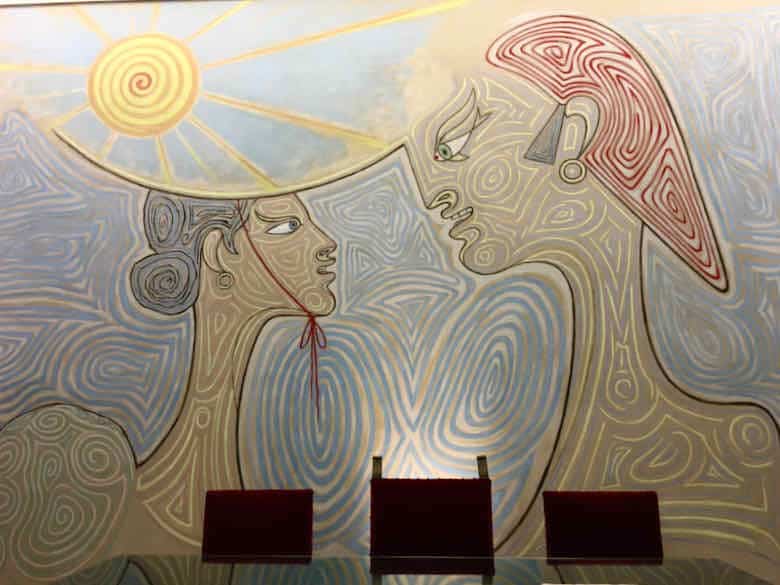 The focal point is at the front of the room, the fresco of a Metonnaise couple in love gazing at one another under the bright Mediterranean sun. They're each wearing hats to protect them from the hot sun and you'll notice that he's a fisherman wearing an earring and his eye is fish-shaped.
In front of the mural is a table with 3 red velvet chairs, for the mayor and aides and two chairs for the bride and groom facing the platform.
(c) Murals On The Walls And Ceiling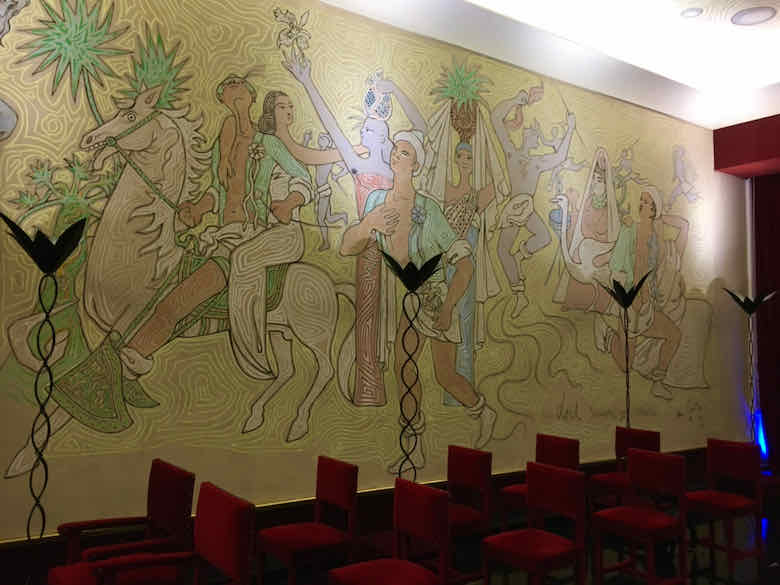 The other frescoes that Cocteau created include more wedding scenes and stories related to Menton life and folklore, Greek symbolism and mythology (ie. story of Orpheus and Eurydice). He used Greek characters and arabesques (ie. scrolling lines and spirals) in his murals.
In French town halls there is the obligatory bust of Marianne, who is the symbol of the French republic; however, in this wedding salon, Cocteau replaced the bust with an engraving of Marianne on the mirror at the back of the room. Unfortunately, when I was there, the mirrors were covered.
(d) Audio Insights Into Cocteau's Life And The Wedding Room
A recorded commentary (available in English, French, and Italian) gives a nice overview about Cocteau's love of Menton and his design of the room, but I have heard the live presentation, held on Thursday afternoons, provides deeper insight into Cocteau's work. It is only available in French.
(e) *Getting Married In France
To get legally married in France, couples must have a civil ceremony or service at the "marie", the town hall. This takes place before the religious or ceremonial wedding in a church. The mayor (or his/her legal representative) conducts the ceremony in French and the room is open to the public.
3. Other Cocteau Exhibitions In The South Of France
When I was in the south of France I kept encountering places that exhibited the work of Jean Cocteau, and besides La Salle des Mariages, there are other places on the Côte d'Azur where you can find works by Cocteau.
(a) Menton: Musée Jean Cocteau-Le Bastion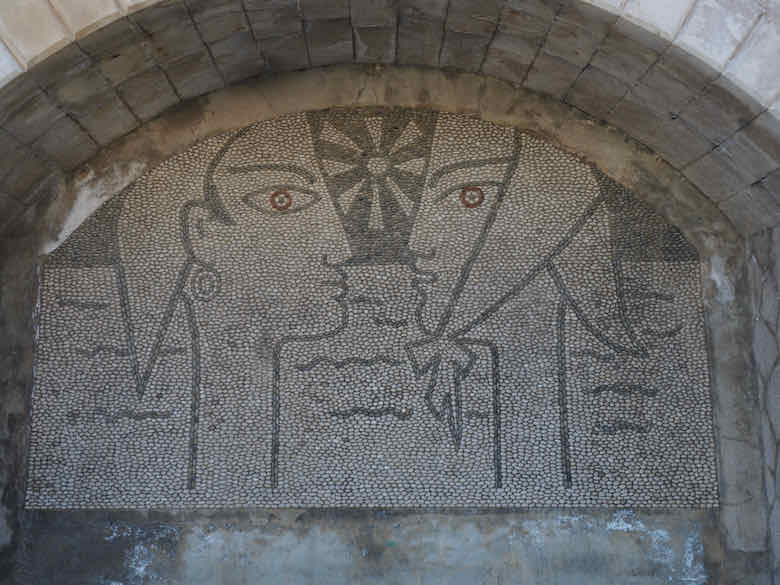 While Cocteau was working on the wedding hall, the mayor asked if he'd consider creating a museum in Menton to exhibit his work. It was suggested he take over the the 17th century fort, Le Bastion which was in ruins. He agreed but said he wanted the exhibitions to change regularly. Le Bastion Museum opened in 1966, three years after Cocteau's death.
The outside of the museum has mosaics made with pebbles from the area. Inside the museum an exhibition of Cocteau's work is displayed on various levels and it is well done. The collection is comprised of over 2000 works of art by Cocteau.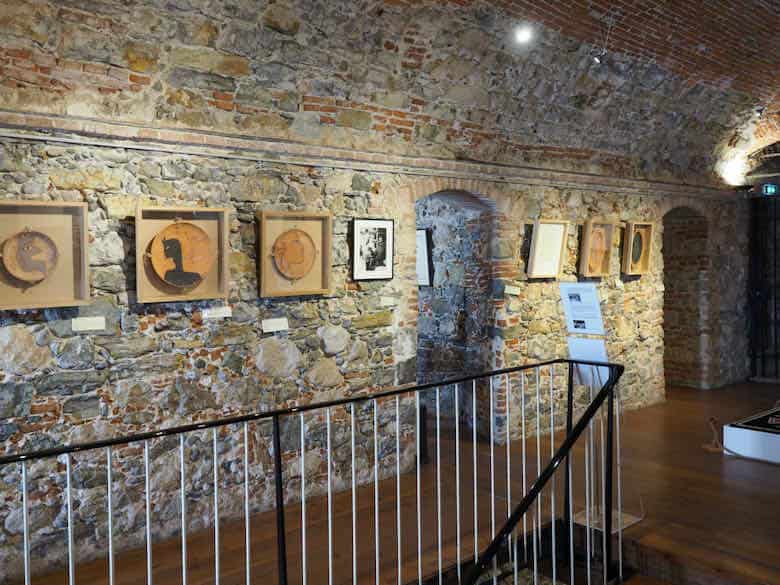 In addition to many of his paintings and drawings there are also ceramics, jewelry, tapestries, and hand blown glass objects created by Cocteau. Rather unique items with his designs include match boxes that have the various zodiac signs and a bottle of 1947 Mouton Cadet Rothschild wine with one of Cocteau's designs on the label.
Today, Musée du Bastion de Jean Cocteau is currently the only place in the city where his work is displayed besides La Salle des Mariages. The other museum is closed.
Check out the museum's impressive virtual visit where you can see Cocteau's work as if you were there.
Entrance: 3 €
(b) Menton: Musée Jean Cocteau, collection Séverin Wunderman
The main Jean Cocteau Museum in Menton (known as the Musée Jean Cocteau, collection Séverin Wunderman) closed indefinitely in 2018. The ground floor and the basement which housed many of Cocteau's paintings were flooded with sea water due to a violent storm in October 2018. Repairs and restorations are currently in progress.
(c) Villefranche-sur-Mer: Chapelle Saint-Pierre
In Villefranche-sur-Mer, there is the Chapelle Saint-Pierre, also known as the Fishermen's Chapel. It was built in the 16th century and used in the 19th century to store fishing supplies. In 1957 Cocteau collaborated with local painters, including Jean-Paul Brusset, to restore and paint all the interior walls with frescoes showing scenes from Saint Peter's life. (Saint Peter was patron saint of fishermen so many of the scenes also depict life at sea). The exterior was also done by Cocteau.
This very small chapel has a lovely exterior and it is located right on the harbour, opposite the Welcome Hotel (where Cocteau stayed from 1924 to 1935). The day I was in Villefranche-sur-Mer, it was closed. Hopefully when you visit it will be open. There is a small entrance fee and photos are not permitted inside. In 1996 the Chapelle Saint-Pierre was designated a historical monument.
(d) Saint-Jean-Cap-Ferrat: Villa Santo-Sospir
In Saint-Jean-Cap-Ferrat, I did not make it to La Villa Santo Sospir, the name of the home owned by Francine Weisweiller. She was a patron of the arts and when Cocteau was staying there, he asked if he could draw something above the fireplace. She agreed but the work didn't stop there. Cocteau continued painting the walls, doors, ceilings….just about everywhere. He continued to visit annually thereafter. The villa is closed in 2021 as restorations are being done. Tours will resume once they are completed.

Can you just drop in to see the Salle des Mariages in Menton?
Access to see the Salle des Mariages is only allowed if the hall has not been booked for a wedding. The first time I visited, I couldn't get in due to a wedding taking place. I went back two days later. After you enter the main doors to the town hall, turn left and go into another room. There is an information desk where you can ask about visiting the room that Cocteau decorated. I was the only visitor to visit at that time and the receptionist on duty turned on the recorded commentary (in English) for me. I was left alone and I stayed for as long as I wanted.
La Salle des Mariages-Jean Cocteau
Marie de Menton (Town Hall, Menton)
Address: 17 Rue de la République, 06500 Menton
Hours: Monday-Friday 8:30 am-12:30 pm and 1:30-5:30 pm
Entrance fee: 2 €
Guided tour (English, French, Italian): Thursdays 2:15-3:30 (4 € entrance but no information about guide's cost. This might include the guide's fee.)
Pin to your favourite board on Pinterest