Yes, you can see Versailles with just "one" visit; however, you'll likely miss a lot. It is impossible to see everything in just one day. There's much more than just the Château de Versailles. I have visited Versailles 5 times and I'd still like to go back. In this post, I share my tips for visiting Versailles-seeing many of the most impressive parts on the grounds over multiple trips.
*This post contains affiliate links. If you make a purchase through these links, I get a small commission at no extra charge to you. It helps support the running of this website and I do appreciate your help.*
1. Versailles Is Immense
Versailles is one of the most popular attractions in France, with over 7 million visitors annually. It was originally a country residence and in 1631, Louis XIII decided to rebuild it but it was King Louis XIV, the Sun King (ie. Roi Soleil), who really transformed the hunting lodge and grounds into a grand palace with the Hall of Mirrors and formal gardens.
Today the Château is a UNESCO World Heritage site and the entire estate covers an immense area. When you see these impressive statistics you'll realize it is too big to see it all in one day:
The palace alone is 67,000 square meters and has over 2300 rooms
The Versailles estate covers 2014 acres
50 fountains
200,000 trees
A grand canal that's almost 6 kilometres long
2. Tips For Visiting Versailles: Go Multiple Times
In order to take advantage of all that Versailles has to offer, the best way to see Versailles is to go back….a few times. Here are 5 different visits to Versailles that you could make:
1. First Visit: Touring Versailles With A Guide
My first time visiting Versailles Palace was on a tour which actually was part of a full-day tour to see Giverny and Versailles- half a day at each place with lunch in-between. This is the tour: " Versailles Palace & Giverny's Monet House Day Trip with Lunch from Paris".
Taking a "skip the line" tour even if it's not with transportation included is a good idea for a first-timer because you get commentary and priority access to the palace with a guide. You will have little to no time to explore the grounds, however.
Also, check out these Top 10 Versailles tours .
2. Second Visit: Self-guided Tour Of The Palais de Versailles
The second time my friend and I visited Versailles on our way to Paris from Normandy. We lined up for tickets and went through the palace on our own. It was summertime and crowded but I don't recall that the lineup to get tickets was that bad. Getting tickets online, in advance would be a good idea.
3. Third Visit: Bicycle To The Queen's Hamlet And Other Palaces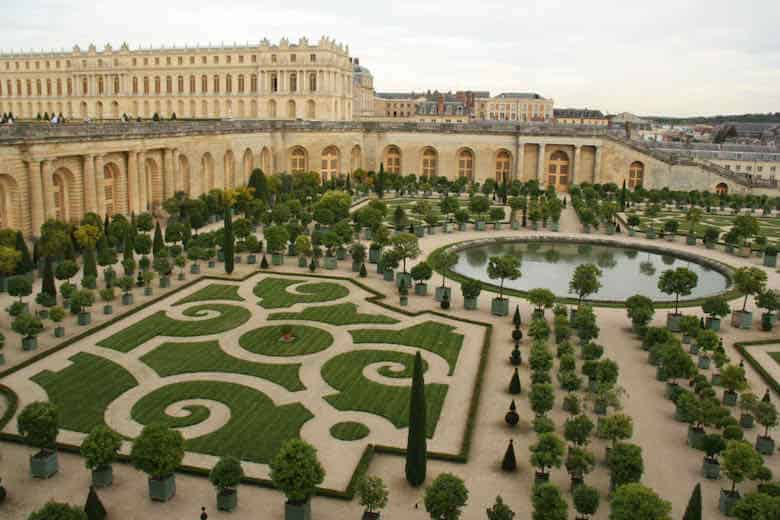 For my third time to Versailles, I skipped the palace and went straight to the gardens where I rented a bicycle and explored the estate. [Entry to these two areas are free]. I also visited the Grand Trianon, Petit Trianon, and Marie-Antoinette's hamlet (Hameau de la Reine).
As the Palais de Versailles wasn't enough for King Louis XVI, he had the Grand Trianon constructed not far away. This was his retreat from the madness of the court.
Marie Antoinette also needed a place to escape and the King gave her the Petit Trianon (Little Trianon), a smaller palace in the same park as the Grand Trianon. He also had a working farm created for her. Marie-Antoinette invited friends to join her and together they could pretend they were peasants and commoners. In this hamlet, there were many buildings and components of a farm including a Queen's house with billiards room, a windmill, cottages, a dairy farm, and a dovecote and pigeon coops.
Check out where you can rent a bike and see all the sights on the grounds of Versailles: Rent A Bike To Explore Versailles.
4. Fourth Visit: Marie-Antoinette Evening Show
My fourth time to Versailles was to see the Le Destin d'Une Reine. This nighttime spectacle took place in the Jardins d'Orangerie and it was the perfect setting to learn about Marie-Antoinette—her rise and fall. Versailles at night with the light show is quite magical as I wrote in this post: Château de Versailles Spectacle. There were characters in illuminated costumes, floating hot air balloons, and best of all, fireworks. It was accompanied by classical music and French commentary by Stephane Bern (with English subtitles).
Do consider getting tickets if the show is offered again. It took place in 2018 and 2019 but was cancelled due to Coronavirus in 2020.
5. Fifth Visit: Fountain Show-Musical Gardens
My fifth time to Versailles was actually the day after the Marie-Antoinette show. Although my friend and I just wanted to visit the Versailles gardens, it was "musical fountain" (Les Grandes Eaux Musicales) day, so we had to pay an extra admission. This special event takes place on weekends from April to October so if you don't care about seeing the musical fountains do not go on those days.
I'll be honest and say that after attending the Marie-Antoinette event, the musical fountains were a BIG disappointment. It was very crowded and the jets of water timed to classical music just weren't that "grand" to me. I would imagine, however, that the evening show, which culminates with a fireworks finale (Les Grands Eaux Nocturnes-Night Fountains Show) would be much better.
3. Guided Tours And Events At Versailles Palace To Consider
There are other guided tours (check out what's available here) at Versailles and I have yet to take a tour of the King's private apartments or attend any of the special events held at Versailles. A guide from the Palace takes you to the private apartments of King Louis XIV and King Louis XV. This tour no longer takes visitors into the Royal Chapel (La Chapelle Royale). As of 2021, the chapel is currently being restored. You can only see it from the entrance.
Throughout the year and during the annual Versailles Festival, there are so many events such as galas in the Hall of Mirrors, a grand masked ball, operas in the Royal Opera, concerts, baroque dance classes, ballets, and costume balls. These will be for future visits.
4. Opening Hours And Event Days At Versailles
[Note: entrance to both the park and garden are free except on days when the musical fountains take place. Only the park is open to the public during the Covid lockdown].
Palace at Château de Versailles-open Tuesday to Sunday 9:00 am to 5:30 pm
Park-open 7 days a week, 8:00 am to 6:00 pm
Gardens-open 7 days a week, 8:00 am to 6:00 pm
Trianon Estate-open Tuesday to Sunday 12:00-5:30 pm
Water Fountain Shows: weekends throughout the day
Night Fountain Shows: Saturday evenings in the summer
5. Easiest Way To Get From Paris To Versailles: RER or SNCF
Taking a guided tour from Paris will make it easier for you as you'll have the bus transportation, priority entry, and commentary from a tour guide. For future visits, however, I'd suggest you take the Paris Metro (RER) on your own.
Take the RER (line C) from Paris to Versailles Château Rive Gauche station. It takes about 1 hour and once you arrive it's a short 10-minute walk to the château. Just follow the crowd. Note: the Metro fare must cover zones 1-4. You can use the Navigo or Paris Visite passes as well. Don't worry if you're attending a show at Versailles at night. You will catch the last train back to Paris.
You can also take the SNCF trains from Gare Montparnasse or Gare Saint Lazare but they take you to Versailles Chantiers train station and Versailles Rive Droite train station respectively. Both require a longer walk (17-18 minutes) to the palace.
6. Frequently Asked Questions (FAQ)
1. Are the gardens and park at Versailles free to visit?
Yes, entry to the grounds at Versailles is free but not on those days that the Fountain Show and Musical Garden shows take place. To access the gardens at Versailles, head to the top left-hand side of the Cour d'Honneur (Ceremonial courtyard) and go through the gate to the Cour des Princes (Princes courtyard).
2. When is the best time to visit Versailles?
If you aren't interested in seeing the musical fountains, visit Versailles on a weekday. Consider "entering" the palace later in the afternoon once the tour buses have left. it will be less crowded. Just remember the Château is closed on Mondays and the last entrance is at 5:00 pm.
3. How long do I need to spend at Versailles, France?
If it's your first time going to Versailles, allocate a whole day. Yes, you can do a day trip from Paris to Versailles. Travel time will be about 1 hour from Paris and you'll want to explore the gardens and park before or after visiting the Château. 

4. What tickets to Versailles are available?*
Château de Versailles (Official website) offers different tickets depending on what you want to see. If you are not going to take a tour, I'd suggest buying your tickets online, in advance so you can avoid the long lineups at the gate.
General admission ticket to the palace with an audio guide = 18 € 
-timed entry
-the Paris Museum Pass will give you admission to the palace, gardens, Trianon estate, and Queen's hamlet.
-access to the gardens and the Queen's hamlet is only free on days when the musical fountains do not take place (even if you have the Paris Museum Pass)
-Passport (with priority admission to the palace and Trianon estate plus timed entry) = 20-27 € depending if you attend on a day when the fountains show and musical gardens take place
-Trianon estate entrance: 12 €
-Musical fountains show: 9.5 €
-Musical gardens show: 8.5 €
-Guided tours: 10 € (in addition to the general admission price)
I hope these tips for visiting Versailles Palace have been helpful. As mentioned previously, you should consider repeat visits because there is so much to see and experience besides the palace such as Marie-Antoinette's hamlet, the Petit Trianon, and attending the musical fountains or Versailles spectacles that end with fireworks. Versailles should not be rushed. Every visit will impress you so keep going back!
*Prices are subject to change and can be found on the official Versailles website.
Pin to your favourite board on Pinterest