[This letter was given to my father on the occasion of my
father's 91st birthday]
Dear Dad:
I have you and mom to thank for taking me to France for the first time. Do you remember how it all started? January 1, 1978. New Year's Day. You announced, "We're going to France!"
You told the family we were going to France the following August and we would be staying not only in Paris, but also in the south of France. Was I excited to go? OMG…a dream come true! From that first trip I learned the importance of creating unique experiences because that first trip was filled with lots of neat experiences.
Starting In Paris….
I was incredibly fortunate that my first trip to France was not on a bus tour because I feel I really got to experience more unique things, particularly after our stay in Paris. While I appreciated getting an overview of Paris on a bus tour the day of our arrival in Paris, [my sister] Catherine probably missed a lot. She fell asleep.
Not a lot has changed since 1978.
Arc de Triomphe-The Eternal Flame
….Then Provence
Paris was a blur, but Provence certainly wasn't. When we arrived in Provence, our friends, the Quan's met us at the Avignon train station and we followed them to their home in Gordes in our Peugeot. That car took us everywhere in the Luberon. We had so many unique experiences during this trip. Do you remember all the places we visited? Menerbes, Roussillon, St. Paul de Vence (art galleries), Cavaillon (melons), Abbey de Senanque, Orange (Roman theatre), Avignon (Palais des Papes), Les Baux (chateau), Cassis (renting paddle boats and seeing les Calanques), Nice and Monte Carlo (casino). Since then, I am constantly on the search for the "unique".
Gordes and the Luberon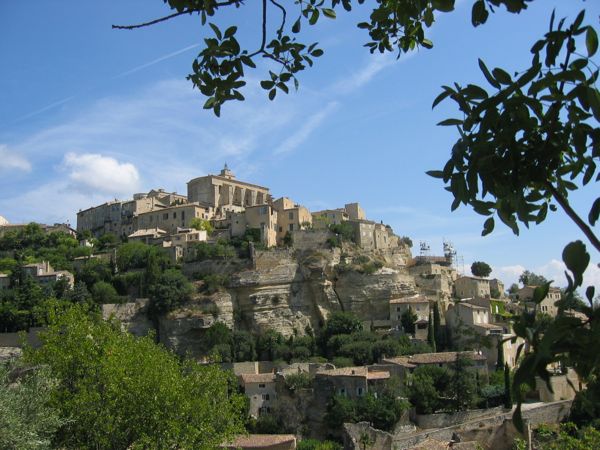 Every time I return to Gordes, I look for the Quan's home, built into the actual stone of the town. I think, during my last trip, I found it. I also recall there was an emblem from the time of the Crusades near the entrance. Sadly, I couldn't find it during my last visit.
I remember it was 3 or 4 stories tall and was cool inside thanks to being built into the rock. In late August, when we were there, it was incredibly hot and the mistral winds were fierce but they cooled things down slightly.
You and the Quan parents went out a few nights and left us kids to amuse ourselves. I recall drinking Chateauneuf-du-Pape wine, playing cards with Catherine, Lance and Lianne, and feeding a stray cat. Not a bad holiday and what a wine to get hooked on! Certainly not "plonk"! [a derogatory term used by the English for poor quality wine].
The Quan's house was amazing. It was co-owned by Mrs. Quan and Jack Pollack, a well-known painter and art dealer in Toronto so we were definitely spoiled with the design of the house. And thanks to the Quan's we were introduced to some very unique museums and art exhibits: the Vasarely exhibit in Gordes and the Fondation Maeght in St. Paul de Vence. It is in this museum that I was exposed to Joan Miro and Alberto Giacometti and I am always on the lookout for their art. Recently I saw some Giacometti works at the Georges Pompidou Centre in Paris.
As expected, Gordes has changed in the past number of decades. It is much more touristy and one cannot usually park in the centre of town. There's a parking lot down the road. When the tourists leave at dusk, however, it is the same town I remember from 1978. There is still the boulangerie. I know you always remember going to the boulangerie in the early morning for a fresh, hot baguette. There is still nothing like it. That's why I love renting homes: heading out to the boulangerie for baguettes and croissants and then the markets for fresh produce.
The pharmacy is there too. I had to go there for help when my eye turned to jelly. Remember? I had some allergic reaction (severe hayfever?) and my eye became very itchy and ……jelly-like. I know it sounds gross, but it wasn't.
When I returned to Provence a few years after we were first there, I searched in vain for the restaurant that had that amazing pizza. I remember it was in the town called Beaumettes. Sadly, I couldn't find it. I think it closed. I know you don't like cheese, but I recall you LOVED this pizza. The crust was like a croissant and the restaurant was small and unassuming.
Roussillon
We also visited Roussillon with its large ochre deposits and had lunch at "Restaurant David" (which is STILL in business and has superb panoramic views of the valley). This was the first time I ever had truffles. Mrs. Quan ordered a dish with truffles and I remember she gave me some to try. I know it was a very expensive delicacy but I think it tasted like ham. What did I know?! I was only a teenager!
Côte d'Azur
Going to France also included a quick overnight trip to Nice and Monte Carlo. I was able to sneak into the Casino de Monte Carlo thanks to you. At the time I was only 19 and one had to be 21 to get in. I remember taking your arm and you escorted me past security to get to see the gambling rooms. We then went to the Café de Paris, which was beside the casino for a drink. I can't believe I remember this but I had a Dubonnet. How French! Do you remember when we were leaving that you drove through the red light and got pulled over by the police? Fortunately, the officer just gave you a warning!
Dad, thanks to you and mom, I got my first taste of France but that first trip also created such a passion (obsession?) and, as you know, I have now visited 25 times. That trip opened my eyes to the beauty of France and I will forever be grateful to you for introducing it to me.
Love,
Jan
To read more about Gordes, check out this post: The Most Beautiful Hilltop Village In Provence.
And, here's a rundown of the unique experiences in my other trips: Past Travel Itineraries For France