The Most Beautiful Hilltop Village In Provence: Gordes
Many agree that Gordes is the most beautiful hilltop village in Provence and for good reason: winding streets, cobblestone paths, and stunning views. Every time I visit Provence I have to return to this lovely Provencal town. Let me share with you some reasons why I love the town so much and why I believe you'll want to visit (and revisit) Gordes.
[Updated January 18, 2020]
*This post contains affiliate links. If you make a purchase through these links, I get a small commission at no extra charge to you. It helps support the running of this website and I do appreciate your help.*
Provence. The Vaucluse. The Luberon.
When people say they want to visit Provence, they are talking about an enormous area in the south of France. It is actually the administrative region called Provence-Alpes-Côte d'Azur. You'll hear them say, "Provence", the "Vaucluse", or the "Luberon". So which is it? For me, it is the Luberon, which is a massif or group of mountains in the heart of the Vaucluse department, covering about 600 square kilometres. This concentrated area is where you will find many renowned hilltop villages, including Gordes.
You might be familiar with some of the Luberon villages, possibly from reading one of Peter Mayle's books (ie. A Year In Provence) or from travel guides which rave about these "charming" (overused term) towns. I'm sure you'll have people arguing as to which town is the most beautiful hilltop village In Provence so here is a partial list of well-known towns. They are definitely charming, quaint, and worth a visit, and the first 5 have also been designated one of Les Plus Beaux Villages de France (*):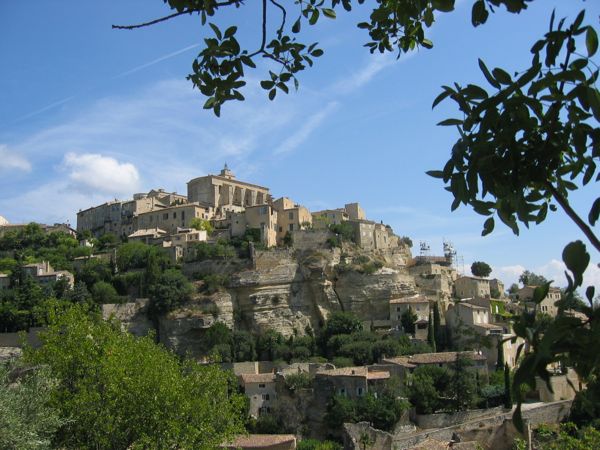 Lourmarin*
Menerbes*
Roussillon*
Ansouis*
Bonnieux
Cucuron
Isle sur La Sorgue
St. Saturnin-les-Apt
Another "Plus Beaux Villages de France": Gordes
The town of Gordes is also included in this prestigious list for good reason. It is a village perched on a hill and everyone who visits Gordes no doubt has a photo of the town as they approach it: where Route de Cavaillon (D15) and Chemin de Gaumaud meet. Photos are taken from this vantage point. (A map is shown at the end of the post). Yes, it is, without a doubt, one of the most picturesque towns you'll see anywhere in Provence, with cobblestone streets, and stunning views of the Luberon valley.
Where Is The Most Beautiful Hilltop Village In Provence?
Gordes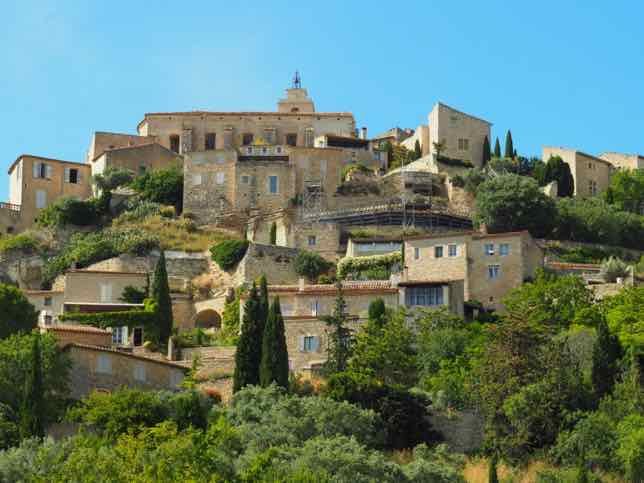 If you're staying in Avignon and want to visit some of the villages in Luberon, check out this tour. It runs for 5.5 hours with a maximum of 8 people: From Avignon: Best of Luberon Afternoon Day Trip by Van (visit Lacoste, Roussillon, and Gordes, and stop at Pont Julien.)
Gordes In The Past
Being such a picturesque location, it is not surprising that Gordes has attracted many artists including Marc Chagall and Victor Vasarely. The 11th century medieval Château de Gordes in the centre of town continues to have art exhibits like the one I attended in 1978 where Vasarely had a major display. Vasarely was the grandfather of optical illusion art. The exhibit remained there until 1996 and was eventually moved to Aix-en-Provence.
Attracting Artists
It is clear now why our family friends decided to purchase a house in Gordes as it was the perfect place for artists and those who love art. Our family friend, Mrs. Quan, worked with Jack Pollock, a successful art dealer in Yorkville, Toronto and together they purchased a home that was built into the town walls. Yes, INTO. It was renovated and when I visited with my family in 1978, there were 9 of us, so it was a pretty big place. All the walls were stone and it was particularly cool, even in August.
This first visit for me took place well before the town appeared on everyone's radar screen as "the" place to visit and it was magical for me…..my first exposure to living in Provence where one picks up a baguette from the local bakery and endures the fierce winds of the Mistral in late August. I wrote a thank you post to my father on the occasion of his 90th birthday Dear Dad: Thank You For Taking Me To France.
Gordes Today
In 1978, the town had not been overrun with tourists. Since then, however, there's been a lot of development (primarily hotels). During one visit, there were gigantic cranes in the process of building another hotel. But don't let that deter you from visiting.
Today the town has significantly more hotels, restaurants, and boutiques and a popular weekly market which takes place on Tuesdays. It is a good size, taking up a lot of the main square.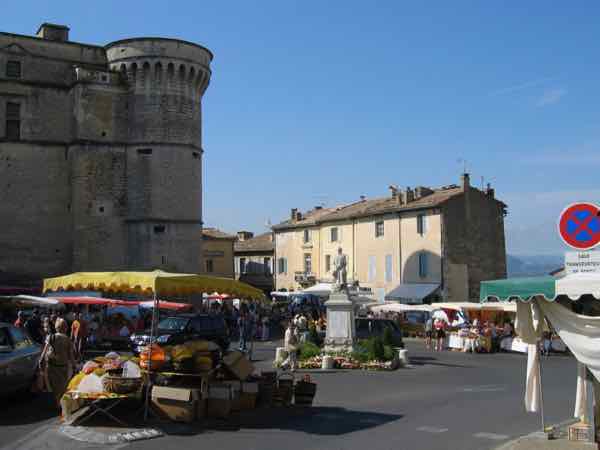 Wandering Around Town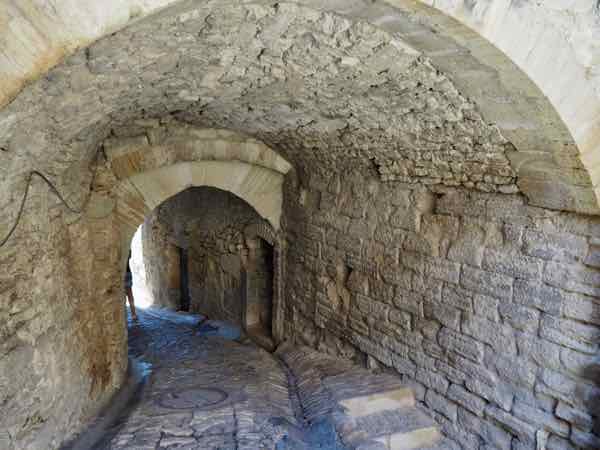 There is nothing more pleasant than getting lost in Gordes. There are winding streets and numerous paths that take you up and down the hilltop town. You will be presented with lovely views of the valley and there are spots with benches if you decide you want to have a picnic.
I never get sick of walking through the town. There are so many homes built into the hillside and it is not filled to capacity with shops, which makes the visit less hectic. Towns like St. Paul de Vence can be crazy busy due to all the tourists going in and out of the endless shops. It's not like that in Gordes. Yes, it can get crowded, but not in the same claustrophobic way.
Trek Between Gordes and The Senanque Abbey
One interesting trek I did was between the Abbey de Senanque and Gordes. I parked at the Senanque Abbey and walked up the hill towards the town, had an ice-cream and then walked back. The entire route was only 6.4 km; however, it was a lovely walk that provided perfect views of the Abbey and the Luberon valley. I got the idea from Marcia DeSanctis' book, 100 Places In France Every Woman Should Go. She walked down from Gordes and before her eyes she saw the Abbey surrounded by lavender. Unfortunately, I was a few weeks early, so I will have to return.
Update:
I intentionally arranged a trip to Provence one year later, in June/July 2018, because I wanted to see the lavender. Timing when to go is always difficult as sometimes they bloom early, sometimes they bloom late. I took a walk from Gordes to the Abbey de Senanque and was treated to this beautiful sight once I arrived. So glad I visited Gordes again just so I could see lavender in front of the Abbey. You can read about my search for more lavender in this post: Where You Can Find Lavender In Provence.
As the years go on, there will be more and more tourists visiting but I believe this town will remain the most beautiful hilltop village in Provence.
Gordes been referenced a number of times on this website. Check out:
Map Of Photo Location
Click on the map or on this link and you'll be directed to a Google Map indicating all the places in this post.
Google and the Google logo are registered trademarks of Google LLC, used with permission.
TRAVEL RESOURCES
Booking.com and Expedia: are the companies I use for finding accommodations.
VRBO: is super for booking apartments and houses.
AutoEurope: is the only car rental supplier that I will use–with the best prices, and they will refund the difference if the price goes down.
Trainline: offers an easy way to book train tickets.
Get Your Guide and Viator: Both offer tours, city cards, tickets, airport pickups, and so many other things you'll need at your destination.
Orange SIM Card-this is the company I use when I want a physical SIM card
Orange e-SIM and Airalo e-SIM-both companies offer e-SIMS and get great reviews