I just finished riding my bike through France—an early morning ride in Paris, a leisurely clip past Mont Saint-Michel, a climb up some mountains in the Midi-Pyrénées, and a refreshing spin along the Côte d'Azur. And the scenery was spectacular. How did I do this? By taking in some Peloton scenic rides!
February 11, 2023 Update
Peloton continues to do updates on the Scenic Rides in France, adding some rides and taking some away. In April, 2021, there were 25 but the number keeps changing. While there appears to only be 8 rides in France, I am actually able to see 16 when I look at rides taken, so perhaps those 8 are "hidden" somewhere. Peloton has categorized the rides into "Guided", "Distance", and "Time". I'll keep all the rides listed and just indicate if certain ones are "Hidden".
You've probably heard about the stationary bike that became the hit of Covid as we were confined to our homes for long periods of time. As people couldn't go to gyms or attend spin classes, they were stuck at home. So what could one do? Set up a home gym that included a Peloton bike. What makes this more than just a stationary bike, where you stare into space, is that there is a monitor that streams recorded and live classes led by Peloton instructors. It's motivational and you DO get a good workout.
But Peloton also has what are called "scenic rides" and this is where I rediscovered France. It's as if I'm in France biking along a country road….or up to a mountain's summit.
If you have a Peloton bike AND you love France, you'll definitely love the Peloton scenic rides.
1. What Are The Peloton Scenic Rides Through France Like?
Peloton has many scenic rides through countries such as Canada, the United States, Italy, Germany, Spain, China, and New Zealand. The duration of each ride varies from 10 minutes to 60 minutes. But of course, the rides in France are my favourites. Most take place in "perfect" weather—sunny and clear.
The other notable changes Peloton made to the Scenic Rides are:
many more songs with vocals
no scenic rides in the featured section on the digital app
no access to past scenic rides even using the tag #scenicrides (see below)
As mentioned, so far these are the rides for France and they can be found in the Time Category:
This scenic route goes around the medieval town of Avignon with the famous Saint-Bénézet bridge and Palace des Paper. It ends at the magnificent Pont du Gard. Music is by Fleetwood Mac, Prince, Madonna, INXS, and Duran Duran.
This is my favourite scenic ride in France because the landscape changes so much. You begin your journey in the valley, through the countryside and then slowly gain altitude, climbing the mountains until you get near the top. At times you're actually following a rider. Music is by David Guetta, Due Lipa, Prince, Clean Bandit, Cher, and Little Boots.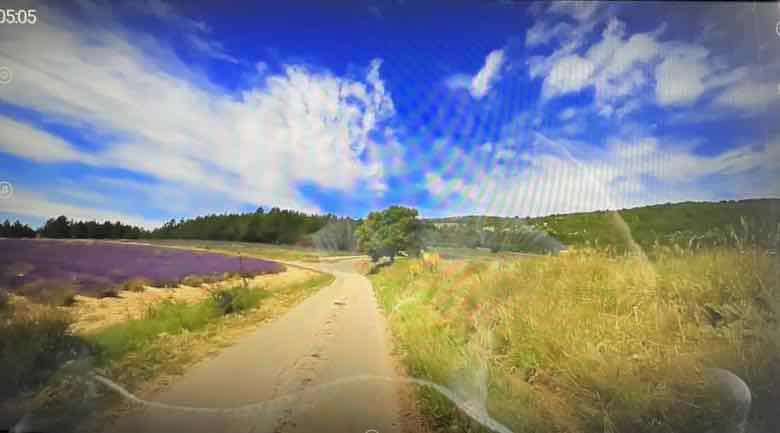 There are lavender fields that you'll pass half-way through the ride. Sadly, there are no rides up into the hilltop villages that Provence is known for. The music is pop with music by Fleetwood Mac, Madonna, and others.
This is a short ride with music by the Joy Corporation. The scenery is similar to that found on the Côte d'Azur—with lots of views of the Mediterranean Sea.
The Medoc is wine country! It's a flat route and you travel through vineyards. Unfortunately, you don't go by any of the famous wine houses and their châteaux. Music is by Cher, Due Lipa, Prince, and more.
This 1 hour ride takes through farmland, passing many cows and riding on flat terrain and rolling hills. Music is by America, New Order, Madonna, the Monkees, and more.
I was most disappointed with this ride because most of it was through the vineyards of Burgundy. Understandably, the terrain is flat; however, there was little if any travelling through the quaint villages of the Côte d'Or region. Music is by David Guetta, Clean Bandit, Prince, Jason Derulo, and Due Lipa.
8. South of France Forest Ride-10 minutes
Have to be honest, this is a boring ride (scenery-wise) because it's all in a forest. At times it's also dark. But for a 10-minute cool-down, it might be fine. Music is by David Guetta, Dua Lipa, Clean Bandit, Jason Derulo, Prince, and others.
This Midi-Pyrénées ride is very similar to the French Pyrénées ride above; however, with a mix of flat roads, high elevations and the odd bit of snow with lots of greenery. Too bad that the music seems to be the exact same as in the South of France ride with tunes by Prince, Due Lipa, and David Guetta.
10. Rhône-Alpes-30 minutes
This was a pretty scenic ride and I really enjoyed it. As Peloton states, you'll see "snowy mountain peaks, lush greenery, and lively villages". The scenery is accompanied with music by David Guetta, Future Islands, Lucy Dacus, Kylie Minogue, Parcels, and Badbadnotgood.
11. Morbihan Brittany-30 minutes
The 30 minute ride in Brittany was a bit disappointing. The landscape was pretty flat (which is not surprising for the area) and you travel through some neighbourhoods, forests and the countryside. I suppose if you're looking for an easy ride, this would be the one to choose. Music is by Prince and the Revolution, Dua Lipa, Kylie Minogue, and Kevin McKay.
12. Champagne Ardenne-60 minutes
This ride begins in a city and then takes you through the vineyards of Champagne and a lot of countryside. There is music by Lucas and Steve, Debbie Given, Prince and the Revolution, Parcels, and Disco Fries, however, many of the songs, by artists like Kylie Minogue and David Guetta, are repeated.
13. Languedoc Rousillon-45 minutes
It's all dance party music with this ride, with music by Cash Cash, Bingo Players, Marc Benjamin, David Guetta, and Rita Ora. My favourite was near the end when Mr Belt & Wezol did their rendition of Earth, Wind, and Fire's hit, "Boogie Wonderland". The ride takes you through rolling hills, and vineyards. You can see the blue water of Lac du Salagou, which is 30 km north of Pézenas, but overall, I don't think there's a lot of captivating scenery.
14. Paris-10 minutes
This short ride through Paris has you travelling on wide boulevards with traffic, along rue de Rivoli and through various arrondissements (districts) of Paris. There is also a nice part along the Seine River approaching the Eiffel Tower. Too bad the ride isn't longer and you can see many more sites. Music is by artists like Saweetie (feat. Doja Cat) and Nicky Jam and J. Balvin.
15. Annecy-30 minutes
This is a very pretty, scenic ride. It begins with a ride through the town of Annecy and then takes you by lovely parks and then along Annecy Lake. You can see the Alps mountain range in the distance but the terrain is pretty flat. I was pretty impressed by how many designated bike paths there were. After taking this ride you'll want to visit Annecy yourself and do some bike riding. Music was by Janelle Moses, Anita Baker, P. Diddy and more.
16. Draguignan Ride (Provence)-30 minutes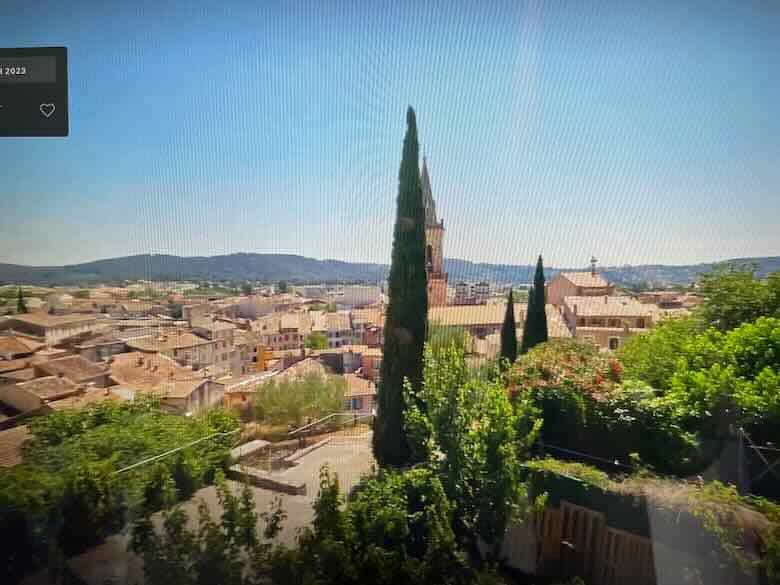 The route in Provence starts in Draguigan, which is a town west of Cannes. You travel through the countryside, and on country roads and pass vineyards and olive trees. . It wasn't my favourite location in Provence to do a ride. There are many more scenic areas. However, you do travel on a voie verte, a dedicated bicycle path that takes you through a forested area. The ride takes you to northeast to Figanières. Music is by Ultra Naté Michelle, Tina Turner, Cardi B, and The Sugarhill Gang.
2. What You'll Hear During Your Ride
As you glide along the "road", you'll hear the sounds of nature, birds chirping, and cars whizzing by. There is music, vocal and instrumental pop, rock, new age, and techno or electro music.
3. What You'll See During Your Ride
It appears that the scenes from some routes have been combined or spliced together to make a new "ride". I suppose they've taken their best "clips" and put them together into one ride. So your scenery can change constantly. You might start out in a forested area, move to a mountain climb, through a small town, and then back into the mountains. This can be a good thing as 30 minutes passing cow pastures can get boring quite quickly!
Some routes are entirely flat and others have you climbing a mountain. The "difficulty" of the ride is all dependent on you increasing the cadence and resistance—that is, how difficult it is to turn your peddles. The higher the resistance (0-100), the harder it is to turn the wheel, much like climbing a hill.
I also believe most of the rides—at least the ones I've taken so far— have been filmed in a car, not on a bike.
4. No Peloton Instructor On Scenic Rides—It's All Up To You
In addition to no music accompanied by vocals, you also don't have an instructor, telling you to increase your cadence or resistance. You also don't have an instructor to motivate you, so it's up to you to make your ride just a leisurely journey or a hard workout (aka burning calories!).
I'll be honest and say I could have worked harder (to get a higher output). I think I was enjoying the scenery so much I forgot to increase the resistance.
5. There Is A Peloton Leaderboard
When you take a Peloton class with an instructor (live or recorded) you can see how you rank on the leaderboard. The scenic rides also have this option so I can see who else might be riding when I am and I can see how I rank. That part can be motivational. Guess I am a bit competitive as I don't like being at the back of the pack!
6. Where Is The "Peloton Scenic Rides" Setting On The Bike Monitor?
If you have a Peloton bike and you're wondering where you can find these scenic rides on your monitor, go to the bottom menu on your screen and click "More". The next screen will show you two options: Just Ride and Scenic Ride. That second one will open up into a list of many scenic rides from around the world. I bookmarked all the France rides.
Can You Do Scenic Rides On the Peloton App?
Sadly no. At one time you could find them in "Featured" but they aren't there anymore. But keep checking as they might reappear.
If you're interested in doing some biking IN FRANCE and not just on a Peloton bike, check out the tours I've taken:
Pin to your favourite board on Pinterest