When I travelled through Brittany, I stopped off in the Brocéliande Forest, which is associated with the legend of King Arthur. That name possibly conjures up thoughts of England, Camelot, knights of the round table, Merlin, and Lancelot. Here's what I discovered.
Brocéliande Forest
Le Forêt de Paimpont (Paimpont Forest), also known as the Brocéliande forest, is located in the north-west interior region of Brittany, approximately 88 kilometres south of St. Malo. There is some debate as to whether there is any truth to the legend that was first written about in the late 1100s by poet, Chrétien de Troyes.
Is Brocéliande real?
Did some of the characters from the Arthurian legend reside in the Brocéliande forest?
You may want to believe that it existed. It's all in the fun of "believing".
King Arthur And The Brocéliande Forest Legend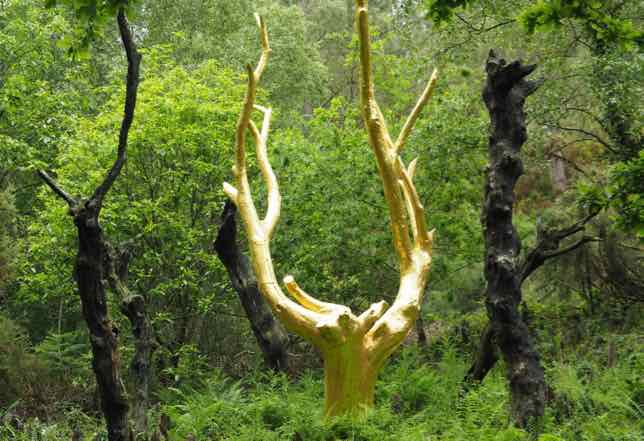 Before I share with you what I discovered in the forest, here are a few facts about the Arthurian legend. There are countless stories about the characters and I could not even begin to share them all; however, here are a few:
King Arthur was a leader who defended Britain in the 5th and 6th century against Saxon invaders

Arthur had a magical sword, named Excalibur. It was given to him by Vivien, also known as Lady of the Lake. Legend has it that only a true king would be able to pull the sword out of a stone. That person was Arthur.
Merlin, know as the "Wizard of the Woods" was the king's advisor. He became infatuated with Vivian and gave her magical powers which ultimately were used against him.
One story written in the 1800s talks of a love between Merlin and Vivien, who locks him up inside an oak tree. Another story says he was imprisoned in rings of air.
Lancelot spent his childhood in the forest of Brocéliande. He was a Knight of the Round Table and confidant to King Arthur until his love affair with Queen Guinevere was revealed. (Be sure to check out the movie musical, "Camelot" starring Vanessa Redgrave, Richard Harris, and Franco Nero)
The Forest of Brocéliande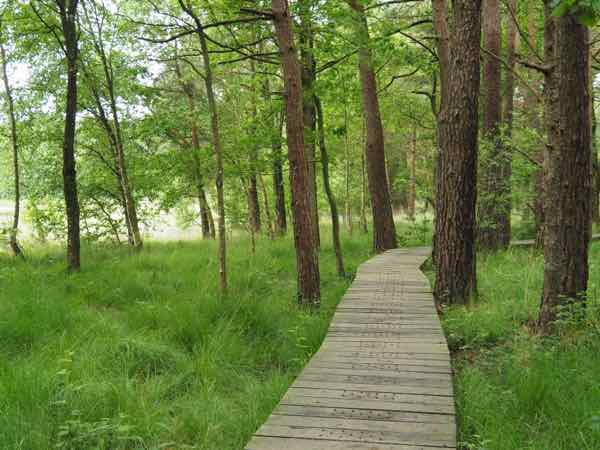 Exploring an area that might have some truth to the legend was worth a visit. While it's a lovely area for a walk, the springs and rocks would be meaningless without the signposts and descriptions (in English and French) talking about the legends. You can walk for hours and there are direction signs and interesting sites on your journey, some related to the legends.
My Walk Through The Forest
Numerous poets and writers have mentioned Brocéliande and they talk of knights, the

wizard Merlin, and stones that can create storms
Merlin's Tomb: one legend has it that he was put under a spell and imprisoned in a tree,

by Vivien. In the Brocéliande forest, supposedly Merlin is buried in this tomb.
Fountain of Eternal Youth: is located near Merlin's tomb and folklore mentions the magical powers of the waters. It is a fountain of youth only on summer solstice, at midnight, and some other secret conditions established by druids.
Le Val Sans Retour (The Valley Without Return): legend has it that a spell was put on this valley by the sister of King Arthur who was betrayed by her lover. Any unfaithful lovers in the area would be imprisoned in the valley.
L'arbre d'Or at the entrance to Le Val Sans Retour: quite the sight to see a gold tree (first photo in this post) in the forest. After a major forest fire in 1990 which destroyed 400 hectares, this sculpture was commissioned and 500,000 trees were planted to symbolize the renewal of the forest.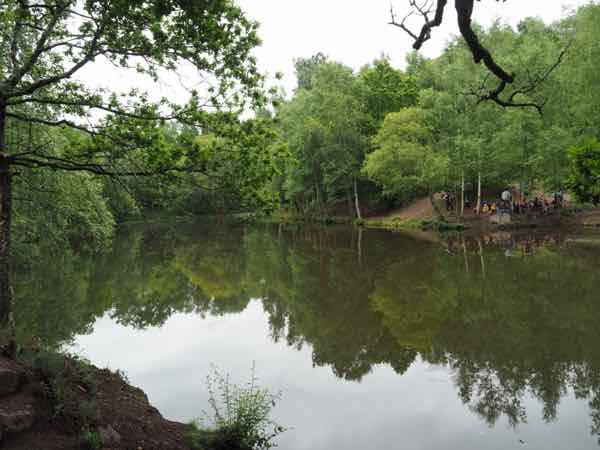 Mirroir aux Fées: Legend of the Fairies. Legend has it that fairies chose to hide out from humans in this body of water. They would only come out at night to admire their reflection.
Door To The Secret World of Brocéliande
I highly recommend you get a ticket to the La Porte Des Secrets (Door To The Secret World of Brocéliande) experience (headphones provided with English commentary). It takes place in a wing of the Abbey of Paimpont and I am unable to show you any photos as they weren't allowed; however, here is a clip of the audiovisual experience that helps you understand the magic behind Broceliande. The cost is 7.5 Euros.
Le Forêt de Paimpont is a very large area. In fact, it is the largest forest in Brittany and covers 7500 hectares; so big that you can/should drive to various areas to do exploring. I began my exploration at Paimpont, where I visited:
the tourist office

the Porte des Secrets
Merlin's Tomb
the Fountain of Youth.
I then drove to Tréhorenteuc to see the Golden Tree and Valley Without Return. You could spend days walking through the forest and along the paths. I wish I had had time to visit The Centre of the Imaginary Arthur, which is set in the Château de Comper. It provides more insight into various legends related to King Arthur.
Check out some other unique experiences in Brittany such as:
Pin to your favourite board on Pinterest