Sculptured Rocks (Les Rochers Sculptés) In Brittany
If I hadn't seen this for myself I wouldn't have believed it. In the north-west part of France in an area called the Emerald Coast of Brittany, there are over 300 sculptured rocks that were chiseled by hand by a deaf and mute priest. It is a little-known cliff in Rothéneuf, which is a town located just north of St. Malo. [A map is shown at the end of this post]. When you see the statues of people, the carvings of faces, and the chiseled shapes of animals, you will be as amazed as I was. It is worth the trip to the Sculptured Rocks, also known as Les Rochers Sculptés.
Abbot Fouré
For over 13 years in the late 1800s there was a priest named Adolphe Julien Fouré (Abbot Fouré 1839-1910) who created hundred of figures into the granite cliffs in Rothéneuf. What is particularly unique with this situation was that Abbot Fouré was deaf, mute and partially paralyzed as a result of a stroke at the age of 30. He decided to live in Rothéneuf as a hermit and endured the temperamental weather in Brittany (fierce winds and constant rain) to complete his works of art using only a hammer and chisel.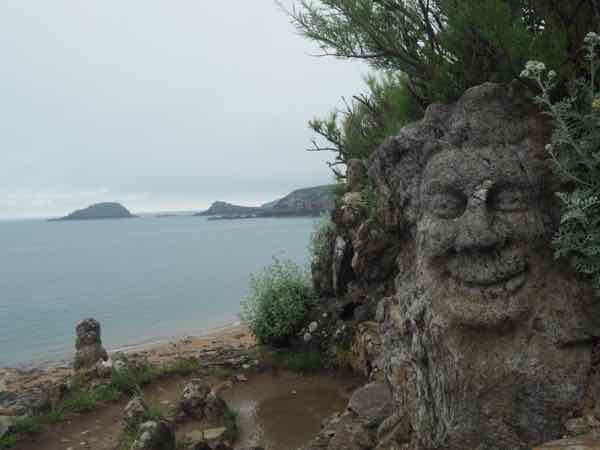 The Legend
Legend has it that in the 16th century the Rothéneuf family fished for a living but eventually became pirates. Fouré's carvings depict the characters, sea monsters, and stories associated with the pirate legend.
The Rochers Sculptés Site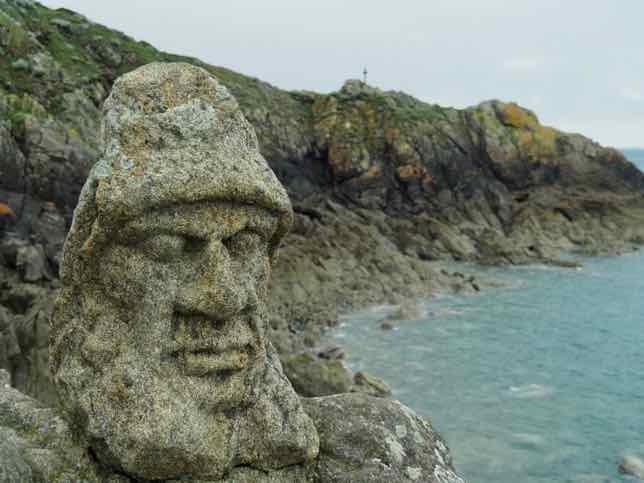 There is an admission (2.5 Euros) to enter the area where the sculptures are and just keep in mind that there are NO railings and fences, so be very careful walking around the area. No flip slops! Wear something that has a decent tread. You won't need hiking boots, but you do need to be careful.
After all, you are on a cliff and it can be steep. I was scared of falling (off the cliff) and proceeded cautiously. The sculptures are in one area on the cliff but at different levels. I was fortunate that it was not raining the day I went. There were only about half a dozen other people. Had there been more it might have felt crowded as the area on the cliff is not that big.
Also In The Area
After you visit this area, you can take the trail to see more of La Littoral coastline or visit the Jacques Cartier museum which is located not far from the Rochers Sculptés area. Explorer Cartier, who gave Canada its name, was born in Rothéneuf and spent his last few years there. Sadly, I got there too late for their tour and was not able to do it independently. Guess I'll have to go back.
Some Rochers Sculptés
Map Showing The Location Of The Sculptured Rocks
Click on the map or on this link and you'll be directed to a Google Map indicating all the places in this post.
Google and the Google logo are registered trademarks of Google LLC, used with permission.
If you're interested in visiting Rochers Sculptés, get there sooner than later. I'm sure with the wind and water erosion, the sculptures may soon disappear.
Pin to your favourite board on Pinterest